Writing a job-winning call center resume can be as simple as picking up the phone. You just have to emphasize your call center skills, turn your daily routine into impressive achievements and structure all that information correctly. It's not as complicated as it sounds, and I am here to show you how to do it perfectly.
This guide will show you:
A call center resume example better than 9 out of 10 other resumes.
How to write a call center resume that will land you more interviews.
Tips and examples of how to put skills and achievements on a call center representative resume.
How to describe your experience on a resume for a call center to get a job you're after.
Want to save time and have your resume ready in 5 minutes? Try our resume builder. It's fast and easy to use. Plus, you'll get ready-made content to add with one click. See 20+ resume templates and create your resume here.
Sample resume made with our builder—See more resume examples here.
Make sure to see other guides for related positions, if you want to broaden your job search:
Here's a sample resume for a call center representative:
Call Center Resume Example
Carl Newman
Call Center Representative
123-456-7890
carlnewman@email.com
linkedin.com/in/carl.newman
Summary
Personable Call Center Representative with 5+ years of experience. Eager to support Stellar Communications in ensuring customer satisfaction and retaining clients through effective and efficient handling of customer inquiries. Boosted customer retention for previous employer, Pro Call Solutions, by 45%. Achieved this result by studying the profiles of our customers, which enabled me to make offers tailored to them.
Experience
Call Center Representative
Pro Call Solutions, Columbia, SC
July 2015–Present
Key Qualifications & Responsibilities
Managed high-volume customer support calls, efficiently resolving inquiries and complaints.
Implemented a new and improved customer feedback system, which boosted customer satisfaction by 30%.
Trained and mentored new employees, enhancing team performance by 20%.
Helped develop new strategies for customer retention.
Key Achievement:
Boosted customer retention by 45%.
Customer Service Associate
Global Connect, Columbia, SC
January 2013–June 2015
Key Qualifications & Responsibilities
Handled customer complaints and inquiries via phone and email.
Assisted in developing new customer service protocols, which resulted in a 15% decrease in monthly customer complaints.
Achieved one of the highest customer service scores for consistently meeting customer needs.
Key Achievement:
Consistently achieved over 90% customer satisfaction rating.
Education
Bachelor of Arts in Communication
University of South Carolina, Columbia, SC
August 2009–May 2013
Relevant extracurricular activities:
Active member of the University's Customer Service Club
Led a team of volunteers for a statewide Customer Service Event
Skills
Excellent verbal communication
Active listening
Problem-solving
Adaptability
Proficiency in CRM software (Salesforce, Zendesk)
Time management
Teamwork
Customer-Service oriented
Certifications
Certified Customer Service Professional (CCSP), Customer Service Institute of America, 2014
Awards
2017, Top Customer Service Representative Award, Pro Call Solutions
Memberships
Member of the National Customer Service Association since 2015
Presented a talk on 'Efficiency in Customer Service' at the 2018 National Customer Service Conference, New York.
Languages
English—Native
Spanish—Intermediate
Interests
Reading customer service-related books.
Volunteering at local community events to enhance communication skills.
Now, let's learn to write a professional call center resume following the steps below:
1. Select the Best Format for Your Call Center Resume
Before you start writing your call center resume, let's discuss its format. It's like a script for your call: a foundation on which you'd build the content of your resume.
Here's how to format a resume for a call center agent:
Set standard resume margins to an inch on each side and a line spacing of 1.15.
Now that we've got our structure, let's start writing.
Pro Tip: Keep the right resume length. Having a document that's either too short or too long will only work to your disadvantage. Stick to a one-page resume format. However, if you have a lot of relevant experience, you can also create a two-page resume.
2. Shine With Your Experience on a Call Center Resume
According to the Bureau of Labour Statistics, about 373,400 openings for customer service representatives are projected each year, on average, over the decade. This number is declining, which means you need to impress your recruiter with every part of your resume. And your work experience section is perhaps the most important one.
Here's how to create the right call center job description for a resume:
Let's see some examples:
Call Center Resume—Job Description Examples
Right
Call Center Agent
Level Bevel Climbing Gear
2012 - 2017
Employed expert problem-solving and communication skills as a call center agent for a high-end outdoor product firm. Named agent of the month 4 times.
Worked with manufacturers and vendors to answer customer questions. Maintained a 91% customer service satisfaction rating for 5 years straight.
Quickly mastered deep product knowledge for all 177 products and parts. Passed the "Level Bevel Product Knowledge" quiz with a 99% score in the first week.
Wrong
Call Center Agent
Level Bevel Climbing Gear
2012 - 2017
Worked as a call center representative for a climbing gear company.
Answered customer questions on the phone.
Responsible for learning product knowledge.
Responsible for resolving issues with customers and vendors.
That first inbound call center resume description works like a custom ergonomic keyboard. The second? It'll block you like the Do Not Call Registry.
But how to write a call center job description for a resume with no experience?
If you lack relevant experience, take a look at your past jobs. See if you performed call center duties and responsibilities. Maybe you talked on the phone, worked with customers, or used computers. List them all, as those are some great call center resume skills.
Here's how to give your resume for call center a direct line to your first customer service job:
Call Center Resume Job Description Examples—No Experience
Right
Customer Service and Phone Experience
2015–2017
Took phone orders and provided exemplary customer service as Pizza Hut waiter. Received 3 F.A.S.T. awards for excellent customer comment scores.
At Friedman Landscaping, spoke with customers on the phone, and resolved issues. Received two letters of thanks for my compassion.
Temp call center agent, SpeedyCollect. Handled 5 outbound call center agent calls per hour. The call center quality analyst reported my success rate as 10% above average.
Wrong
Call Center Experience: None yet, but I'd love to work for you!
Other Experience
Landscaping
Waited tables at Pizza Hut
The first call center resume sample works like a new phone. The HR manager is already looking for your contact info.
We've got your call center experience covered. Let's head on to our second resume section.
Ace your job description. Read our guide: Customer Service Resume Job Description
When making a resume in our builder, drag & drop bullet points, skills, and auto-fill the boring stuff. Spell check? Check. Start building a professional resume template here for free.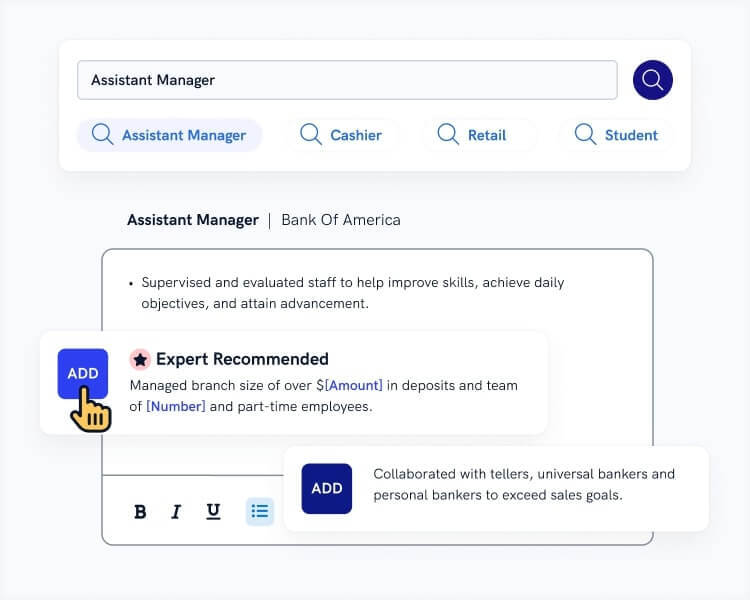 When you're done, Zety's resume builder will score your resume and our resume checker will tell you exactly how to make it better.
3. Impress Your Recruiters with a Perfect Call Center Resume Education Section
The second part of your resume is the education section. It can work really well for both inexperienced and experienced candidates. Especially if you have some things that are relevant for the call center job you're after or that are simply impressive.
Here's how to include your education on a call center resume:
Call Center Resume Examples – Education
Right
Stebbins Senior High
2005–2009
Got straight A's in English and Composition, all four years.
Excelled in typing classes.
Was voted onto the school yearbook team for my positive attitude.
Was made a student peer counselor for my listening skills.
Wrong
Stebbins Senior High
2005–2009
Graduated with a high school degree.
Took core curriculum classes.
GPA 2.9
That first professional call center resume example paints the picture of a good phone worker. The second gets a busy signal.
You've proven you have the right background. But your employer expects more than that. Let's discuss your call center resume skills.
Wondering how detailed your education section should be? Visit our guide and find out: How Far Back Should a Resume Go?
4. Choose the Right Skills for a Call Center Resume
The average job opening attracts 250 candidates. You must prove not only that you have some great work experience and that it's backed with a perfect education. You must also prove that you're a skilled candidate who's ready to start working ASAP.
Use your call center rep resume to prove your relevant skills. Here's how to do it right:
Read the call center agent job description and highlight all the call center skills you saw.
Start with creating a master list of all the skills you have.
Select a mix of hard skills, soft skills, and technical skills that are the most relevant to the job you're after.
List up to 10 hard and soft skills on your resume that the company you're applying to prioritizes. If you're wondering what are they, find clues in the job ad and on the company's website.
Let's take a look at some customer service skills for a resume:
20+ Call Center Resume Skills
Patience
Speed
Compassion
Phone Skills
Positive Attitude
Persuasion
CRM Software
Learning Product Knowledge
Helpdesk/Talkdesk
10-Key Typing
Salesforce
RingCentral
Now let's see how to expand them on a resume.
Call Center Resume Example With Skills
Right
Leveraged advanced communication and problem-solving skills as call center representative for marine product company.
Employed elevated listening skills to soothe customer irritations. Three of my phone recordings were played by management as training tools.
Commended by management 4 times for my positive attitude. Consistently received quarterly bonus for maintaining a high average of satisfied callers.
Used expert problem-solving skills to resolve issues. Scored in eth top 95% for the company's "Did we resolve your problem?" survey question.
There. That's better proof than a recorded call. You can clearly see that the company values problem-solving and listening. And that's what pops up most in this example.
If there's still something you'd like to include in your call center agent resume (and there sure is), I've got some info about additional sections ahead.
Wondering how proficient you are in your particular skill? Read our guide: Skill Levels
5. Add Other Sections for an Effective Call Center Resume
Your additional information on a resume can work magic if there's something more you want your future employer to learn about you. Just remember to make it as relevant and impressive as possible.
Here's what you can put in additional sections on your call center resume:
Call Center Resume Examples—Extra Sections
Right
Courses
Managing Difficult Customers - ICMI Course
Blending Sales and Service - ICMI Course
Publications
Article "They Can Hear You Smile" appeared in Productivity Plus Blog
Additional Activities
Take bi-weekly yoga classes to stay in shape and manage stress.
Regular listener, "Support Ops" customer service podcast.
Wrong
Interests
Chinese food.
Making brisket.
Filking.
That first call center resume sample shows a passionate candidate. The second? Wrong number all the way.
You might think your document is 100% ready. But it's time to write your resume profile.
Pro tip: Don't have any good "other" items? Start some. Take a class or two, or listen to a customer service podcast once a month. You can even list on-the-job training in your "other" sections. They'll stand out better there than in your customer service call center resume job description.
Add a Summary or Objective to Your Resume for Customer Service
The average hiring manager looks at each resume for 7 seconds, according to our HR statistics report. But with the right resume summary and resume objective, that's enough to impress them. Done right, they can turn that six seconds into a new job.
A resume summary and objective are both short paragraphs perfect to start a resume. But what's the difference?
How to do it? There are two simple formulas you can try.
How to write your summary statement for a call center resume?
Adjective + Job Title + Years of Experience + Achievements + Skills + What You Want to Do for the Employer
How to write an objective for a resume for a call center agent?
Adjective(s)/Certificate(s) + Your Job Title or Degree + seeking employment as + Position Name at + Company Name + to apply my + Your Relevant Skills + to help + What Do You Want To Help The Company Achieve
Let's start with some examples of resume summaries:
Call Center Resume Examples—Summaries
Right
Friendly call center agent with 7+ years experience. Seeking to use proven skills in problem-solving and communication to provide expert service to Outdoor Research customers. Maintained 91% customer satisfaction for L.B. Climbing Gear. Learned all products with 99% accuracy in just 1 week.
Wrong
Call center representative with seven years of experience. Highly skilled in problem-solving, communication, product knowledge, and providing customer satisfaction. Looking for a new call center job.
See? As different as a live operator and a recorded message. But it just needed measurable accomplishments.
Writing a resume with no experience? Are you an entry-level call center rep? Think your customer service resume for call center jobs will read like a deleted transcript?
Then use a customer service resume objective.
Entry-Level Call Center Resume Examples—Objectives
Right
Enthusiastic call center agent, seeking to leverage proven customer service skills for SpeedyCollect. Provided excellent customer satisfaction both in person and on the phone, as Pizza Hut waiter and landscaping employee. Have received 5 accolades from customers and managers alike.
Wrong
Energetic employee seeking call center jobs. No experience yet, but I'm skilled at customer service and communication.
The difference is obvious. While the first candidate shows passion and seeks relevance in previous experience, the other one gives a generic message of someone looking to get hired. And that's not how you distinguish yourself from other candidates.
Don't just send your resume yet! Not before writing a perfect cover letter.
Pro Tip: It's a lot easier if you write your outbound call center resume objective or resume summary last. Fill it up with highlights from your resume. And if you're an experienced call center worker you may want to give a statement of qualifications a try too.
7. Attach a Cover Letter to Your Call Center Resume
If you're wondering are cover letters necessary, the short answer is: yes. No application is complete without them. A well-written call center cover letter will show you're an ambitious, passionate, determined, and qualified candidate.
Here's how to write a cover letter for a call center resume
Whether you're writing a call center customer service representative resume or an entry-level call center customer service resume, you're ready to go!
Pro Tip: One last thing before sending your application? Check your online presence. Optimize your social media profiles, because your recruiter will most probably pay them a visit. Start with fixing your most professional one: your LinkedIn profile.
Plus, a great cover letter that matches your resume will give you an advantage over other candidates. You can write it in our cover letter builder here. Here's what it may look like: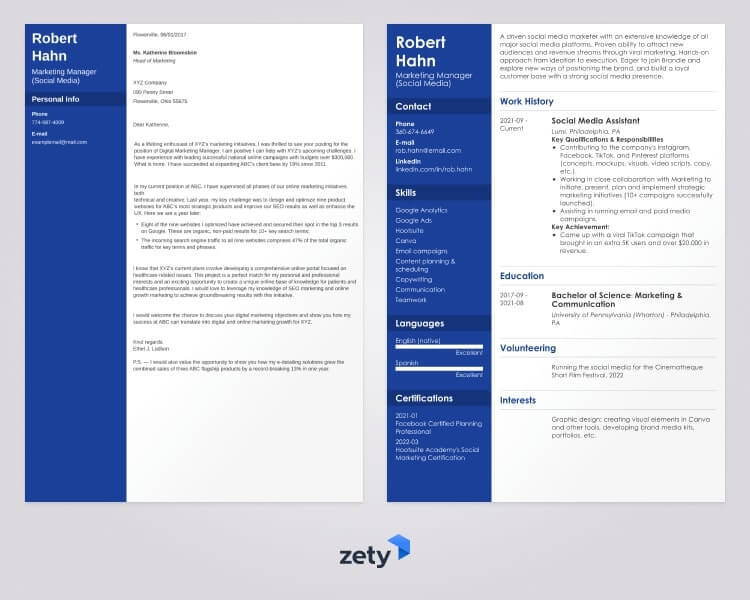 See more cover letter templates and start writing.
Key Takeaway
Even with great call center resume templates to work from, writing your own is still a challenge. Make sure you cover these key points:
Select the right format for your call center resume and put your relevant work experience in reverse chronological order.
Create a resume summary or objective, depending on your experience, that will start your resume perfectly.
Highlight your education that's relevant to the job you're after.
Include some additional information, like languages, hobbies, certificates and anything that might help you impress the recruiter.
Create a cover letter and make it consistent with your call center resume.
This works in anything from call center supervisor resumes to resumes for call center representatives.
Do you have questions on how to write a great resume for a call center job? Not sure how to describe your skills or achievements? Give us a shout in the comments! We love to help!
About Zety's Editorial Process
This article has been reviewed by our editorial team to make sure it follows Zety's editorial guidelines. We're committed to sharing our expertise and giving you trustworthy career advice tailored to your needs. High-quality content is what brings over 40 million readers to our site every year. But we don't stop there. Our team conducts original research to understand the job market better, and we pride ourselves on being quoted by top universities and prime media outlets from around the world.