15 Customer Service Resume Objective Examples
Enhance your job application with a customer service resume objective & convince employers you're able to create a customer experience worth shouting from the rooftops.
Not everyone has the patience for customer service work. But you do. You remain calm no matter what. And you come up with solutions to any problems that arise.
But how can you prove that to hiring managers with just a resume? Especially if you have minimal work experience.
It's simple—you just need to add a customer service resume objective to your job application. But not just any resume objective. You need one that goes the extra mile, just like you will when you get that job.
This guide will show you:
The point of adding a customer service resume objective to your job application.
How to write a great customer service resume objective in easy steps.
15 impressive resume objective examples for customer service jobs.
Want to save time and have your resume ready in 5 minutes? Try our resume builder. It's fast and easy to use. Plus, you'll get ready-made content to add with one click. See 20+ resume templates and create your resume here.
Sample resume made with our builder—See more resume examples here.
Need other guides about writing a resume? Check these out:
Now, let's talk about those customer service resume objectives:
Who Needs a Customer Service Resume Objective?
Did you know that there are over 2.5 million customer service representatives in the US? This is good and bad news. On the one hand, it means many job opportunities for customer service agents. On the other, the competition for these jobs is also significant. If you want a good job with benefits, you need to have a resume proving you're the best.
So, how can you do that? By starting your resume strong. Adding a resume summary or a resume objective can immediately catch the attention of hiring managers. But resume summaries are only for experienced workers.
Here's who should go for a customer service resume objective:
Entry-level candidates: a resume objective will be perfect for you if you've never had a full-time customer service job.
Candidates switching to a new career: individuals with work experience in other lines of work than customer service.
OK, we know who should use a career objective for a customer service agent's resume. But there's one more thing to settle. And that's the big WHY.
Here's why a customer service resume objective is good for you:
As you see, a resume objective isn't just a collection of empty words. If thoughtfully written, it can work on your behalf to convince employers you're a suitable candidate for the job.
Are you writing your resume from scratch? Save time on formatting by using a free resume template. Check here: PDF and Doc Resume Templates to Download
What Is a Good Objective for a Customer Service Resume?
When you think of customer service, what comes to your mind? Smiling agents keeping their cool at all times? Now think: how can I tell an employer that I can be good at this?
It's the resume objective that must answer that question.
While there are certain freedoms in writing a career objective, you must remember that the goal of a customer service agent is to provide support to clients to keep them paying for goods or services. And there are certain qualities that are needed for this job. So a good objective for a customer service resume combines these two facts.
Have a look at this job-winning sample:
Customer Service Resume Objective Example
Right
Empathetic Business Administration student, passionate about creating a positive customer experience. Keen to use my communication skills and problem-solving attitude to provide excellent treatment for Kitty Basket's clients. Resolved 84% of customer complaints without the need for escalation to other departments during a customer experience internship.
Here's what makes this example great:
In just three sentences, this candidate proves they can help the employer achieve their business goals. Now, it's time you learn how to do the same.
Pro Tip: If you feel self-conscious about your lack of relevant experience, consider getting an internship or volunteering in your local community. It can make a difference in your resume, teach you valuable skills, and help to make new connections.
When making a resume in our builder, drag & drop bullet points, skills, and auto-fill the boring stuff. Spell check? Check. Start building a professional resume template here for free.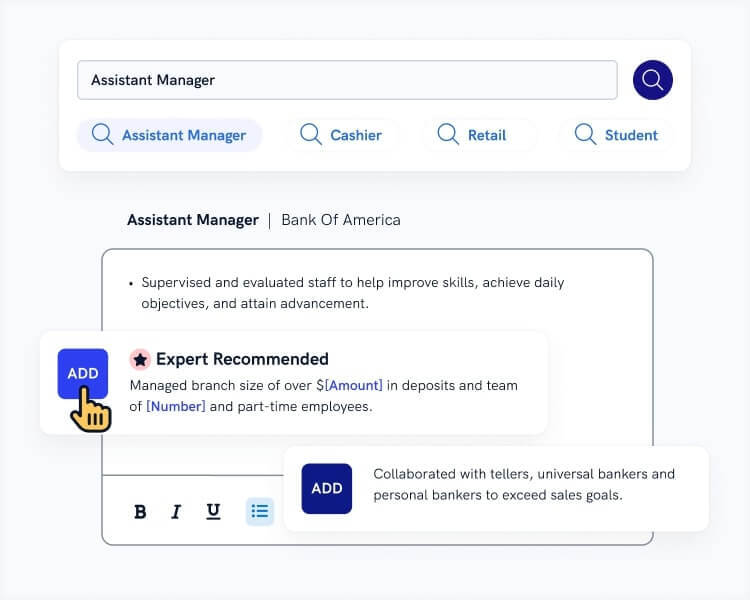 When you're done, our online resume builder will score your resume and our resume checker will tell you exactly how to make it better.
How to Write a Resume Objective for Customer Service Jobs?
You'll be happy to know that writing a resume objective for a customer service job is much easier than preventing clients from telling you their life story at 5 p.m. on a Friday. You simply need to describe yourself on a resume by highlighting your relevant skills and experience and showing your passion for the job.
Follow these steps to write a customer service resume objective:
Yes, it's that simple!
Just remember that your resume objective must be tailored to the job you want. Be specific about how you can support the company you're applying to.
Pro Tip: Using words that mimic the company values in your resume is useful. While researching the business that caught your eye, scan their website for mission statements, future goals, etc. Think about how the work you would do as a customer service agent can contribute to achieving that goal, and add this to your resume objective.
15 Examples of Customer Service Resume Objectives
I get it, you need to see more sample customer service resume objectives before you can start writing your own.
Here's a collection of 15 entry-level customer service resume objectives:
Customer Service Resume Objective for Call Center Jobs
Personable college student with highly-developed interpersonal skills seeking a customer service position. Eager to utilize communication and active listening skills to resolve customers' queries at D&R Solutions efficiently. Gained customer service experience while volunteering at the front desk at Paws & Meows Shelter in 2021.
Customer Service Resume Objective for a High-School Graduate
Empathetic high school graduate seeking a part-time customer service position. Hoping to provide high-quality service for Beads & Crystals' clients using people skills and passion for jewelry design. Developed interpersonal skills while running a study support group for high school freshmen.
Customer Service Resume Objective for a Career Change
Personable waiter enthusiastic about providing excellent customer experience at Lakeside Hotels Ltd. 2+ years of experience serving clients in a professional and friendly manner at Beach Oyster Restaurant. Eager to help build long-lasting relationships between Lakeside Hotels' customers and the company by resolving customer complaints efficiently and providing them with insider knowledge of the local tourist attractions.
Customer Service Resume Objective for a College Student
Communicative English Literature student looking to join Panda Publishing as a customer service agent. Wishing to use my knowledge of American literature and problem-solving attitude to respond to email and phone inquiries promptly and professionally.
High School Student's Customer Service Resume Objective
Reliable high school student seeking a part-time position as a customer service agent at I Heart Shopping. Keen to use my communication and problem-solving skills to assist customers and create a pleasant shopping experience. Developed active listening skills and emotional intelligence while volunteering with foster children at Give Child a Home foundation.
Engineering Student Customer Service Resume Objective
Adaptable engineering student looking for a front-desk customer service position at Columbus Trade Fairgrounds. Enthusiastic about creating a satisfying experience for attendants of state trade fairs in the 2022/2023 season. Received positive feedback for empathy and resourcefulness while serving as an academic advisor in 2021–2022.
Career Change Customer Service Resume Objective
Motivated receptionist seeking a customer service position at Clover Services. Seeking to improve customer experience using a positive attitude, patience, and problem-solving skills. Received a 100% customer satisfaction score for three consecutive months in 2021.
Customer Service Resume Objective (Cosmetics Company)
Resourceful chemistry student hoping to provide customers of Sustainable Cosmetics Ltd. with up-to-date product knowledge to help them make informed purchasing decisions. Developed communication skills while participating in the high school debate team in 2020–2022.
Recent Graduate's Customer Service Resume Objective
Recently graduated Bachelor of Communications eager to provide excellent customer service at California Gardens. Advised over 30 clients on a daily basis while working as a cashier at Ye Corner Flowershoppe in 2021. Enthusiastic about assisting California Gardens' visitors with information about available attractions and sightseeing routes.
Customer Service Resume Objective—Working With Senior Citizens
Energetic physical therapy student with 2+ years of volunteer experience working with the elderly. Hoping to use patience and empathy to provide accurate information and resolve the concerns of seniors interested in available Arcadia Assisted Living arrangements.
Customer Service Resume Objective for Intern Seeking a Full-Time Job
Determined customer service intern seeking a full-time customer representative position at International Trade Ltd. Keen to apply interpersonal skills and knowledge of the Spanish language to assist clients based in Mexico. Completed advanced soft skills training in 2021.
Customer Service Resume Objective for Non-Governmental Organization Work
Proactive high school graduate with a proven record of assisting disadvantaged persons. Passionate about providing clients of the Help Is Here foundation with knowledge of available programs and support services in a friendly and professional manner. Developed communication and interpersonal skills while volunteering at St. Mary Soup Kitchen in 2021–2022.
Customer Service Resume Objective for a Museum Job
Results-oriented robotics student seeking customer service position at Iowa Astronomy Museum. Hoping to provide a pleasant visiting experience for guests of all ages by informing them about current displays and encouraging them to attend upcoming events. Served as a guide and point of contact for the campus visitors of Iowa State College in the summer of 2021.
Customer Service Resume Objective for Software Engineering Student
People-oriented software engineering student looking for a customer service position at Turquoise Games. Keen to provide clients with information about upcoming games and use gaming and IT knowledge to resolve their issues. Developed interpersonal skills while tutoring 10+ high school students in 2021–2022.
Customer Service Resume Objective for Airport Jobs
Bilingual high-school graduate with proven communication skills. Passionate about creating an excellent customer experience for the clients of US Local Airlines by providing airport assistance and informing them about the current compliance and safety policies. Developed interpersonal skills while giving volunteer interpreting and translation services for Latinx students and their families at the local community center in 2020–2022.
Enough reading. It's time to start writing!
Finished writing your resume? What about your cover letter? If you need help, don't worry—we've got you covered. See here: How to Write a Customer Service Cover Letter
Plus, a great cover letter that matches your resume will give you an advantage over other candidates. You can write it in our cover letter builder here. Here's what it may look like: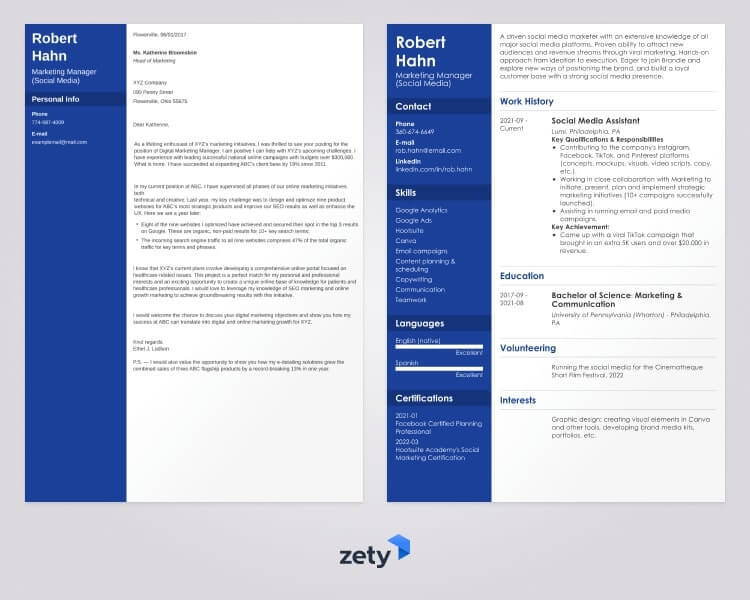 See more cover letter templates and start writing.
Key Takeaways
Here's a reminder of the steps you need to follow to write your customer service resume objective:
Use a strong personality trait at the beginning.
Mention your current position or education level.
Show off your customer service skills.
Say what you can do to help the company achieve its goals.
Mention relevant experience from school, volunteer work, etc.
Thanks for reading my article! Now, over to you:
Why do you want to work in customer service?
Do you have difficulties writing your resume objective for customer service work?
Do you have any customer service experience, or are you an entry-level candidate?
Let me know in the comments below!
About Zety's Editorial Process
This article has been reviewed by our editorial team to make sure it follows Zety's editorial guidelines. We're committed to sharing our expertise and giving you trustworthy career advice tailored to your needs. High-quality content is what brings over 40 million readers to our site every year. But we don't stop there. Our team conducts original research to understand the job market better, and we pride ourselves on being quoted by top universities and prime media outlets from around the world.
Sources