Being a teen is a whole mood. Teens who want to add a job on top of that deserve respect. Sadly, they often don't get it from recruiters who think that the words "teenage" and "drama" are synonyms. Some simply toss teenage resumes out the window and ghost the applicants.
Stay on top of the game. Vibe with our teenager resume examples with no work experience and follow our advice to write a teen resume that hits different.
This guide will show you:
Teen resume examples better than 9 out of 10 others.

How to write a resume for teens that gets more interviews.

Tips and examples of how to put skills and achievements on a teen resume.

How to make a teenager resume with no work experience and get any job you want.
Want to save time and have your resume ready in 5 minutes? Try our resume builder. It's fast and easy to use. Plus, you'll get ready-made content to add with one click. See 20+ resume templates and create your resume here.
Sample resume made with our builder—See more resume samples here.
Need more tips on writing a resume? These articles may help you to write the best teenager resume you can:
Teen Resume Example
Antuan Wesley
High School Student
(555) 123-4567
antuan.wesley@email.com
linkedin.com/in/antuan.wesley
Objective
Technologically adept high school student passionate about problem-solving seeking a position at Protonix Enterprises. Looking to apply basic programming knowledge and excellent communication skills to help enhance the company's software development process. Identified 5 bugs in the systems of Tech System, helping stabilize its systems. Did so by using a diligent QA testing procedure.
Experience
Intern
Tech Systems, Newark, NJ
June 2020–August 2020
Key Qualifications & Responsibilities
Assisted with troubleshooting and resolving software bugs.
Collaborated with the team to brainstorm and implement solutions.
Gained experience in programming languages such as Python and Java.
Assisted in the preparation of progress reports.
Key Achievement:
Identified 5 recurring bugs in the system, leading to a significant reduction in the number of system crashes.
Education
High School Diploma
Newark Tech High School, Newark, NJ
September 2018–Present
Relevant extracurricular activities
Member of the school's Computer Club
Participated in Hackathons
Academic achievements
High Honor Roll for 3 consecutive years
Skills
Basic knowledge of Python and Java
Problem-solving
Good verbal and written communication skills
Teamwork
Time management
Ability to adapt and learn quickly
Certifications
Python for Everybody, Coursera, 2020
Languages
English—Native
Spanish—Intermediate
Interests
Participating in coding challenges online.
Creating simple applications for personal use.
Playing chess to enhance problem-solving skills.
1. Create a Teen Resume Format
Let me share some savage news: according to our HR statistics report, hiring managers spend all seven seconds glancing at resumes. Seven seconds!!?? That's hardly enough time to read your contact info! But if you know how to make a resume for teens, you slay.
First, you must understand one thing about making a resume with no experience: hiring managers look for specific things in a resume for teens. So, choose the best resume format that fits your profile and divide your teen resume into the right resume sections:
Contact Information
Resume Objective
Education
Work Experience
Skills
Other Sections, like:

Awards, Compliments, Honors
Training and Certifications
Volunteer Experience
Hobbies and Interests
The next thing you can do is make sure your resume looks awesome. Here's how you should format your teenage resume template:
Use popular resume fonts such as Arial, Verdana, or Helvetica.
Set the font size to 11–12 for the contents and 13–14 for the resume headings.
Use 1–1.15 line spacing for better readability.
Set the resume margins to 1 inch on all sides.
Use white space or lines to separate the sections.
You have two choices: use some ready-made teen resume templates or spend hours in Word or G Docs to create a neat resume layout.
It can get messy if you have a lot of things to add to your first teenage resume. Using resume templates will half the work you'd have to put in. Just pick a template, follow our advice, and you'll have a perfect resume in no time!
Check out these resume templates for teenagers:
Teen Resume Templates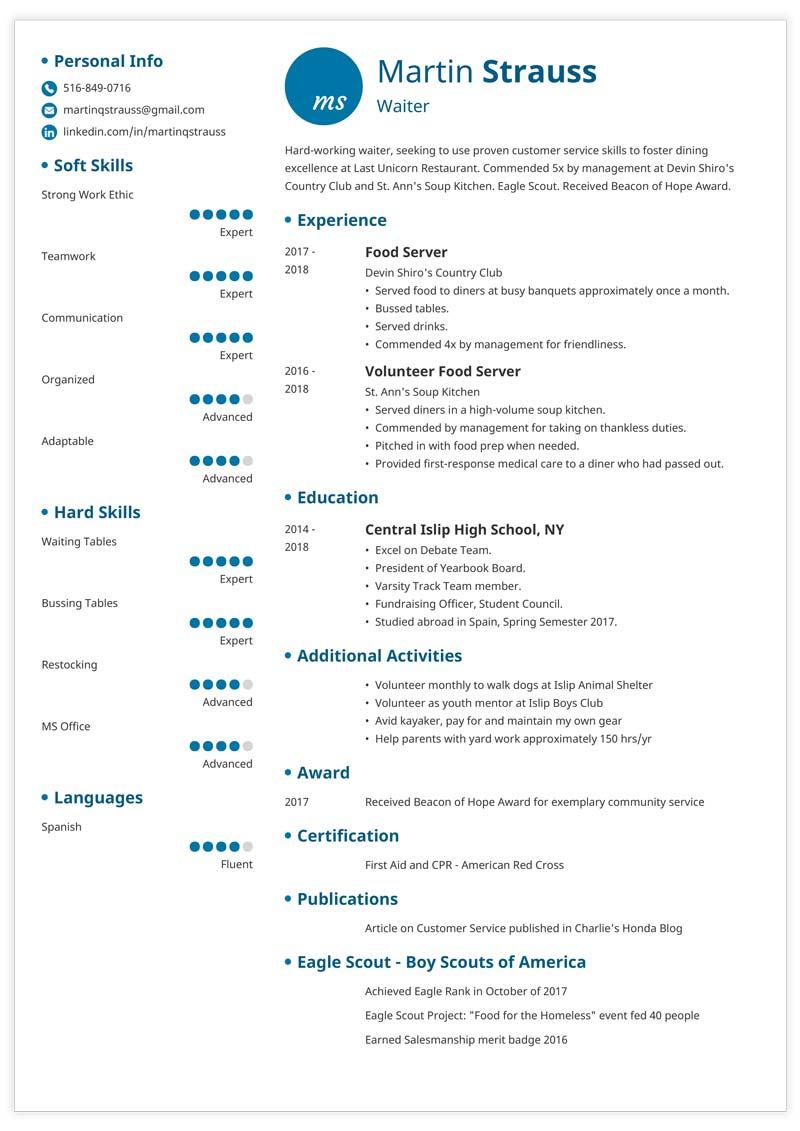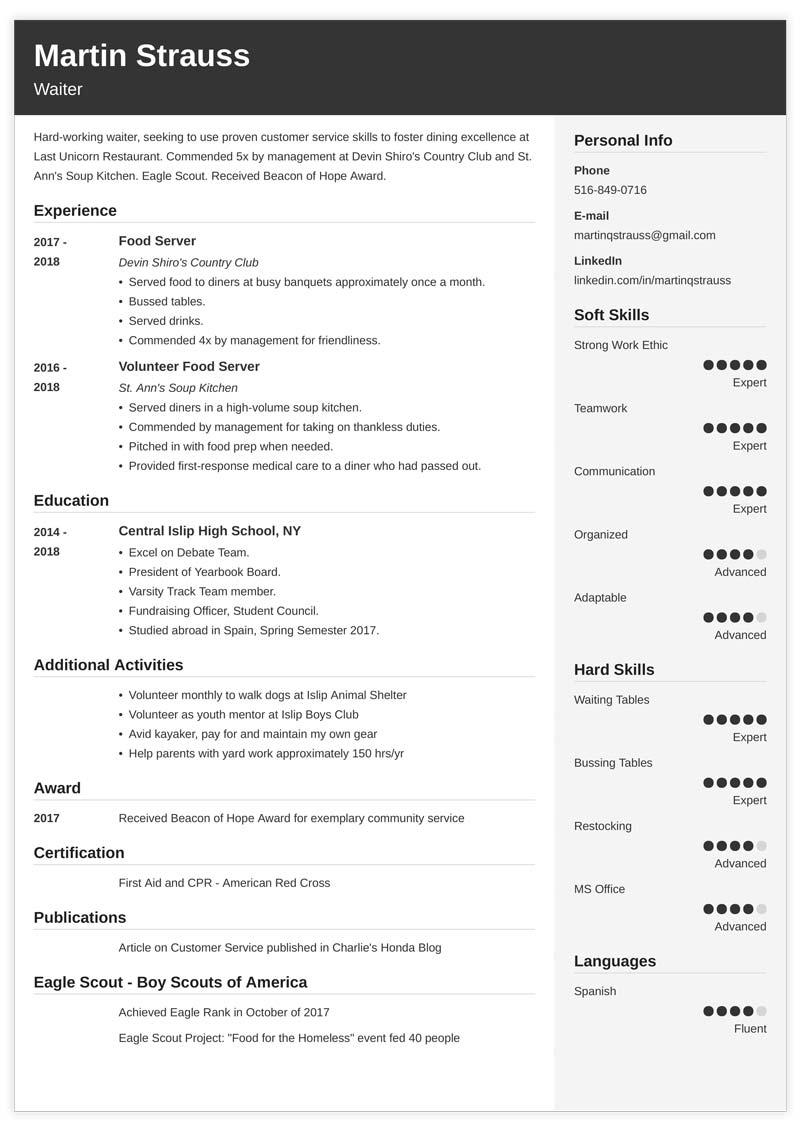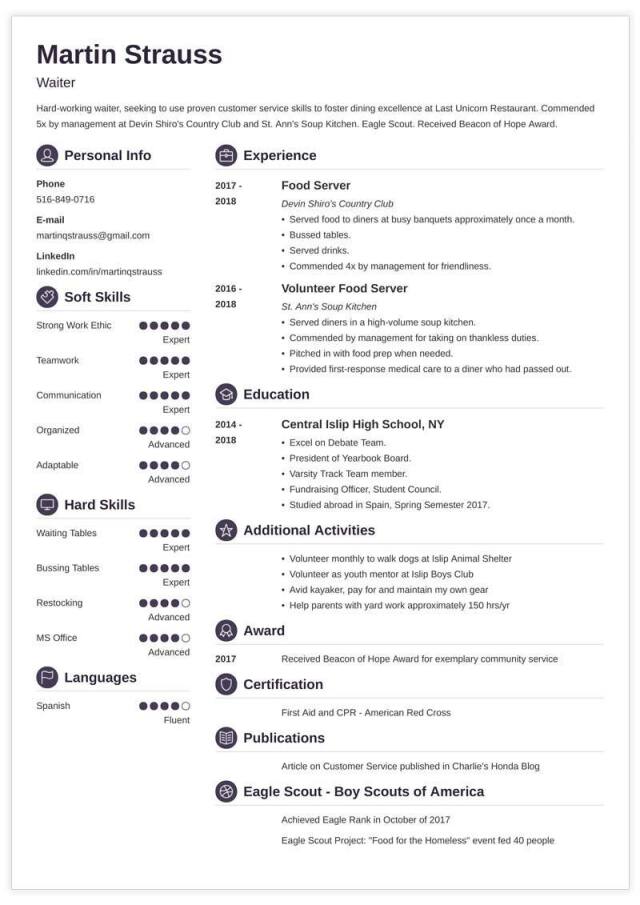 Let's put you behind the driver's seat so you can nail down every section of your resume for teens.
Pro Tip: Should you send a teenage resume PDF or Word Doc? Everyone says PDFs confuse the hiring software. Guess what? Modern PDFs are machine-readable. As long as they're allowed by the job ad, go for it.
2. Put Your Contact Information on a Resume for Teens
Imagine putting a lot of work into writing your teen resume just to realize that you forgot to add your email address and phone number. You'd want just to shrug and think, "no worries," but in fact, you'd be all worries.
Listing contact info on a resume is pretty much the easiest part of writing a job application. Show you're the main character by following these steps:
Resume Examples for Teens [Contact Info]
Name: First and last
Phone Number: List just one
Professional Email: No spongebobpants127789@hotmail.com. Try something pro-level, like john.doe@gmail.com.
Social Media: LinkedIn, GitHub, Twitter, Facebook, Tumblr, Instagram, Pinterest? Just pick one or two with the best evidence that you fit the job. Don't include any if you use them only to share memes.
Personal Website: Have a portfolio? Write for a blog that shows you know the job? That's gold on a resume for teenagers. Add it.
Check the news. You'll find a story about someone who said the wrong thing on social media and lost their job. Supercharge and protect your online presence with our guides: How to Check Your Online Presence Before Recruiters Look You Up and How to Optimize Your LinkedIn Summary & Profile to Get Jobs
3. Write a Teen Resume Objective or Summary
"We MUST interview this one." Start a resume for teens right, and you'll get that response. Use resume profiles such as an objective or a summary to introduce yourself.
Teens should go for a career objective—it allows you to show your best qualities and state how valuable you are for the job. A resume summary is recommended only for experienced job seekers because it highlights work achievements. In this case, you can use professional resume summary examples for young adults highlighting their already gained first work experiences.
See these two very different teenage resume objective examples to get a clue:
Teen Resume Examples [Resume Objective]
WRONG
Enthusiastic waitstaff applicant with no experience yet but very willing to learn and work really hard. I could use this job so please hire me. You won't be sorry.
Yo, this won't help you get that job. Or any job, ever. Employers don't care about what you want—they care about what you can do for them.
RIGHT
Hard-working waiter seeking to use proven customer service skills to foster dining excellence at the Last Unicorn Restaurant. Commended 5x by management at Devin Shiro's Country Club and St. Ann's Soup Kitchen. Eagle Scout. Received Beacon of Hope Award.
This one will leave the hiring manager amped. It includes relevant experience and impressive accomplishments that really sell a teen resume. They offer what the manager wants: a hard-working teen who cares about doing a good job.
But wait—what if you're writing a teenager resume with no work experience? Instead of talking about previous jobs, highlight your knowledge and experiences from school, personal projects, interests, freelance gigs, and even family life.
Check this teenage resume example for inexperienced candidates:
High School Teenage Resume [Career Objective Example Without Experience]
RIGHT
Personable high school student looking for a part-time waitstaff job. Enthusiastic about helping the patrons of Rainy Day Comfort Food have an enjoyable dining experience by recommending suitable menu choices and serving their orders in a pleasant atmosphere. Passionate home cook. Won a school contest for the best homemade chocolate chip cookies.
See? You can impress recruiters even without work experience!
Pro Tip: Resumes for teens need short and sweet objective statements. Stick to 60 words. Need more space? Write a great teenage cover letter. Even with no experience, you can make one that gets interviews. We'll show you how later on.
When making a resume in our builder, drag & drop bullet points, skills, and auto-fill the boring stuff. Spell check? Check. Start building a professional resume template here for free.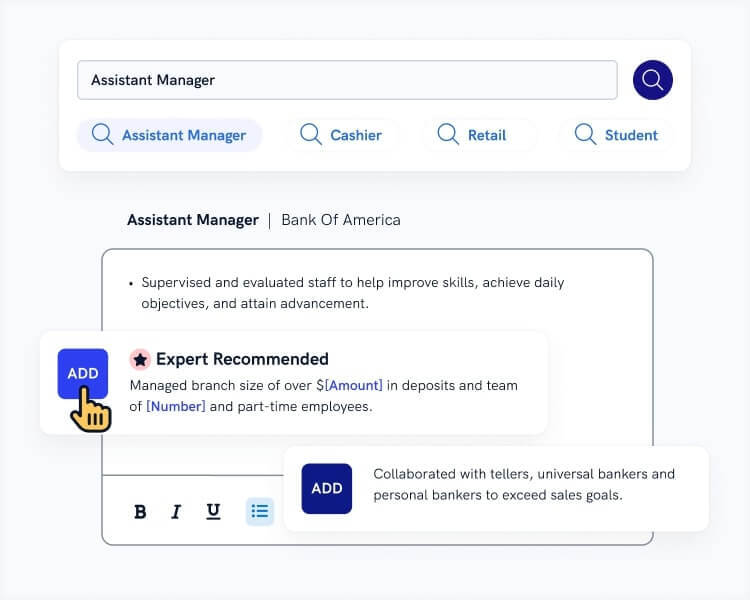 When you're done, our easy resume builder will score your resume and our resume checker will tell you exactly how to make it better.
4. Write an Education Section That Gets Jobs
What's your best asset as a teen with no experience? Nope—it's not your collection of animated GIFs. It's your education; even if you're not an overachiever who can add a degree to a resume at 16 years old, low-key hate school, and don't have straight As.
The education section in a resume for teens needs:
School name: don't write Euphoria High, just copy the name from the school website or Google Maps.
Graduation date or years of study: if you haven't finished school yet, add an expected graduation date.
Key achievements: won an international competition or a state contest? Come on, tell them about it!
Extracurricular activities: volunteering, organizing school events, being the president of a school club—these all show that you do something valuable.
Favorite classes: sounds cringy, but hey, it's better than nothing! Adding relevant coursework to a resume can show you've got a bit of knowledge about the job you want.
GPA: Add your GPA to a resume only if it's impressive. If it's below 3.5, feel free to cut it.
Let's see that working in two more resume examples for teens:
Teenage Resume Examples [Education]
WRONG
Central Islip High School, NY
2014–2018
Completed all coursework so far
GPA 3.3
That's so basic, really. Even the most brilliant teen will have a hard time getting a job highlighting so little next to a high school diploma on a resume.
RIGHT
Central Islip High School, NY
2014–2018 (Graduating in May)
Excel in the Debate Team.
President of the Yearbook Board.
Varsity Track Team member.
Now we're talking. When a recruiter sees this, they'll have a hard time keeping their cool.
Want some resume advice? Teen resume examples like that aren't out of reach. It just takes a little head-scratching.
There's more to WOWing the hiring manager with your education section. Want your teenager resume to turn some heads? Use our guide: How to Put Your Education on a Resume [Tips & Examples]
5. Show Relevant Experience in Your Teen Resume
"But I don't HAVE experience!" Of course, you don't. You're writing a teen resume, which is most often a resume for 16-year-old with no experience.
But try to show some kind of relevant background. The good news? It doesn't have to be work-related!
Here's what you can put on a teenager resume with no work experience:
Volunteer work: even if you haven't done any, you can easily find charity work in your area ASAP and gain some valuable experience (along with meeting some new people!).
Freelancing experience: you might think that odd babysitting gigs, helping your dad out in their office, or mowing neighbors' lawns aren't real jobs. Guess what, you're wrong. Add all of your freelancing experiences to your resume!
Job shadowing: your graphic designer friend showed you how to use Photoshop? Or maybe you spent a day in your mom's company and observed how things are done? Then add your shadowing experience to a resume and surprise recruiters!
Extracurricular activities: did you help to organize a local manga convention? Or maybe joined a local book club to review and discuss books weekly?
Personal projects: things like running a personal Instagram account with 10,000+ followers, setting up a successful Facebook fanpage, running a YouTube channel, or learning valuable skills in your free time will look great as projects on a resume.
These teen resume examples light the way:
Resume Examples for Teens [Experience]
RIGHT
Volunteer Food Server
Food Unites, Provincetown, MI
June–September 2021
Served diners in a high-volume soup kitchen.
Commended by management for taking on thankless duties.
Pitched in with food prep when needed.
Provided first-response medical care to a diner who had passed out.
The first of our teenage resume samples blows the doors off. So please don't do it like the next of our example teen resumes without experience:
WRONG
Experience: None yet since this would be my first job apart from babysitting, but everybody says I'm really easy to get along with and I'll work hard.
That is not how you put babysitting on a resume. Mention it like a real job: add how many hours you spent doing it, what responsibilities you had, and what you accomplished.
Resume Example for Teens with No Experience
Right
Personal Projects
Created an Instagram page for the school football team in October 2020 that gained over 1,000 followers within two months.
Hand-painted 10 signs for the Martin Luther King Jr. Day parade that were featured in a local newspaper in January 2021.
Designed a series of posters for a local book club to inform about upcoming events and book review contests in May 2020.
The candidate above has no work experience—only personal projects to talk about. But it's easy to see that they have valuable skills they can use for a variety of jobs!
Pro Tip: Still don't have enough experience? Get some! Even a couple of days of volunteer work are a solid teen resume builder that will supersize shrimpy resumes.
6. Put Your Best Skills on a Teen Resume
There are pros and cons to holding a job while studying, but you've decided to go along with your plan. So, how can you convince recruiters to hire you? Well, one of the ways is to show that you've got the skills they need.
Follow these steps to create an impressive skill section for a teen resume:
Make a long list of all the skills you've got. Go for a mix of soft skills and hard skills.
Read the job advertisement closely and underline the keywords that refer to the required knowledge and abilities.
Compare your own skills with the job requirements.
Make a curated list of 5–8 skills you've got that are relevant to the job you're applying for.
These two example teen resumes show how to do it:
Teenage Resume [Skills]
WRONG
Skills: MS Office, strong work ethic, teamwork, customer service, organized, adaptable, friendly, honest, physically fit…
These skills aren't all bad, but they look like a random collection. It's also better to list skills in bullet points.
RIGHT
Serving food at banquets
Bussing tables
Serving drinks
Friendly attitude
Communication
Dependability
Now we're talking! Looks much more professional and relevant to a specific job, like waiting at a restaurant.
Remember that you can also add your skills to other sections of your resume, such as education and experience. For example, by mentioning that you helped your neighbors to babysit their children at short notice, you can show your flexibility and reliability.
A good skills list is a must on any resume for teens. Want more options to make the hiring manager start looking for your contact info? See our guide: 90+ Best Examples of What Skills to Put on a Resume (Proven Tips)
7. Add Extra Sections to a Teen Resume
Maybe you don't like being extra in life. But flexing on a resume is a good thing. It can help convince the hiring manager that you're the right choice for the job.
Now that the key parts of your resume are ready use additional information to fill the space on your resume. That can prove you've got certain abilities and knowledge needed to work. See what we have in mind:
Honors and Awards: Winning competitions not only boosts your ego but also proves you can do something really well. Brag about your honors on a resume to make the hiring manager remember you!
Activities: Describe things you do in your spare time that are somehow related to the job you want. For example, if you're applying for a dishwasher job, mention how you help with chores at home effectively.
Associations: Maybe you learn to code in your free time and belong to an online discussion board? Or you joined a local artists' club to find an outlet for your creativity?
Certifications: Did you know that you can sign up for free online courses? They can certainly help you learn useful workplace skills and also award you a certificate to list on a resume.
Interests and Hobbies: Mention interests relevant to the job you want. For example, if you want to work as a shop assistant at a clothing store, mention following fashion trends and reading books about fashion designers.
Publications: Did your restaurant review find a way to a local newspaper? Or maybe your blog post got featured on Medium? Listing publications on your resume can be a great way to find a writing job.
These resume examples for teens provide a map:
Teen Resume Examples [Other Sections]
WRONG
Additional activities: Watching YouTube, Making memes
While this example is honest, it doesn't sound very professional.
RIGHT
Experience
Eagle Scout
Boy Scouts of America
January 2018–Present
Achieved Eagle Rank in October of 2021
Eagle Scout Project: "Food for the Homeless" event fed 40 people
Earned Salesmanship merit badge 2020
Award
2021 Received Beacon of Hope Award for exemplary community service
Additional Activities
Volunteer monthly to walk dogs at Islip Animal Shelter.
Avid kayaker, pay for and maintain my own gear.
Help parents with yard work for approximately 150 hrs/yr.
Certification
First Aid and CPR - American Red Cross
This teen will impress recruiters. That's for sure and certain.
Pro Tip: You don't have to list every activity. Keep your resume to one page, and just list things that fit the job.
8. Match Your Teen Resume with a Cover Letter
Wait, aren't cover letters for people who grew up with rotary phones? That's what many experts say. But they're talking about generic cover letters. Nobody needs a cover letter that just says, "Here's my resume."
Is a cover letter needed for a teenager's first job? Absolutely yes. You need to make the recruiting committee want to read your resume. A cover letter will do the job. Here's to craft one:
Listen, we get it. Most teenagers don't write cover letters. You don't want to do that either. But writing one will make your teenager resume stand out!
This cover letter for teenager first jobs shows how:
Earning my Eagle Scout Rank was hard but worth it. I developed several qualities I think would make me a great waiter at Last Unicorn Restaurant. I'm hard-working, dedicated, and I get along well with everyone I work with. My Eagle Scout Project fed 40 homeless people, along with...
(This kid makes me feel FOMO for not being a scout in my teenage years.)
Need more detailed info to write the perfect teenage cover letter with no experience? This guide has your back: Cover Letter for a High School Student
Plus, a great cover letter that matches your resume will give you an advantage over other candidates. You can write it in our cover letter builder here. Here's what it may look like: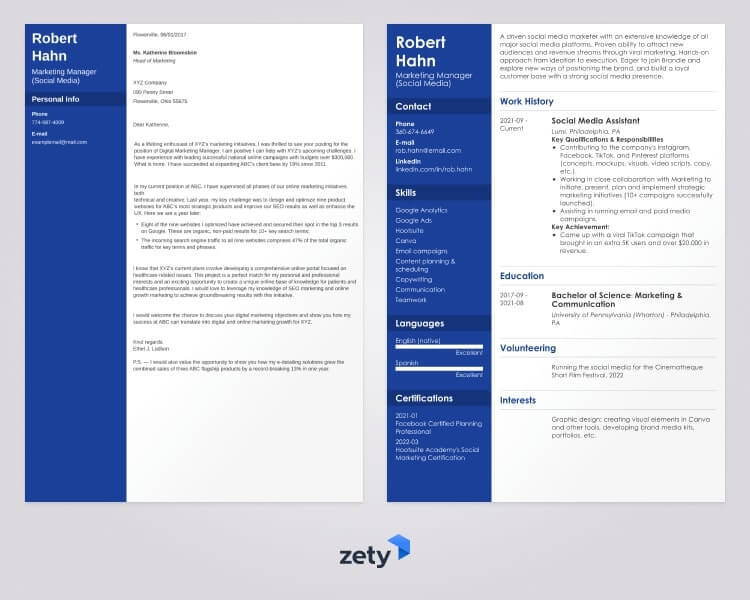 See more cover letter templates and start writing.
Pro Tip: Most teens don't know to follow up on their job applications. A nudge a few days after you send your teen resume and cover letter can put you on the map at the right time.
Key Takeaway
You've got a toolkit now to make the best resume for teens. Remember these key steps to write the best teen resume that lands you the job fast:
Write a teenage resume objective. Use a 60-word count and stuff it with accomplishments that fit the job.
Lock your experience and education to the job offer with matching bullet points. See the resume examples for teens above for clues.
Use special "other" sections to show you're more than just a resume for teens. Add certifications, hobbies, interests, and other goodies.
Stand out from the crowd by writing a cover letter. Most don't do this, so you'll score some sweet brownie points!
When you are done, head on over to Jobs for Teens: 30 Best Teen Jobs and How to Find the Ones Near You
Do you have questions on how to write a great resume for a teen? Not sure how to describe your skills or achievements on a teenager resume with no experience? Give us a shout in the comments! Let's get you that job.
Article summary
The article provides an example and tips for creating a resume for a teenager looking for their first job. The example resume includes sections for personal information, education, relevant coursework and skills, volunteer experience, and extracurricular activities. The article also advises on how to tailor the resume to the specific job being applied for, how to highlight relevant skills and experiences, and how to make the resume visually appealing and easy to read. Additionally, the article offers tips on how to handle the lack of work experience typical for teenagers and emphasizes the importance of using action verbs and quantifiable achievements to make the resume stand out to potential employers.
About Zety's Editorial Process
This article has been reviewed by our editorial team to make sure it follows Zety's editorial guidelines. We're committed to sharing our expertise and giving you trustworthy career advice tailored to your needs. High-quality content is what brings over 40 million readers to our site every year. But we don't stop there. Our team conducts original research to understand the job market better, and we pride ourselves on being quoted by top universities and prime media outlets from around the world.
Sources