Our customers have been hired by:
Three months till you're free. No more Mathletes or AP Spanish courses. But—freedom comes with responsibility. High school graduates don't get allowances anymore, do they? That most likely means you're looking for a part-time job.
The first step to landing it? A great high school cover letter that elevates your high school resume and covers up your limited professional experience.
This guide will show you:
A great high school student cover letter example you can make yours.
The best tips on how to write a high school cover letter step-by-step.
Steps for using every paragraph of your high school cover letter efficiently.
How to make up for lack of experience on your cover letter for high school students.
Want to write your cover letter fast? Use our cover letter builder. Choose from 20+ professional cover letter templates that match your resume. See actionable examples and get expert tips along the way.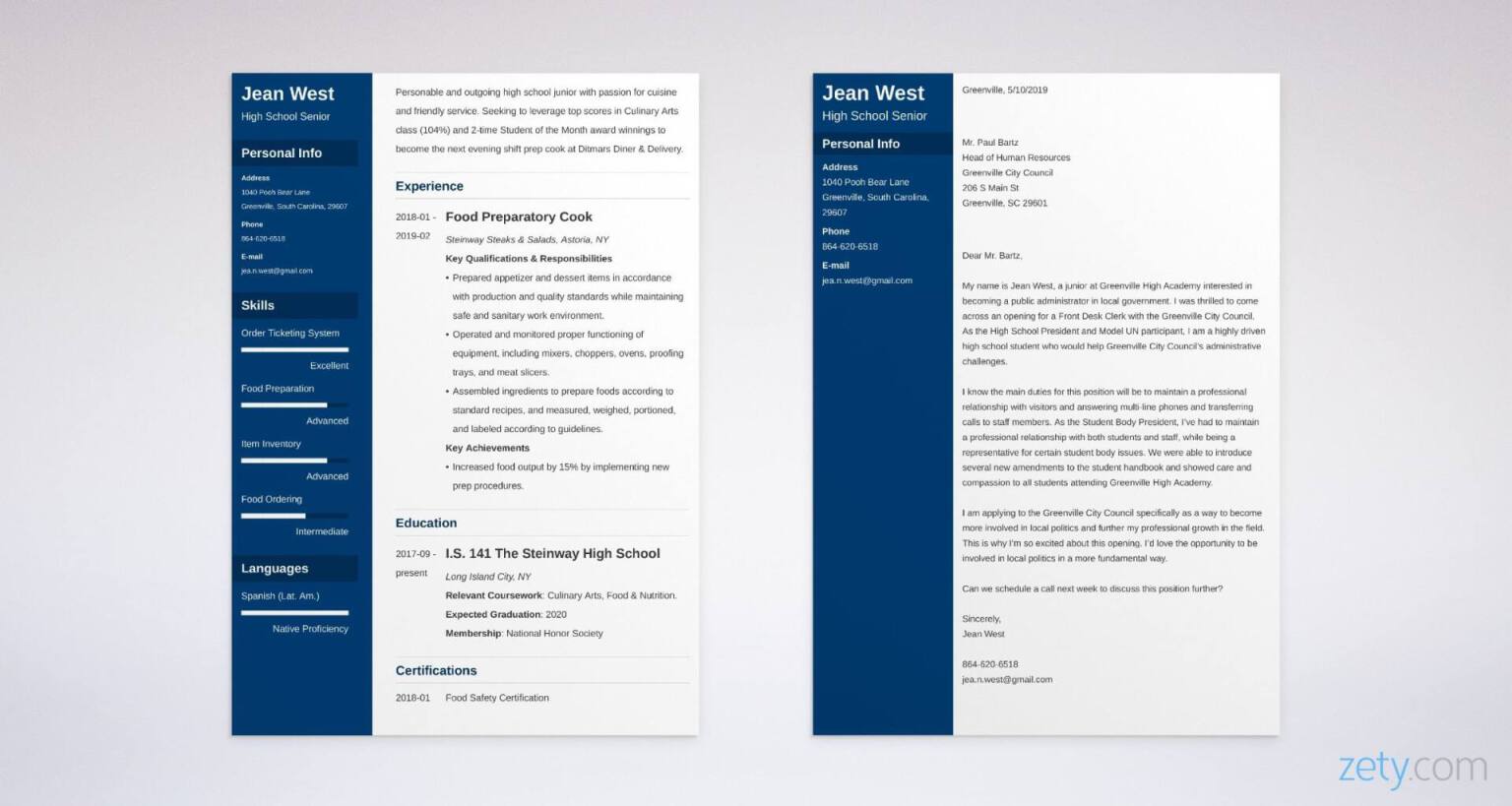 Sample cover letter for a resume—See more cover letter samples and create your cover letter here.
Even if you have a great cover letter, it's nothing without a pitch-perfect resume: High School Student Resume Template.
Maybe this isn't exactly the guide you're looking for? Check out our other cover letter samples geared towards high school students:
Want to explore your options further? See our full selection of cover letter examples for every career: Best Cover Letter Examples.
Now, let's get started!
High School Student Cover Letter Sample
Jean West
High School Senior
1040 Pooh Bear Lane
Greenville, South Carolina, 29607
864-620-6518
jea.n.west@gmail.com

Greenville, 5/10/2019

Mr. Paul Bartz
Head of Human Resources
Greenville City Council
206 S Main St
Greenville, SC 29601


Dear Mr. Bartz,

My name is Jean West, a junior at Greenville High Academy interested in becoming a public administrator in local government. I was thrilled to come across an opening for a Front Desk Clerk with the Greenville City Council. As the High School President and Model UN participant, I am a highly driven high school student who would help Greenville City Council's administrative challenges.
I know the main duties for this position will be to maintain a professional relationship with visitors and answering multi-line phones and transferring calls to staff members. As the Student Body President, I've had to maintain a professional relationship with both students and staff, while being a representative for certain student body issues. We were able to introduce several new amendments to the student handbook and showed care and compassion to all students attending Greenville High Academy.
I am applying to the Greenville City Council specifically as a way to become more involved in local politics and further my professional growth in the field. This is why I'm so excited about this opening. I'd love the opportunity to be involved in local politics in a more fundamental way.
Can we schedule a call next week to discuss this position further?
Sincerely,
Jean West
864-620-6518
jea.n.west@gmail.com
Wow! Now that's a great sample cover letter for a high school student, right? Let's see how to breakdown this cover letter to make yours just as jaw-dropping.
High School Cover Letter Template
Here's how to ace your high school cover letter for that part-time gig:
1. Choose the right high school cover letter format
Make all margins set to one-inch.
Go with single or 1.15 line spacing.
Stay professional with an elegant font in 11pt to 12pt size.
Read more: The Only Proper Cover Letter Format
2. Create a professional cover letter header
Put your name and contact information in the top-left corner.
List your phone number, email, and LinkedIn (if you have one, or other social media handles like Twitter).
Specify city and date right below.
Next, include the addressee's details.
It's difficult to find the name of the hiring manager sometimes. Check the company's website or do some research on LinkedIn. Want to score extra brownie points? Call the reception and ask.
It'll show you're a serious candidate.
Read more: How to Address a Cover Letter
3. Open with a personal greeting and a compelling first paragraph
Address the potential employer by name but start with "Dear".
Say what position you're applying for.
Highlight your most relevant professional achievement.
Read more: How to Start a Cover Letter the Right Way
4. Show that you're the perfect candidate
Look to the job description to show how your relevant experience can help solve their problems.
Boast about a few additional wins you're proud of.
Use numbers to show your achievements whenever possible.
Also, make sure you're not making your cover letter too long: The Perfect Cover Letter Length.
5. Explain why you want in
Dab them with a compliment or two.
Show why you want this job more than any other one.
6. Make an offer and include a call to action
Initiate a meeting by suggesting a time for a call.
Reiterate your passion—make an offer to help in any way you can.
Read more: The Best Cover Letter Ending Examples
7. Close with a professional sign-off
Use your full name when signing off.
Show your digital savvy side by including a digital copy of your handwritten signature below your sign-off (optional).
Add your basic contact details in the footer.
And that's it!
Don't forget that once you've sent out your cover letter, you should follow up on your job application. Need some tips? Check out this guide: Job Application Follow-Up: Examples, Dos, & Don'ts
This will be a game-changer—the cover letter for high school student's first job is at your fingertips.
You've seen the sample cover letter for high school students, and you have some homework ahead of you!
When making a resume in our builder, drag & drop bullet points, skills, and auto-fill the boring stuff. Spell check? Check. Start building a professional resume template here for free.
When you're done, our online resume builder will score your resume and our resume checker will tell you exactly how to make it better.
Thanks for reading! Now I'd love to hear from you. What did you think of our high school cover letter examples? Do you have any tips for writing a sample cover letter for high school students with no work experience? What about a high school internship cover letter? Drop me a line in the comments. Let's chat!
About Zety's Editorial Process
This article has been reviewed by our editorial team to make sure it follows Zety's editorial guidelines. We're committed to sharing our expertise and giving you trustworthy career advice tailored to your needs. High-quality content is what brings over 40 million readers to our site every year. But we don't stop there. Our team conducts original research to understand the job market better, and we pride ourselves on being quoted by top universities and prime media outlets from around the world.