Scroll down to see a professional babysitter resume sample. Just give this a thought first—
You're great with kids. Responsible. Presentable.
You're even CPR certified.
You know how to be a good babysitter.
But nobody's calling you.
Could the problem be your babysitter resume?
I can almost guarantee it.
See, without a great babysitter resume, parents don't know you from Uncle Buck.
They might even imagine some slack-jawed Minecraft addict who'll message friends while little Kasey juggles steak knives.
We're about to change all that.
This guide will show you:
A babysitter resume example better than 9 out of 10 others.
How to write a babysitter resume that lands more interviews.
Tips and examples of how to put skills and achievements on a babysitter resume.
How to describe your experience on a resume for a babysitter.
Here's a sample resume for a babysitter made using our resume builder.
Want to save time and have your resume ready in 5 minutes? Try our resume builder. It's fast and easy to use. Plus, you'll get tips and right vs. wrong examples while writing your resume. See 20+ resume templates and create your resume here.
Babysitter Resume Example - See +20 resume templates and create your resume here.
1
What's the Best Format for a Babysitter Resume?
Meet the parents, Steve and Sue.
They've got nine copies of books like Nurture Shock.
They've also got a big fear you'll break their child.
That's grounded in reality. One whole grape in an infant's mouth can mean disaster.
A poorly formatted resume for a babysitting job can signal you're a whole-grape kind of babysitter.
Choose a well-respected resume format like the reverse-chronological layout. It shows Steve and Sue your best qualities up front.
Use legible fonts and big headings. Add white space here and there to give the eyes a rest.
Next, spell-and-grammar check to prove you pay attention to the small details.
Last, save your resume for babysitting as a PDF. It'll keep the layout from throwing a tantrum once it leaves your desk.
Pro Tip: If you're 18-23, include your age in your professional babysitting resume. A few more years can help convey a sense of responsibility.
Want to check out other options for the best babysitter resume format? See our guide: "3 Resume Formats: How to Choose the Best One [Examples]"
Want to make sure your resume will hook every recruiter and get you that interview? Get our free checklist and learn what makes a job-winning resume: 46 Things You Need To Do Before You Send Your Resume
2
How to Write a Resume Summary or Resume Objective
"This one really knows her stuff."
Can your babysitter resume make parents say that?
It can, with a well-crafted resume summary or resume objective.
What's the difference?
A resume summary works if you've got diaper bags full of experience.
A resume objective works if you're still cutting teeth.
Look at these two usable babysitter resume samples to understand the difference
Babysitter Resume Examples – Summaries
This first example shows how not to do it:
wrong
Babysitter, seeking to babysit for additional families. Highly skilled in childcare, great with children. Physically fit and good at listening.
Why is that so bad?
It's like an empty baby bottle. It looks impressive, but it doesn't satisfy.
To get those parents dialing your number, use something more like this:
right
Compassionate, responsible babysitter with 2 years experience, seeking to deliver child care excellence for the Okafor family. Skilled in tutoring, CPR, potty training, and changing diapers. Have worked as a babysitter for 4 families, as camp counselor, and as daycare worker. Received 4 parent commendations for reliability. Decreased conflict incidents by 15% at Camp Wanakee.
Bing! Steve and Sue just added you as a contact.
Our resume builder (you can create your resume here) will give you tips and examples on how to write your resume summary or any other section. You can easily copy them straight into your resume - it will save you a ton of time.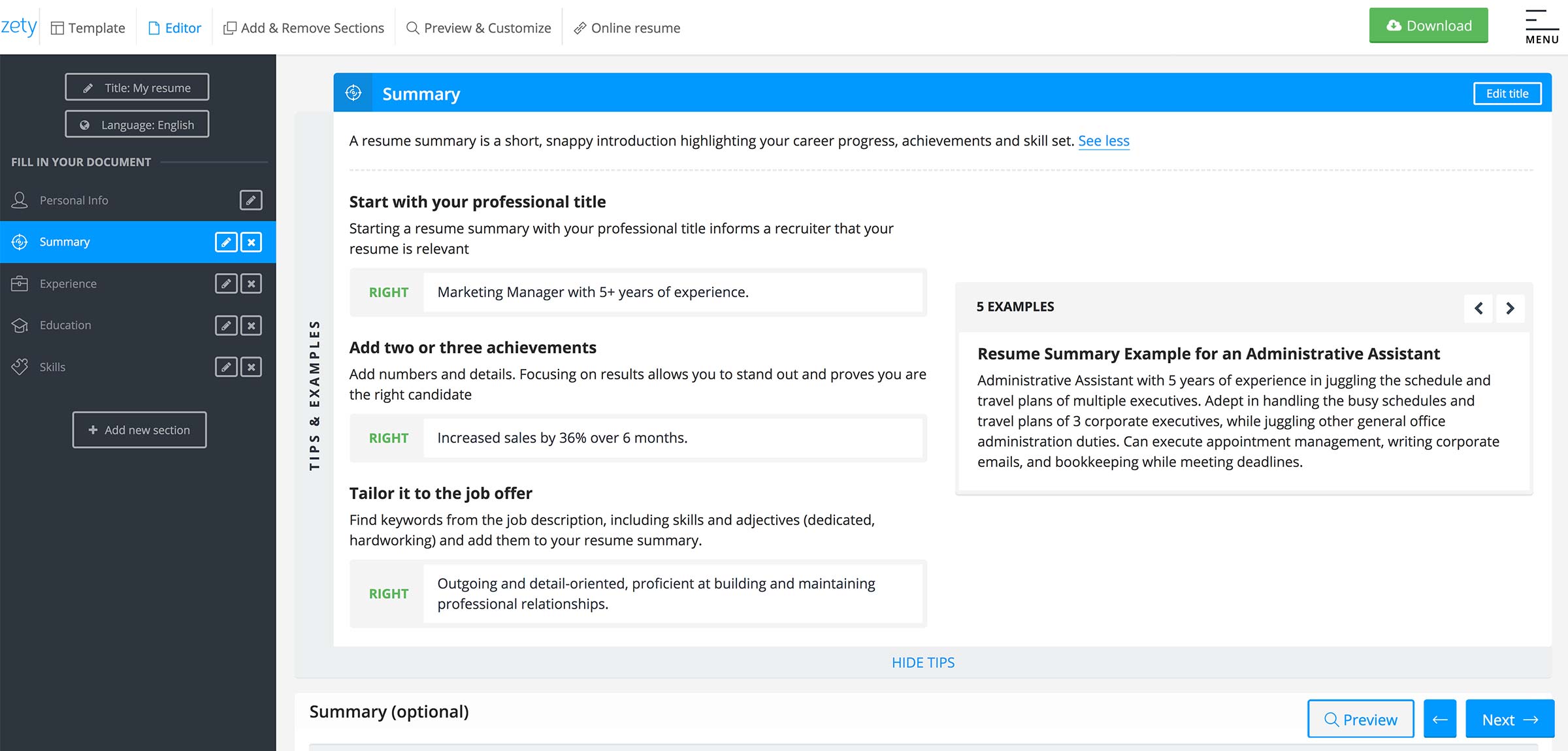 Inside Zety's resume tool you will find tips and examples for your resume.
Don't have that kind of babysitter experience? Don't panic. Look at these next two babysitter resume bio samples (with no experience).
Two Babysitter Resume Objective Samples
A babysitter resume with no experience can still measure up.
Traditionally, a resume objective just shows your passion for the job. But what happens when we add a couple extras?
Consider these two babysitter bio examples:
wrong
New babysitter, seeking experience working for a family. No babysitting experience yet but I'm very good with kids!
That resume objective sample looks barely potty trained.
But with a few details, suddenly you're Summa Cum Laude:
right
Reliable babysitter seeking to enhance child care for the Okafor family. Have worked as camp counselor and daycare volunteer. Decreased child conflicts 15% at Camp Wanakee. Entertained a group of 6 toddlers at Sunny Bright Daycare.
Remember Steve and Sue, our parents?
They're sold.
The first-time babysitting resume example above just proved you've got the skills. You'll see in a minute that almost anyone can get experience like that, and fast.
Pro Tip: Are you in college, or can you audit college classes? Consider taking a class in child care/development. Either will knock your babysitting resume out of the park.
Want more help? See the sample babysitter resume at the top of this article. Plus, check out these guides: How To Write A Resume Summary: 21 Best Examples You Will See AND +20 Resume Objective Examples - Use Them on Your Resume (Tips)
3
How to Describe Your Babysitter Experience
Imagine you're a parent.
Your child is the most important thing in your world.
Breathing comes a close second.
What's the one thing that'll get you to trust someone else with her?
The answer is "experience."
If you haven't got it, there are several ways to get it fast.
If you have, you need to show it the right way.
These two babysitter resume samples show how to put babysitting on a resume:
Babysitter Resume Examples – Experience
The first of our babysitting resume samples is advanced.
It mixes babysitter responsibilities and accomplishments nicely.
right
Babysitter
2015 - 2017
Worked as regular babysitter for children from 4 different families. Received frequent commendations from all four sets of parents.
Created learning games that improved a 6-year-old's shyness.
Taught a toddler to swim, along with water safety lessons.
Turned a 3-year-old's dislike for peas into love.
Whee, right? She's got more babysitting experience than Mary Poppins. That's how to make a babysitter resume that gets the job.
But check out one that needs an early naptime:
wrong
Babysitter
2015 - 2017
Worked as regular babysitter.
Cleaned up after toddlers.
Fed meals to children on a regular basis.
That's like a birthday party without cake or presents: bland. Where are the duties on that babysitting resume?
Next: what if your experience looks like a missing tooth?
How to Write a Babysitter Resume with no Experience
"I would never let you watch my kids."
If you don't have experience, you dread the words above.
But you don't have to.
Get experience for a great babysitting resume from:
Babysitting free for friends and family.
Tutoring.
Volunteering for a child-oriented group.
Working part time in a daycare or a youth camp.
Look at these two babysitter resume examples:
Two Newbie Babysitter Samples – Experience
wrong
Babysitter Experience: None yet, but everyone says I'm great with kids!
That example needs a time out.
But watch what happens when we spice it up:
right
Camp Counselor
Camp Wanakee, 2015 - 2017
Served as camp counselor for two seasons, including teaching, coaching, supervision, safety, and one-on-one counseling.
Taught archery, woodcraft, model boat-building, swimming, water-skiing, and soccer. Was often picked as counselor-of-choice to lead remote hikes.
Provided conflict resolution. Incidents decreased by 15% under my supervision, thanks to my emphasis on building strong relationships.
Daycare Volunteer
Sunny Bright Daycare
Volunteered weekly at a mid-sized daycare. Responsible for child interaction, conflict resolution, playground supervision, and game creation.
Changed diapers on little kids, often amounting to 10 diapers/day.
Boom. You might as well be Mrs. Doubtfire. You haven't worked babysitting jobs, but you've got lots of duties for babysitting on a resume.
Never been a camp counselor or daycare volunteer? Look for one-off volunteer gigs.
You can put volunteer work on a babysitter resume even only if you only do it for a couple hours.
Even a night or two of babysitting for free can help.
Pro Tip: Need that all-important volunteer experience? Check AllForGood.org. It's a government-affiliated site with lots of one-off opportunities to list in a babysitting resume.
Don't rock parents to sleep with boring babysitting resume language. Use action resume verbs instead. Need some? Use our guide: "+80 Examples of Resume Action Words for Every Profession"
4
Is Your Education Section Pouting? It Might Be
You're a babysitter, not a child care worker. You don't need an education.
Right?
Dead wrong.
An education on a babysitting resume can be the thing that proves your muscle.
If you don't show it right, it's like living near a great amusement park, then never going there.
Of course you'll show your:
School Name and Location.
Years in School.
Degree.
But the real eye-candy is the bullet points.
Check out these two professional babysitter resume examples:
Two Babysitter Resume Examples – Education
wrong
Lafayette High School
2013 - 2017
Graduated with a high school degree.
Took core math, science, and language classes.
GPA 3.2
That's as wasted as an ice cream cone dropped on a summer sidewalk. The parents just crumpled up your teenage resume.
But check out the next babysitter resume example. It's filled with measurable details.
right
Lafayette High School
2013 - 2017
Math club secretary, 2016-2017.
Peer tutor. Improved grades of my clients 25% on average.
Student council member.
Soccer team captain.
Beautiful, right? Like having instant access to every episode of Paw Patrol and Peppa Pig.
Details and achievements are the key to a good babysitting resume. Use them, and you'll come off like Wonder Woman with a sippy cup.
Got a college degree? That's real babysitter resume clout. Put a profile on Sitter City and you'll get more work than you can shake a snack-cup at.
Pro Tip: A great GPA proves you're trustworthy, so show it. Otherwise, find a different way to share your strengths.
Want to make your babysitting resume stand out like a chocolate fountain? Use our guide: "How to Put Your Education on a Resume [Tips & Examples]"
5
How to Put Skills on a Resume for a Babysitter
You've got lots of great babysitter resume skills.
You can change diapers. Do first aid. Prep food.
So, say that in your babysitting resume, and you'll be zipping up Thomas the Train PJs by next Friday. Right?
Wrong.
Anyone can say they've got the skills.
You've got to show it.
Take a peek at these two babysitter resume examples:
Babysitter Resume Samples – Skills
Right under "babysitter needed," the job description lists changing diapers, meal prep, and swimming safety.
So, put those in your great babysitting resume skills list.
Then add another skill, like potty training, so you're not just parroting their needs.
But here's the trick:
Weave them through your experience bullet points, like this:
right
Changed 5 diapers per day on two different 0-2 year olds.
Regularly prepared healthy meals for 3 young children.
Taught a 3-year-old to swim during weekly pool visits.

Potty trained

a 2-year-old using yummy dates as rewards.
That's a win. Your awesome babysitting resume will stand out like a kick scooter in a parking lot of Big Wheels.
Now look at how to do it wrong:
wrong
Baby sat four different children on a regular basis.
Took kids to the park frequently for play time.
Cleaned up after toddlers daily.
Read books for story times and gave baths to kids.
That's pretty good, right? But it doesn't fit the parents' needs. That makes it as useful as a ten-speed to a 3-year-old.c
List of Skills to Put on a Babysitter Resume
Now let's get you rolling. Use the babysitting skills below like training wheels.
Then add to them from babysitter job descriptions online.
Babysitter Resume Skills
Babysitter Resume Skills

| | |
| --- | --- |
| Soft Skills | Hard Skills |
| Dependability | Changing Diapers |
| Communication | First Aid & CPR |
| Leadership | Potty Training |
| Patience | Monitoring |
| Physically Fit | Tutoring |
| Compassion | Food Prep |
| Judgement | Washing Machines |
| Listening | Light Cleaning |
| Persuasion | Bottle Feeding |
| Problem Solving | Conflict Resolution |
Follow the plan above, and your babysitting resume will go from Bart Simpson to Lisa in an eyeblink.
Pro Tip: Practice safe interviewing by bringing a friend or parent along. They can wait in the car if you like, but it's perfectly OK for them to come inside.
Want to make your skills section squeaky clean? Use the babysitter resume template at the top. Also, see this article: "+30 Best Examples of What Skills to Put on a Resume (Proven Tips)"
6
How to Add Certifications to Babysitter Resumes
Let's get back to Steve and Sue, our friendly parents.
They're terrified they'll hire some phone-glued babysitter who'll chat all night with friends.
A certification can show you're more the role model type.
List certifications in a dedicated section, like this:
Certifications
Red Cross Babysitting Certification
CPR & First Aid
Put that section at the top of your good babysitter resume, beneath your resume objective.
Don't have certifications? CPR training only takes a couple hours, and makes great babysitting resume material.
Pro Tip: That Red Cross Babysitting Certification is a real thing. It looks fantastic on a resume for a babysitter.
Need more tips for what to put on a resume for babysitting jobs? Use this guide: "What To Put On A Resume To Make It Perfect [Tips & Examples]"
7
How to Add Other Sections for an Effective Resume
How can you convince the parents you're not Jack Sparrow come to drop little Bobby off the upstairs landing?
You do it with solid babysitting resume "other" sections.
I'm not talking about, "I like playing Pokemon Go" type stuff.
I mean things that'll make the parents do that gawking thing from Cloudy with a Chance of Meatballs.
Check out these two babysitter resume examples.
Babysitter Resume Samples – "Other" Sections
right
Additional Activities
Will attend college in 2018, with the goal of becoming a child social worker.
Fluent in Spanish.
Regularly watch my niece and nephew.
Planned and packed all meals for a local youth camping trip.
Play in a weekly local soccer league.
Volunteer Work
Regular volunteer, YMCA.
Regular volunteer, 4H Club.
Organized a carwash to raise money for local animal shelter.
Home run. Any of the points above look great on a resume for a babysitter. Notice two of them only took a couple hours to do.
wrong
I love going for long walks.
I love watching "Game of Thrones."
I'm interested in motorcycles.
Yeesh, right? With that you couldn't get a teen babysitting job watching Cartman from Southpark.
You don't need to get certified in CPR, take classes, win states, and plan on a career in social work.
Just find the things you've already done that prove you're trustworthy. Then put those in your babysitter resume.
Pro Tip: Don't have a zillion "other" activities like the babysitting resume template at the top? Don't fret. Just see if any of the bullet points in the sample spark good ideas.
Need more tips for good babysitter resume "other" sections? See this article: "+20 Best Examples of Hobbies & Interests To Put on a Resume (5 Tips)"
8
Here's the Most Common Myth About Cover Letters
Everyone says nobody reads cover letters.
That's why you'll be banking all your babysitting money while "everyone" is turning out their pockets.
Most parents will read a babysitter cover letter to get an idea of your personality.
You're aiming for "dependable."
Use the parent's name(s) if possible, to make it personal.
Next, show your passion for the job.
Then share one fact about yourself, as shorthand.
Last, include a call to action.
Dear Mrs. Conover,
I'm very interested in babysitting for your family. I'm a new college student, focused on a career in child social work. I've received several parent commendations for past babysitting jobs. I'd love to talk more with you about your needs.
A cover letter like that can float a babysitting resume like helium-filled water wings.
Plus, a great cover letter that matches your resume will give you an advantage over other candidates. You can write your cover letter in our resume builder here. Here's what it may look like: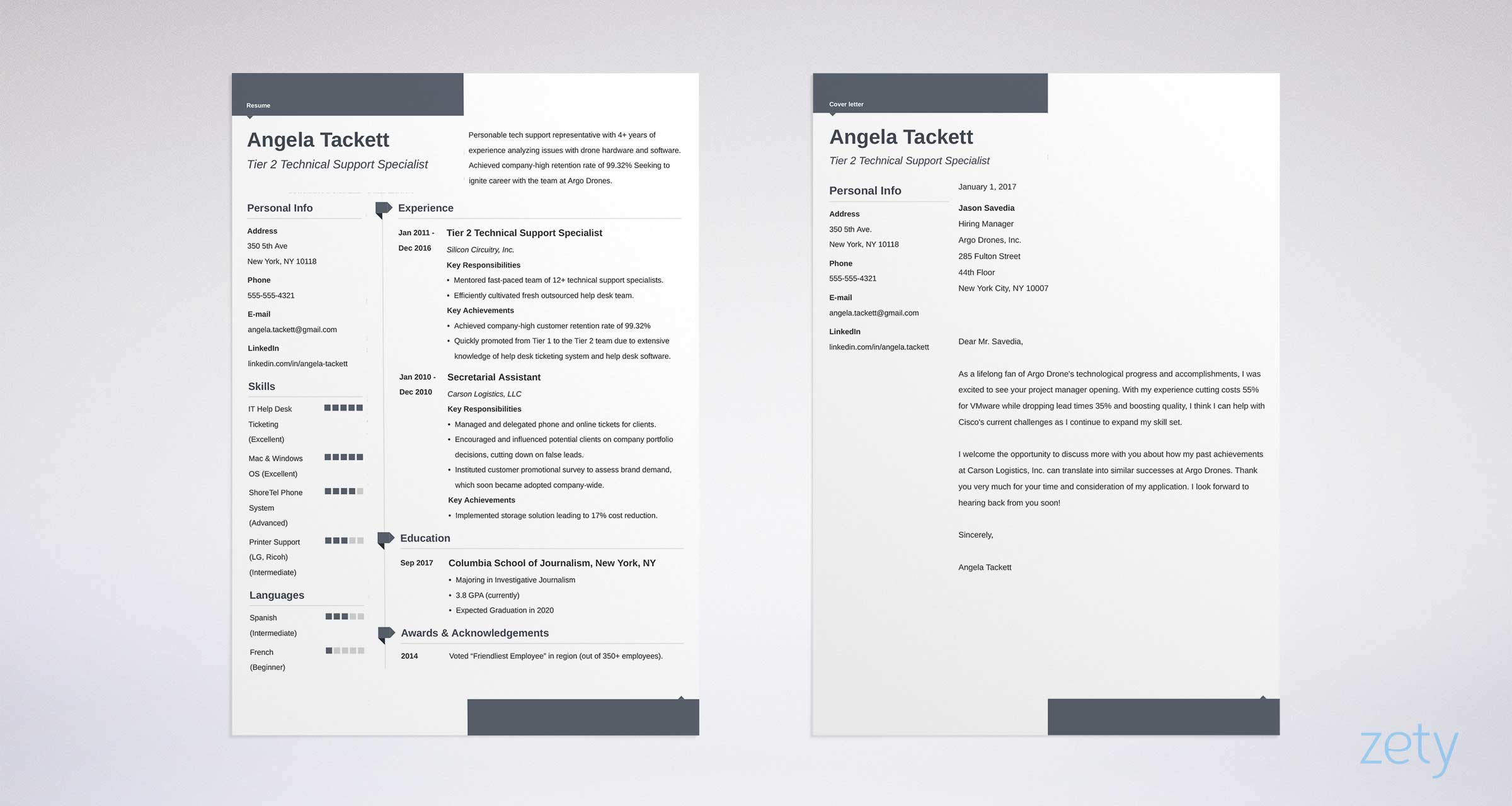 See more templates and create your resume and cover letter here.
Pro Tip: Don't forget to follow up on your great babysitter resume and cover letter. A follow-up email gives you an extra shot at getting hired.
Need more good advice to write the best babysitter cover letter you can? See our guide: "How To Write A Cover Letter [Complete Guide With Examples]"
9
How to Add Contact Info to Your Resume
Nightmare time.
Nobody's calling you.
You wrote a great babysitter resume. You even added your:
Full Name
Updated Phone Number
Professional Email Address
Like this:
Jenny Minas, jenniferminas@gmail.com - 641-426-4243
That professional email address is great too. After all, nobody wants vodkagirl28347985funtime@yahoo.com looking after little Stevie.
But you shared a little too much, without knowing it. All those selfies of you doing a fish face came back to haunt you.
So, give your Facebook profile a good tubby-time. Mop up any social overshares that might sabotage your perfect babysitting resume.
Pro Tip: Need help tidying your Facebook messes? Check out our guide on cleaning up your online presence here.
Want extra role-modeling for your babysitter resume? See this guide: "How to Make a Resume: A Step-by-Step Guide (+30 Examples)"
10
How to Put Babysitting on a Resume
Are you looking for how to word babysitting on a resume?
Or more specifically, how to make babysitting sound good on a resume?
Start with babysitter synonyms like "child care worker" or "caregiver." Those work if you're worried "babysitter" suggests mooning teens with zero skills.
Your true power lies in bullet points. Here's how to add babysitting to a resume:
How to Put Babysitting on a Resume Example
Child Care Giver
Cared for five pre-teens. Handled planning, conflict resolution, meal prep, safety, and basic First Aid.
Trained two children to play musical incidents. Received commendations from both parents.
Through advanced conflict resolution skills, decreased physical incidents by 25%.
That works especially well if the babysitting job description calls for all the skills you demonstrate.
The question isn't really how to describe babysitting on a resume or how to list babysitting on a resume.
The real question is how to put babysitting on a resume so it fits the job description.
Pro Tip: A babysitting description on a resume should show responsibilities that help in the new job. Do some head-scratching to make the link.
Trying to fill a child caregiver job description that goes beyond babysitting jobs? Check out this guide: "Caregiver Resume: Sample and Complete Guide [+20 Examples]"
Key Takeaway
Even with a slew of great babysitter resume templates to work from, making your own can be a chore. Here's what to do:
Find out what mom and dad are looking for by digging in the babysitter job description. Highlight all the requirements you see.
Next, prove you can walk the talk like Ryder and his team of pups by listing those skills in your experience section.
Finally, write tailored "other" sections to fit your babysitting resume to the job like a new Batman onesie.
Do you have questions on how to write a great resume for a babysitter? Not sure how to describe your skills or achievements? Give us a shout in the comments! We love to help!