From planning engaging lessons to guiding the next generation as they grow, you're a hero. You've got the teaching skills, the state certification, and the temperament to be a great educator.
Just one thing in your way—you need the best teacher resume they've ever seen to impress the school principal and show them your educational talent.
This guide will show you:
A professional sample teacher resume template better than 9 out of 10 other resumes.
How to write a teaching resume that will land you more interviews.
Tips and examples of how to put skills and achievements on a teaching resume.
How to describe your experience on a resume for teachers to get any job you want.
Want to save time and have your resume ready in 5 minutes? Try our resume builder. It's fast and easy to use. Plus, you'll get ready-made content to add with one click. See 20+ resume templates and create your resume here.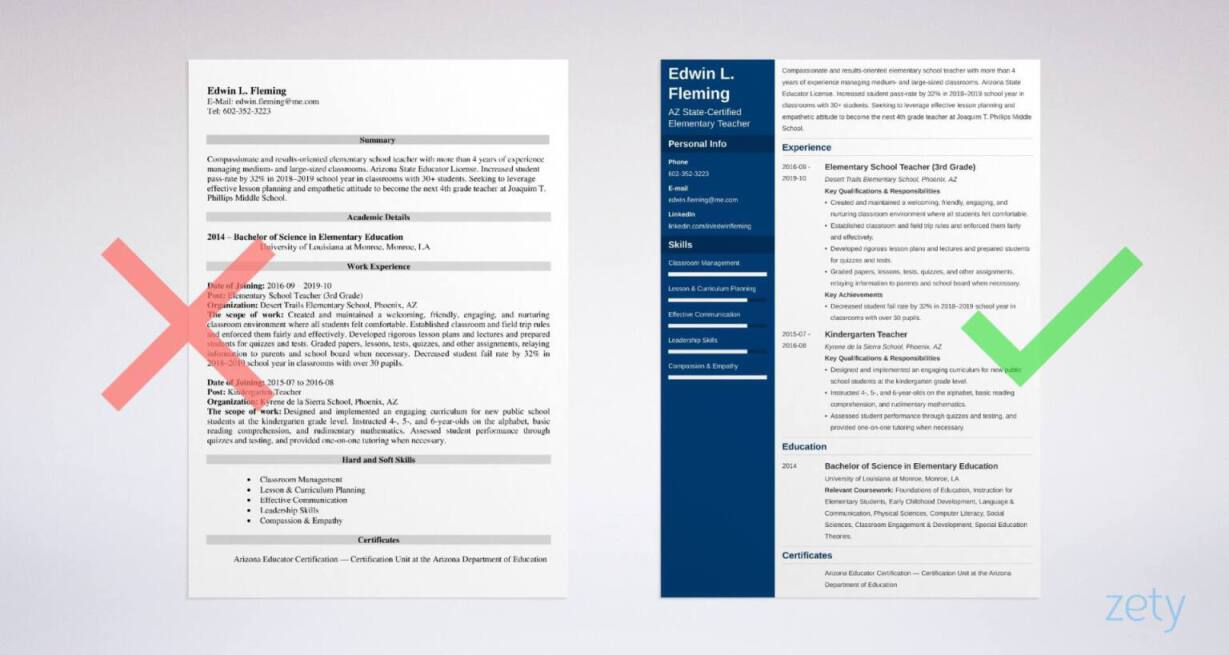 Sample resume made with our builder—See more resume templates here.
Here are a few more specific teaching job titles:
Teacher Resume Template
Edwin L. Fleming
AZ State-Certified Elementary Teacher
602-352-3223
edwin.fleming@me.com
linkedin.com/in/edwinfleming
Summary
Compassionate and results-oriented elementary school teacher with more than 4 years of experience managing medium- and large-sized classrooms. Arizona State Educator License. Increased student pass-rate by 32% in 2018–2019 school year in classrooms with 30+ students. Seeking to leverage effective lesson planning and empathetic attitude to become the next 4th grade teacher at Joaquim T. Phillips Middle School.
Experience
Elementary School Teacher (3rd Grade)
Desert Trails Elementary School, Phoenix, AZ
September 2016–October 2021
Key Qualifications & Responsibilities
Created and maintained a welcoming, friendly, engaging, and nurturing classroom environment where all students felt comfortable.
Established classroom and field trip rules and enforced them fairly and effectively.
Developed rigorous lesson plans and lectures and prepared students for quizzes and tests.
Graded papers, lessons, tests, quizzes, and other assignments, relaying information to parents and school board when necessary.
Key Achievements
Decreased student fail rate by 32% in 2018–2019 school year in classrooms with over 30 pupils.
Teacher of the Year 2020
Kindergarten Teacher
Kyrene de la Sierra School, Phoenix, AZ
July 2015–August 2016
Key Qualifications & Responsibilities
Designed and implemented an engaging curriculum for new public school students at the kindergarten grade level.
Instructed 4-, 5-, and 6-year-olds on the alphabet, basic reading comprehension, and rudimentary mathematics.
Assessed student performance through quizzes and testing, and provided one-on-one tutoring when necessary.
Education
Bachelor of Science in Elementary Education
University of Louisiana at Monroe, Monroe, LA
Completion: 2014
Relevant Coursework: Foundations of Education, Instruction for Elementary Students, Early Childhood Development, Language & Communication, Physical Sciences, Computer Literacy, Social Sciences, Classroom Engagement & Development, Special Education Theories.
Skills
Classroom Management
Lesson & Curriculum Planning
Effective Communication
Leadership Skills
Compassion & Empathy
Courses and Certificates
Arizona Educator Certification — Certification Unit at the Arizona Department of Education
So without further ado, here is how to write a resume for a teacher:
1
Structure Your Teacher Resume Template Properly
The goal of any teacher resume is to conduct an effective knowledge transfer, letting the school principal understand how fit you are for the job.
But—
Before you can educate them on your teaching abilities, you'll have to organize the document with a layout that won't get expelled. Hiring managers, principals, and applicant tracking software alike will appreciate a clean layout.
Here's how to format a teacher resume template:
What to include on a teaching resume:
Header: include your name, contact info, and address on a resume if applicable.
Introduction: a quick intro statement (resume profile) to whet their appetite.
Work history: detailed account of your teaching experience.
Education: your academic achievements.
Skills: concise list of teaching skills and abilities.
Extra sections: round out a teacher resume with second languages, awards, etc.
Read more about resume formatting: How to Format a Resume Correctly
One more thing—
Writer's block isn't just a phenomenon for your creative writing students. Rather than starting with the heading statement, save it for last. This way, you'll come up with plenty of ideas for this introduction paragraph as you write the rest of your resume for teaching jobs.
Having said that, let's start with resume experience section.
2
Start With a Teacher Resume Job Description
Kindergarten teachers and elementary school teachers will add 53,100 positions to their rosters between 2018 and 2028.
High school teachers will add another 38,200, special education teachers go up by 13,600, preschool teachers by 36,900, and middle school teachers by 21,400 in the same timeframe.
So—
Given how much competition there is for teaching jobs, you'll need to give an A+ performance in your resume's work history section.
Let's start by looking at the qualities of a top-notch teacher resume job description section.
Here's our guidelines:
Use the reverse chronological order, starting with your most recent teaching position.
List each job title, company name, company location, and date range you worked.
Give 4–6 bullet points describing your past and current job responsibilities and tasks.
Address competencies relevant to the job by tailoring your resume to the employment offer.
Try incorporating the PAR (Problem-Action-Result) method to come up with quantifiable achievements.
Start each bullet point entry with resume power verbs to make them super impactful.
Mention class sizes and your strongest subject areas.
Focus on teaching accomplishments rather than tasks.
Let's see how these rules look on paper.
To start, here are two experienced teaching resume examples of work history sections:
Teacher Resume Example (Experienced)
Right
High School Teacher – Geography
February 2017–June 2019
Chelsea Career and Technical Education High School, New York, NY
Key Qualifications & Responsibilities
Instructed both general and AP-level high school geometry classes.
Managed advanced curriculum including both United States geography and world geography.
Incorporated lessons on microclimates and climate change into the standard geographical lesson plans.
Taught additional topics, including cultural diversity and conflict, sustaining ecosystems, and resource reliance.
Key Achievements
Maintained a 100% pass rate throughout 2.5 years of geography education.
Wrong
High School Teacher – Geography
February 2017–June 2019
Chelsea Career and Technical Education High School, New York, NY
Key Responsibilities
Taught students about the world.
Informed pupils on climate change.
Focused on geography and landscapes of Africa.
The second example is worthy of detention, at the very least.
But the first one is detailed, relevant, tailored, and includes numbered accomplishments to put a smile on the assistant principal's face.
Now—
What if you're writing a resume with no experience?
On an entry-level teaching resume, you can still give them a gold star-winning work history. Just make sure you list the job duties and wins most relevant to the teaching job.
Check out these two teaching resume samples of work experience sections:
Teacher Resume Example (No Experience)
Right
Substitute Middle School Teacher
February 2017–June 2019
Mayfield Middle School, Oklahoma City, OK
Key Qualifications & Responsibilities
Adhered to the original lesson plans and instructions the regular teacher put forth.
Managed classrooms for 6th, 7th, and 8th grade teachers when instructors were absent due to emergencies, illness, or vacation.
Communicated any developments and updates with original teacher upon their return.
Performed all general teaching duties, including attendance, grading homework, assigning projects, and delivering tests.
Key Achievements
Called in to be a substitute teacher for 150 days out of the 180-day school year.
Supervised classes of 30+ students in 3 different grade levels across multiple subject matters.
Wrong
Substitute Middle School Teacher
February 2017–June 2019
Mayfield Middle School, Oklahoma City, OK
Key Responsibilities
Supervised kids until teacher returned.
Kept children occupied and out of trouble.
Encouraged orderliness and civility.
As you can see, the first teaching resume example is just what the principal wants: it's detailed, tailored to the teaching job, and includes numbers to quantify teaching wins.
When making a resume in our builder, drag & drop bullet points, skills, and auto-fill the boring stuff. Spell check? Check. Start building a professional resume template here for free.
When you're done, Zety's resume builder will score your resume and tell you exactly how to make it better.
Read more about describing your work experience: How to Describe Work Experience on a Resume
3
Enter Your Education (It's Not That Straightforward!)
Almost all teaching jobs, from pre-Kindergarten to high school, require at least a bachelor's degree, if not a master's.
No matter what your current education level is, you need to how to list your education on your resume if you want to score a job in education.
How, you ask?
Let's take a look at some examples for the education section of your resume.
First, let's look at a sample teaching resume for an experienced applicant:
Teaching Resume Education Sample (Experienced Candidate)
Right
Bachelor of Science in General Education
University of Nebraska, Lincoln, NE
Completion: 2016
It's elementary, right?
When you have an experienced teacher resume, you can go light on the details and save space for other important sections.
But—
What if you are new to teacher jobs?
When you're writing an entry-level resume for a teacher, delve deeper into your academic record. To make up for the lack of teaching work history, show extras such as:
Here's an example:
Sample Teacher Resume Education (Entry-Level Candidate)
Right
Online Bachelor of Arts in Elementary Education (Nevada Elementary Licensure)
National University, La Jolla, CA
Completion: 2016
Relevant Coursework: Child Development, Literacy K-6, Social Studies and the Arts, Science K-6, Mathematics K-6, Classroom Planning, Instruction, and Assessment, Diverse and Exceptional Learners in the Elementary Classroom, Lesson Planning.
Minor: United States History
Skip placing high school on your teaching resume when you've completed a university degree.
For some teaching positions, such as a substitute teacher, many schools only require a high school diploma. If you haven't yet completed your college degree, add a high school listing beneath as a secondary listing.
4
List Teacher Skills Relevant to the School & Position You're After
You've got the child juggling skills of a daycare worker, the leadership abilities of a corporate executive, and the compassion of Pope Francis.
But—
A teaching resume can't just list any random skill.
Rather, it needs to be tailored to this particular school and teaching job if you want to hold the principal's attention.
Here's how to include teaching skills on a resume for education jobs:
Scan the teaching job ad carefully to identify the best keywords to use on a resume.
Create a general list of your classroom skills and teaching abilities.
Find teacher skills which match the job requirements from the school employment ad and include them in your teacher skills resume section.
If you don't have 5–10 teacher's skills yet on your resume, include a few from your general list of talents.
Use both hard skills and soft skills on your teacher resume.
Work in most relevant abilities into your job descriptions. Don't just say you're a team player, provide proof of such behavior (Filled in for fellow teachers...)
Let's look at some common entries the skills section might include.
30+ Must-Have Teaching Skills for a Resume
Classroom Management
Behavior Management
Conflict Resolution
Teaching Methods
Performance Evaluations
Planning Curriculum
Physical Endurance
Grading Essays, Tests, Quizzes, and Reports
Disciplinary Action
Science Laboratory
Ability to Work Under Pressure
Compassion & Empathy
Enthusiasm & Energy
Preparing Lessons
Field Trips & Lectures
Geometry
English Language Arts
Algebra & Geometry
Physical Education (P.E.)
Social Studies & History
American Literature
Art & Art History
Special Education
Science (e.g., Biology, Astronomy, Geology)
Foreign Languages
U.S. History and Government
Now—
Let's look at two teacher skills resume example sections:
Sample Teacher Skills Resume Section (Experienced Candidate)
Right
Planning high school curricula
Managing high school classrooms
Communicating effectively
Facilitating school activities
Teaching Skills Resume Example (No Experience Candidate)
Right
Classroom management
Grading & reviewing assignments
Communicating effectively
Easy as an open-book test, right?
Whether you are writing an experienced teacher resume or a new teacher resume, choose the skills this particular school and staff want to see.
Read more about adding skills on resumes: List of Best Skills to Include on a Resume
5
Show Don't Tell: Add "Extra" Sections to Your Teaching Resume
Imagine teaching students how to outline a sentence in language arts class.
Well, your resume now has the basics, like a simple subject and verb.
But, to really make it creative and stand out, it's time to add some adjectives, adverbs, and maybe a prepositional phrase.
I'm talking additional sections on a teaching resume.
Extra sections give your teachers resume a chance to shine brighter than the other educators and job applicants.
Here are a few examples of the best options:
Additional Teacher Resume Sections
Certifications in other industries, say IT or food service, provide a little oomph to help you land that job interview.
On just about any resume for teacher jobs, it's a must. List your state teacher's licence first, followed by any supplementary private teaching certificates you may hold.
Any teaching job is a public service, even in a private school. Adding volunteer experience to your resume for teachers will truly impress the school principal, particularly if that unpaid work was mentoring students or tutoring lessons.
Do you have knowledge of a second language? Add the language and your proficiency level to teaching resumes, especially in school districts which are more culturally diverse (it may come in handy for bilingual students).
School faculty members aren't searching for mindless robots. Show a bit of your human side while still adding value to your teacher resume by adding relevant passions and pastimes.
Teaching Association Memberships & Teaching Certifications
Are you affiliated with any teaching organizations or academic associations? Listing these towards the end of your teaching resume shows the principal you mean business. Here are some examples:
National Parent Teacher Association (NPTA)
The Association of American Educators (AAE)
The National Science Teaching Association (NSTA)
The STEM Leadership Alliance
National Association for the Education of Young Children (NAEYC)
Childhood Education International (CEI)
Whether writing a resume for a student teacher, teacher's assistant, or kindergarten, extra sections are like bonus points to help you pass this all-important exam.
For more possibilities when it comes to additional parts of a teacher's resume, see this guide: Best Things to Include on a Resume
6
Compile the Best Bits Into a Teacher Resume Objective or Summary
Now we've come full circle—
As with the opening of any written essay you'll assign your students, the introduction on a resume sets the tone for the rest of the document.
This heading statement, as it's known, can be either a resume summary or resume objective.
Intrigue them and the assistant principal is interested in reading more. Fail to stir up interest, and it's off to another school for you.
So first, review what's been written in the teacher or teaching assistant resume so far.
Second, find the most impressive and salient points sure to wow any member of the school faculty.
Finally, choose 2–3 of your proudest achievements and instructional skills and use those as the foundation for a solid opening paragraph.
Do you have years supervising classrooms and grading papers?
Use the career resume summary.
The summary statement is a brief paragraph showcasing your past teaching experience, classroom skills, and educational achievements. Proves your teaching credentials and competence by adding a numbered win or two.
Check out these two teacher resume summary examples:
Sample Teacher Summary Resume Statements
Right
Student-minded high school teacher with over 3 years of classroom experience instructing teenagers at the 11th and 12th grade levels. New York State certification and New York City Board of Education license. Improved college admission success rate by 35% over the past 2 years. Seeking to become the next high school trigonometry teacher at John Jacob Dempsey Memorial High School.
Wrong
Having been a high school math teacher with a proven track record of improving test scores for more than 3 years now, I'm looking for a similar role somewhere in my school district. However, I'd be happy to drive further to adjacent neighborhoods and counties for the right price.
The wrong example would have that teacher resume suspended from the running quickly.
However—
The good example is just right, with plenty of juicy details, a personalized approach, and a numbered accomplishment to show off your success.
But what if you've never held a full-time teaching job before?
Use the career resume objective.
An objective statement is perfect for writing a first-year teacher resume.
Instead of your impressive teaching history, it proves you're committed with a statement about your teacher career goals. It, too, includes a quantifiable achievement from related work to document how talented you are, and it works on teacher or assistant teachers resume.
Here are two sample resume objectives for teacher positions:
Teaching Resume Samples—Objective Statement
Right
Compassionate and caring middle school substitute teacher with experience managing classrooms at the 6th, 7th, and 8th grade levels. Newly-minted Oklahoma State teaching certification. Supervised classes at Mayfield Middle School 150 days in a 180-day period. Seeing to leverage educator skills and results-oriented instructional approach to become the new English teacher at Clairemont Middle School.
Wrong
Having just completed a bachelor's degree in education and receiving a license to teach in the State of Oklahoma, I'm now interested in finding a suitable teacher position somewhere around OKC. I have some substitute teaching experience, and I am very good with children.
See the differences?
Sure, we may have exaggerated the wrong example a bit, but a good teaching resume objective is always concise, to-the-point, tailored to the school, and includes a numbered win.
Learn more on how to start a resume effectively: How to Start a Resume the Right Way
7
Attach a Teacher Cover Letter Alongside
Cover letters are important, especially for teaching jobs.
Why?
A teaching resume is great, but it can't showcase your personality, describe how effective your teaching style is, or explain away an employment gap.
So—
Whether writing a resume for special education, preschool, middle school, or high school, attach a cover letter to land your dream job.
How to write a teacher cover letter:
Format cover letters before writing, just as you did for the teaching resume.
Come up with a cover letter opening which intrigues the principal from the very start.
Use the teaching cover letter to talk up your educational background, classroom leadership skills, and school career goals.
Submit another quantifiable accomplishment or two to score that teaching interview.
Sign off with a powerful closing paragraph when ending a cover letter.
That's just the basics, of course.
We've got the full guide on how to write a cover letter, as well as what to say in a cover letter, to make sure you knock it out of the park.
Cover letters are multipurpose, if you allow them to be.
Use a cover letter for teaching jobs to show your enthusiasm for their school colors or explain why you have a gap in your employment history.
Pro tip: Looking for a teaching job in a particular school but don't see anything advertised? A letter of interest for a job can help open doors and reveal potential employment opportunities that haven't been made public yet.
Plus, a great cover letter that matches your resume will give you an advantage over other candidates. You can write it in our cover letter builder here. Here's what it may look like: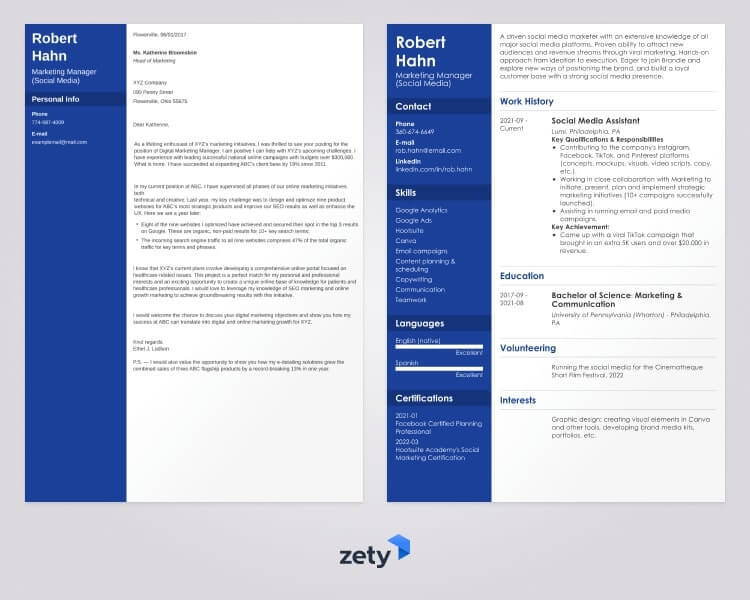 See more cover letter templates and start writing.
Recap—Teaching Resume In a Nutshell
Let's make like math class and sum it all up—
Here's how to write a solid teacher resume:
Format a resume template for teaching using a legible font, plenty of white space, clearly defined headings, and a proper resume margin.
Use the reverse-chronological layout for your teacher's resume.
After including contact information on a resume, skip the intro paragraph until the end.
Detail your work history with teaching job responsibilities, relevant information, keywords, and action verbs to start every bullet point.
Include a numbered accomplishment on your school teacher resume to prove how talented you are.
Document your academic history, giving them extra details (e.g., coursework, Latin honors) when writing new teacher resumes.
List relevant skills on your teacher resume by referring to the job requirements in the employment offer.
Spice up your document by adding impactful additional sections, such as teaching awards, certifications, second languages, or volunteer work.
Don't forget to include a teacher cover letter before you send that email to the principal!
That's all we have, but we'd love to hear from you:
Do you face any challenges when writing teacher resumes or TA resumes?
Want any more teacher resume samples of achievements or work experience?
Have any funny or cautionary stories about applying for teaching jobs?
Let's chat below, and thanks for reading!
Frequently Asked Questions about Teacher Resume Examples
What is the best teacher resume format?
In general, a reverse-chronological resume is the most common and accepted. It means you start with your most recent job and go backward, and is considered to be the best resume format out there. If you're wondering how far your resume should go, the rule of thumb would be 10–15 years, not more. It will also be very helpful to find out how to write job descriptions tailored to job ads because a targeted resume would always stand out among competitors (and will undoubtedly pass Applicant Tracking Systems). Using a good resume template will ensure that you add all the necessary information about your professional experience.
What skills should a teacher put on a resume?
The short answer to what skills should go on your resume would be relevant to the specific position you are applying for. Look at the job description carefully, and make sure what you add matches the requirements. Typically, recruiters expect to see a good balance of soft skills vs hard skills, so add both. Some examples might include:
How to make a resume for your first job as a teacher?
There are several things worth focusing on:
Write a concise resume objective to state your intentions.
Describe relevant academic accomplishments on your resume (if you don't have any work experience yet).
Mention transferable skills that you've acquired previously.
Use additional sections to highlight publications, volunteering experience, hobbies and interests related to the field.
Start with a resume outline to make the job a bit easier, or read our guide on how to write a resume with no experience.
What should a teacher resume look like?
There's a standard to what a resume should look like:
Length: 1 page–up to 2 pages for candidates with a lot of experience.
Formatting: professional font (Arial, Helvetica), 12 pts, 1–1.5 line spacing, equal margins on all sides.
Resume sections: header with your contact information, summary/objective, work experience, education, skills.
Extra sections: training, certifications, awards, volunteering, languages, etc.
Use our resume check tool to get a score on your resume and see what could be improved.
How do you write a summary for a teacher resume?
To write a classic resume summary (also called a resume profile), start by singling out your most prominent professional accomplishments. Then, have a close look at the job ad, and see which of those features are the best match to the requirements. One of the best resume tips is to write it once you're done with the whole resume because the information will be easier to summarize.
A summary may also refer to a summary of qualifications.
What to put on a teacher resume?
What to put on a resume depends on your experience and the potential job responsibilities. Besides obligatory sections (header, summary/objective, job description, education, skills), you can also add additional information on your resume. Extra sections work great for:
For more tips, read our full guide on how to make a resume.