Our customers have been hired by:
High school teachers have the power to shape young minds, but first, you need a high school teacher resume worthy of the highest mark.
Together, we'll create a resume as effective as a pop quiz that no one saw coming. Time to chalk up your career success and graduate to new job heights.
This guide will show you:
A high school teacher resume example better than 9 out of 10 other resumes.
How to write a high school teacher resume that will land you more interviews.
Tips and examples of how to put skills and achievements on a high school teacher resume.
How to describe your experience on a resume for a high school teacher to get any job you want
Want to save time and have your resume ready in 5 minutes? Try our resume builder. It's fast and easy to use. Plus, you'll get ready-made content to add with one click. See 20+ resume templates and create your resume here.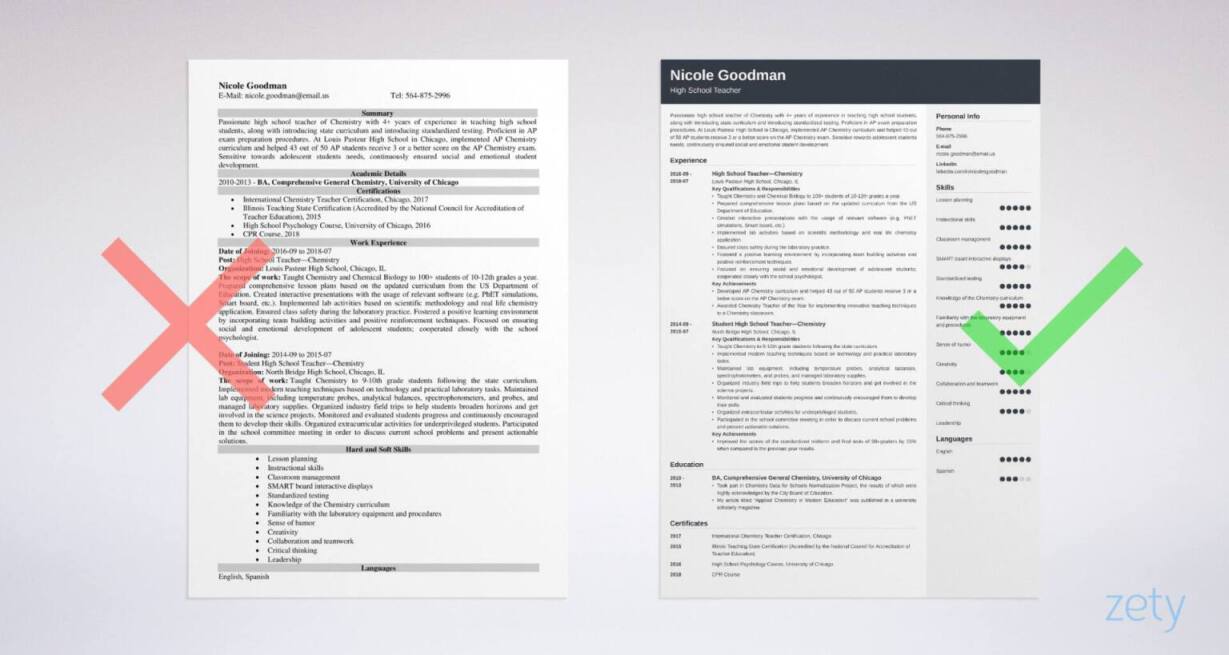 Sample resume made with our builder—See more resume samples here.
See other helpful guides for the teaching positions:
High School Teacher Resume Template
Nicole Goodman
High School Teacher
nicole.goodman@email.us
564-875-2996
linkedin.com/in/nicolesgoodman
Summary of Qualifications
Passionate high school teacher of Chemistry with 4+ years of experience in teaching high school students, along with introducing state curriculum and introducing standardized testing. Proficient in AP exam preparation procedures. At Louis Pasteur High School in Chicago, implemented AP Chemistry curriculum and helped 43 out of 50 AP students receive 3 or a better score on the AP Chemistry exam. Sensitive towards adolescent students needs, continuously ensured social and emotional student development.
Work Experience
High School Teacher—Chemistry
Louis Pasteur High School, Chicago, IL
September 2015–July 2018
Key Qualifications & Responsibilities
Taught Chemistry and Chemical Biology to 100+ students of 10-12th grades a year.
Prepared comprehensive lesson plans based on the updated curriculum from the US Department of Education.
Created interactive presentations with the usage of relevant software (e.g. PhET simulations, Smart board, etc.).
Implemented lab activities based on scientific methodology and real life chemistry application.
Ensured class safety during the laboratory practice.
Fostered a positive learning environment by incorporating team building activities and positive reinforcement techniques.
Focused on ensuring social and emotional development of adolescent students; cooperated closely with the school psychologist.
Key Achievements
Developed AP Chemistry curriculum and helped 43 out of 50 AP students receive 3 or a better score on the AP Chemistry exam.
Awarded Chemistry Teacher of the Year for implementing innovative teaching techniques to a Chemistry classroom.
Student High School Teacher—Chemistry
North Bridge High School, Chicago, IL
September 2014–July 2015
Key Qualifications & Responsibilities
Taught Chemistry to 9-10th grade students following the state curriculum.
Implemented modern teaching techniques based on technology and practical laboratory tasks.
Maintained lab equipment, including temperature probes, analytical balances, spectrophotometers, and probes, and managed laboratory supplies.
Organized industry field trips to help students broaden horizons and get involved in the science projects.
Monitored and evaluated students progress and continuously encouraged them to develop their skills.
Organized extracurricular activities for underprivileged students.
Participated in the school committee meeting in order to discuss current school problems and present actionable solutions.
Key Achievements
Improved the scores of the standardized midterm and final tests of 9th-graders by 15% when compared to the previous year results.
Education
2010–2013 BA, Comprehensive General Chemistry
University of Chicago
Took part in Chemistry Data for Schools Normalization Project, the results of which were highly acknowledged by the City Board of Education.
My article titled "Applied Chemistry in Modern Education" was published in a university scholarly magazine.
Skills
Lesson planning
Instructional skills
Classroom management
SMART board interactive displays
Standardized testing
Knowledge of the Chemistry curriculum
Familiarity with the laboratory equipment and procedures
Sense of humor
Creativity
Collaboration and teamwork
Critical thinking
Leadership
Certifications
International Chemistry Teacher Certification, Chicago, 2017
Illinois Teaching State Certification (Accredited by the National Council for Accreditation of Teacher Education), 2015
High School Psychology Course, University of Chicago, 2016
CPR Course, 2018
Languages


Here's how to write a high school teacher resume that proves you're the perfect candidate for this position.
1. Choose the Best Format for Your High School Teacher Resume
Busy curriculum, tests, homework assignments, and most of all 30 teens in the classroom—
To manage all these you need to keep things in order.
Same applies to your high school teacher resume—the proper resume format keeps all sections organized and easy to follow.
Here's how to format your high school teacher resume in a thoughtful way:
Start your resume with your name and contact information (there's no need to put your address on the resume).
Divide your resume into easily navigable resume sections.
Use professional resume format. The reverse chronological resume layout usually works best as it puts your recent achievements at the top.
Pick the best resume fonts. Don't go too flashy, stick to the classics.
Remember about white space. It makes your resume readable.
If you wonder which one is better—PDF or Word resume, stick to the PDF. Most schools prefer this file format.
2. Write a High School Teacher Resume Objective or Summary
Imagine the principal's office:
She's snowed under with papers. Her inbox is full. And there's a line of students waiting for her in the corridor.
There's no time to waste. You need to get her attention quickly.
How to do this?
By writing a great professional profile for your high school teacher resume.
It can be either a resume summary, or resume objective.
Here's the difference between the two:
If you teach for more than 2 years, write a resume summary. It focuses on your professional experience and highlights your accomplishments.
If you're a beginner teacher or you don't have any teaching experience, go for a resume objective. It will help you present your skills and show your motivation to work in this place and no other.
Pro Tip: No matter if you're a math or English teacher—putting numbers on a resume is always a good idea. If possible, make your teaching achievements quantifiable.
3. Create the Perfect High School Teacher Job Description for a Resume

Following the predictions of The Bureau of Labor Statistics, the number of high school teaching jobs is going to grow by 8% until 2026.
Higher demand? It also means high competition.
That's why—it does matter how you describe your work experience on a resume.
Do your homework first and tailor your resume to the job description.
Plus follow these tips on how to write a great resume experience section:
Start with your latest or current job. Then add your previous positions.
For each entry, mention your job title, school or company name, location, and dates worked.
Show your responsibilities on a bullet point list—use around 6 bullets for each position.
Use resume action verbs, such as managed, mentored, monitored, organized, guided, motivated etc.
Pro Tip: Describe your responsibilities in a way that also promotes your skills. E.g. "Organized weekly field trips to cultural institutions for up to 30 students." It's a great way to show that you're a class management pro.
4. Make Your High School Teacher Resume Education Section Great
Education requirements for high school teachers vary from state to state, but they're huge.
To convince the principal that you're capable of explaining some abstract concepts to young adults—
You also need a convincing resume education section.
Here's how to write one:
If you have more than 5 years of teaching experience: list your degree, school name and location, and graduation year. That's enough as your teaching history speaks for itself.
If you're less experienced, consider listing your GPA (if upwards of 3.5), academic achievements, relevant coursework, conference gigs, articles published in a university magazine, etc.
Pro Tip: In the education sector—certifications and licenses matter. If you haven't completed a traditional teacher preparation program yet, you can always choose alternative licensure.
Kaywanda Lamb, a non-traditional education major and high school teacher of Spanish, with 14 years of experience, says:
I was a Business (1999) and Spanish (2004) major who worked in business for 6 years. Then, I went back for my Spanish degree and I did the alternative certification. Alternative certification helps you learn what you haven't so far about the education. You can do it while working as a teacher on a probationary contract. When I moved to Texas, I finished my alternative certification and passed all the state tests required—which made me eligible to be a certified teacher. A year of classes on Saturdays, 3 major state tests, and my undergrad in Spanish made me official.
5. Highlight Your High School Teaching Skills
You know how to explain the intricacies of geometry and how to make magnesium burn.
Hard skills and solid subject knowledge are a must when applying for teaching positions.
But—
Take it Stars Hollow or Chilton, all high schools are full of drama. Love stories, heart breaks, big dilemmas, and big life choices.
To handle all these—you need to be a coach and a friend. And have plenty of soft skills in place.
Use the list below to choose your key high school teacher skills:
High School Teacher—Examples of Skills
Lesson planning
Instructional skills
Classroom management
Effective discipline
SMART board interactive displays
Standardized testing
Software (e.g., Haiku Learning, Edmodo)
Subject knowledge (depending on the field of expertise)
Knowledge of curriculum and state standards
Sense of humor
Rapport with students
Pro Tip: The list of skills is a great occasion to include some keywords to your resume. Read the job description closely and select the skills they're looking for. Resume keywords will be recognized by ATS software.
When making a resume in our builder, drag & drop bullet points, skills, and auto-fill the boring stuff. Spell check? Check. Start building a professional resume template here for free.
When you're done, our online resume builder will score your resume and our resume checker will tell you exactly how to make it better.
6. Add Other Sections to Your High School Teacher Resume
If you want to get some extra points on the test—
Consider adding one of the following sections to your high school teacher resume:
Pro Tip: To teach in a public high school you need a licensure. But state certificate is not the only relevant certificate. Did you attend any psychology courses or maybe you're a licensed social worker? Add such details to your high school teacher resume.
7. Attach a High School Teacher Resume Cover Letter
If you ask yourself a question: do I need to send a cover letter?
The answer is yes!
For most of school principals, a resume is not enough. Show them that you care and write a high school teacher letter that makes a difference.
Here's how:
Pro Tip: You've sent your cover letter and don't know how to proceed? Follow up on your job application. This will show the school principal that you really care.
Plus, a great cover letter that matches your resume will give you an advantage over other candidates. You can write it in our cover letter builder here. Here's what it may look like: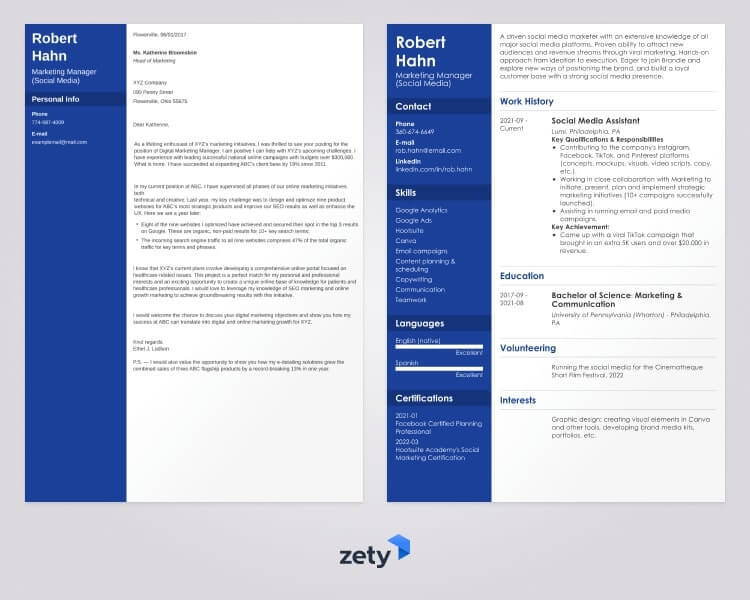 See more cover letter templates and start writing.
And here's how you write a job winning resume for a high school teacher!
Looking for other opportunities to share your knowledge? Visit our guides!
Are you writing your high school teacher resume for the first time? Or perhaps you're a teaching veteran ready for a career change? We'd love to hear from you in the comments.
About Zety's Editorial Process
This article has been reviewed by our editorial team to make sure it follows Zety's editorial guidelines. We're committed to sharing our expertise and giving you trustworthy career advice tailored to your needs. High-quality content is what brings over 40 million readers to our site every year. But we don't stop there. Our team conducts original research to understand the job market better, and we pride ourselves on being quoted by top universities and prime media outlets from around the world.
Sources