Education Resume Examples for Teaching Jobs
You're an education professional with superior knowledge of instruction modalities. Wow recruiters with your expert education resume and start shaping students' lives in no time.
If your education resume were a report card, would it get an A+? Or does it barely pass like hundreds of other applicants? Fear not!
Our guide offers expert insights to help you create a compelling education resume. Time to sharpen your pencils and get to writing.
This guide will show you:
An education resume template that works for any teaching job.
How to write an education professional resume that'll land you more interviews.
Education resume examples that wow school principals with your skills and achievements.
How to describe your experience on a resume for education jobs and get any teaching job you want.
Here's an education resume example made using our resume builder.
Want to save time and have your resume ready in 5 minutes? Try our resume builder. It's fast and easy to use. Plus, you'll get ready-made content to add with one click. See 20+ resume templates and create your resume here.
Sample resume made with our builder—See more resume examples here.
Wanna know how to list education on a resume? Switch over to: How to Put Education on Resume [Tips & Examples]
And if you are looking for advice for specific teaching jobs, check out our dedicated resume guides:
1
What's the Best Format for an Education Resume?
Education is universal. Like death and taxes.
Unlike those two though it enriches our lives.
That's why there'll always be high demand for education professionals.
You could be writing a teacher resume, academic resume or school teacher resume. What do they all need to have in common?
Proper resume formatting.
For recruiters, a pile of resumes is like a pile of test papers. They want to get through them as fast as possible.
A badly formatted education resume template won't get any A+ followed by a job interview invitation.
Jobvite's 2019 Recruiting Funnel Benchmark Report states that only 12% of applicants get invited to interview. That's down from 15% in 2016.
So it's getting tougher out there. How do you get into that 12% elite?
The solution is simple. Use the reverse-chronological format for your resume.
It's the gold standard of resume formatting. Why?
It's as well organized as your lesson plans and focuses attention on your skills and experience.
The format also works brilliantly with ATS software. That's the software that most employers use to automatically scan applications.
Also, top your resume with a professional heading with your contact details. For all education professionals, that includes your name, email address, and phone number.
Remember to use white space wisely, too. Recruiters find it easier to focus on and process generously spaced resumes.
Then use clear headings and a clear resume font. Think the sans serif smoothness of Calibri.
Pro Tip: Save your resume as a PDF. It won't destroy your perfect formatting. Some employers will specify you don't use PDF though. Be aware of this and save a copy of your resume in a different format.
Want to know more about resume formatting? Find it all here: Resume Format: Best Resume Templates for All Types of Resumes
2
Education Resume Summary or Resume Objective? Which Is Best?
A compelling education resume template has to start off strong. Think of the hiring manager as a sleepy student that you've got to wake up with a winning lesson introduction.
Kick-off with a snappy paragraph explaining why you're the best candidate for the job. This will take the form of a summary or objective.
Which one to use?
If you're an experienced educator then a resume summary is best. It shows off your skills, work experience, quantifiable achievements, and certifications to prove you're the first grade teacher the principal needs.
For new teachers or career changers with little experience you need a resume objective.
A resume objective states your career goals to the employer and highlights your skills. You can also throw in a key achievement or two here to prove your worth.
Here's a sample teacher resume objective for a new graduate:
Education Resume Example: Objectives
RIGHT
State certified science graduate looking to fill a position as a physics teacher at Rosa Parks High School. Looking to combine my in-depth practical scientific knowledge and highly developed interpersonal skills, with training in cutting edge learning technology to foster a passion for STEM in students.
WRONG
Seeking to fill the role of physics teacher to utilize my science degree.
The difference is like an A+ next to an F. The first example is a bold statement of intent highlighting vital skills. The second? No recruiter would keep reading.
How about a summary for an experienced math teacher resume?
Education Resume Example: Summaries
RIGHT
Math teacher with 15+ years experience teaching courses in algebra, calculus and geometry, with a specialization in teaching advanced streams. Contributed to a 20% increase in math scores in standardized testing. Prepared bespoke lesson plans for students identified as requiring specialized teaching. Acted as facilitator for International Mathematical Olympiad team. Seeking to replicate my achievements by improving the math curriculum and educational outcomes of the students of Oakland Secondary School.
WRONG
Math teacher with 15 years of varied instructional experience. Strong student outcome focus. Managed classes of up to 25 students at a time in an inner city school.
Getting it right means presenting a condensed list of your skills. Then you kick it up a notch with impressive performance metrics.
Getting it wrong is a bland statement of the obvious. Student focus? That should go without saying.
When making a resume in our builder, drag & drop bullet points, skills, and auto-fill the boring stuff. Spell check? Check. Start building a professional resume template here for free.
When you're done, our online resume builder will score your resume and our resume checker will tell you exactly how to make it better.
Want more tips and actionable examples on how to write a perfect education resume summary or objective? See our guides: Summary For Resume (30+ Resume Summary Examples)and 50+ Examples of Resume Objectives for All Jobs
3
How to Describe Your Education Experience?
In education, solid experience is crucial. This part of your resume is where the money's at.
Mess it up and you'll be watching tumbleweeds.
Get it right and you'll be the hiring manager's white knight. Come to slay their hiring dragons.
How do you cover experience in an education resume?
With an experience section as smooth as writing with a fresh whiteboard marker.
There's always demand for professionals who can facilitate learning. But you can't rest on your laurels. The best jobs need you to prove you've got the right stuff.
So list your jobs in reverse-chronological order, starting with the most recent one. List your job title, company / school name, location, and employment dates.
Education Resume Experience Section
RIGHT
Principal
September 2010‒August 2019
Beaverton Elementary School, Beaverton, Delaware
Mentored teachers in the use of highly effective learning environments, lesson plans, and student assessments. Helped increase average standardized test scores by 17%.
Created and put in place first-rate professional development that was aligned with district and school goals. Improved 'Classroom Assessment Scoring System' metrics by 20%.
Executed alignment of all budgets with curriculum and district directives. Achieved year on year budget savings and eliminated overspend.
Fostered open communication with staff, students, community and district authorities. Increased teacher job satisfaction scores by 30%.
wrong
Principal
September 2010‒August 2019
Beaverton Elementary School, Beaverton, Delaware
Responsible for supporting teaching staff in creating lesson plans, learning environments and assessments.
Oversaw professional development.
Responsible for adhering to district budgets.
Chalk and cheese. The first is packed with enticing metrics that'll book your interview. The other one. Just a brief list of responsibilities.
Pro Tip: Mentored, created, executed, fostered. These are all power words that pack a punch. Use them to increase the impact of your resume. See more in our guide: 240 Resume Action Words: Action Verbs, Power Words and Buzzwords
Here's another example. This time a special education teacher resume experience section.
Sample Educator Resume—Experience Section
right
Special Education Teacher
September 2012‒August 2017
Valley Heights Special School, Dayton, Ohio
Developed and set lesson plans for a class of sixth-grade students with speech impediments, dyslexia, high functioning autism and other learning disabilities. Achieved a 20% improvement in English test scores.
Created bespoke goals to meet the differing abilities of each student. Achieved unblemished record of outstanding ratings in district teacher assessments.
Developed Individual Education Plans for parent-teacher review. Increased parent satisfaction metrics by 12%.
wrong
Special Education Teacher
September 2012‒August 2017
Valley Heights Special School, Dayton, Ohio
Taught a class of sixth-grade students with a range of physical and learning disabilities.
Adapted materials to fit students' needs.
Encouraged students to be considerate of others.
Lesson learned? Use detail and measurable achievements to show off your experience to the best effect.
Pro Tip: Customize each resume to match the position you're applying for. List those responsibilities and duties that will show the hiring manager you can help them deliver.
An effective educator is an experienced educator. Read our guide and learn the intricacies of writing a top-notch job description section: Work Experience in Resume (Examples)
4
Is Your Education Section Flunking? It Might Be
Before you were the one doing the educating you were the one being educated.
Experience is key, but you also have formal qualifications.
Your college education could be anywhere from a bachelor's degree all the way up to a PhD. It depends on what education job you're pursuing.
On an education resume make sure you get your own education right.
Make sure to include:
College name and location
Years in school
Degree obtained
List your highest degree first and don't generalize if you can help it. Add some keywords relevant to the job.
If you're writing a resume with little professional experience, add extra details such as relevant coursework, extracurricular activities, and so on. See the example:
Education Section on an Education Resume
right
2013-2016 BA in Childhood Development with a specialization in Language Development in Young Children
Oregon State University, Corvallis, OR
Research based strategies for supporting child development
Children and youth with disabilities
Family, school, and community collaboration
Pro Tip: Only include your GPA if it's impressive and if you have less than 2 years of professional experience. Remember: anything above 3.5 is worth mentioning.
5
How to List Your Skills on an Education Resume?
Education professionals need to show a mix of soft skills and hard skills on their resumes.
You've already given your resume a liberal seasoning of your skills in your experience section.
Now take the opportunity to add a list of important and relevant skills to get the hiring manager excited. Make sure you do it smart.
Write a list of your soft and hard skills. Then scrutinize the job description for skills required by the employer.
Be sure to include all of your skills that match up with the job description. These are your resume keywords and you can't leave them out.
Now for an example:
Sample Education Resume Skills Section
right
Proficient in developing IEPs
Ability to foster collaborative relationships with parents
Effective and positive classroom management
Student behavior management
Proficient in use of smart whiteboards
Proficient in SMART learning suite
MS Office Suite & G Suite
wrong
Lesson planning
Communication skills
Positive attitude
Knowledge of curriculum
Collaboration skills
Do it right and you'll have a mix of soft and hard skills that address the specific requirements of the job. Get it wrong and you're left with a mix of the generic and the pointless.
Knowledge of the curriculum? That should go without saying.
Stuck for ideas in terms of specific skills to mention. Here's a handy list to inspire you:
Sample Skills For Education Resume
Education Resume Skills

| | | |
| --- | --- | --- |
| Specific education skills | Soft skills | Tech Skills |
| Lesson planning | Adapatability | Smartboard proficient |
| Curriculum development | Confidence | |
| Pedagogic methods | | G-Suite |
| Classroom Management | | Blogging |
| Assessment | | Video conferencing |
| Standardized testing | Attention to detail | Electronic presentation skills |
| Classroom health & safety | Ability to empower | Digital portfolios |
Pro Tip: Don't forget tech skills. Got skills in hardware such as interactive whiteboards and education-specific software suites? List them and stand out from the crowd.
Learn to list your skills for maximum impact with our guide: 99 Key Skills to Put On Resume (Examples for All Jobs)
6
How to Add Additional Sections for an Effective Education Resume?
So now your resume is done and you can party like the end of the academic year right?
Not so fast. There's more you can do to supercharge your resume.
Awards, publications and or volunteering experiences will give you a sharp competitive edge. List them in a separate resume section. See what you can include:
Optional Education Resume Sections
Projects
Extra Curricular Activities
Associations
Training
Conferences
Let's put theory into practise.
Education Resume Example: Other Sections
Awards and Achievements
NEA Foundation Award for Teaching Excellence 2018
Delivered professional best practice presentation at state conference, 2016-2019.
Established relationships with private sector partners resulting in additional $20,000 funding
Wrote an article on critical pedagogy for "Teach Magazine"
Certification
Pennsylvania Level II Teacher Certification
You see? By this stage the hiring manager is already dialling your number.
Pro Tip: If certification is essential for your job include it in a separate section. Make it crystal clear to the recruiter you're certified or your application could end up in the trash.
Find out which resume sections are a must in our dedicated guide: What to Include in a Resume: Must-Have Sections +Examples
7
Top It off with the Perfect Cover Letter
To cover letter, or not to cover letter, that is the question. At least it's one question employers can't seem to agree on.
Our advice. Take the plunge and write one. Some employers read them and some don't bother.
You've got nothing to lose and it could be the final push that tips the balance in your favor.
Remember to keep it concise, snappy and relevant. Don't go for the same generic copypasted letter for every application. Recruiters can see right through it.
First, format your cover letter the right way and add a professional cover letter header.
Secondly, write a compelling cover letter opening.
Next, explain why you want it.
Finally, finish your cover letter with a call to action.
Pro Tip: Personalize your cover letter. Do everything you can to find out the hiring manager's name and use it. That way you've got their attention immediately.
Plus, a great cover letter that matches your resume will give you an advantage over other candidates. You can write it in our cover letter builder here. Here's what it may look like: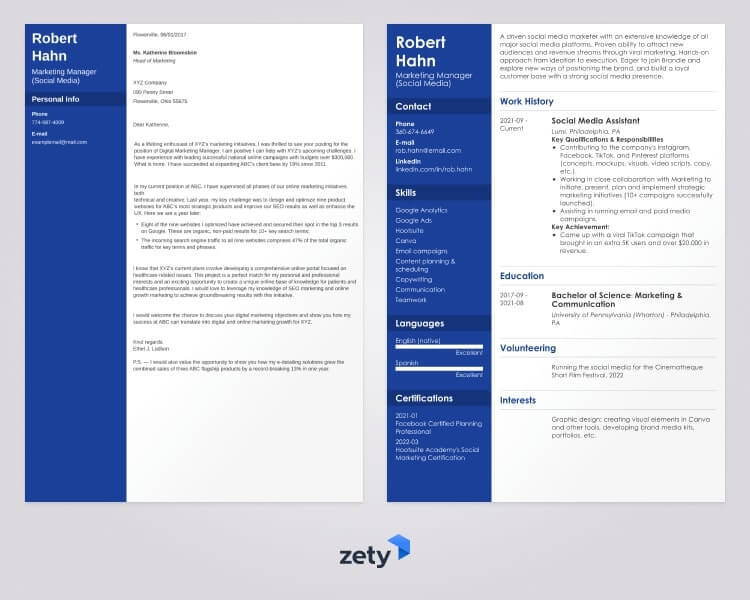 See more cover letter templates and start writing.
Want to know the secret to finding out the hiring manager's name? It's in our guide: How to Address a Cover Letter: Sample & Guide
Want to see a great teacher cover letter? See our guide: Cover Letter For Teaching Jobs: Complete Writing Guide & Examples
Key Takeaways
Let's brush off the chalk dust and revisit our lesson notes.
It takes careful preparation to be head of the class as a candidate for the best education jobs.
Follow our advice for creating an education resume and you'll be set.
Here's how to write an education resume:
Wow recruiters with a well-formatted education resume. That makes it easy to read and lets your strengths shine.
Make them pay attention to every word of your resume. Start with a powerful opening summary or objective.
Land the knockout punch with your education, skills and additional info such as volunteering experience.
Create a well-written cover letter. Set the stage for your resume and draw the recruiter in.
Got questions on how to write education resumes for specific job roles? Hit us up in the comments below. We look forward to replying. Thanks for reading!
Article summary
The article titled "Education Resume Examples – Resume Summaries for Teachers and Other Educators" provides tips and examples for creating a resume for those in the education field. The article suggests that the resume should include a strong summary statement that highlights the individual's qualifications, experience, and skills. It also recommends including relevant education and certifications, as well as any teaching or leadership experience. The article provides several example summary statements and suggests tailoring the resume to the specific job and school or district. Overall, the article emphasizes the importance of creating a clear and concise resume that showcases the individual's strengths and qualifications for the education field.
About Zety's Editorial Process
This article has been reviewed by our editorial team to make sure it follows Zety's editorial guidelines. We're committed to sharing our expertise and giving you trustworthy career advice tailored to your needs. High-quality content is what brings over 40 million readers to our site every year. But we don't stop there. Our team conducts original research to understand the job market better, and we pride ourselves on being quoted by top universities and prime media outlets from around the world.
Sources