Professor Resume: Sample & Writing Guide [20+ Tips]
Getting a job outside of academia is difficult, but this guide will show you how to translate your experience as a professor and get a fantastic job in any industry.
You never expected it to happen. But finally, after years of educating the best minds of any generation, you've decided it's enough. A career change can be both exciting and frightening. But you can ease this process with the right mindset and the best professor resume.
Are you worried you don't know how to turn your academic achievements into more relatable ones? It's OK, professor. We're here to help.
This guide will show you:
A professor resume example better than 9 out of 10 other resumes.
How to write a professor resume that will land you more interviews.
Tips and examples of how to put skills and achievements on a professor resume.
How to describe your experience on a resume for a professor to get any job you want.
Want to save time and have your resume ready in 5 minutes? Try our resume builder. It's fast and easy to use. Plus, you'll get ready-made content to add with one click. See 20+ resume templates and create your resume here.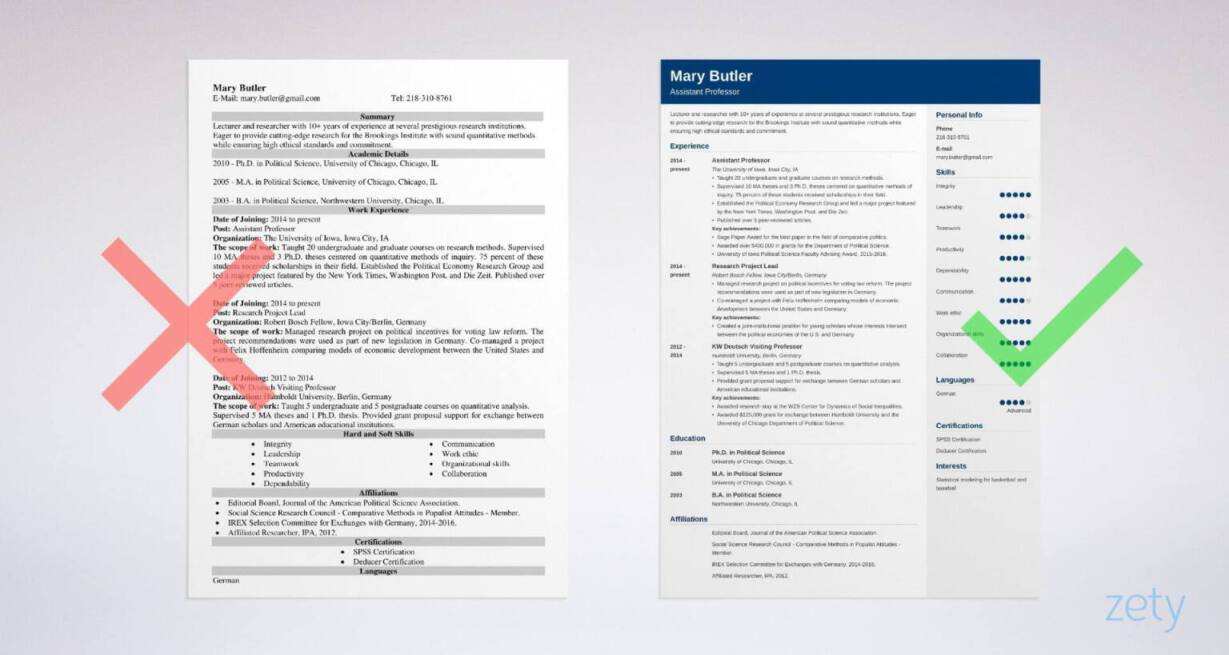 Sample resume made with our builder—See more resume samples here.
This guide is for professors who want to get industry jobs and leave academia behind. Want a better position within academia? You'll need a curriculum vitae. Switch over to our guide on writing a professor CV.
Need academic resume examples or other resume advice? Check out our other guides:
Professor Resume Sample
Mary Butler
mary.butler@gmail.com
218-310-8761
Objective
Lecturer and researcher with 10+ years of experience at several prestigious research institutions. Eager to provide cutting-edge research for the Brookings Institute with sound quantitative methods while ensuring high ethical standards and commitment.
Work Experience
Assistant Professor
The University of Iowa, Iowa City, IA
2014–
Taught 20 undergraduate and graduate courses on research methods.
Supervised 10 MA theses and 3 Ph.D. theses centered on quantitative methods of inquiry. 75 percent of these students received scholarships in their field.
Established the Political Economy Research Group and led a major project featured by the New York Times, Washington Post, and Die Zeit.
Published over 5 peer-reviewed articles.
Key achievements:
Sage Paper Award for the best paper in the field of comparative politics.
Awarded over $400,000 in grants for the Department of Political Science.
University of Iowa Political Science Faculty Advising Award, 2015-2018.
Research Project Lead
Robert Bosch Fellow, Iowa City/Berlin, Germany
2014–
Managed research project on political incentives for voting law reform. The project recommendations were used as part of new legislation in Germany.
Co-managed a project with Felix Hoffenheim comparing models of economic development between the United States and Germany.
Key achievements:
Created a joint-institutional position for young scholars whose interests intersect between the political economies of the U.S. and Germany.
KW Deutsch Visiting Professor
Humboldt University, Berlin, Germany
2012–2014
Taught 5 undergraduate and 5 postgraduate courses on quantitative analysis.
Supervised 5 MA theses and 1 Ph.D. thesis.
Provided grant proposal support for exchange between German scholars and American educational institutions.
Key achievements:
Awarded research stay at the WZB Center for Dynamics of Social Inequalities.
Awarded $125,000 grant for exchange between Humboldt University and the University of Chicago Department of Political Science.
Education
Ph.D. in Political Science
University of Chicago, Chicago, IL
2010
M.A. in Political Science
University of Chicago, Chicago, IL
2005
B.A. in Political Science
Northwestern University, Chicago, IL
2003
Key Skills
Integrity
Leadership
Teamwork
Productivity
Dependability
Communication
Work ethic
Organizational skills
Collaboration
Affiliations
Editorial Board, Journal of the American Political Science Association.
Social Science Research Council - Comparative Methods in Populist Attitudes - Member.
IREX Selection Committee for Exchanges with Germany, 2014-2016.
Affiliated Researcher, IPA, 2012.
Certifications
SPSS Certification
Deducer Certification
Languages
Interests
Statistical modeling for basketball and baseball
Here's how to write a professor resume so organized it'll make Marie Kondo blush.
1. Choose the Best Format for Your Professor Resume
You held college professor jobs for years but want to transition out of academia.
You've looked at a ton of different academic resume examples—they're great. But none will work for you.
Why?
The business world is cut-throat. Every minute means lost resources. It's why recruiters only spend a few seconds per resume.
Your resume is policy brief, not a thesis. Less is more.
You need to modify your college professor resume to fit private-sector research jobs.
Start by following some simple formatting rules:
2. Write a Professor Resume Objective or Summary
Start your professor resume with a bang—a short introduction paragraph of your professional profile.
Choose between a resume objective or a resume summary.
What's the difference?
For those with more than 2 years of professional experience, a resume summary works best. It focuses on your professional experience and key achievements.
As a professor with (scare quotes!) "no real working experience", a resume objective might be more suitable.It highlights the skills you've learned, ignores irrelevant accolades, and shows how you will achieve the goals of your next position.
Add numbers to show your true impact in your resume profile.
Pro Tip: Finish your professor resume before you write the resume profile. It's easier to summarize once you have something to summarize!
3. Create the Perfect Professor Job Description for a Resume

Look:
It's important you know how to write about work experience in a resume. The hiring manager's main concern?
Professors are all theory, no practice.
But you will prove them wrong—
How?
Highlight your relevant skills and experience by tailoring your resume to the job offer:
List your most recent job then go back in time.
Put your job titles, company names, locations, and dates worked.
List your responsibilities and achievements for a resume with bullet points. Have 6–7 bullets for each position.
Start each bullet with resume action verbs, such as managed, coordinated, monitored, performed, etc.
Make sure to only present experience relevant to the job, and quantify it with numbers and percentages.
Pro Tip: Recruiters have a weak spot for academic titles like Ph.D. Don't forget to put those magic three letters after your name.
4. Make Your Professor Resume Education Section Great
As an academic, you know how important it is to list where you received your education from.
So, be sure your resume education section stands out:
Candidates with more than 5 years of professional experience can stick to listing their degree, school name and location, and graduation year. That's it.
Candidates with no experience may want to include extracurricular activities, academic achievements, and relevant coursework.
Increase the visibility of your professional certifications and licenses by listing them in a separate section.
5. Highlight Your Professor Skills
Most academic resume examples underplay skills. It's easy to forget what you're capable of.
And it's not easy to translate academic skills to skills that contribute to the bottom line.
But you are in luck. We have a cheat sheet:
Professor Resume—Skills
Don't list every skill you have. Only list your key skills.
Here's the best way to do it:
Start with a master list of all your job skills (soft skills, hard skills, and technical skills).
Check the job add and see what skills are transferable.
Now look at your list and pick out the skills mentioned in the job posting. Got them? Good!
Highlight the best ones and put them in your professor resume under a key skills section.
Your entire professor resume should be seasoned throughout with your skills. Add those skills to your resume profile and job description sections as well.
Pro Tip: Match the skills you put on the list with the type of position you're after. A professor resume may also highlight your leadership skills.
When making a resume in our builder, drag & drop bullet points, skills, and auto-fill the boring stuff. Spell check? Check. Start building a professional resume template here for free.
When you're done, our free resume builder will score your resume and our resume checker will tell you exactly how to make it better.
6. Add Other Sections to Your Professor Resume
As an academic looking for other jobs, you want to show your recruiter more than just your professional side.
Let's add the following sections to your professor resume.
7. Attach a Professor Resume Cover Letter

Should you include a cover letter?
Absolutely.
More than half of recruiters expect you to include a cover letter in your application. Even if they don't read it (kind of like reviewer #3.)
The good news? Only half of the candidates abide, so you have a leg up on your competition.
Make sure you join them by using the tips below to write a flawless cover letter:
How long should you make your cover letter? Don't let it go past one page. Check out this academic cover letter guide for more help.
Pro Tip: Follow up on your job application to boost your chances. The recruiter will know you're a serious candidate.
Plus, a great cover letter that matches your resume will give you an advantage over other candidates. You can write it in our cover letter builder here. Here's what it may look like: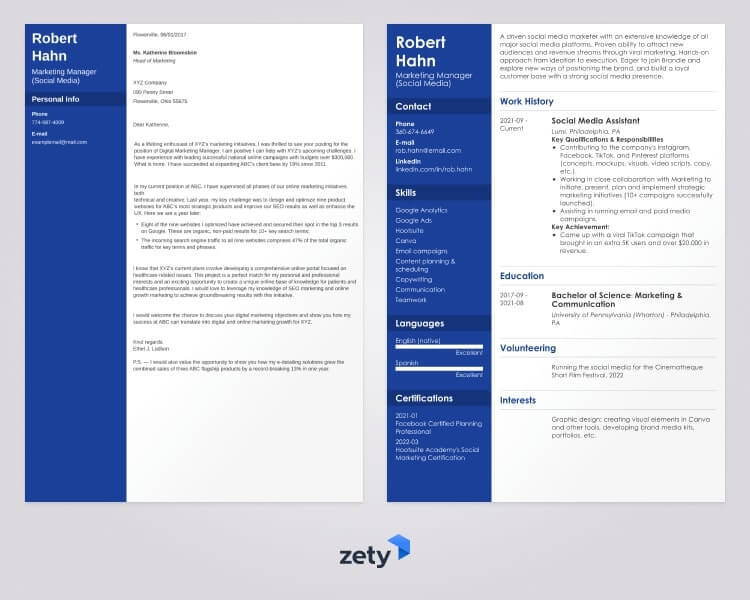 See more cover letter templates and start writing.
And that's it!
You know how to make a job-winning professor resume to transition out of academia. Good luck!


If you need further help, drop me a line and I'll offer some expert advice. I'd love to hear from you, leave your comment below!
About Zety's Editorial Process
This article has been reviewed by our editorial team to make sure it follows Zety's editorial guidelines. We're committed to sharing our expertise and giving you trustworthy career advice tailored to your needs. High-quality content is what brings over 40 million readers to our site every year. But we don't stop there. Our team conducts original research to understand the job market better, and we pride ourselves on being quoted by top universities and prime media outlets from around the world.