You'll see a great writer resume in a second. You'll then write a better one.
First, think about this—
You're a writer, but writing a resume feels like conducting bypass self-surgery:
Painful. Messy. And you soon regret having started.
It's the hardest writing gig of all.
But don't worry. We've got you covered.
This guide will show you:
A writer resume sample better than 9 out of 10 other resumes.
How to create a writer resume even if you have no experience.
Tips and examples of how to put skills and achievements on a writer resume.
How to describe your experience on a resume for writing positions to get any job you want.
Want to save time and have your resume ready in 5 minutes? Try our resume builder. It's fast and easy to use. Plus, you'll get tips and right vs. wrong examples while writing your resume. See +20 resume templates and create your resume here.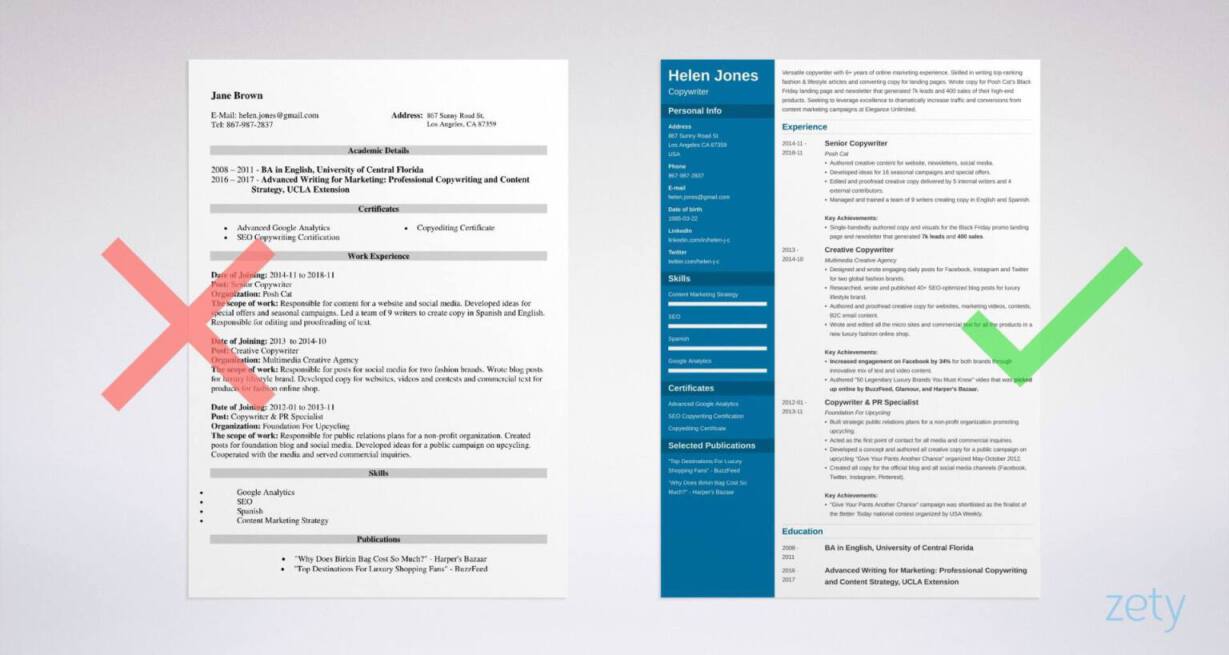 Sample Writer Resume - See more templates and create your resume here.
As a writer, you're probably considering various writing gigs. See dedicated samples and get expert tips for specific industries and niches! Read one of our guides:
Not just a writer, but a writing teacher, too? You might want to check out:
For general proven tips on how to write the perfect writer resume, read on!
1
What's the Best Format for a Writer Resume?
Something that screams: "beginning, middle, and end."

You know that your readers have the attention span of a goldfish. The same is true for recruiters.


You need to get your message across fast and nothing works better than the reverse-chronological format.
Recruiters are most familiar with it. And this is important—
On average, they spend six seconds scanning the text. True story.

So, start from the most recent work experience. Work your way back to the beginnings of your unequal struggle with writer's block.

Alternatively, you can consider the functional or combination resume format.

When should you use them?
If you did a lot of similar things for different clients—and for a longer period of time.
People working as freelance writers, copywriters or grant writers face this problem. In this scenario, what you can do matters more than when you did it.
Use a clear, legible typeface, big headings, generous white space. All these formatting steps make your writer resume neat and easy to follow.
Finally, save your resume as a PDF file. This file format keeps the layout intact and is scannable by ATS software.
But—
Also, keep a copy of your resume in the good old MS Word .doc file. This will save you if it turns out that amazing company doesn't accept PDFs.
Pro Tip: Check the job offer to make sure that PDFs are accepted. Some companies still use older Applicant Tracking Systems that can parse writer resumes saved as .doc files only.
For more tips on how to choose the best writer resume format, read: The Best Resume Format: Chronological, Combination or Functional?
2
Writer Resume Summary or Resume Objective?
Use all your creative forces to start your resume for writing jobs with a blast.
Why?
Meet Brad. He is a recruiter looking for a creative content writer. He's got 200 copywriter and content editor resumes on his desktop.
He dreads going through all of them—
All these writer resumes look the same: I'm a writer and I write..
So, how is your professional writer resume going to make it to the "yes" pile?
Start with an earthquake—a professional writer resume summary or objective.
Which one should you choose?
If you got years of writing experience, choose a writer resume summary. Outline your path in professional writing and highlight your most impressive wins. Awards go here!.
If you are just starting out in the world of writing, pick a resume objective. Briefly describe skills you've mastered so far and mention how valuable a hire you'll be.
This is the earthquake Brad is craving.
But enough theory.
Let's have a look at some writer resume examples.
Summaries first.
Copywriter Resume Examples: Resume Summaries
wrong
Copywriter with 6 years of commercial experience in marketing departments of online fashion companies. Familiar with SEO copywriting and cold email writing.
right
Versatile copywriter with 6+ years of online marketing experience. Skilled in writing top-ranking fashion & lifestyle articles and converting copy for landing pages. Wrote copy for Posh Cat's Black Friday landing page and newsletter that generated 7k leads and 400 sales of their high-end products. Seeking to leverage excellence to dramatically increase traffic and conversions from content marketing campaigns at Elegance Unlimited.
The difference is striking.
The first copywriter resume example is too short and unspecific. This could be anyone. "No" pile on Brad's desk.
The second one? This writer resume summary is tailored to the job description and clearly shows you understand the bottom line.
Applying for a job as a technical writer?
In your summary, you have to show that the "Technical Writer" on your resume is more than just a professional title:
Technical Writer Resume Examples: Resume Summary
wrong
Experienced technical writer skilled in creating documentation in the IT industry. Fluent in using relevant software programs. Willing to further develop professional technical writing skills.
right
Detail-oriented technical writer with 5+ years of experience writing high-quality internal and user-facing support and learning documentation. Single-handedly authored a 90-page user guide for a cloud-based webinar app. Seeking to efficiently explain highly complex systems and processes to Pear Inc.'s customers.
The first technical writer resume summary?
Reads like an attempt at explaining to grandma what it is that you do for a living.
Too simplistic. Too generic.
The second tech writer summary… Well, it speaks for itself with relevant industry jargon, numbers, adjectives, and details. Good job!
Now let's move on to two very different sample writer resume objectives.
Freelance Writer Resume Samples: Resume Objectives
wrong
Entry-level freelance writer with a Bachelor's degree in English. Willing to train on the job. Interested in blogging and social media.
right
Passionate writer with a BA in English from the Ohio State University. As a volunteer content writer for local Their Chance animal shelter, created and managed the "Home Is Where Your Human Is" official blog and Facebook page that helped 84 dogs and cats get adopted in three months. Seeking a junior content writer position with XYZ where I could use my blog writing and social media management skills to engage customers.
What's wrong with the first example?
All it says is "I know how to write in English. Teach me everything else." Okay, it's more than good to be willing to learn. But this focuses on your personal gain—and not on the employer's profit from mentoring you.
The right freelance writer resume example shows you can do things with words even though you've only started. This is key to writing a good writer resume objective—show the recruiter what you've got and how they can profit teaching you more.
Our resume builder (you can create your resume here) will give you tips and examples on how to write your resume summary or any other section. You can easily copy them straight into your resume - it will save you a ton of time.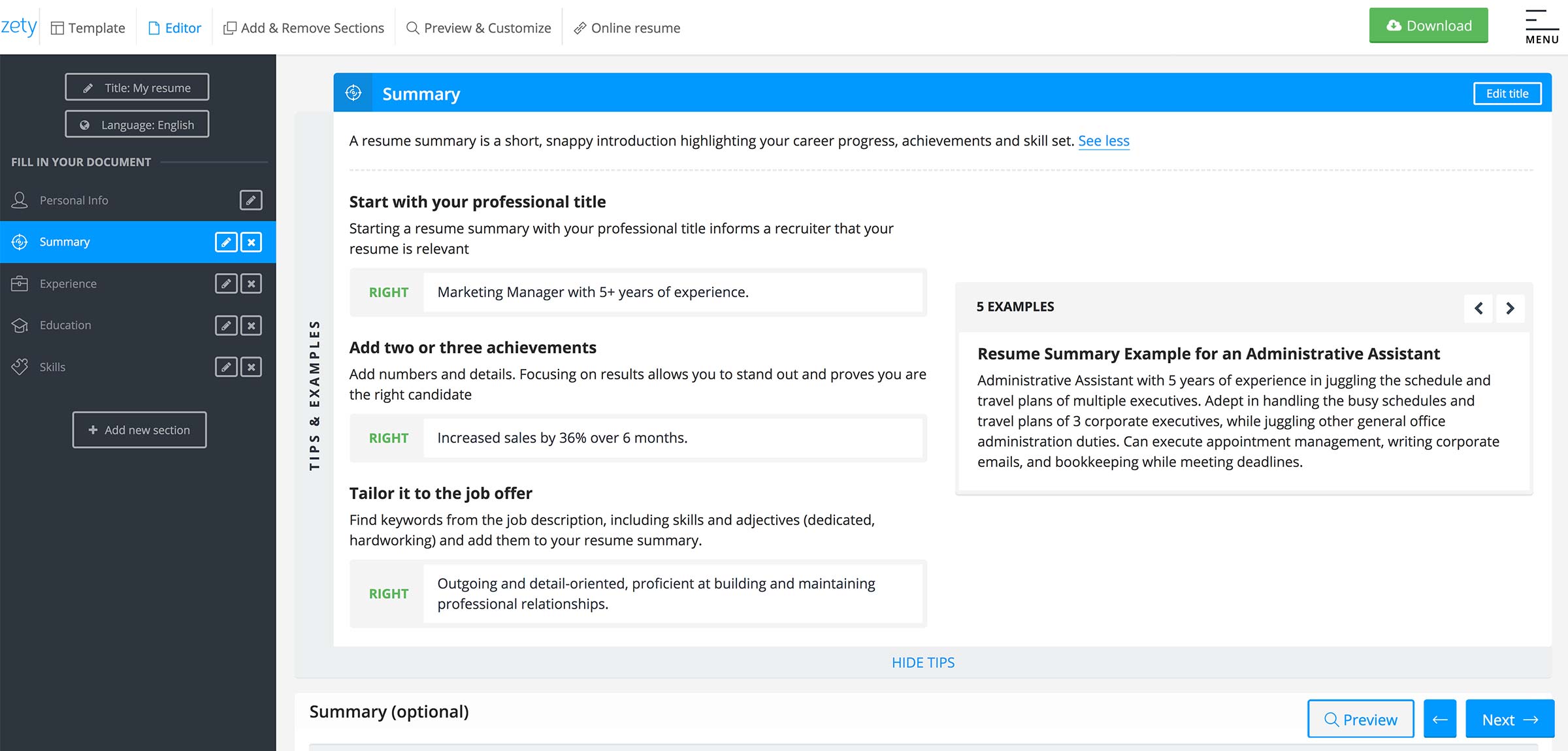 Inside Zety's resume tool you will find tips and examples for your resume.
Pro Tip: Drop personal pronouns from your writer resume summary or objective. You will focus more on the prospective employer—and they will picture you achieving great things for the company.
Want to see more proven tips and best examples of great resume summaries and objectives? Check Resume Summary: Step-by-Step Writing Guide and Resume Objective Examples for Every Profession
3
How to Describe Your Writer Experience
A perfect writer resume summary or objective is like a back book cover blurb from Stephen King—
It works like a magnet, but it's the last thing you should work on.
It will hook your readers and make them want to read the rest.
But the rest matters most to hiring managers—
And that's your experience.
Specifically?
Writing.
But—
Don't focus on how much you wrote. Focus on how well you wrote it, who published it, how many people read it, what awards or accolades you earned.
What is the best way to describe your work experience as a writer:
Use the reverse-chronological order. Describe your experience starting from your most recent position. Move backwards until the last position relevant to the writing job you're applying for.
Use bullet points. For each job, add up to 5 bullet points describing your writing or editing duties. Showcase your formatting skills.
Use facts and figures. Instead of saying "published a popular ebook," go for "self-published an ebook Why Charles Dickens Combed His Hair 100 Times A Day with over 2,000 reviews on Amazon Kindle Store."
Use action/power words. Instead of waffling about being "responsible for...", start your resume bullets with verbs like "curated content," "edited," "managed."
Use keywords from the job listing. Strategically place these important words and phrases in your work experience section. Choose only what's most relevant for the position you're applying for. Tailor your resume to the employer's expectations. It works miracles.
Add key achievements as a small subsection. That Pulitzer Prize? Mention it here again. Show off your other biggest wins such as cover stories or most recognizable magazine titles.
Have a look at this practical writer resume example:
Sample Content Writer Resume: Work Experience
wrong
Content Writer
2016-2018
Lifestyle Media Corporation
Responsible for writing and editing lifestyle articles published online.
Cooperated with a team of video and photo editors.
Participated in sourcing and training content writers for foreign language versions.
No bullet points. No specifics. Boring. No one's gonna read this.
right
Content Writer
April 2016‒October 2018
Lifestyle Media Corporation, New York
Authored 90+ unique lifestyle articles published on 6 websites that attracted over 8M unique visitors.
Increased visitor dwell time by 26%.
Sourced and coached 4 content writers for the Spanish version of YourLifestyle.com that built its traffic from 0 to 1M in five months.
Key achievement: Wrote a script and copy for a YouTube video "27 Tricks To Look Smarter" that got over 15M views in a week and was picked up by BuzzFeed.
Numbers, action words, achievements. All check.
Your recruiter searching for your video on YouTube. Check.
Don't have too much experience? No worries. You can use the same techniques on your entry-level writer resume:
Sample Entry-Level Grant Writer Resume Work Experience
wrong
Grant Writer
2017 - 2018
Zero Waste Today, Seattle
Wrote grant applications.
Sourced relevant grant programs.
Researched studies for the purposes of the grant applications.
right
Grant Writer
2017‒January 2018
Zero Waste Today, Seattle
Wrote 3 successful grant applications that received $160,000 in funding.
Created a long-term state, federal and private funding portfolio with the Lead Grant Writer.
Compiled a comprehensive resource of expert publications and case studies on sustainability and waste management to support the grant application writing process.
Key achievement: Authored a top-rated grant application in the Sustainable Today local government grant program.
Everything in its right place.
Pro Tip: Don't skip months describing your work experience. This falsifies your employment length.
You might have heard that a successful writer resume has to fit on one page A4 paper size. If you have lots of experience, this rule does not necessarily apply. Check how to make the most of your 2-page resume here: Two Page Resume Format: Examples that Prove It's OK
4
Is Your Education Section Underperforming? It Might Be
Whew, time for something easy.
If you are a writer with at least a few years of professional experience, listing education on your resume will be as easy as writing a shopping list.
In the education section of your professional writer resume make sure to include:
Degree type (major and minors, if you hold them)
University or college name and location
Graduation date
Writing a beginner writer resume?
Include relevant courses, academic achievements, and extracurricular activities.
If you are an entry-level writer, you can even list your school newspaper here.
Recruiters hiring writers with no work experience pay special attention to the education section of their resumes. Proven.
Pro Tip: If you graduated from college, forget about sharing your high school GPA. Always go with the most recent institution.
Unsure what education details to put on your writer resume—and what to skip? Read our article: Education on a Resume: What to Include and What to Leave Off.
5
How to Put Skills on a Writer Resume
"I can write 1,000 words per hour."
As can a monkey with a typewriter.
Wait, you're serious?
If the dreaded MS Word cursor never blinketh when you work, cool. Include that on your writer resume.
But—
I don't recommend this.
Impressive as it may be, proving it is another story.
When creating your writer resume skills list go for skills that are relevant to the job opening and can be proven by your certifications and portfolio.

Here is a list of most general skills that you can find in most writing job ads:
Excellent spelling, grammar, and punctuation skills
Professional research skills
Eye for detail
Ability to write quickly and accurately with tight deadlines
The situation gets more specific and complex when writing a resume as a copywriter, content editor, or blog writer.
In this scenario, apart from the above, you also need to have—and list on your resume:
SEO editing and keyword research skills
Knowledge of Google Analytics
Familiarity with platforms such as Wordpress, WIX, or custom Content Management Systems
Ability to use tools such as Ahrefs, SEMrush, Moz, BuzzSumo or alternatives

And if technical documentation is your writer's curse (or blessing), make sure to have and include these skills and certifications on your tech writer resume:
HTML and CSS skills
Familiarity with SharePoint, Quart, and FrameMaker
Adobe Certified Expert (ACE)
Microsoft Certified Professional (MCP)
Certified Professional Technical Communicator
I can't stress that enough—the skills section of your writer resume should outline entries that match the job requirements first.
Tailoring, remember?
Thank me later.
Pro Tip: You can put skills on your writer resume in bold, for example, "SEO editing." It will help you draw the recruiter's attention while they are scanning, and make them remember you.
For more ideas on what skills to put on a writer resume, read our amazing guide: 30+ Best Examples of What Skills to Put on a Resume (Proven Tips)
6
How to Add Other Sections for an Effective Resume
Congratulations, your professional writer resume is 90% ready.
Where is the last 10%?
In additional sections that you can add to kick it up a notch. Meaning, to prove your best assets.
Here are some ideas of what to include in that extra section of your writer resume:
Additional Sections for a Writer Resume—Examples


Awards and Honors
Publications
Projects
Conferences
Influencing on Social Media
Additional Courses and Workshops
Hobbies and Interests


You definitely have some hobbies—
But what if you don't have any of the other items from this list?
Go get some!
Take an extra online course, go to conferences, take part in a writing contest, write a guest post, get active on Medium, LinkedIn, Twitter, or Facebook.
It will only do your professional writing career—and your professional writer's resume—good.
Pro Tip: If you decide to add hobbies, skip irrelevant and odd ones that don't translate to the job. Like mushroom hunting or watching Corgi races. They simply take up valuable space on your otherwise creative writer resume and add no value.
Need more ideas on what sections to add to your writer resume? Read our dedicated guide with proven tips: Resume Sections to Include on Your Resume
7
How About a Cover Letter for a Writer?
You might have heard that cover letters aren't important anymore.
Or are they?
Well, the truth is that as much as 40% of hiring managers won't read a resume if there's no cover letter attached.
This means that if you don't write a cover letter, you decrease your own chances of getting an interview invitation by… 40%.
But—
If you're creating a copywriter resume or a resume for other writing jobs, attaching a cover letter to your application will double your chances for success.
Make your cover letter great by tailoring it to the job opening—
Show that you understand what the job is about. Outline your most relevant writing experience and skills that make you the best candidate for this position.
Finally, mention that you share your writing samples or even a portfolio with the application.
Pro Tip: The only case you can skip writing a cover letter is when the job ad explicitly states not to submit one with your writer resume!
Plus, a great cover letter that matches your resume will give you an advantage over other candidates. You can write your cover letter in our resume builder here. Here's what it may look like: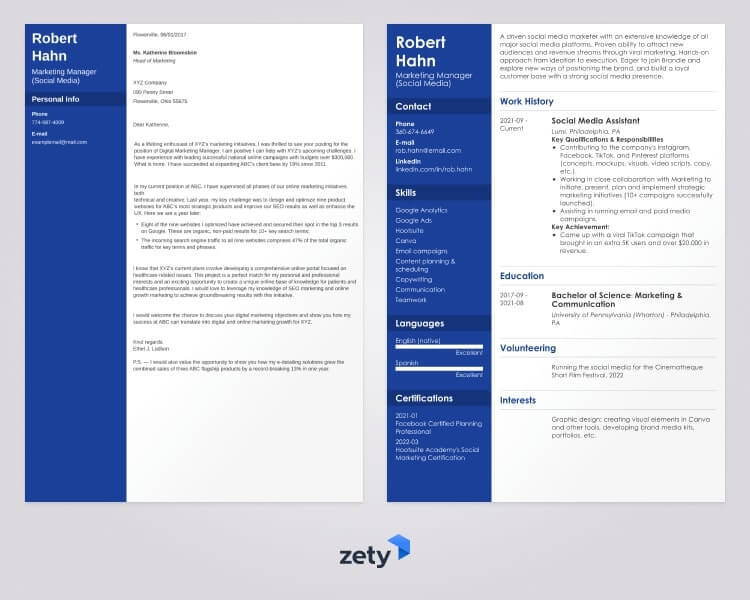 See more templates and create your resume and cover letter here.
Key Takeaway
To have the best writer resume in the pile, don't forget to:
Start your writer resume with a skillfully written resume summary or objective.
In the work experience section, describe your accomplishments and duties using action words. Sprinkle this with numbers whenever possible.
List those of your skills that are relevant to the writing job you're applying for.
Showcase your breadth and passion by adding "other" sections to your resume. Publications, awards, conferences add depth to your professional writer's profile.

All check? Well then—you have a great writer resume ready to land you that dream job!

Still not sure how to make the perfect writer resume?Got more questions? Need further help? That's great! Let us know in the comments and we'll get back to you. We love to help!