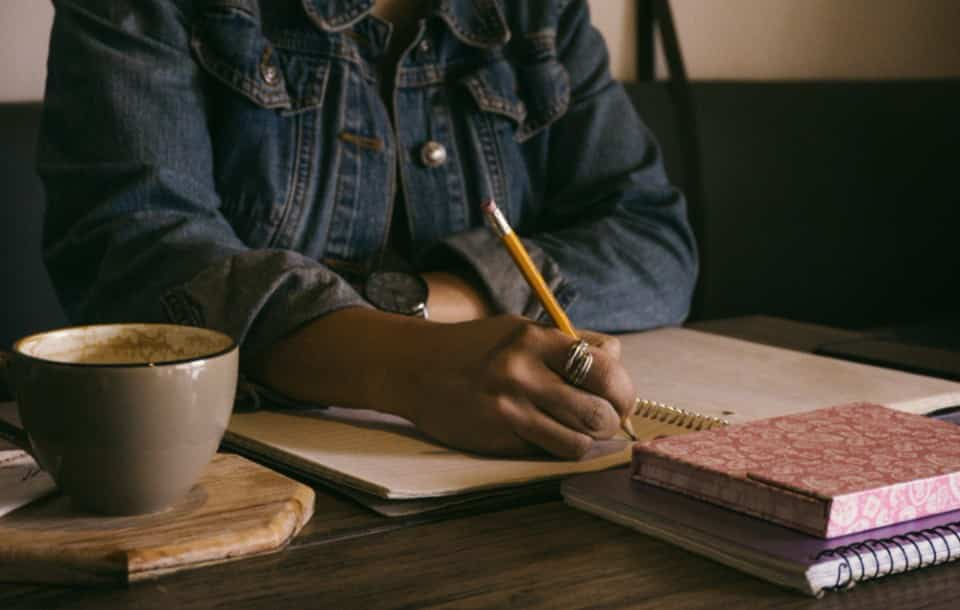 Grant Writer Resume Example & Writing Guide for 2023
As a grant writer, you literally convert your words into someone else's money. We'll show you ways to make your grant writer resume so good, you'll get hired in a flash!
Writing grant applications ain't easy, so a grant writer resume must be at least just as difficult, right? Far from it. And you're about to see just why.
For once, it's time not to secure funding for your organization, but funding for yourself. And you can take that for granted!
This guide will show you:
A grant writer resume example better than 9 out of 10 other resumes.
How to create a grant writing resume that will land you more interviews.
Tips and examples of how to put skills and achievements on a grant writer resume.
How to describe your experience on a resume for grant writers to get any job you want.
Want to save time and have your resume ready in 5 minutes? Try our resume builder. It's fast and easy to use. Plus, you'll get ready-made content to add with one click. See 20+ resume templates and create your resume here.
Sample resume made with our builder—See more resume examples here.
Are you in the market for a similar writing-based job? See some more of our guides here:
Grant Writer Resume Example
James Evans
Grant Writer
916-812-7509
JamesVEvans@zmail.com
Linkedin.com/in/jamesevans
Professional Summary
Talented, GPCI-certified grant writer with 7 years of collective freelance, volunteer, and copywriting experience. Established connections with top representatives in 10+ NGOs and pro-bono institutions in the fields of business and education. Received the 2018 Public Cause Writer Award. Seeking to employ my business management, marketing, and writing skills to join 12Team to help secure funding and build relationships.
Experience
Copywriter
MonkeyWeb, Arlington, VA
October 2018–May 2021
Key Qualifications & Responsibilities
Utilized my writing ability to increase conversion rates by 32%.
Generated noticeable boost in company revenue (+6% y/y) through effective use of SEO and good copy while collaborating with rest of marketing team.
Created, produced, and wrote the company newsletter with an outreach of over 2.5 million readers.
Innovated new ways of creating engaging email blasts and marketing campaigns.
Freelance Writer
April 2015–September 2018
Wrote 50+ articles for TutleTechMag.
Helped in kickstarting the marketing of a new blog by Scientific American by training their junior writers and writing the initial 10 articles.
Collaborated with internal business development team at SharkBiz to grow their company through creative writing, raising their domain traffic threefold.
Education
BA in English
University of Virginia
2011–2015
Skills
Creative and technical writing
Networking
Analytical skills
Business development
Marketing
Problem-solving
Great interpersonal & networking skills
Research
Collaboration
Time management
Volunteer work
Regularly managing social media pages for a local animal shelter.
Hosted bi-monthly weekend career counseling sessions for teens and adolescents at the local community center.
Certifications
Certified Grant Writer, Grant Professionals Certification Institute (GPCI), 2018
AIMBC Certified Business Development Manager (CBMD), 2017
AICPA Not-for-Profit Certificate, 2017
Now, let's show you the ropes of making a great grant writer resume:
1. Choose the Best Format for a Grant Writer Resume
Grant writers create grant applications to secure funding, typically for non-profit organizations. The ability to present information in a clear, succinct way is very important in grant writing. Among other things, a good grant writer resume should show your writing skills and attention to detail.
And just like a grant submission, a job-winning grant writer resume has to start with the correct formatting.
Here are the basic resume layout guidelines:
Also, remember to include your contact information on your resume. It's best placed in a professional resume header at the top of the page.
Read more: Resume Formats: The Complete Guide + Examples and Expert Tips
2. Lead with a Grant Writer Resume Summary or Objective
When writing a grant proposal, key information (like the goal of the program or initiative, the challenges, and funding required) is provided at the outset. Very logical, since the institution will want to know how their money will be used.
It's the same in the case of resume writing: the recruiter wants to know about the key qualities that make you employable. Fail to deliver them smoothly, and you can be sure your resume will land in the trash.
Granted, there are ways to prevent that, namely through the use of an elegant profile. The personal profile in a resume comes in two types: a summary and an objective.
Are you an experienced writer? Great, write a resume summary statement using a 3–4 sentence paragraph. Empower yourself through a positive adjective ("experienced/driven/passionate"), state your years of experience, and back up your skills by stating an achievement with a number to boot.
Just starting out? No worries, go with a resume objective statement. Focus on describing what you already know and demonstrating how much value you bring to the table.
Stuck for ideas? This section is the most culpable of causing writer's block, so feel free to leave it for the end and finish the other sections first.
Read more: The Best Guide to Writing an Effective Resume Introduction
3. Create the Perfect Grant Writer Job Description
In 2019, the projected growth for grant writing positions was estimated at a staggering 10% over 10 years.
That's no small amount of competition you're facing there.
Your writing experience is definitely the main factor the hiring manager will use to estimate your professional worth before they select you to champion their cause. It therefore follows that your work experience section is the most important part of your resume.
To get started, list all the relevant jobs you've held in the past, starting with the most recent one. Include the job title, company name, and years worked.
Then, describe your biggest career achievements at each job in 4 to 6 bullet points (3 is enough for older positions). Make the most of action words and numbers next to accomplishments. Recruiters fall in love with those head over heels, harder than Romeo and Juliet.
Lastly, an optional addition is a separate "Key achievement" point. It does exactly what it says, but it's a nice way of emphasizing one particular thing you are really proud of.
One more thing: you wouldn't send the same grant proposal over and over again, so don't do it with your resume, either. As you create this section, remember to tailor the resume to the job ad every time. A generic resume will always fall flat on its face.
Read more: Effective Resume Bullet Points: Everything You Need to Know
4. Describe Your Education Section on a Grant Writing Resume
Listing your education on a resume is easy if you know the right tricks.
Are you an experienced grant writer, say, 5 years or more in the industry? Summarize your school years succinctly by listing your degree, alma mater name and location, plus graduation date.
For beginners, including additional information like relevant coursework, academic scholarships or extracurricular activities can help to nudge the recruiter in the right direction.
Now, should you add GPA to your resume? If it's strikingly high, sure, but leave it out if it would just make you seem average.
Haven't finished university yet? No problem. Read more: Adding Unfinished College Education to Your Resume: How To + Examples
5. Include the Right Grant Writing Resume Skills
In 2006, over $450 billion was invested in US Government-funded grant programs.
Want to know how many grants?
Just over 700.
It's easy to see that a grant writer needs to be a true expert in their field in order to actually be successful.
So, a good way to show your expertise on your resume is by including a list of relevant professional skills you can offer. It shows you're the right person for the job and that you understand what the role requires.
Here's a list of skills worthy of the Honor Society:
Grant Writer Resume Skills
Academic writing
Copywriting
Business management
Identifying funding sources
Establishing donor relations
Editing
Generating engagement
Research skills
APA-consistent formatting
Meeting deadlines
However, listing all of these on your resume and calling it a day won't get you anywhere. As mentioned before, tailoring is key, so search the job posting for keywords to use on your resume. Then, cherry-pick the skills that match and include up to 10 on your resume. Easy, right?
An added bonus is that this method makes you more likely to get a green light from the employer's Applicant Tracking System (ATS). ATS-friendly resumes have a much higher chance of actually reaching the recruiter.
Read more: What Is the Difference Between Soft and Hard Skills?
When making a resume in our builder, drag & drop bullet points, skills, and auto-fill the boring stuff. Spell check? Check. Start building a professional resume template here for free.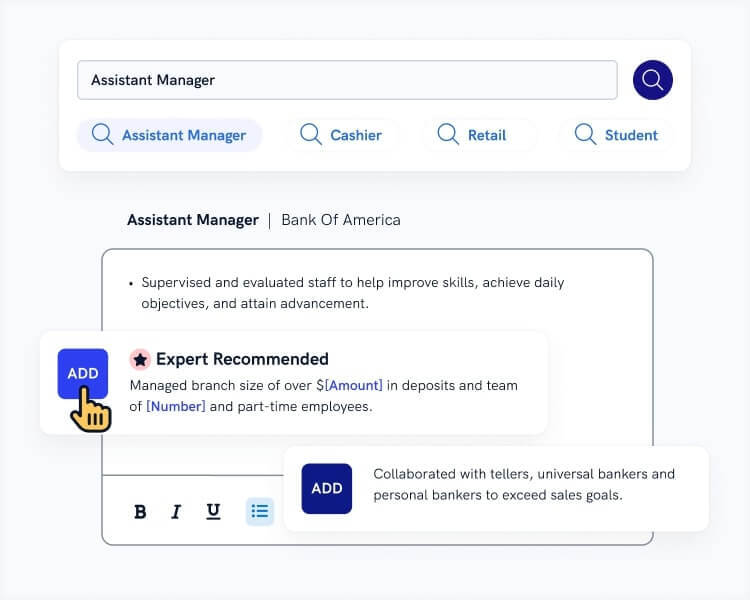 When you're done, our online resume builder will score your resume and our resume checker will tell you exactly how to make it better.
6. Add More Sections to Your Grant Writer Resume
No grant proposal can ever be successful if it doesn't captivate its readers enough. Bland applications that basically scream "Hey, give us money!" just don't win people over.
Likewise, neither do boring resumes. Make sure to outfit yours with plenty of uniqueness to show off your versatility.
Try some of these ideas for extra resume sections:
What about your hobbies? Read more: How to Add Hobbies and Interests to Your Resume + Best Hobbies to Mention
7. Attach a Cover Letter to Your Grant Writer Resume
Ahh, yes, the age-old question: Do I need a cover letter?
Well, are you ready for some hard stats?
About 40% of recruiters don't open job applications that don't include a cover letter.
That's just not a risk worth taking.
Here's how to write an excellent cover letter:
First off, pick a good cover letter format.
Start off with a convincing cover letter opening that immediately hooks your readers. Open on a big achievement or describe something you're passionate about and relate that to the company's work culture.
Include more of your numbered achievements and show how you and the company are the perfect match.
Finish the cover letter by making a call to action and asking for an interview.
Follow up on your job application a week or so later, to remind them how great a candidate you are.
Don't go overboard with the wordiness. A cover letter should be about 3–4 paragraphs long.
Plus, a great cover letter that matches your resume will give you an advantage over other candidates. You can write it in our cover letter builder here. Here's what it may look like: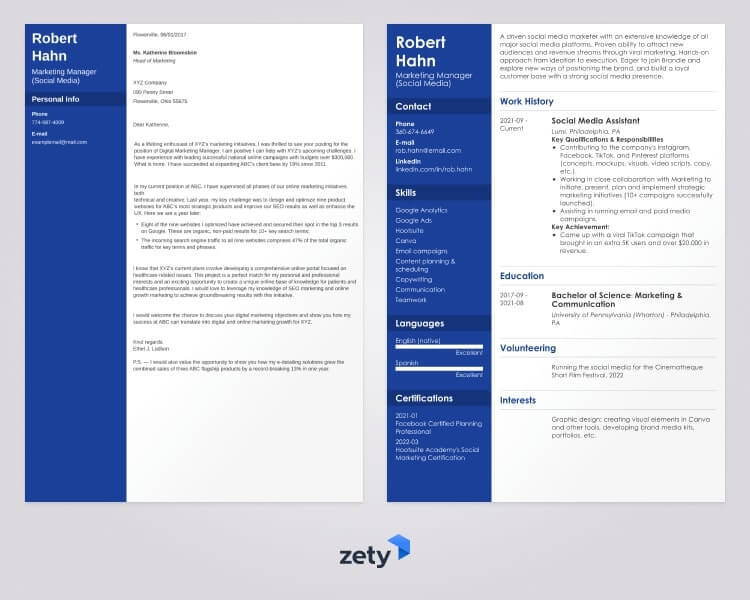 See more cover letter templates and start writing.
Done and dusted!
That's a winning grant writer resume in a nutshell.
Thanks for reading. Still unclear about the details of describing your work experience? Or are there other wishes you want to be granted? Our experts are here at your beck and call in the comments section!
About Zety's Editorial Process
This article has been reviewed by our editorial team to make sure it follows Zety's editorial guidelines. We're committed to sharing our expertise and giving you trustworthy career advice tailored to your needs. High-quality content is what brings over 40 million readers to our site every year. But we don't stop there. Our team conducts original research to understand the job market better, and we pride ourselves on being quoted by top universities and prime media outlets from around the world.