Our customers have been hired by:
You're on a quest to find the perfect nonprofit job, but is everything prepared for the journey?
Fear not! We'll guide you in building a nonprofit resume as powerful as your passion for change, making hiring managers eager to enlist you in their world-saving endeavors. Get ready to conquer the nonprofit realm!
Want to save time and have your resume ready in 5 minutes? Try our resume builder. It's fast and easy to use. Plus, you'll get ready-made content to add with one click. See 20+ resume templates and create your resume here.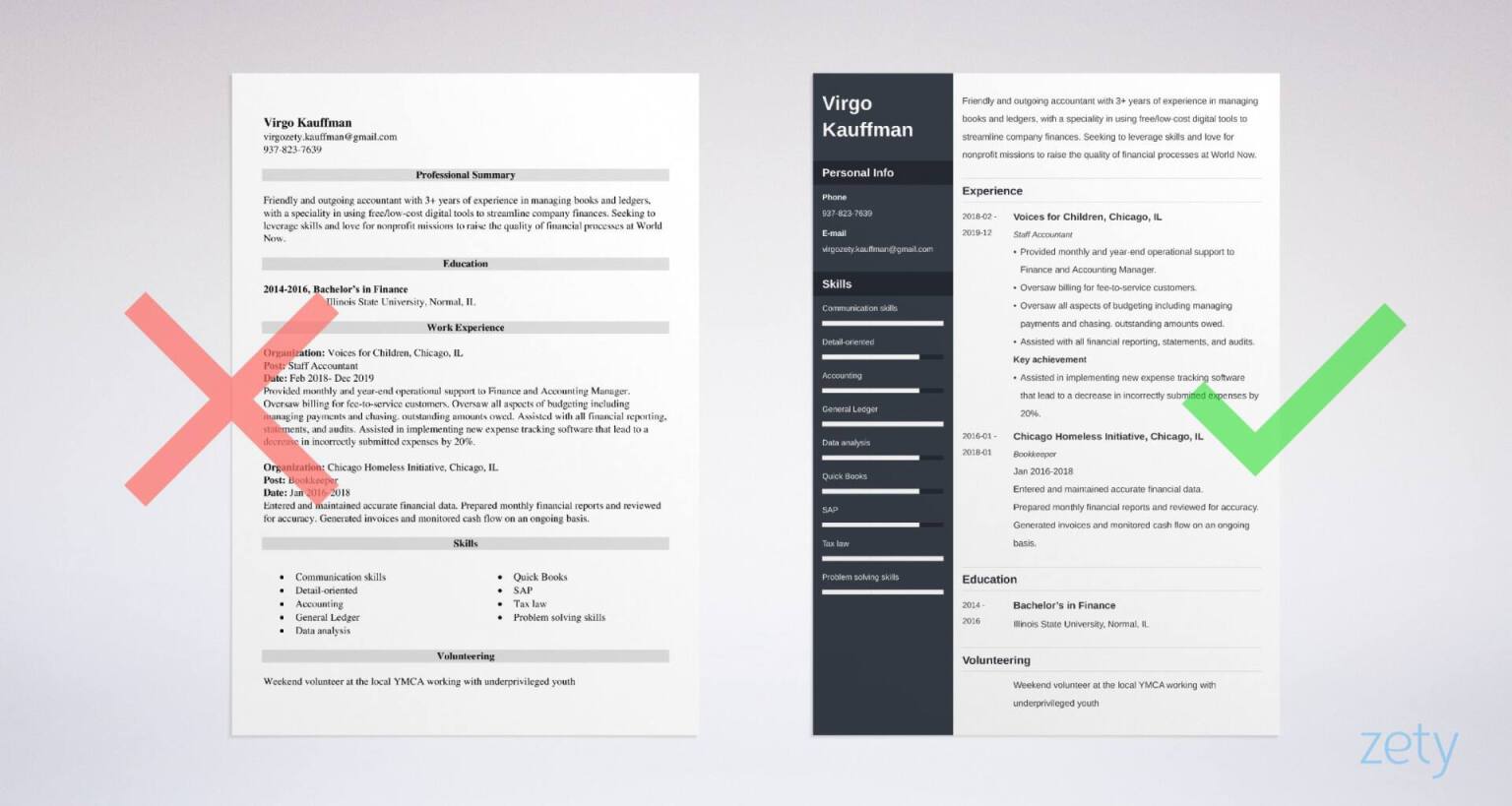 Sample resume made with our builder—See more resume examples here.
Check out our other guides centered around supportive roles:
Sample Nonprofit Resume Template
Virgo Kauffman
virgozety.kauffman@gmail.com
937-823-7639
Professional Summary
Friendly and outgoing accountant with 3+ years of experience in managing books and ledgers, with a speciality in using free/low-cost digital tools to streamline company finances. Seeking to leverage skills and love for nonprofit missions to raise the quality of financial processes at World Now.
Work Experience
Voices for Children, Chicago, IL
Staff Accountant
Feb 2018- Dec 2019
Provided monthly and year-end operational support to Finance and Accounting Manager.
Oversaw billing for fee-to-service customers.
Oversaw all aspects of budgeting including managing payments and chasing. outstanding amounts owed.
Assisted with all financial reporting, statements, and audits.
Key achievement
Assisted in implementing new expense tracking software that lead to a decrease in incorrectly submitted expenses by 20%.
Chicago Homeless Initiative, Chicago, IL
Bookkeeper
Jan 2016-2018
Entered and maintained accurate financial data.
Prepared monthly financial reports and reviewed for accuracy.
Generated invoices and monitored cash flow on an ongoing basis.
Education
2014-2016, Bachelor's in Finance
Illinois State University, Normal, IL
Skills
Communication skills
Detail-oriented
Accounting
General Ledger
Data analysis
Quick Books
SAP
Tax law
Problem solving skills
Volunteering
Weekend volunteer at the local YMCA working with underprivileged youth
This is how to write a job-winning nonprofit resume:
1. Use the Best Format for Your Nonprofit Resume
Let's make one thing clear—nonprofit organizations do make a profit. The difference is that they invest their profits back into their business. They mostly revolve around services that tackle all kinds of social problems and several are also religiously affiliated.
The thing is, nonprofits aren't a specific role and most things you can do in for-profit companies you can also do in a nonprofit. The mission is just different.
And it's understanding that mission that can help you stand out from other candidates like a halo hanging over your head.
To make sure you let recruiters see the light of your nonprofit resume, follow these resume formatting guidelines:
You might be asking yourself how many pages does a good resume have? If you have enough experience and achievements to fill up two pages then go for it. Otherwise, one-page resume template will be more than enough.
2. Write a Nonprofit Resume Objective or Resume Summary
A career objective and a career summary are two sides of the same coin—the resume profile.
It's a brief, concise paragraph at the top of your resume that lets the recruiter know why you are the one to hire. In business terms, it's like an elevator pitch for your candidacy.
A career summary is great if you have more than 2 years of relevant experience:
Brainstorm a file of all your great "selling points."
Use 3-4 of those points that match the job description when you sit down to write your nonprofit resume summary section.
A career objective is a better option for fresh graduates, candidates with very little experience or career changers:
Demonstrate what you've learned so far and show what a great fit you'd be for the company.
Stay detailed and use numbers to prove your skills and successes.
Pro Tip: Especially if you're transitioning from for-profit industries, hiring managers might think you'll be too expensive to hire. Be sure to make it very clear why you want to shift to nonprofit.
3. Create the Perfect Nonprofit Resume Job Description
You're entering America's third largest workforce—your nonprofit resume experience section needs to be just as supportive to you as you are to others:
Include your most recent work first and follow it with previous positions as you go back in time.
Each entry should include: job title, company name, dates of employment, and up to 6 bullet points.
As you go back in your professional experience, lower the number of bullet points you use. Really old positions should have no more than 3 relevant bullet points.
Use power verbs to start off your bullet points strong.
Don't just create a boring laundry list of duties. Focus on your achievements and quantifiable, professional results.
Tailor your resume—make sure your work experience section reflects the job you're applying for.
4. Have Your Nonprofit Resume Education Section Make a Difference
A lot of candidates breeze past their resume education section thinking it's irrelevant.
The thing is—it's super relevant, especially if you have little work experience to show:
If you have more than 5 years of work experience, only list: school name and location, years in school, degree. The same goes for adding unfinished college on your resume.
Have only a couple years of experience or are a fresher looking for their first job? Use wins from your student days to beef up your education section. Use the same process as you did for your work experience and use 4-6 bold accomplishments that fit the job ad.
Pro Tip: If you're a fresh grad, you can add a GPA to your resume. But do it only if it's 3.5 or higher. Otherwise, it's not a safe move.
5. Highlight Your Nonprofit Skills
Here's how to put skills on a nonprofit resume:
Build a master list of all the job skills you already have: think about soft skills and hard skills, technical skills, and other professional skills.
Pick the skills that are most relevant to the job ad and include them in your non-profit resume. For added appeal, list those skills that your work experience and education can prove.
Nonprofit Resume Skills
Relevant software or process knowledge
Pro Tip: Coming up a little shy when listing your skills? There are a ton of online courses on platforms such as Udemy, Coursera, or Skillshare that could teach you a few things relevant to the job you want.
When making a resume in our builder, drag & drop bullet points, skills, and auto-fill the boring stuff. Spell check? Check. Start building a professional resume template here for free.
When you're done, our professional resume builder will score your resume and our resume checker will tell you exactly how to make it better.
6. Add Other Sections to Your Nonprofit Resume
This is a great section to really stand out from other candidates with the things that make you unique.
Feel free to divide this into separate sections such as:
These are just some tips. Feel free to add anything else that you think will prove a good fit.
Remember that volunteer work always looks great on a non-profit resume as it demonstrates an internal drive to help and connect with others who need support. It looks extra nice on an entry level non-profit resume and helps mask the lack of work experience.
Pro Tip: If the job ad asks for any specific tool knowledge or certifications, don't send the hiring manager on a hunt and search mission. Add them to a separate section to make them super visible.
7. Attach a Cover Letter to Your Nonprofit Resume
Any resume for nonprofit organizations will sink without a cover letter—that's how important cover letters are. A with demand for non-profit organizations rising, you need to stand out.
Write a stunning nonprofit cover letter using the following steps:
Pro Tip: Don't forget about a phone call or follow up email after sending your resume. It only takes a couple of minutes, but demonstrates that the role is more than just another job for you.
Need to write a short cover letter? Check out our guide nere: Short Cover Letter Examples for Quick Application
Plus, a great cover letter that matches your resume will give you an advantage over other candidates. You can write it in our cover letter builder here. Here's what it may look like: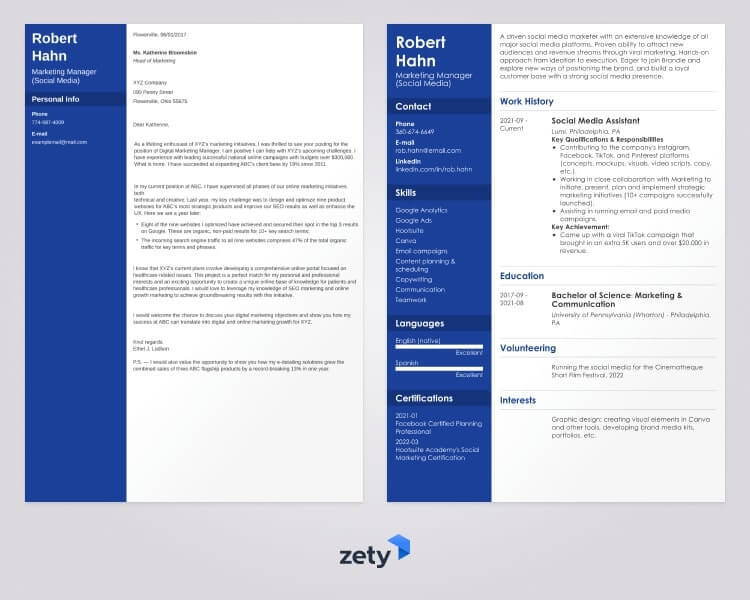 See more cover letter templates and start writing.
Voilà!
You now have every tip and piece of advice you need to write a perfect nonprofit resume.
Is writing a nonprofit resume hard? Do you know how to make a resume for nonprofit even better? Let us know in the comments below!
About Zety's Editorial Process
This article has been reviewed by our editorial team to make sure it follows Zety's editorial guidelines. We're committed to sharing our expertise and giving you trustworthy career advice tailored to your needs. High-quality content is what brings over 40 million readers to our site every year. But we don't stop there. Our team conducts original research to understand the job market better, and we pride ourselves on being quoted by top universities and prime media outlets from around the world.
Sources