Social Work Resume: Examples for a Social Worker (20+ Tips)
Your social worker resume has a tough job to do—convince the recruiter your call is to improve lives. The trick? Show your social work skills as measurable achievements to win their heart.
Are you on a mission to create a Social Work Resume that captures your dedication to improving lives? We're here to help you build a social work resume that stands out like a superhero saving the day.
We'll walk you through the steps to showcase your unique skills and experiences in a way that will make hiring managers take notice. So, let's put pen to paper and start making a difference!
This guide will show you:
A social work resume example better than 9 out of 10 others.
How to write a social worker resume that gets more interviews.
Tips and examples of how to put skills and achievements on a social work resume.
How to describe your experience on a resume for a social worker to get any job you want.
Want to save time and have your resume ready in 5 minutes? Try our resume builder. It's fast and easy to use. Plus, you'll get ready-made content to add with one click. See 20+ resume templates and create your resume here.
Sample resume made with our builder—See more resume examples here.
Looking for a different kind of resume writing advice? Switch to one of our other guides:
Now, here's how to write a social work resume:
Social work resume example
Patricia Mayfield
Social Worker
123-456-7890
patricia.mayfield@email.com
linkedin.com/in/patricia.mayfield
Summary
Compassionate and dedicated Social Worker with over 5 years of experience providing high-quality care. Want to leverage knowledge and passion for helping others in a Social Worker position at Unity Support Agency, to provide direct services to clients, including counseling and therapy, and develop programs to address community issues. Reduced the rehospitalization rate by 10% at Compass Care Social Services by implementing a comprehensive follow-up program.
Experience
Social Worker
Compass Care Social Services, Bowling Green, KY
January 2016–Present
Key Qualifications & Responsibilities
Developed and implemented treatment plans in collaboration with clients and other professionals, addressing mental, emotional, behavioral, and social issues.
Conducted comprehensive assessments to determine clients' needs and best course of action.
Coordinated with healthcare providers, courts, and employers to ensure clients receive necessary services.
Collaborated with psychologists to evaluate each case.
Key Achievement:
Successfully reduced the rehospitalization rate by 10% by implementing a comprehensive follow-up program.
Social Worker
Empowerment Outreach Center, Bowling Green, KY
June 2012–December 2015
Key Qualifications & Responsibilities
Provided crisis intervention and conflict resolution to clients experiencing emotional, psychological, and physical distress.
Delivered counseling and therapy services to individuals, families, and groups.
Built a profile of each client to identify possible issues and track progress.
Key Achievement:
Initiated a community outreach program that increased service utilization by 15%.
Education
Bachelor of Social Work
Western Kentucky University, Bowling Green, KY
August 2008–May 2012
Relevant Extracurricular Activities
Member of the College Social Work Society.
Volunteered at the local homeless shelter, offering counseling services and job training resources.
Academic Achievements
Graduated with Honors (GPA 3.9).
Awarded a full scholarship for achieving the highest GPA in class.
Skills
Excellent communication and interpersonal skills
Strong understanding of social services policies and procedures
Proficient in MS Office and social services software
Excellent problem-solving abilities
Emotional intelligence and resilience
Excellent organizational and multitasking abilities
Teamwork
Certifications
Certified Social Worker (CSW), Kentucky Board of Social Work, 2012
First Aid, American Red Cross, 2015
Awards
2012, Volunteer of the Year Award, Local Homeless Shelter.
Memberships
Member of the National Association of Social Workers since 2012
Led a team in organizing a fundraising event that raised over $5k for underprivileged children.
Conducted group training sessions on trauma-informed practice for new social workers.
Languages
English—Native
Spanish—Intermediate
Interests
Volunteering at local animal shelters.
Advocating for mental health awareness through community seminars and workshops.
1
Use the Best Format for a Social Work Resume
Imagine you're the hiring manager. If you see a sloppy social work resume with poor formatting, what do you do? Probably ditch it like an unhealthy belief.
Don't let that happen to you. Start with the reverse-chronological resume format. It puts a halo effect around your recent accomplishments.
Add white space, the best resume fonts, and clear headings to make it easy for employers.
Last, save human services resumes as PDFs. Modern PDFs are machine-readable. They're also stable no matter what computer they wind up on. Just make sure the job ad doesn't nix them.
Pro Tip: Moving to social work jobs from another career? Use the combination resume format. It integrates transferable experience into your social worker resume.
If you don't want to bias yourself toward the reverse-chronological social work resume format, see our guide: 3 Resume Formats: How to Choose the Best One [Examples]
2
Add a Social Worker Resume Objective or Resume Summary
Meet Kierra, the clinic director. She's hiring for a social worker job with high pay, flexible hours, and profit sharing.
You really want to work for Kierra. But she's seen enough social work resumes to cause PTSD. Her guilty secret? She doesn't read them all. She skims, then reads the ones she likes.
How do you get in her "good candidates" pile? With a social worker resume objective statement or resume summary. Use a resume objective if your experience is still taking baby steps. It'll show your passion. Use a resume summary if you've got experience like Tiziana Dearing and you want to show it off.
Load either one with measurable achievements. These two senior social worker resumes examples show the right and wrong approach. Where's the abnormality in the first of our senior social workers resume samples?
wrong
Passionate social worker with 4 years of experience. Handled all social worker duties and responsibilities at Crosstown Community Mental Health. Provided interventions, worked with clients, assisted with new patient intake and documentation, and created treatment plans.
That's not incompetent, but it won't release a flood of interviews. Instead, emulate our next human services resumes example:
Social Worker Resume Summary
right
LCSW with 4+ years of experience. Seeking to help Halloran Center and Services' clients exceed goals through proven skills in assessment and treatment plan development. At CCMH, created 27 treatment plans and worked with 32 clients to meet their goals with 85% success in 9 months.
Breakthrough. That's in the Tom Walsh zone. The measurable achievements make it work.
Is your experience less powerful than that? Try a social worker resume objective. Back in the days of metrazol therapy, that meant showing you really wanted the job. That's what the next of our social worker resume objectives does:
wrong
Compassionate social worker, skilled in assessment, developing treatment plans, counseling, and evaluation. Very high empathy and excellent active listening skills. Ready to start work and learn on the job.
Passion counts for a lot. But what if the other applicants have it—plus experience?
Catastrophe.
Don't worry. A few measurable accomplishments can work like the Woolworth's lunch counter sit-in. Examine the next of our entry-level social workers resume examples:
Social Worker Resume Objective
right
Empathic LCSW skilled in counseling and developing treatment plans. As volunteer social worker at Big Brothers, Big Sisters, coached two at-risk children for two years. Commended for high EQ during fill-in fee-for-service counseling at BHC.
That'll make the hiring manager drop her copy of Saving Normal.
But what if you have no experience to put on a case worker resume? I'll show that next.
Writing is key. 75% of the job is documenting your work—otherwise it never happened.
Christopher Filteau
Social Worker LSW-X
Pro Tip: It's challenging to write a resume introduction. So—write it last, then cherry-pick material from your resume.
When making a resume in our builder, drag & drop bullet points, skills, and auto-fill the boring stuff. Spell check? Check. Start building a professional resume template here for free.
When you're done, our easy resume builder will score your resume and our resume checker will tell you exactly how to make it better.
3
Describe Your Social Worker Experience
Remember Kierra, the clinic director? She's got a debilitating headache. Why? Most of the case worker resumes on her desk don't have enough experience. The rest are so busy she can't read them.
Then she comes to yours.
She smiles. What did you do right? You knew how to list experience on a resume for social workers. She thinks you're the best thing since the NAACP.
Start with your most recent job. Add 3-5 resume bullets.
Imitate the first of our professional social work resume examples below.
Social Worker Job Description for a Resume
right
Crosstown Community Mental Health
LCSW
2015–2018
Provided interventions to a caseload of 32 clients. Worked with each client to create a list of goals, with 85% meeting or exceeding goals within 9 months.
Assisted clinic manager with new patient intake/documentation for 50+ clients.
Created 27 successful treatment plans, plus timely discharge plans.
Jane Addams would be proud. Your professional resume for social work jobs convinced the manager you'll get the job done.
But make deep cuts to those achievements, and:
wrong
Crosstown Community Mental Health
LCSW
2015–2018
Provided interventions to clients.
Worked with clients to create lists of goals.
Assisted clinic manager with new patient intake/documentation.
Created treatment plans and discharge plans.
I have a duty to warn you—that social work resume example will fail.
And if you have no experience at social work jobs? See these entry-level social worker resume examples. You have more experience for a social services resume than you think.
Have you ever:
Done an internship?
Volunteered?
Done fill-in fee-for-service work at clinics?
Assisted other social workers?
Adding those things will make your resume for entry-level social work jobs stand out like Maurice Daniels wrote it.
The next two entry-level social worker resume samples show how. The first of these entry-level social workers resume examples borders on negligence.
wrong
Social Work Experience: No actual experience yet, but I'm a very dedicated employee.
Other Experience:
Waiting tables
Assistant florist
Eek. The clinic manager thinks you like eugenics.
So—add details to get this social work resume example:
Resume for a Social Worker with No Experience
right
Social Worker
2017–2018
Big Brothers Big Sisters volunteer 2 days/mo.
Fee-for-service counselor, Blooming Hearts Clinic. Commended for high EQ.
Social work intern, Monroe County Home for Little Wanderers.
That's no trick of the light. That human services resume proves you're Cathryn Potter in the rough.
Know the local resources—either volunteer or look them up. It's easier to be helpful if you know the help available and it sucks to think you're able to help when you can't.
Christopher Filteau
Social Worker LSW-X
Pro Tip: People believe you can do what you've already done. The goal of your social work resume experience section? To show you've already done the duties in the job you're targeting.
Writing a resume for entry-level social work jobs? See our volunteer resume sample: How to List Volunteer Work on Your Resume
Don't make the clinic manager zone out. Engage her with action words. See our guide: 240 Resume Action Words & Power Words to Make Your Resume Shine
Education matters on a resume for social work. Don't do it like everybody else. If you do, the hiring manager's defense mechanisms will shut you out. How can you get her attention instead?
Start with:
School Name and Location
Years in School
Degree
Then add achievements that fit the job like a successful treatment plan.
The next social work resume examples do it right. They're for a job that needs a clinical social worker with skills in child development and youth care experience.
Social Worker Education on a Resume (Example)
right
Master of Social Work (MSW)
Indiana University
2011–2012
Graduated Summa Cum Laude.
Project on clinical practice cited by professor in published research.
Bachelor of Social Work
Indiana University
2007–2011
Excelled in child development and child therapy classes.
Pursued a passion for clinical social work coursework.
President, Classical Connections student group, healing through music.
That's guaranteed to change the narrative. Not so with the next of our social work resume examples:
wrong
Master of Social Work
Indiana University
2011–2012
Graduated Summa Cum Laude.
Bachelor of Social Work
Indiana University
2007–2011
Ouch. That applicant could believe in bloodletting for all we know.
Pro Tip: Does GPA belong on a social worker resume? Only if it's high or recent. If not, use the space for another social work accomplishment.
Make your social work resume education section sing like a foundation grant. See our guide: How to Put Your Education on a Resume [Tips & Examples]
5
Put Skills on a Resume for a Social Worker
"She's got the skills we need. Let's hire her." What if you could make the hiring manager say that? The good news? It's not brain surgery. Just (1) pick the right social work resume skills and (2) prove them.
How?
First, read the job description closely. It's got the perfect social work skills list. Then, put achievements in your bullet points that show you've got those skills. You'll turn heads like the ACLU.
The professional social work resume examples below show how.
Pretend Kierra put these skills in the job description:
Required Social Worker Skills: (1) Counseling, (2) Crisis Intervention, (3) Assessments.
Add them to your case worker resume skills list. Include a couple extra so you're not gaslighting.
Then do this:
Regular (1) counselor for 17 youth clients in an adoption and foster care home.
Provided 24-hour (2) crisis intervention service on a rotating, on-call basis.
Completed 10 (3) assessments and developed 10 treatment plans
Do that, and you'll need a life coach to manage all your job interviews.
The social work skills list for resumes below will start you on the right foot.
Social Worker Skills for a Resume
Emotional Intelligence (EQ)
Assessment
Research
Evaluation
Intervention
Psychopathology
Policy Awareness
Empathy
Human Behavior
Perceptiveness
Counseling
Persuasion
Crisis Intervention
Active Learning
Developing Treatment Plans
That's not a comprehensive social work skills list. Add to it from online social services job descriptions and licensed clinical social worker job descriptions.
Pro Tip: Is your professional social services resume not working? Maybe it's your networking skills. I spoke with a healthcare worker who used networking to get a $100K job and it was life changing.
Really nail your social worker resume skills section. See our guide: +30 Best Examples of What Skills to Put on a Resume (Proven Tips)
6
Show Licenses and Certifications on Your Resume
"Wow, she's highly qualified." You worked hard for that social worker license. Don't repress it.
List it:
At the top of your social work resume, near your name
At the beginning of your resume summary
In a special "License" section
Then it won't matter if the manager skims your resume for social work jobs. She'll still know you're qualified. Put your license section right under your summary.
License
Licensed Clinical Social Worker (LCSW)
Got more certifications? Great! But don't bury your valuable license under them. Put them in a "certifications" section below your education.
Certifications
Mandt Certification, RCT Level
Emergency Medical Technician (EMT)
Pro Tip: Got your MSW but can't find MSW jobs? Don't be afraid to gear your social work resume toward BSW positions. Work your way up from there.
Want the certifications on your social worker resume to stand out like the Mental Health Parity Act? See our guide: How to List Certifications on a Resume: Guide
7
Add These Things and Wow the Hiring Manager
The hiring manager is impressed. Not only did you show the perfect experience and education—you also showed you're great to work with. How can you do that on a case worker resume?
With "other" resume sections that make most applicants struggle. Watch that play out in two sample social work resume sections.
Social Worker Other Resume Sections
wrong
Take yoga classes
Love reading novels
Those things are pretty cool. But do they show you're a great social worker?
Nope.
So—add extra sections to your resume for social work jobs:
right
Conferences
2017 NASW Conference—Spoke on a panel about Mandt training
2016 Child & Adolescent Mental Health Conference
Publications
Article on childhood intervention published in "The New Social Worker."
Spoke on "Social Work Conversations" podcast about childhood therapy.
Additional Activities
Active Member, National Association of Social Workers.
Volunteer 2x per month for American Cancer Society.
Take yoga twice a week as self-care.
You've made serious progress. Your professional social work resume would impress Michelle Obama.
If you add hobbies or interests to your social work resume, state it as a form of self care. Self care in this field is VITAL! It shows balance in your life and may provide insight to the agency that—hey, this person is less apt to burn out.
Lisa Muzeroll
Adult Case Manager
Even a NASW membership looks great on a resume for social worker jobs.
Pro Tip: Never turn down an interview request, even if you don't want the job. At the very least it's good networking. They might even hire you for a better job down the road.
Not sure how to show your human capital on your social worker resume? See our guide: +20 Best Examples of Hobbies & Interests To Put on a Resume (5 Tips)
8
Write a Social Work Cover Letter
Do you need to send a cover letter for a social worker resume? Yes. Don't let anyone convince you not to.
It's true—60% of hiring managers won't read social work cover letters. But the other 40% insist on them. Don't send a "here's my social work resume" cover letter. That's generic.
Show:
You understand the needs shown in the social services job description.
You've got the qualifications to fill those needs.
Do that, and you'll get respect like the Peace Corps. This short social worker cover letter example gets it right:
I've wanted to work for Halloran Center and Services since I learned about your focus on compassionate intervention and empowerment on the path to reaching client goals.
At CCMH, I created 27 successful treatment plans, then coached those clients to an 85% success rate within 9 months of intake. Empowerment was central to the 32 interventions I performed, with...
Always end a cover letter with an offer. Try, "I'd value the opportunity to share how I can help the Halloran Center's clients reach their goals."
Pro Tip: Corporate jobs pay a lot more than non-profit positions. Don't feel pressured to work for a corporation, but know your options.
Plus, a great cover letter that matches your resume will give you an advantage over other candidates. You can write it in our cover letter builder here. Here's what it may look like: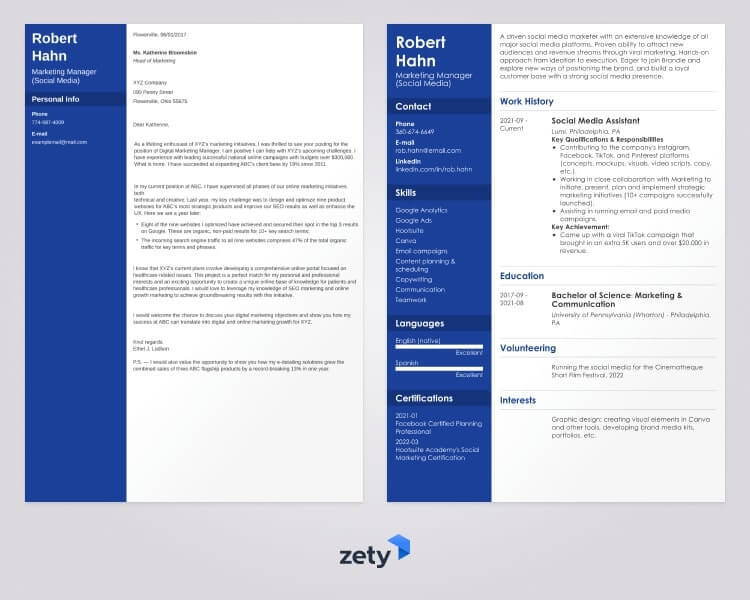 See more cover letter templates and start writing.
Want to set your social services cover letter up for success? See our guide: How to Write the Perfect Cover Letter in 8 Steps and our dedicated guide: Social Work Cover Letter Examples with Guide
9
Do This Before You Add Contact Info to a Resume
Do you really know how to add contact info to a social work resume?
Start with:
Full Name
Updated Phone Number
Professional Email Address
Like this:
Hana Knauer, LCSW, hana.knauer@gmail.com, 812-459-5707
For a "professional email address," use john.doe@gmail.com. Don't use BeachGirlParty234823498745@yahoo.com.
But—check your social media accounts for trap doors that could get you fired.
Need help? See our guide on how to check your online presence before employers do. The best social worker resume in the world can't help if you did something dumb on Facebook seven years ago.
Pro Tip: Should social workers use LinkedIn? Yes. At the very least, you can look for connections at organizations you'd like to work for.
Want your caseworker resume sparkle? See our guide: How to Make a Resume: A Step-by-Step Guide (+30 Examples)
Do you have questions on how to write a great resume for a human services worker? Not sure how to describe your skills or achievements? Give us a shout in the comments! We'd be happy to reply.
About Zety's Editorial Process
This article has been reviewed by our editorial team to make sure it follows Zety's editorial guidelines. We're committed to sharing our expertise and giving you trustworthy career advice tailored to your needs. High-quality content is what brings over 40 million readers to our site every year. But we don't stop there. Our team conducts original research to understand the job market better, and we pride ourselves on being quoted by top universities and prime media outlets from around the world.