Social Work Cover Letter Samples & Best Soft Skills to Show
If you're looking for a career with meaning, action, diversity, and satisfaction, convince the hiring manager to call you with your social work cover letter.
Social workers are experts at connecting with people and providing support during challenging times. But when it comes to your cover letter, are you feeling a bit disconnected? Worry not!
Our expert guidance will help you craft a social work cover letter that showcases your skills and passion, ensuring you make a lasting impression on recruiters.
This guide will show you a great social worker cover letter example plus the best tips on how to write a cover letter for social work step-by-step.
Want to write your cover letter fast? Use our cover letter builder. Choose from 20+ professional cover letter templates that match your resume. See actionable examples and get expert tips along the way.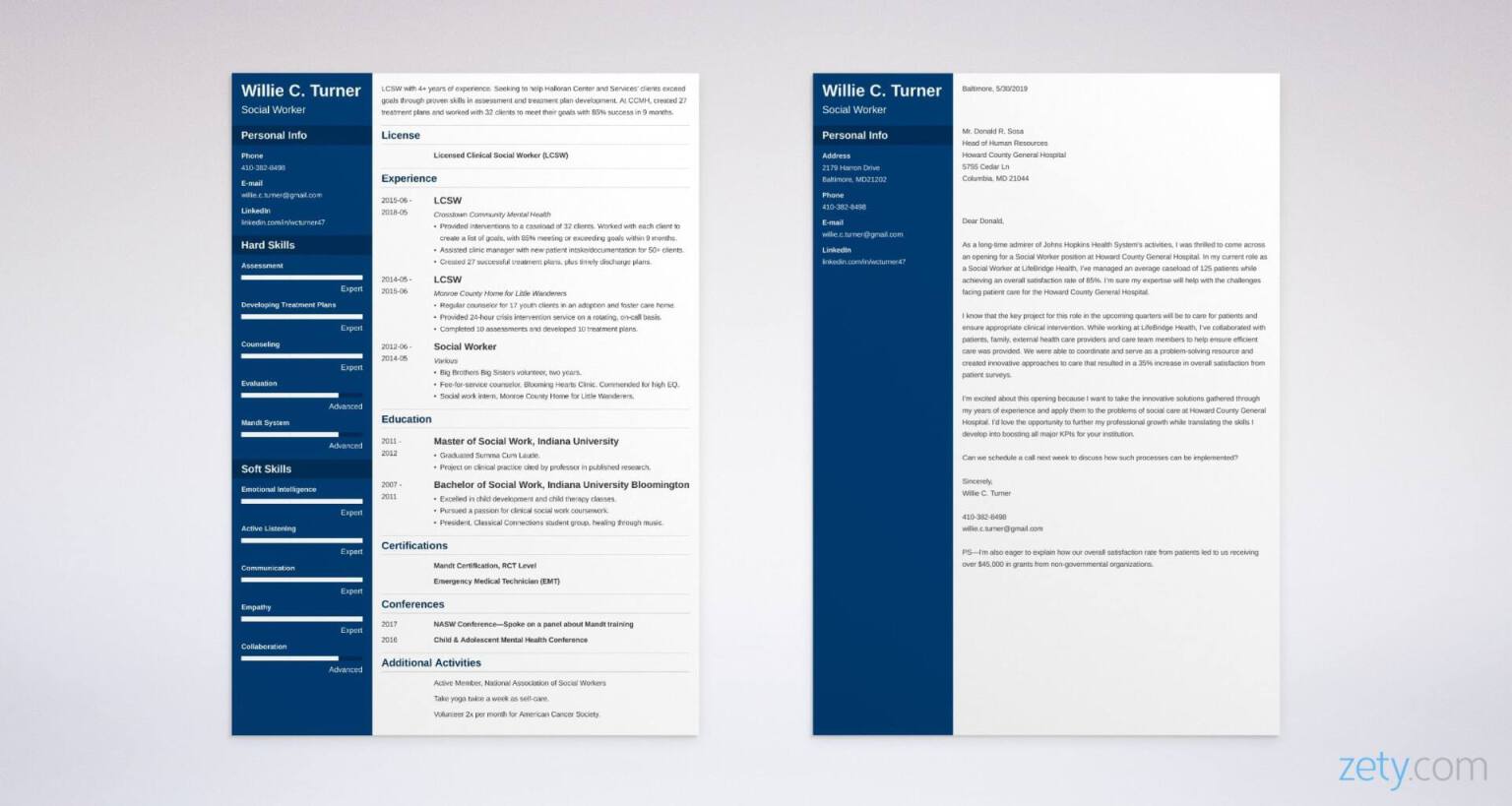 Sample cover letter for a resume—See more cover letter examples and create your cover letter here.
No matter how great your cover letter is, without a pitch-perfect resume it will get you nowhere. See our business resume writing guide here: Social Work Resume: Samples and Full Writing Guide [+20 Examples]
Want some other related cover letter examples? Try these:
Want to explore your options further? See our full selection of cover letter examples for every career: Professional Cover Letter Examples
Social Work Cover Letter Sample
Willie C. Turner
Social Worker
2179 Harron Drive
Baltimore, MD21202
410-382-8498
willie.c.turner@gmail.com
linkedin.com/in/wcturner47

Baltimore, 5/30/2019

Mr. Donald R. Sosa
Head of Human Resources
Howard County General Hospital
5755 Cedar Ln
Columbia, MD 21044


Dear Donald,
As a long-time admirer of Johns Hopkins Health System's activities, I was thrilled to come across an opening for a Social Worker position at Howard County General Hospital. In my current role as a Social Worker at LifeBridge Health, I've managed an average caseload of 125 patients while achieving an overall satisfaction rate of 85%. I'm sure my expertise will help with the challenges facing patient care for the Howard County General Hospital.
I know that the key project for this role in the upcoming quarters will be to care for patients and ensure appropriate clinical intervention. While working at LifeBridge Health, I've collaborated with patients, family, external health care providers and care team members to help ensure efficient care was provided. We were able to coordinate and serve as a problem-solving resource and created innovative approaches to care that resulted in a 35% increase in overall satisfaction from patient surveys.
I'm excited about this opening because I want to take the innovative solutions gathered through my years of experience and apply them to the problems of social care at Howard County General Hospital. I'd love the opportunity to further my professional growth while translating the skills I develop into boosting all major KPIs for your institution.
Can we schedule a call next week to discuss how such processes can be implemented?
Sincerely,
Willie C. Turner
410-382-8498
willie.c.turner@gmail.com
PS—I'm also eager to explain how our overall satisfaction rate from patients led to us receiving over $45,000 in grants from non-governmental organizations.
Social Work Cover Letter Template
Here's how to write the best social worker cover letter for a job application:
1. Use the proper social work cover letter format
Choose one-inch margins on all sides.
Go with single or 1.15 line spacing.
Use an elegant font in 11pt to 12pt size.
Read more: The Only Proper Cover Letter Format
2. Create a professional social worker cover letter header
Include your name and contact information in the top-left corner.
List your phone number, email, and LinkedIn profiles. Add other social media handles if you post social work-related material.
Have the city and date listed right below.
Go professional and include the addressee's details.
You may not be able to find the name of the hiring manager. But don't fret—do some research on the company's website or on LinkedIn. Go above and beyond by calling the reception and asking if you still can't find the hiring manager.
Read more: How to Address a Cover Letter
3. Start with a personal greeting and a compelling first paragraph
Address the potential employer by "Dear" + Name.
List which position you are applying for.
Think of your most relevant professional achievement and highlight it here.
Read more: How to Start a Cover Letter the Right Way
4. Show that you're the perfect candidate
Look to the job description to see how your relevant experience can help solve their problems.
Mention a few additional wins you're proud of.
Use numbers to quantify your achievements whenever possible.
Don't make your social work cover letter too long. Not sure? Check out this guide: The Perfect Cover Letter Length
5. Tell them why you want in
Drop a compliment or two.
Social work jobs are endless, so make them know why you want this particular job more than any other.
You'll show a deeper commitment to them and it'll seem you want to stick around for longer.
6. Make an offer and include a call to action
Go a step further and suggest a time for a call or a meeting.
Show your value again by offering to help with their KPIs.
Read more: The Best Cover Letter Ending Examples
7. Close with a professional sign-off
Your full name is best as a sign-off.
Have a digital copy of your handwritten signature below your sign-off (optional).
Add your basic contact details in the footer.
All done! But you're not off the hook when you send out your cover letter. Don't sit and wait around but follow up on your job application. Try this guide for more details: Job Application Follow-Up: Examples, Dos, & Don'ts
As you've learned, a great social worker cover letter can truly be a game-changer, but to have a shot at that dream job, you still need to write a perfect social worker resume.
When making a resume in our builder, drag & drop bullet points, skills, and auto-fill the boring stuff. Spell check? Check. Start building a professional resume template here for free.
When you're done, our easy resume builder will score your resume and our resume checker will tell you exactly how to make it better.
Thanks for reading! Now I'd love to hear from you. What did you think of our social work cover letter examples? What are your best tips for writing an outstanding social worker cover letter? Drop me a line in the comments. Let's chat!
About Zety's Editorial Process
This article has been reviewed by our editorial team to make sure it follows Zety's editorial guidelines. We're committed to sharing our expertise and giving you trustworthy career advice tailored to your needs. High-quality content is what brings over 40 million readers to our site every year. But we don't stop there. Our team conducts original research to understand the job market better, and we pride ourselves on being quoted by top universities and prime media outlets from around the world.