Nonprofit Cover Letter Sample & Writing Guide (15+ Tips)
The opportunity to change the world may be just around the corner. Write a perfect non-profit cover letter and get a job that treasures your contribution.
Is your nonprofit cover letter a fundraiser flop? Don't worry, we have the tools to shape it into a philanthropic triumph!
Our guide offers expert insights to help you create a compelling nonprofit cover letter that'll have hiring managers eager to bring your passion and skills on board. Get ready to make a real impact in the world of nonprofits!
This guide will show you a great nonprofit cover letter example plus the best tips on how to write a cover letter for nonprofit jobs step-by-step.
Want to write your cover letter fast? Use our cover letter builder. Choose from 20+ professional cover letter templates that match your resume. See actionable examples and get expert tips along the way.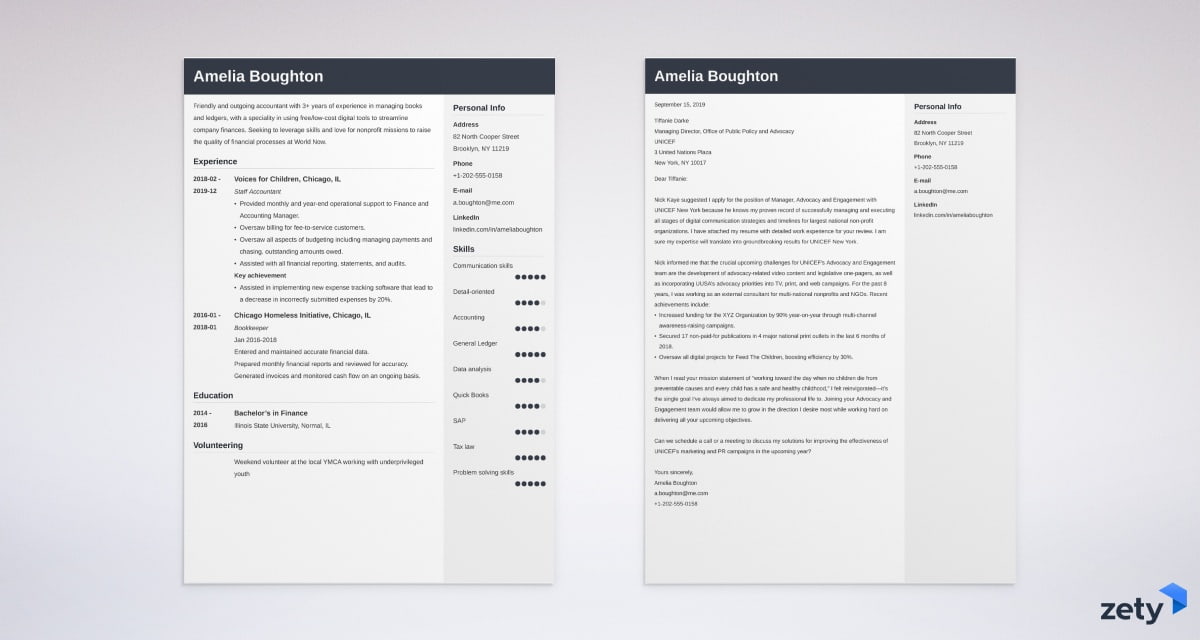 Sample cover letter for a resume—See more cover letter samples and create your cover letter here.
Considering similar positions too? See other cover letter examples for jobs in your industry:
Want to explore your options further? See our full selection of cover letter examples for every career: Best Cover Letter Examples for All Professions
Let's get started then!
Nonprofit Cover Letter Sample
Amelia Boughton
Advocacy and Engagement Specialist
82 North Cooper Street
Brooklyn, NY 11219
a.boughton@me.com
+1-202-555-0158
linkedin.com/in/ameliamarthaboughton
September 15, 2019
Tiffanie Darke
Managing Director, Office of Public Policy and Advocacy
UNICEF
3 United Nations Plaza
New York, NY 10017
Dear Tiffanie:
Nick Kaye suggested I apply for the position of Manager, Advocacy and Engagement with UNICEF New York because he knows my proven record of successfully managing and executing all stages of digital communication strategies and timelines for largest national non-profit organizations. I have attached my resume with detailed work experience for your review. I am sure my expertise will translate into groundbreaking results for UNICEF New York.
Nick informed me that the crucial upcoming challenges for UNICEF's Advocacy and Engagement team are the development of advocacy-related video content and legislative one-pagers, as well as incorporating UUSA's advocacy priorities into TV, print, and web campaigns. For the past 8 years, I was working as an external consultant for multi-national nonprofits and NGOs. Recent achievements include:
Increased funding for the XYZ Organization by 90% year-on-year through multi-channel awareness-raising campaigns.
Secured 17 non-paid-for publications in 4 major national print outlets in the last 6 months of 2018.
Oversaw all digital projects for Feed The Children, boosting efficiency by 30%.
When I read your mission statement of "working toward the day when no children die from preventable causes and every child has a safe and healthy childhood," I felt reinvigorated—it's the single goal I've always aimed to dedicate my professional life to. Joining your Advocacy and Engagement team would allow me to grow in the direction I desire most while working hard on delivering all your upcoming objectives.
Can we schedule a call or a meeting to discuss my solutions for improving the effectiveness of UNICEF's marketing and PR campaigns in the upcoming year?
Yours sincerely,
Amelia Boughton
a.boughton@me.com
+1-202-555-0158
That was one jaw-dropping nonprofit cover letter, right?
The good news? You're about to learn how to create an equally great one yourself.
Don't have much experience yet? See our guide to writing entry-level cover letters here: Entry-Level Cover Letter With No Experience Examples
See that you could actually still use a little work on your resume? This guide will definitely help: How to Write a Nonprofit Resume
Now, let's walk through writing a cover letter for nonprofit jobs step by step.
Nonprofit Cover Letter Template
Here's how to write a cover letter for nonprofit jobs:
1. Stick to the standard business letter format
Margins: one-inch.
Spacing: 1.15.
Font: one of the classics (Arial, Verdana, Georgia, etc.); 11 to 12 pt-sized.
See more: Cover Letter Format Rules
2. Create a good-looking nonprofit cover letter heading
Make the header of your nonprofit cover letter match your resume header.
Include: your full name, job title, contact details, physical address.
Put the city and date below.
Finally, add the addressee's details: the hiring manager's full name and the company address.
Don't know who the hiring manager is? Try to find out! See who runs the company department on LinkedIn, check with the company website or just call the front desk and ask.
Learn more: Address on a Cover Letter
3. Start with a personal greeting and a captivating opening paragraph
"Dear [hiring manager's name]" is the best greeting out there.
In the first paragraph, introduce yourself and state the position to which you're applying.
Open with a hook: mention your relevant achievements or highlight your skill set.
Learn more: The Best Cover Letter Opening Lines and Paragraphs
4. Show that you're *the* candidate they've been looking for
Go through the job ad. Identify their key requirements. In your nonprofit cover letter, provide evidence of your past achievements that show you'll be able to do the job well.
Add metrics and numbers to validate your achievements.
Mention some extra accomplishments you know they can't afford to miss!
5. Explain your motivation to join
Make them realize you want to work with them more than with any other nonprofit.
Refer to their mission and values—clearly state why they're important to your professional self too.
If you're passionate and excited about this job, don't tone it down. Tell them what impresses you most about their activities.
Do all this while not making your cover letter too long. What does "too long" mean? Find out: How Long Should My Cover Letter Be
6. Close with a call to action and a clear offer
Ask for an in-person meeting or a call.
Reiterate what you're bringing to the table. Say what specific goals you'll help them reach.
See more: How to End a Cover Letter Right
7. Put your professional sign-off at the bottom
Sign with your full name and a digital copy of your signature.
Include a footer with your phone number and email.
Once you're done with your job application, don't just sit and wait.
A couple of weeks passed and you still haven't heard from them? Follow up! A well-placed call or email can make all the difference.


Find out more: How to Follow Up on a Resume and Cover Letter
One final thing:
A professional nonprofit cover letter can seriously boost your chances for landing that job. But it's still your resume that matters most.
When making a resume in our builder, drag & drop bullet points, skills, and auto-fill the boring stuff. Spell check? Check. Choose a resume template here.
When you're done, Zety's resume checker will score your resume and tell you exactly how to make it better.
Want to learn more about writing a cover letter for nonprofit positions? Struggling with ideas for your cover letter? Let me know in the comments. I'll do my best to help!
About Zety's Editorial Process
This article has been reviewed by our editorial team to make sure it follows Zety's editorial guidelines. We're committed to sharing our expertise and giving you trustworthy career advice tailored to your needs. High-quality content is what brings over 40 million readers to our site every year. But we don't stop there. Our team conducts original research to understand the job market better, and we pride ourselves on being quoted by top universities and prime media outlets from around the world.