Our customers have been hired by:
As a nanny, you know, caring for children and making them feel at home takes a special touch. Now, let's apply that magic touch to your cover letter!
Read our expert guide and write a professional nanny cover letter that stands out like light-up sketchers on an evening walk.
This guide will show you:
A nanny cover letter sample better than 9 out of 10 others.
Nanny cover letter examples that will make your best skills shine.
How to write a cover letter for a nanny that lands interviews and wins jobs.
Want to write your cover letter fast? Use our cover letter builder. Choose from 20+ professional cover letter templates that match your resume. See actionable examples and get expert tips along the way.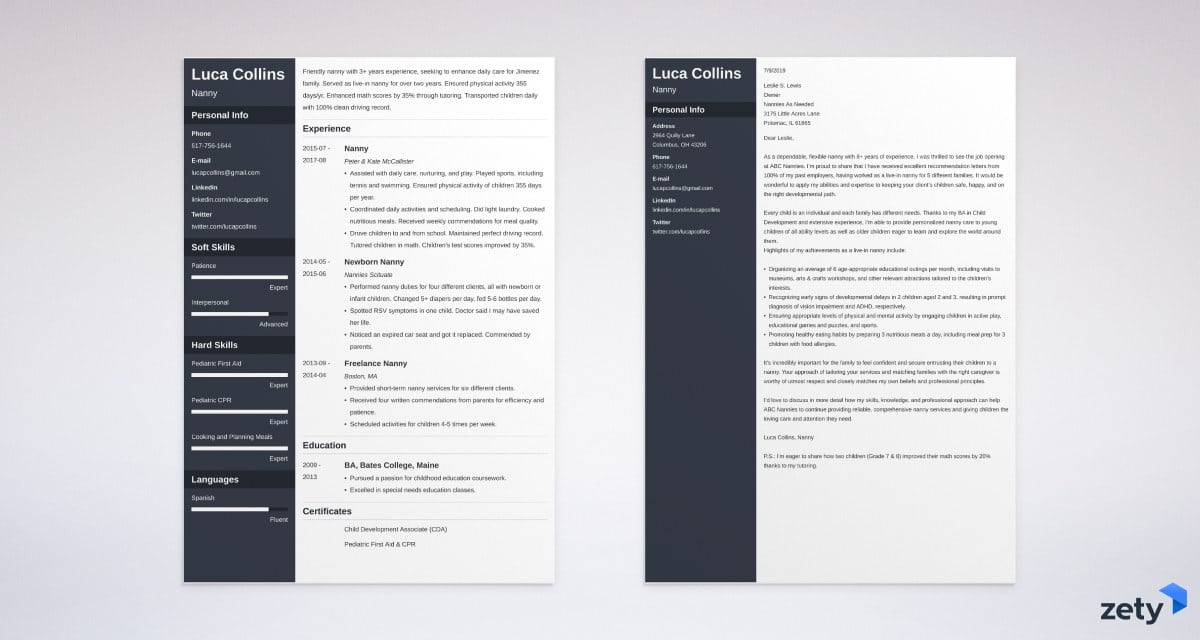 Sample cover letter for a resume—See more cover letter examples and create your cover letter here.
Considering applying for other positions? Check out some of our guides:
Want to explore your options further? See our full selection of cover letter examples for every career: Best Cover Letter Examples
Here's a nanny cover letter that would have Jo Frost asking you for pointers:
Nanny Cover Letter Sample
Your Name
Your Job Title
Mailing Address
Phone Number
Email Address
Date
Hiring Manager Name
Job Title
Company Name
Mailing Address
Dear [Hiring Manager Name],
As a dependable, flexible nanny with 8+ years of experience, I was thrilled to see the job opening at ABC Nannies. I'm proud to share that I have received excellent recommendation letters from 100% of my past employers, having worked as a live-in nanny for 5 different families. It would be wonderful to apply my abilities and expertise to keeping your client's children safe, happy, and on the right developmental path.
Every child is an individual and each family has different needs. Thanks to my BA in Child Development and extensive experience, I'm able to provide personalized nanny care to young children of all ability levels as well as older children eager to learn and explore the world around them.
Highlights of my achievements as a live-in nanny include:
Organizing an average of 6 age-appropriate educational outings per month, including visits to museums, arts & crafts workshops, and other relevant attractions tailored to the children's interests.
Recognizing early signs of developmental delays in 2 children aged 2 and 3, resulting in prompt diagnosis of vision impairment and ADHD, respectively.
Ensuring appropriate levels of physical and mental activity by engaging children in active play, educational games and puzzles, and sports.
Promoting healthy eating habits by preparing 3 nutritious meals a day, including meal prep for 3 children with food allergies.
It's incredibly important for the family to feel confident and secure entrusting their children to a nanny. Your approach of tailoring your services and matching families with the right caregiver is worthy of utmost respect and closely matches my own beliefs and professional principles.
I'd love to discuss in more detail how my skills, knowledge, and professional approach can help ABC Nannies to continue providing reliable, comprehensive nanny services and giving children the loving care and attention they need.
Best regards,
[Your name], Nanny
P.S.: I'm eager to share how two children (Grade 7 & 8) improved their math scores by 20% thanks to my tutoring.
Huh.
If Mary Poppins and Nanny McPhee co-founded a nanny agency, they'd hire you on the spot with a cover letter like that.
Good things come in (au) pairs. Create a perfect nanny resume to match your cover letter: Nanny Resume: Examples and Tips
Now, let's get down to some age-appropriate educational activities and learn all about writing the perfect cover letter.
Here's how to write a job-winning nanny cover letter:
1. Use the Right Nanny Cover Letter Format
Appearance matters a lot when you're a nanny. Keep your cover letter tidy with proper formatting, including:
That's it for the ground rules. Let's get to writing!
Read more: The Best Cover Letter Format: Guide & Examples
2. Create a Professional Nanny Cover Letter Header
Showcase your attention to detail and proper etiquette with the right cover letter heading.
Here's what to include:
Your contact information in the top left corner, in this order: your name and job title, mailing address (if applying by post), phone number, email, LinkedIn (optional)
Date
The addressee's contact information
You'll notice that the nanny cover letter sample above is addressed to an agency (hence the term Dear Hiring Manager). You can easily use the same format to apply directly to parents, using the details they provide in the job ad.
Read more: The Right Way to Address a Cover Letter
3. Start with a Greeting and a Compelling Cover Letter Introduction
The goal of the first paragraph of your nanny cover letter is to grab and hold the reader's attention. Don't worry, it's easier than it sounds.
Here's how to write your nanny cover letter introduction:
See? Far easier than putting dress shoes on a grumpy 3B!
Read more: How to Start a Cover Letter: 25+ Great Opening Lines
4. Show You're the Right Nanny for the Job
You know you're responsible and great with kids—no one can avoid a trip to Temper-Tantrum-ville better than you. Now, it's time to prove that to the employer.
In the second paragraph of your cover letter:
Describe how you can use your skills and experience to provide the required care and services.
List a few relevant achievements.
Use numbers whenever possible, e.g.: "...improving math scores by 20%".
If you're writing a nanny cover letter with no experience, you can mention transferable skills, academic achievements, work ethic, and relevant certifications (such as First Aid and CPR). Most employers want a driver's license and a clean driving record, so that's also worth mentioning.
Short as a Twizzler or long as the drive to the dentist? Read more: How Long Should a Cover Letter Be?
5. Explain Why You Want the Job
...this particular job. The trick to getting this paragraph right is tailoring your cover letter to the ad. Here's how:
Focus on what draws you to this job. For agencies, it could be their approach or company goals. For families, the parenting style or the ages and interests of the NKs.
Include a compliment or two if you can.
Show that your personality makes you a good match with the agency or the family.
Are we there yet?
Almost—just two more quick stops on the way to the perfect cover letter!
What if the agency you want to work for isn't hiring right now? Apply anyway: How to Write a Cold Call Cover Letter
6. End Your Nanny Cover Letter with an Offer
Thank you for your time, please invite me for an interview anytime.
That's how most cover letters end. For the recruiter, who has seen this line 100+ times in the past hour, it's more painful than stepping on a Lego.
Instead, make two offers in the final paragraph of your nanny cover letter:
One to discuss your experience further (it's better than asking for an interview outright)
One to apply your skills to help solve the recruiter's problems or to maintain set standards
Look out Sittercity, here we come!
Read more: How to End a Cover Letter: 20+ Examples
7. Complete Your Cover Letter with a Signature
You're done!
All that's left is dotting the i's and crossing the t's, and then we can get ready to tidy up:
End your letter on the phrase Best regards,
Sign with your full name followed by your job title
If you want to treat your cover letter to some extra care, include a P.S. with an additional achievement.
Want to check in with the employer after sending your cover letter, but not sure what to say? See our guide: How to Follow up on a Job Application: Tips and Samples
Congratulations!
You have the perfect nanny cover letter.
But without a resume to match, your application will be as eye-catching as Waldo in a Christmas store. So—
All that's left to do is getting your resume dressed up for the occasion, and you can start readying yourself for your interviews!
When making a resume in our builder, drag & drop bullet points, skills, and auto-fill the boring stuff. Spell check? Check. Start building a professional resume template here for free.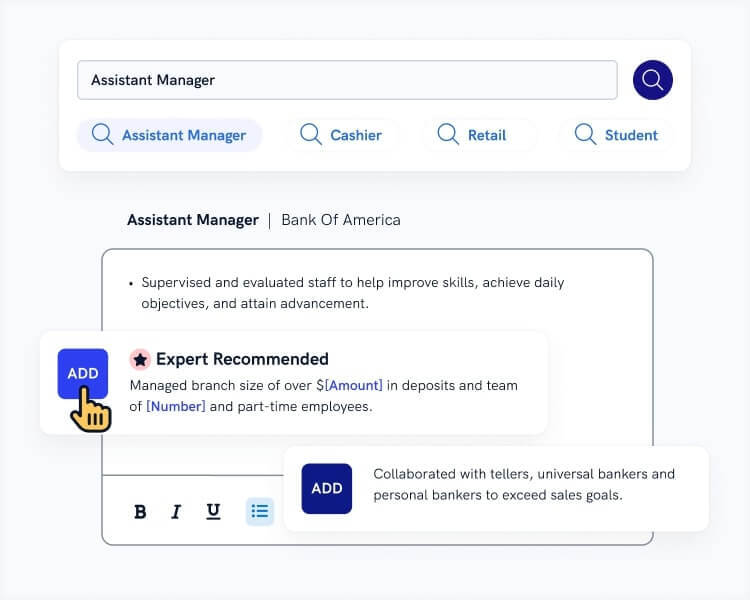 When you're done, our professional resume builder will score your resume and our resume checker will tell you exactly how to make it better.
Thanks for reading! Did you run into any problems with writing your nanny cover letter? Can you offer more pointers on how to write a nanny cover letter with no experience? Drop us a line in the comments. We'd love to chat!
About Zety's Editorial Process
This article has been reviewed by our editorial team to make sure it follows Zety's editorial guidelines. We're committed to sharing our expertise and giving you trustworthy career advice tailored to your needs. High-quality content is what brings over 40 million readers to our site every year. But we don't stop there. Our team conducts original research to understand the job market better, and we pride ourselves on being quoted by top universities and prime media outlets from around the world.
Sources