Top 14 Modern Cover Letter Templates to Download Now
See a list of modern cover letter templates. Learn which modern cover letter template is the best for you.
Let's be honest, it's all about the hustle nowadays. If you're not living in the fast lane, you're going to be left behind.
Cover letters aren't exempt. If you're using the same cover letter templates that your parents used, you're going to be passed over, no matter what skills and experience you might have.
But don't fret—all you need is to level up to a modern cover letter template and you're cruising.
Give your cover letter template an Alexander Graham Bell to Elon Musk level upgrade with our carefully handpicked selection of the best modern cover letter templates in the universe.
You're welcome.
Interested in other lists of cover letter templates? Take a look!
Want to write your cover letter fast? Use our cover letter builder. Choose from 20+ professional cover letter templates that match your resume. See actionable examples and get expert tips along the way.
Sample cover letter for a resume—See more cover letter templates and create your cover letter here.
You already know what your cover letter should say, now it's time to dress it up and make it look stunning and modern. That's what this top list is exactly for.
Some of these cover letter examples are ours, some aren't, but all of them are more modern than the latest iPhone.
1. Crisp by Zety
The name suggests it all. This modern cover letter template gives off a contemporary, minimalist vibe, letting its large amounts of white space display your cover letter like a modern day showroom.
Your personal information is neatly tucked away in the upper lefthand corner letting the recruiter's eyes rest on the most important thing—your skills and experience.
A lot of room to show off high levels of experience and achievements for candidates with more qualifications. May be daunting to fill for entry-level candidates with little experience. Template may be a little too pale for creative jobs.
This template along with a matching resume can be found using our easy-to-use cover letter builder.
Modern guideline: Keep your cover letter fairly short. In terms of how long a cover letter should be, 1 page is more than enough.
2. Concept by Zety
A sleek, dark line slides right down the left-hand side of this modern cover letter template, giving it a classy, professional feel. Everything from the title to your signature are neatly aligned, showing the hiring manager that you're reliable and organized.
Like all Zety templates, Concept is super applicant tracking system (ATS) friendly so you know that when your cover letter gets processed, no keywords get ignored.
Great for entry level candidates and career changers. Good choice for business and legal careers. Might feel a little cluttered for very experienced candidates trying to fit in a lot of information.
Modern guideline: Give a lot of thought on how to start your cover letter. Make sure you grab the hiring manager's interest from the moment they begin reading with a catchy intro.
3. Vibes by Zety
This modern cover letter example gives off those good vibes with its sleek and light design. Dark and bold formatting gives your name and personal info a little extra eye time, making it easier for the hiring manager to remember you.
A great cover letter template for business, consulting, or marketing. Career changers can also find the good amount of space on the cover letter page helpful to flesh out their motivation. Entry-level candidates writing their first cover letter may find it challenging to fill in the entire page and the template might seem a little empty.
Modern guideline: Steer away from "To Whom It May Concern" cover letters or old-fashioned cover letter salutations. They'll give a bad impression and discourage the recruiter from reading on.
4. Initials by Zety
Initials gets a little fancy with a contemporary approach to expressing creativity. A large, dark circle at the top with your initials makes your name memorable. The rest of the cover letter template carries the reader down the page with ease to your experience and skills. The wide margin leaves plenty of white space to keep your cover letter looking fresh.
A great choice for entry level and mid-level candidates as well as candidates writing a cover letter for internships.
Modern guideline: Divide your cover letter structure up into three paragraphs. The first should introduce you, the second should highlight your skills and experience, and the third show demonstrate how you'd be a great fit in the company.
5. Minimo by Zety
Minimalism makes this cover letter template the ultimate modern choice. No frills, colored bars, or artistic accents here—your accomplishments are the only accessories.
Excellent choice for experienced candidates or top management positions. Entry-level candidates may find it difficult to fill up the page. Artistic or creative positions might be expecting something less minimalist.
Read more: Cover Letter Tips & Guidelines
6. Cascade by Zety
Cascade is one of our most popular modern cover letter templates and with good reason. The left hand side has a smart looking, dark bar going down the length of the page and features your contact information up at the top. The rest of the page leaves room to wow recruiters with your skills and professional know-how.
A great choice for candidates at any level and suitable for most industries.
Modern guideline: Use quantifiable achievements and numbers where you can on your resume cover page. They stand out and speak greater volumes than long, run-on sentences.
7. Cubic by Zety
Cubic puts a fresh face on geometry by adding different colored and sized bars to this cover letter template. A dark bar at the top of the page makes your name stand out while a grey colored bar on the right side features your contact information. The rest is white space to fill with examples of why you're the best candidate for the position.
A great cover letter template for the business or corporate world. May be a little too formal for creative positions.
Modern guideline: Make sure your cover letter ending is just as powerful and attention grabbing as your intro. Weak endings are often a factor in recruiters rejecting a candidate's application!
8. Influx by Zety
This modern cover letter template takes the concept of side bars and flips it on its head—quite literally. Influx sports a wide, dark bar across the top of the page where your name and contact information are on display. The rest of the page is left for you to fill with your professional career wizardry.
A great modern cover letter template for candidates in business, marketing, sales, or administration. May look a little too corporate for creative positions.
Like this cover letter? You can have it now along with a matching resume, by creating your cover letter in our builder. Save yourself the hassle of fixing it up and checking the formatting— our builder will do it for you!
Modern guideline: Don't just rehash your resume. Dive deeper into your accomplishments and skill set to prove that you're the candidate the recruiter wants to hire.
When making a resume in our builder, drag & drop bullet points, skills, and auto-fill the boring stuff. Spell check? Check. Start building a professional resume template here for free.
When you're done, our professional resume builder will score your resume and our resume checker will tell you exactly how to make it better.
9. Primo by Zety
This modern cover letter template is similar to its sister "Initials", but puts a small spin on things. Primo tucks your personal information off to the right hand side, giving the main body of your cover letter all the attention it deserves. The round icon is still at the top, giving a bit of creative pizzazz to your professional skills and experience.
A good choice for experienced candidates. Candidates trying for entry-level positions or internships may find it difficult to fill up the whole page.
Read more: How to Write a Cover Letter
10. Refinery by Etsy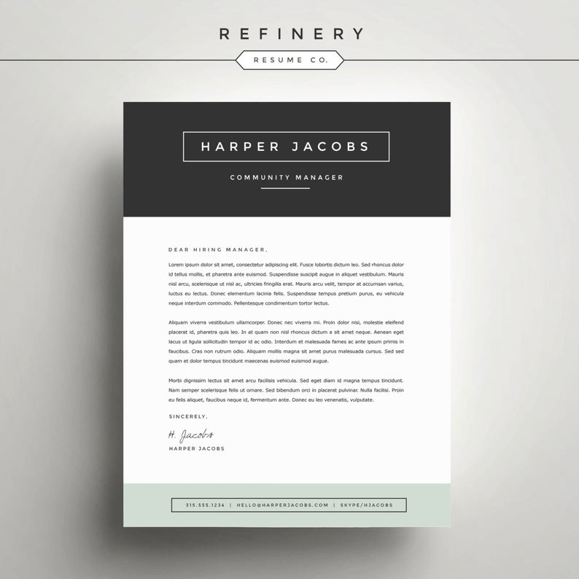 If there's a cover letter template that's afraid of colors, it's definitely not this one. The page is neatly divided into three sections with the use of differently colored bars. The top puts your name and career title on prominent display while the bottom features your contact information. The rest is up to you.
The use of subtle color makes this a great go to cover letter template for almost any position and level of experience. You can find this template here.
Modern guideline: If you're sending an email cover letter instead of separate document, double check how they differ to make sure your cover letter looks professional.
11. Amelia Sharp by Etsy
Anyone can have a cover letter with colored bars. Go from modern to futuristic with a perfect dose of colored lettering instead. Your first and last name are displayed at the top of the page with subtle and professional colored letters. The rest of the page is white page except for a thin, black stripe at the bottom with your personal information.
Exceptionally balanced, the template can suit practically any position and candidate level. Download this here.
Modern guideline: When deciding what your cover letter should say, remember to tailor it both the position and your resume. Your cover letter and resume should act as a one-two punch for the position.
12. Linda Moore by Venngage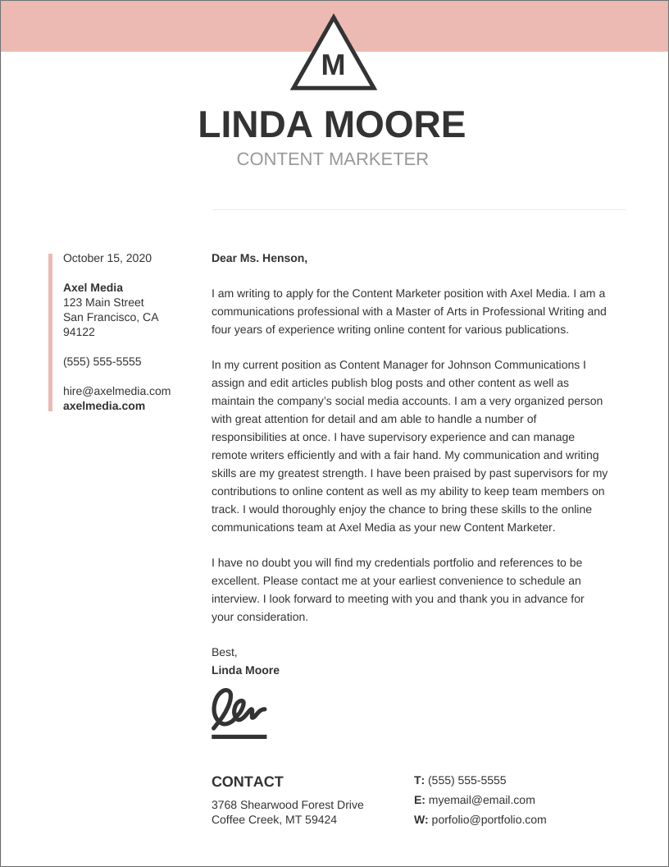 You can tell that Linda Moore's cover letter knows how to show off its modern side. It uses subtle bits of color here and there, an icon at the top of the page, and nicely grouped personal information on the left and the bottom. All that and it doesn't have a cluttered feel at all.
Great choice for creative positions. This template may be a little too creative for conservative or corporate industries. Find it here.
Modern guideline: Make sure your cover letter heading is neat and professional. Double check that all the info there is complete and correct.
13. Max Romeo by Venngage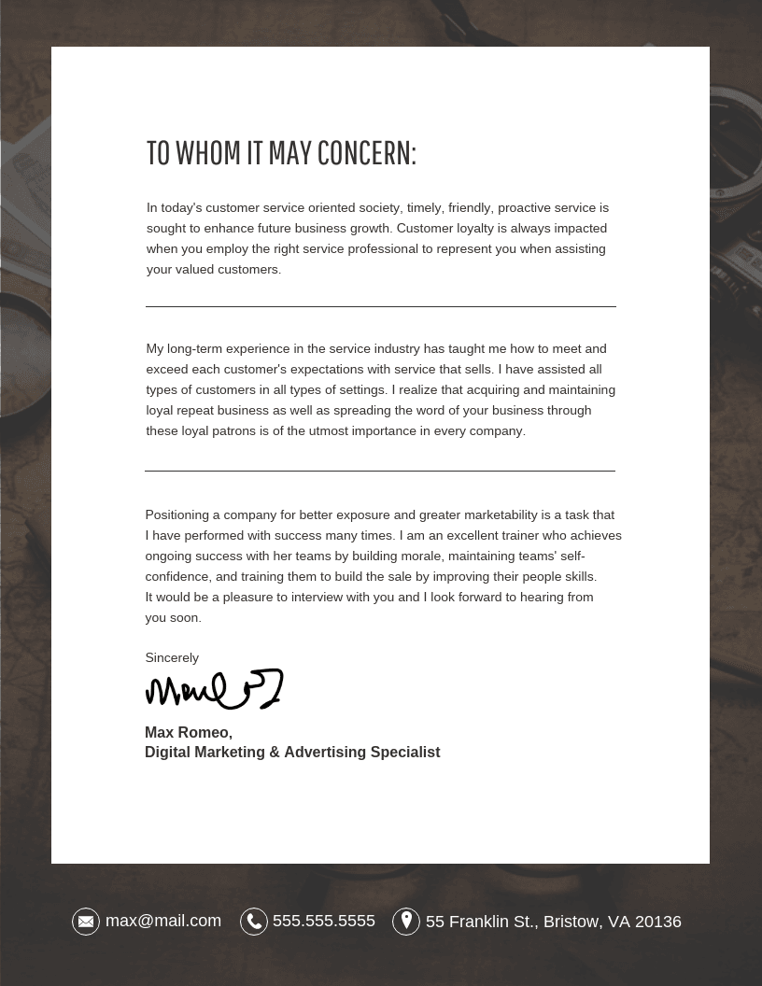 This modern cover letter template takes a more modern approach to bars and goes further by using a border. The reader's attention is naturally drawn to the white text with your skills and experience. Your personal information is nicely stored at the bottom of the page.
Good choice for creative or artistic industries. May come off a little too creative for corporate or business positions. Find it here.
Modern guideline: Think hard before adding your salary requirements to your cover letter. If the job ad doesn't ask for it, it's better to leave it out.
14. Kim Banks by Venngage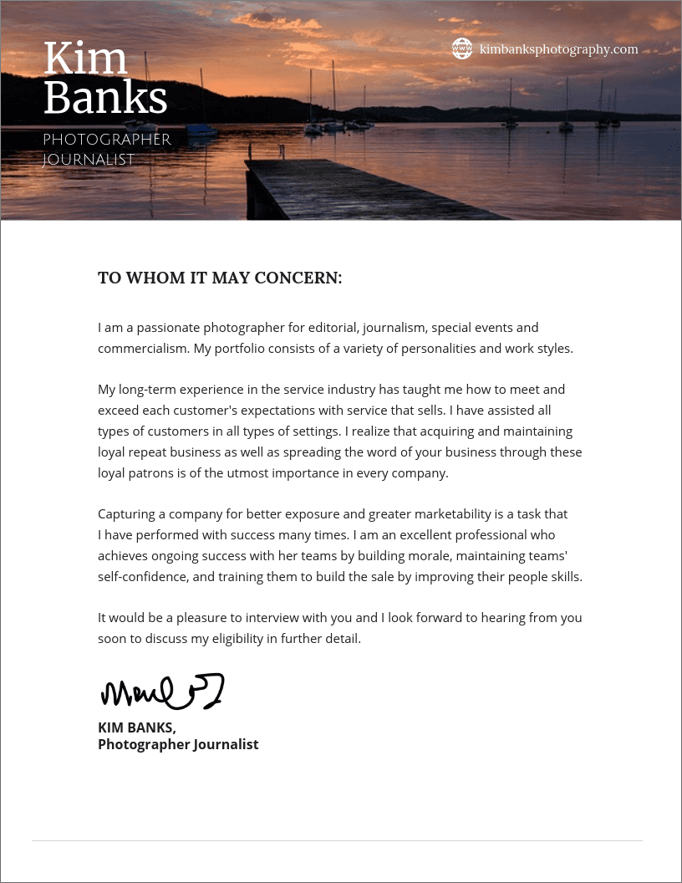 This cover letter template screams modern from the start. The top of the cover letter uses a photo background which can really get your personality across to the hiring manager. The rest of the page is white space waiting to be filled with your professional skills and accomplishments.
A great cover letter template for creatives. Other templates on this list would be better suited for corporate or business careers. Find it here.
Plus, a great cover letter that matches your resume will give you an advantage over other candidates. You can write it in our cover letter builder here. Here's what it may look like: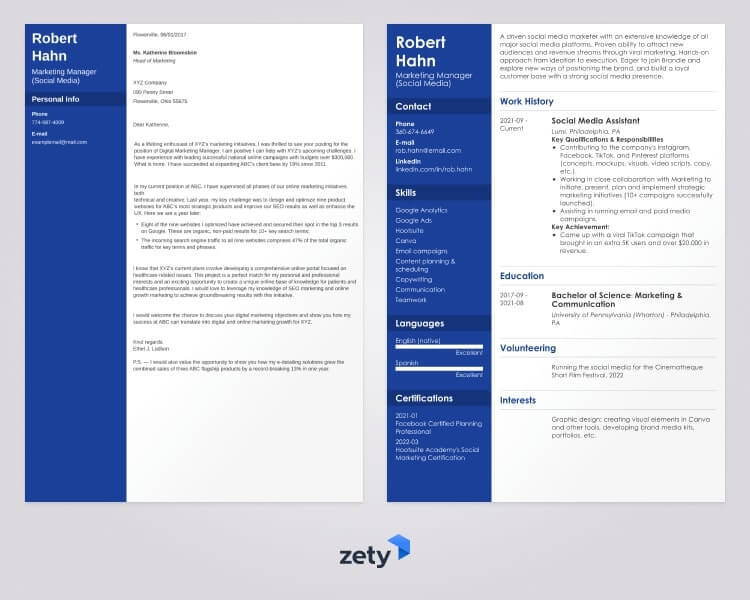 See more cover letter templates and start writing.
Key Takeaway
With so many modern day cover letters to choose from, it's hard to pick just one! But—
Your template isn't everything! Remember about your cover letter margins, cover letter font, and covering letter format to help put your best foot forward.
Once you choose a modern cover letter layout, fill it out, and send it to the hiring manager, remember to prepare for your job interview!
Thanks for reading! Do you have any questions about these modern cover letter templates? Let us know down in the comment section below!
About Zety's Editorial Process
This article has been reviewed by our editorial team to make sure it follows Zety's editorial guidelines. We're committed to sharing our expertise and giving you trustworthy career advice tailored to your needs. High-quality content is what brings over 40 million readers to our site every year. But we don't stop there. Our team conducts original research to understand the job market better, and we pride ourselves on being quoted by top universities and prime media outlets from around the world.