Our customers have been hired by:
As a medical receptionist, you're the friendly face that greets patients and keeps the office running smoothly. But is your cover letter as welcoming as your smile?
A well-written, personalized medical receptionist cover letter will make the hiring manager's heart pound with joy. So, let's get to it!
This guide will show you a medical receptionist cover letter example and the best tips on how to write yours step by step.
Want to write your cover letter fast? Use our cover letter builder. Choose from 20+ professional cover letter templates that match your resume. See actionable examples and get expert tips along the way.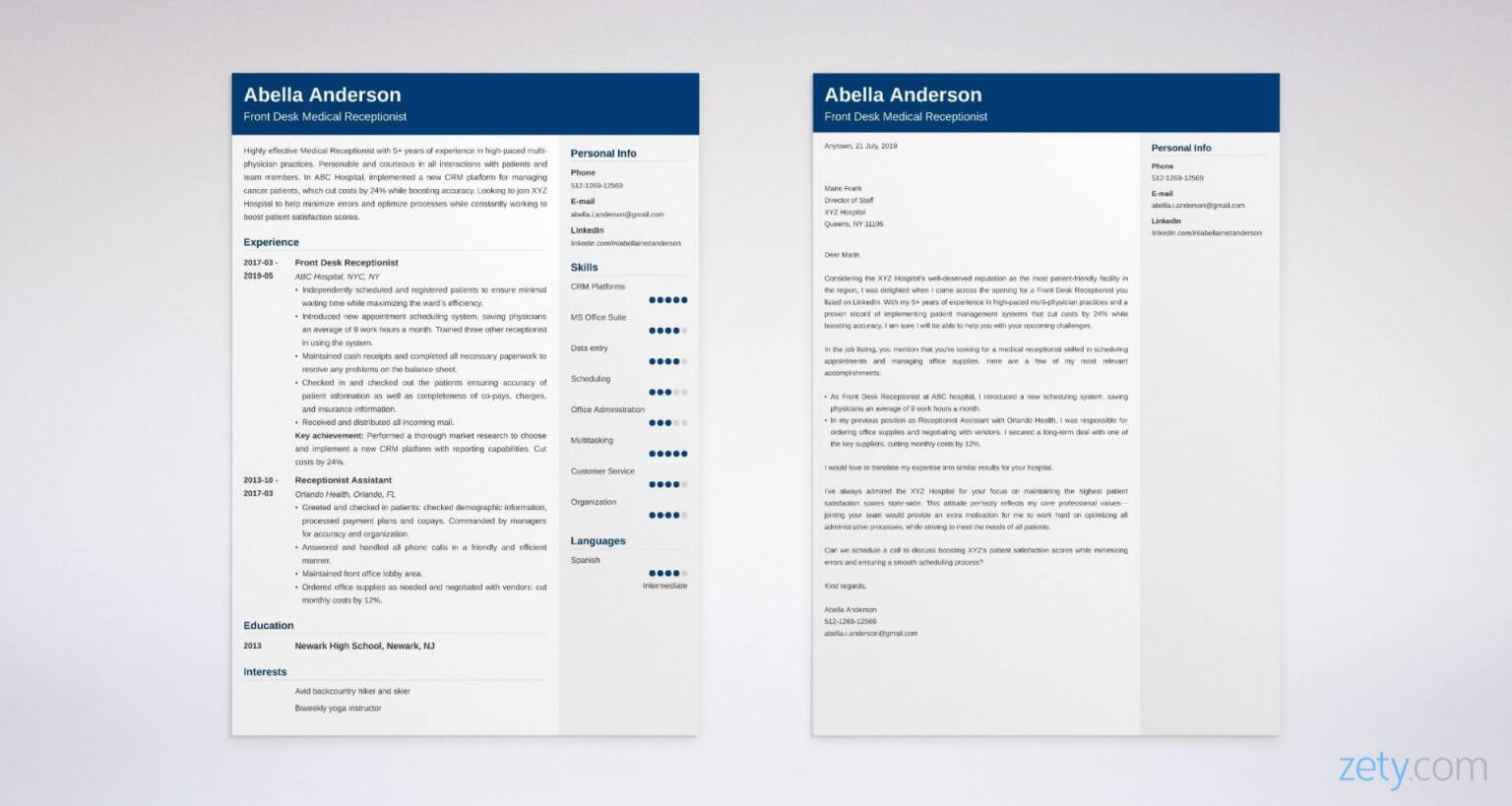 Sample cover letter for a resume—See more cover letter examples and create your cover letter here.
Considering similar positions too? See other cover letter examples for jobs in your industry:
Want to explore your options further? See our full selection of cover letter examples for every career: Cover Letter Samples for Any Job
Let's begin:
Medical Receptionist Cover Letter Sample
Abella Anderson
Front Desk Medical Receptionist
512-1269-12569
abella.i.anderson@gmail.com
linkedin.com/in/abellainezanderson
Anytown, 21 July, 2019
Marie Frank
Director of Staff
XYZ Hospital
Queens, NY 11106
Dear Marie,
Considering the XYZ Hospital's well-deserved reputation as the most patient-friendly facility in the region, I was delighted when I came across the opening for a Front Desk Receptionist you listed on LinkedIn. With my 5+ years of experience in high-paced multi-physician practices and a proven record of implementing patient management systems that cut costs by 24% while boosting accuracy, I am sure I will be able to help you with your upcoming challenges.
In the job listing, you mention that you're looking for a medical receptionist skilled in scheduling appointments and managing office supplies. Here are a few of my most relevant accomplishments:
As Front Desk Receptionist at ABC hospital, I introduced a new scheduling system, saving physicians an average of 9 work hours a month.
In my previous position as Receptionist Assistant with Orlando Health, I was responsible for ordering office supplies and negotiating with vendors. I secured a long-term deal with one of the key suppliers, cutting monthly costs by 12%.
I would love to translate my expertise into similar results for your hospital.
I've always admired the XYZ Hospital for your focus on maintaining the highest patient satisfaction scores state-wide. This attitude perfectly reflects my core professional values—joining your team would provide an extra motivation for me to work hard on optimizing all administrative processes, while striving to meet the needs of all patients.
Can we schedule a call to discuss boosting XYZ's patient satisfaction scores while minimizing errors and ensuring a smooth scheduling process?
Kind regards,
Abella Anderson
512-1269-12569
abella.i.anderson@gmail.com
That's a stunning medical receptionist or medical secretary cover letter example, right?
Now, let's walk through the process of writing a medical receptionist cover letter.
Medical Receptionist Cover Letter Template
Here's how to write a medical scribe cover letter for a job application:
1. Use the proper cover letter formatting and layout
Margins: one inch on all sides.
Spacing: 1.15.
Font: one of the classics (Tahoma, Verdana, Calibri, Arial, Georgia).
Read more:Cover Letter Formatting, Layout & Design
2. Make a good-looking cover letter header
At the top, list your name, job title, and contact details: phone number, email, LinkedIn profile (yes, LinkedIn is a must nowadays, 87% of recruiters use it and will look you up —make sure you have a good profile and always link to it on your cover letter.)
Make the cover letter header match that of your resume.
Type in the city and date a double-space below your contact info.
Another double space below, put the hiring manager's name and inside address.
Read more:How and to Whom Should I Address a Cover Letter?
3. Use a personal greeting and write a head-turning opening
Start with "Dear [Hiring Manager's Name]."
Introduce yourself and identify the job for which you're submitting the cover letter.
Briefly outline your experience and mention an achievement relevant to the job.
Read more: How to Begin a Cover Letter
4. Prove you're the ideal candidate
Refer to the job description and show you have the necessary qualifications.
If you can, mention a few quantifiable accomplishments.
Say you've got what it takes to translate your expertise into their success.
Need more in-depth cover-letter-writing guidelines? See our 101:Cover Letter: Sample and How to Write Yours
5. Explain what makes you want to join them
Make them feel special: mention something you admire about the way they operate.
Clearly show that you want to join this institution, not just land a job.
This way, they'll know that you're likely to stay for longer, so their onboarding budget won't be spent in vain.
By the way, according to Bloomberg and the BLS data, healthcare jobs are the fastest-growing employment sector in the US, so you're sure to be spoilt for choice.
Before you apply, make sure to pick an organization that you really want to work in.
6. Make an offer and include a call to action in the final paragraph
Ask for a meeting to discuss what you can offer.
Reiterate what's in it for them—remind them that you're willing to join to help with their challenges.
Read more:The Best Cover Letter Closing Lines
7. Put a professional sign-off at the bottom of the page
Sign-off with your full name.
Consider including a digital scan of your signature—it will add a nice, classy touch.
In the footer, retype your phone and email address.
All done? Once you send your medical receptionist cover letter and a resume, don't just sit and wait. Follow up. A well-placed call or email can make all the difference. Find out more: Job Application Follow-Up Email Templates
A good cover letter is a must in today's hiring. But it's still your resume that matters most.
When making a resume in our builder, drag & drop bullet points, skills, and auto-fill the boring stuff. Spell check? Check. Start building a professional resume template here for free.
When you're done, our professional resume builder will score your resume and our resume checker will tell you exactly how to make it better.
Questions? Concerns? I'm here to listen and respond. If you have any doubts about how to write a perfect cover letter for medical receptionist positions, drop me a line in the comments.
About Zety's Editorial Process
This article has been reviewed by our editorial team to make sure it follows Zety's editorial guidelines. We're committed to sharing our expertise and giving you trustworthy career advice tailored to your needs. High-quality content is what brings over 40 million readers to our site every year. But we don't stop there. Our team conducts original research to understand the job market better, and we pride ourselves on being quoted by top universities and prime media outlets from around the world.