Support Worker CV: Examples & Writing Guide [+Template]
You spend your life supporting others, but this guide is here to support you. Discover how to write a support worker CV as accomplished as you are.
Being a support worker can be incredibly satisfying. There's nothing better than seeing the people you support achieving things they've always wanted to do. It's all about making a positive difference in other people's lives.
But what about making a positive difference in your own? How do you get the support work job you deserve? You just need a well-written support worker CV and you're about to get all the support you need to write one.
Read on and you'll see a professional support worker CV example you can adjust and make your own. Plus, you'll learn an easy formula for writing a CV for support work jobs that will land you 10x more interviews than any other CV you've written in the past
Want to save time and have your CV ready in 5 minutes? Try our CV builder. It's fast and easy to use. Plus, you'll get ready-made content to add with one click. See 20+ CV templates and create your CV here.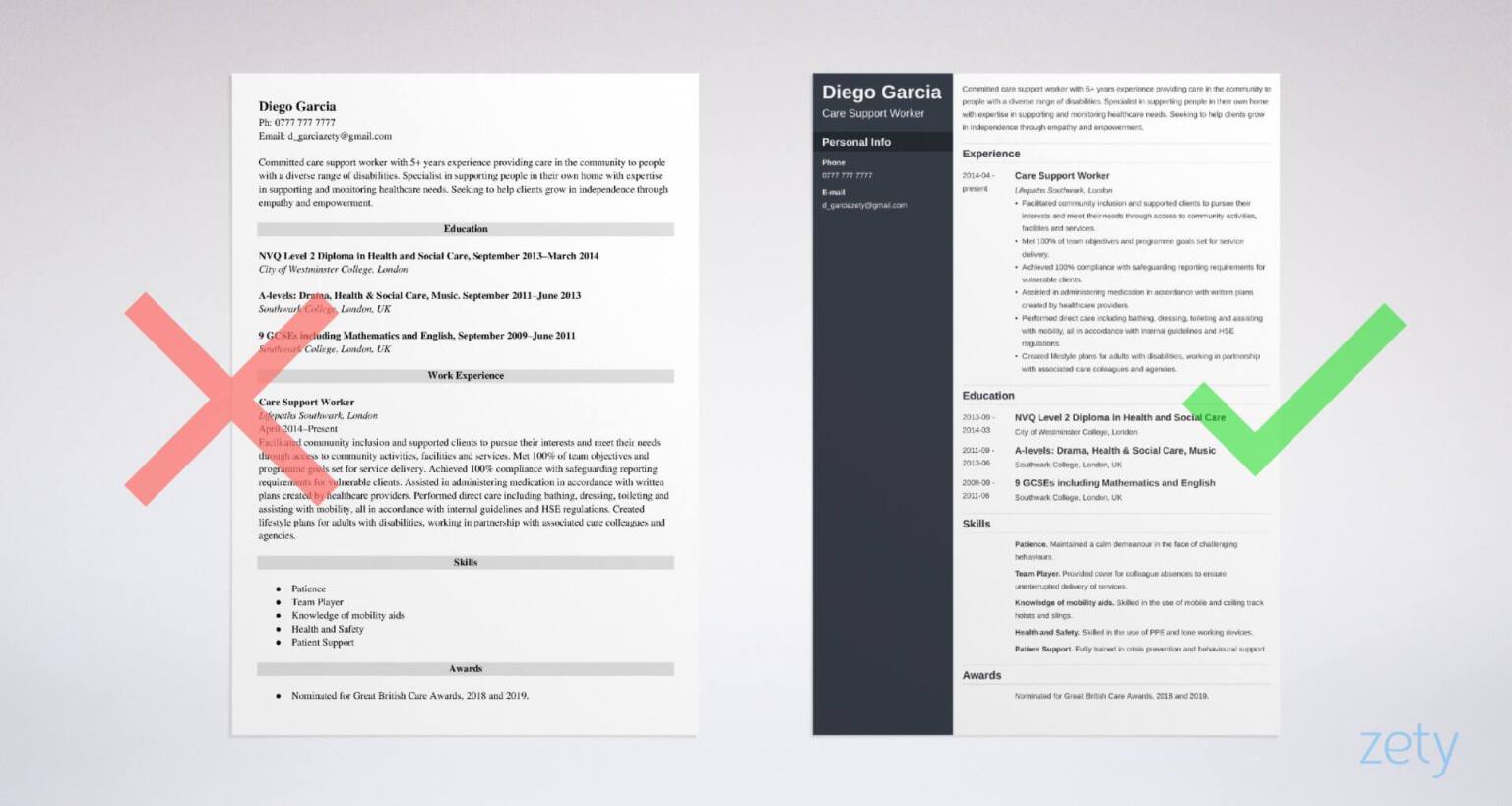 Support worker CV made with our builder—See more CV examples here.
Looking for other CV writing guides? Read more here:
Sample Support Worker CV Template
Diego Garcia
Ph: 0777 777 7777
Email: d_garciazety@gmail.com
Committed care support worker with 5+ years experience providing care in the community to people with a diverse range of disabilities. Specialist in supporting people in their own home with expertise in supporting and monitoring healthcare needs. Seeking to help clients grow in independence through empathy and empowerment.
Work Experience
Care Support Worker
Lifepaths Southwark, London
April 2014–Present
Facilitated community inclusion and supported clients to pursue their interests and meet their needs through access to community activities, facilities and services.
Met 100% of team objectives and programme goals set for service delivery.
Achieved 100% compliance with safeguarding reporting requirements for vulnerable clients.
Assisted in administering medication in accordance with written plans created by healthcare providers.
Performed direct care including bathing, dressing, toileting and assisting with mobility, all in accordance with internal guidelines and HSE regulations.
Created lifestyle plans for adults with disabilities, working in partnership with associated care colleagues and agencies.
Education
NVQ Level 2 Diploma in Health and Social Care, September 2013–March 2014
City of Westminster College, London
A-levels: Drama, Health & Social Care, Music. September 2011–June 2013
Southwark College, London, UK
9 GCSEs including Mathematics and English, September 2009–June 2011
Southwark College, London, UK
Skills
Patience. Maintained a calm demeanour in the face of challenging behaviours.
Team Player. Provided cover for colleague absences to ensure uninterrupted delivery of services.
Knowledge of mobility aids. Skilled in the use of mobile and ceiling track hoists and slings.
Health and Safety. Skilled in the use of PPE and lone working devices.
Patient Support. Fully trained in crisis prevention and behavioural support.
Awards
Nominated for Great British Care Awards, 2018 and 2019.
Now, here's the job-winning support worker CV formula:
1. Use the Best Format for Your Support Worker CV
A support worker provides vulnerable people with care. Your support worker CV needs to show you can help people to live more independently by offering practical help and emotional support. It needs to show you can assist with household tasks, personal and medical care, and have the ability to complete required administrative work.
In truth, it's a job that's impossible to describe in a couple of sentences, but the purpose of your support worker CV is to demonstrate your abilities in a way that'll impress employers. Here's how to do it.
Use the best CV format. The right choice for a support worker CV is chronological format. It's the one employers are most comfortable with and it puts the emphasis on your work experience.
Make sure your CV layout is neat and tidy. Page margins should be set to one inch on each side, left-align your text (don't justify) and put a double space between each section. This creates generous white space, which makes your CV easier to read.
Choose a clear CV font set to 11–12 point. Calibri, Helvetica and Arial are three of the best.
Keep it short. The maximum acceptable CV length is two pages.
When you're finished, save your CV in PDF format to keep your layout intact.
Read more about CV Layout: How to Layout a Professional CV
2. Write a Support Worker Personal Statement for Your CV
Your support worker personal statement or personal profile you put at the top of your CV acts as an introduction to your CV. You get 3–4 sentences to convince the recruiter your CV is worth reading. But don't let that put you off, you just need to answer these three questions to get it right.
Who are you?
What can you offer to the employer?
What are your career goals?
The way you answer those questions is different depending on your work history. More experienced support workers should use this approach.
Take time to prepare. List all of the points that make you an effective support worker. Consider all the experience, skills and abilities you've gained in your career.
Then look at the job advert, refer to the job description and match up 3–4 points from your list to the skills and experience listed there.
Now you're ready to write. Use the matching points to write a personal statement targeted to the support work job you're applying for.
Are you writing a support worker CV with no experience? Do this instead.
Compile a list of the skills and experience you already have. Consider your education and your work experience. Then underline anything that's transferable to a support work role.
Then combine those points with knowledge about the organisation you've applied to and passion for becoming a support worker to show that you're a good fit.
This section is easier to write if you leave it until last. It's better to have your experience, skills and education sections already written so you can use them for inspiration.
See this guide for even more tips on how to write your personal profile: How to Write a CV Personal Statement [20+ Examples]
3. Craft a Compelling Work Experience Section
Your work experience section is the heart of your CV. Employers need support workers who can jump right in and immediately begin providing care for vulnerable clients. Here's how to prove you can do it.
List your most recent job first then go back listing any preceding roles in order.
For each entry include the job title, name of the employer, dates of employment (use "present" as the end date if you currently work there) and up to six bullet points describing the job.
Start each bullet point with a snappy CV action word, such as achieved, supported or accomplished.
Aim to show measurable achievements, not just a list of duties. It's not all about what you've done, you also have to show how well you did it.
Structure your bullet points with the PAR (Problem Action Result) formula and accomplishment statements.
Target your work experience section to the job description. Refer to the skills and experience listed and match your own professional experience to what's needed.
Need some more hacks to create the perfect CV? Check out our guide: 20+ CV Tips and Advice for Job Application Success
4. Include an Education Section
Being a good support worker goes beyond formal education. But recruiters expect an education section in your CV and you do have to follow a standard set of rules to present it. Here they are.
If you attended university, name the institution you studied at, the years you attended, and the name of your degree. If you're still studying, include your expected graduation date. Honours should only be included if they're a 2:1 or a first.
For school leavers, include the name of the school, its location, and the dates you attended. Mention individual subjects for your A-levels. But for GCSEs you only need to list Maths and English, many employers look for passes in these subjects as a minimum requirement.
Include any specialist college qualifications you have here too.
If you've only just left school or graduated from university then you can change the order of your CV sections and put your education before your work experience.
5. Show Off Your Support Worker CV Skills
Being a good support worker needs a variety of skills, too many to easily mention. So how can you narrow it down and choose which skills are best to put on your CV? Just do this.
Refer to the job advert to see what skills are required. It's your cheat sheet for what the hiring manager wants.
Next, list your own skills. Check your work experience and education sections if you need any reminders.
Then put your two lists together, see what matches, and select 5–10 of them to put on your CV.
Try for a mix of soft skills, hard skills and technical skills.
For each skill listed, add a short sentence showing how you demonstrate it. Don't just show, tell. E.g. Patience. Maintained a calm demeanour in the face of challenging behaviours.
These skills would make a great addition to a support worker CV.
Support Worker Skills for a CV
Compassion
Patience
Safeguarding skills
Team player
Patience
Flexibility
Health and safety compliance
Ability to work under pressure
Ability to work independently
Read more: Best List of Skills to Put on a CV [Top Skills & Examples]
When making a CV in our builder, drag & drop bullet points, skills, and auto-fill the boring stuff. Spell check? Check. Start building your CV here.
When you're done, Zety's CV builder will score your CV and tell you exactly how to make it better.
6. Add Additional Sections to Your Support Worker CV
The sections we've just covered are the essentials. But if you want to be the star pupil you'll need extra sections. Here are some ideas.
Add a languages section, the ability to speak a foreign language is highly sought after in all work sectors.
You could also include volunteering, projects, achievements, awards or hobbies. Just keep it relevant and make sure it helps you stand out as a candidate.
7. Attach a Support Worker Cover Letter
Cover letters are still important. So much so that almost half of employers will reject job applications that don't include one. But you can't just cobble together a letter and hope for the best. So—
Here's how to write a cover letter.
Get your cover letter format right.
Put a 'hook' in your cover letter opening. Be energetic and passionate, and include a compelling professional achievement.
Show that your experience and skills will enable you to excel as a support worker.
Put a call to action in your cover letter ending by asking to discuss the role further.
Stick to the right cover letter length.
Finally. Always follow up your job application. If you have no reply after a week, check back with the employer about the status of your application. It's one of the simplest ways of improving your chances of success. 22% of hiring managers would be less likely to hire candidates who don't follow-up.
Plus, a great cover letter that matches your CV will give you an advantage over other candidates. You can write it in our cover letter builder here. Here's what it may look like: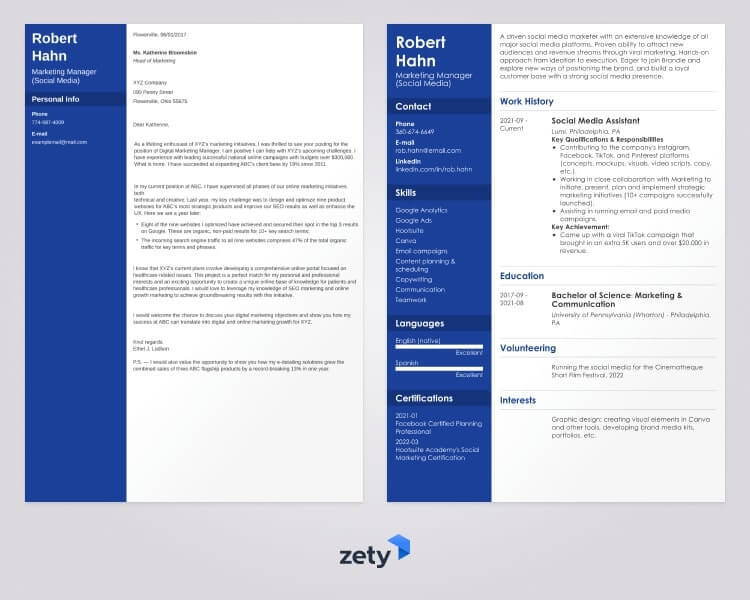 See more cover letter templates and start writing.
And that's it. What did you think of our care support worker CV examples? Are you looking for something more specific like a mental health support worker CV sample? If you've got any questions at all about a CV for support workers, please use the comments section below. Let's get the discussion started.
About Zety's Editorial Process
Our editorial team has thoroughly reviewed this article to ensure it follows Zety's editorial guidelines. Our dedication lies in sharing our expertise and providing you with actionable career advice that offers you real value. Every year, the quality of our content attracts 40 million readers to our site. But that's not all – we conduct original research to gain a detailed understanding of the labour market. We take pride in being cited by top universities and leading media outlets in the UK and worldwide.
Sources