Customer Service CV: Example, Skills & Template for 2023
You have great communication skills if you're working in customer service. But can you clearly communicate it to your recruiter? With our customer service CV guide, you will!
A customer service CV is like an interaction with a customer. To be successful, both of them should be tailored to the other side's needs and expectations. Our expert tips and a customer service CV example will show you exactly what to do.
Learn how to read the recruiters' minds the way you can do so with the customers and create a job-winning customer service advisor CV!
This guide will show you:
A customer service CV example better than 9 out of 10 other CVs.
How to write a customer service CV that will land you more interviews.
Tips and examples of how to put skills and achievements on a customer service advisor CV.
How to describe your experience on a CV for a customer service assistant to get any job you want.
Want to save time and have your CV ready in 5 minutes? Try our CV builder. It's fast and easy to use. Plus, you'll get ready-made content to add with one click. See 20+ CV templates and create your CV here.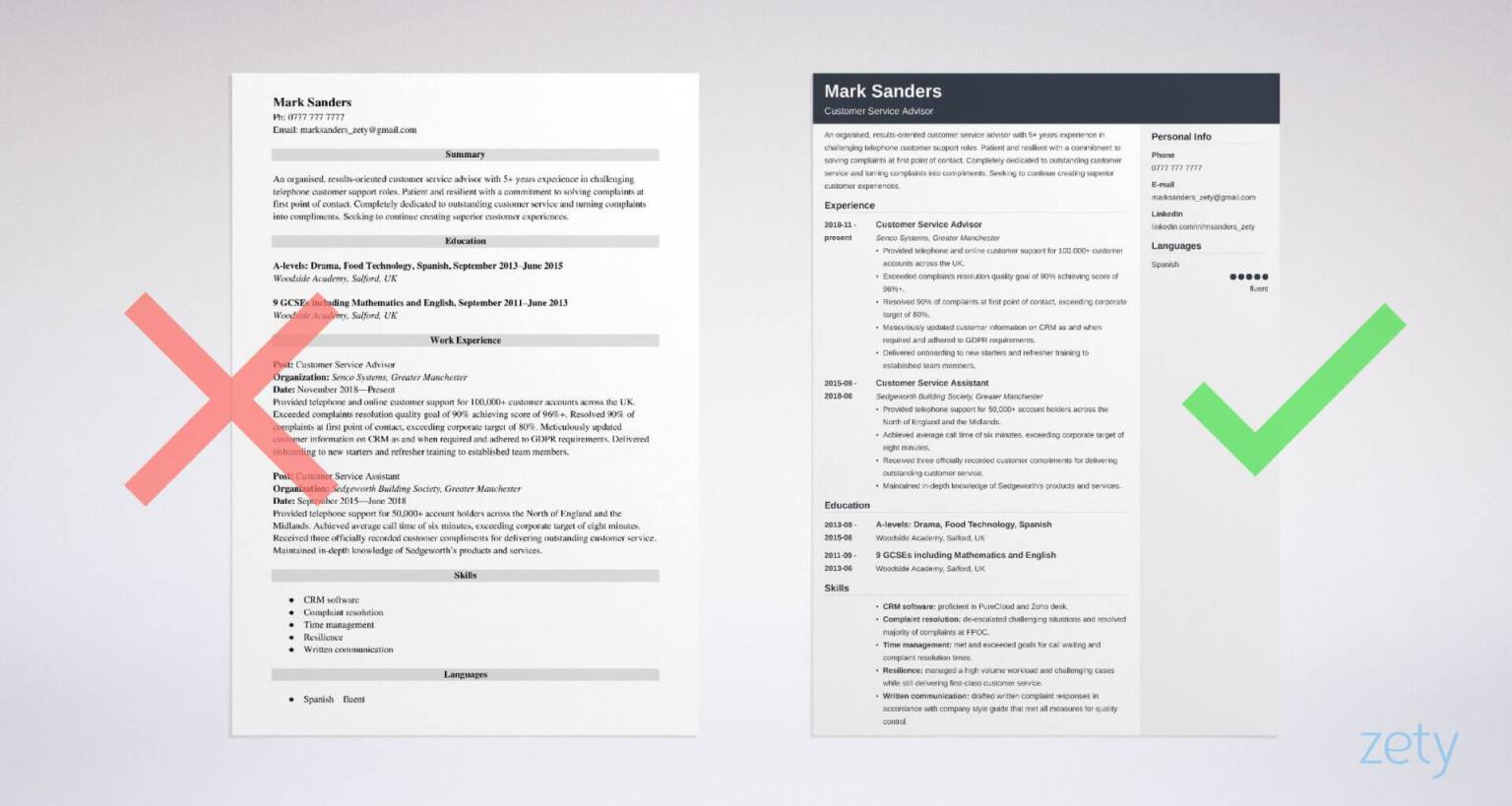 Customer service CV made with our builder—See more CV examples here.
Looking for more other CV writing advice? Read more here:
Customer Service CV Example
Mark Sanders
Ph: 079 4285 1310
Email: marksanders@email.com
LinkedIn: linkedin.com/in/msanders_zety
An organised, results-oriented customer service advisor with 5+ years experience in challenging telephone customer support roles. Patient and resilient with a commitment to solving complaints at first point of contact. Completely dedicated to outstanding customer service and turning complaints into compliments. Seeking to continue creating superior customer experiences.
Work Experience
Customer Service Advisor
Senco Systems, Greater Manchester
November 2018—Present
Provided telephone and online customer support for 100,000+ customer accounts across the UK.
Exceeded complaints resolution quality goal of 90% achieving score of 96%+.
Resolved 90% of complaints at first point of contact, exceeding corporate target of 80%.
Meticulously updated customer information on CRM as and when required and adhered to GDPR requirements.
Delivered onboarding to new starters and refresher training to established team members.
Customer Service Assistant
Sedgeworth Building Society, Greater Manchester
September 2015—June 2018
Provided telephone support for 50,000+ account holders across the North of England and the Midlands.
Achieved average call time of six minutes, exceeding corporate target of eight minutes.
Received three officially recorded customer compliments for delivering outstanding customer service.
Maintained in-depth knowledge of Sedgeworth's products and services.
Education
A-levels: Drama, Food Technology, Spanish, September 2013–June 2015
Woodside Academy, Salford, UK
9 GCSEs including Mathematics and English, September 2011–June 2013
Woodside Academy, Salford, UK
Skills
CRM software: proficient in PureCloud and Zoho desk.
Complaint resolution: de-escalated challenging situations and resolved majority of complaints at FPOC.
Time management: met and exceeded goals for call waiting and complaint resolution times.
Resilience: managed a high volume workload and challenging cases while still delivering first-class customer service.
Written communication: drafted written complaint responses in accordance with company style guide that met all measures for quality control.
Languages
Now, here's the job-winning customer service CV formula:
1. Use the Best Format for Your Customer Service CV
A customer service advisor is the link between the company and the customer, acting as first point of contact, advising on products and services and resolving complaints. The purpose of your customer service CV is to prove you can do that calmly and professionally, while acting as an ambassador for your employer.
Good customer service is good for business. 73% of customers fall in love with a brand and remain loyal to it because of friendly customer service reps. With so much at stake when it comes to hiring good customer service staff, your CV needs to impress. Here's how to make sure the hiring manager gets service with a smile.
Choose the right type of CV format. The best choice for a customer service CV is the chronological format. It's the one hiring managers are most familiar with and focuses on your biggest strength. Your work experience.
Use the right settings for your CV layout. Set page margins to one inch on each side, left align the text (don't use justification) and double space between each section. This creates plenty of white space, which improves readability and adds emphasis to each section.
Choose a good CV font. Arial, Helvetica and Cambria are three great options.
Less is more, don't overdo it. The best CV length is no more than two pages.
Save your CV as a PDF to keep your formatting intact.
Don't attach your photo or include any personal info like your marital status or date of birth.
Read more: How to Write a CV [Professional UK Examples]
2. Write a Customer Service CV Personal Statement
A phone call gets put through to you. It's a customer complaint, and they're furious. The first few sentences you exchange will make all the difference between resolution and "I want to speak to a manager." That's the purpose of a CV personal statement. It creates that crucial first impression between you and the recruiter.
3–4 sentences is all you've got to keep them engaged. But don't worry, just use these three simple questions as your template and the recruiter will be one happy customer.
Who are you?
What can you offer to the employer?
What are your career goals?
Answer these questions differently depending on how experienced you are. If you're a battle-scarred customer service pro then do this.
Sit down and make a master list of all your customer service selling points. Include all of the experience, skills and abilities you have that make you a customer service whiz.
Then re-read the job description in the advert, make a list of the skills and experience it demands and match it up with 3–4 points from your own list.
Use these points to write a customer service CV profile tailored to the job you're targeting.
If you're applying for an entry-level customer service role then do this.
Make a master list of your skills and experience. But focus on your education and any other jobs you've had. Then list anything that's transferable to being a customer service advisor like conflict resolution and listening skills.
Now choose 3–4 items from your list that are relevant to the job description and combine them with passion for the role, and knowledge about the employer to prove that you'll be a good fit.
Combine everything into a personal profile targeted to the job.
Regardless of your experience, a customer service CV personal statement is easier to write if you leave it until last. It's much faster when you've got your experience, skills and education ready to refer to.
Now for the most important part of the hiring manager's customer journey. Your work experience section.
Check out this guide for even more tips on how to write your personal profile: How to Write a CV Personal Statement [20+ Examples]
3. Efficiently Resolve Your Customer Service CV Work Experience Section
It's said that customer service work is both the best job in the world and the worst. You can start the day on a high having delighted someone with your friendly assistance and end it on the lowest of lows, having unfairly been the target of unreasonable anger and frustration. It takes experience to develop the resilience to excel. Here's how to show it.
List your most recent job first and work back from there. That's the reason this type of CV format is called reverse chronological
For every role, include your job title, the employer's name, dates of employment (use "present" as the end date if you're currently working there), then write a maximum of six bullet points describing the job.
Begin each bullet point with a CV action word like completed, secured or succeeded in, to give them added impact.
Cite measurable achievements, not just a list of duties. Don't just say what you did, show how well you did it.
Use the PAR (Problem Action Result) formula and accomplishment statements to structure your bullet points.
Always tailor your CV work experience section to the job description. Highlight the skills and experience the employer is looking for and match your experience to what's required.
Want even more good CV advice? Check out our guide: 20+ CV Tips and Advice for Job Application Success
4. Include an Education Section in Your Customer Service CV
This section might not seem important, but every recruiter expects to see an education section that's properly laid out and contains the info they need. Here's how to get it right on your CV for a customer service job.
If you're a school leaver then include the name of the school, its location, and the years you attended. Include individual subjects for your A-levels. But for GCSEs you only need to list Maths and English, many employers look for passes in these subjects as a minimum requirement.
For uni include the university name, your dates of attendance, and the name of your degree. If you're still studying include an expected graduation date.
If you're writing a student CV or a graduate CV and don't have much experience then change the order of your CV sections and put this one before your work experience section.
Read more: How to Write Your CV Education Section
5. Show Off Your Customer Service CV Skills
Good customer service requires composure, considered use of language and empathy. It's a job that requires a unique blend of skills to do well. Make sure your customer service CV skills section best shows off your ability to turn a one-star review into five. Here's how.
Go to the job advert again, read the job description and list which skills are required.
Now write a list of your own skills, refer to your work experience and education sections for inspiration.
Then put the two lists side-by-side, see what matches, and list 5–10 of those on your CV.
Include a mix of soft skills, hard skills and technical skills.
For each skill, add a single sentence showing how you demonstrate it. Don't just show, tell. E.g. CRM software: Proficient in PureCloud and Zoho desk.
Check out these examples of customer service skills for your CV.
Customer Service Skills (CV Example)
Patience
Attentiveness
Product knowledge
Conflict resolution
Time management skills
Empathy
Persuasion skills
Resilience
CRM software
Read More: Best List of Skills to Put on a CV [Top Skills & Examples]
When making a CV in our builder, drag & drop bullet points, skills, and auto-fill the boring stuff. Spell check? Check. Start building your CV here.
When you're done, Zety's CV builder will score your CV and tell you exactly how to make it better.
6. Add Additional Sections to Your Customer Service CV
There's a lot of competition out there. 118 people apply for every job and only 20% of those score an interview. To be part of the 20% you've got to make your CV stand out like a rogue 60-minute call wait time when your call centre average is only 5. Adding extra sections is a great way of revving up your job application. Here are some ideas.
Can you speak another language? Foreign language skills are needed at all levels of the workforce and are a great choice for a customer service CV.
A volunteering section can also give you a huge boost. 82% of managers prefer to hire people with volunteering experience.
You could also include projects, achievements, awards and hobbies. Just keep it relevant to the job and ensure it helps your application stand out from the crowd.
7. Attach a Cover Letter to Your Customer
Service CV
Writing a letter seems pretty quaint these days. But when it comes to a job application you've got to go back to the old school. More than half of employers still say cover letters are a must-have.
This is how to write a customer service cover letter in no time.
Use the right cover letter format.
Start your cover letter with a hook. Show some passion for the role and the company, and include a juicy professional achievement.
Demonstrate how your skills and experience will help you to excel in a customer service role and keep this tailored to the job you're applying for.
Put a call to action in your cover letter ending asking to meet or schedule a phone call to discuss the job further.
Stick to the right cover letter length.
Want a more detailed checklist for your cover letter? Read more: What to Include in a Cover Letter for a Job
Plus, a great cover letter that matches your CV will give you an advantage over other candidates. You can write it in our cover letter builder here. Here's what it may look like: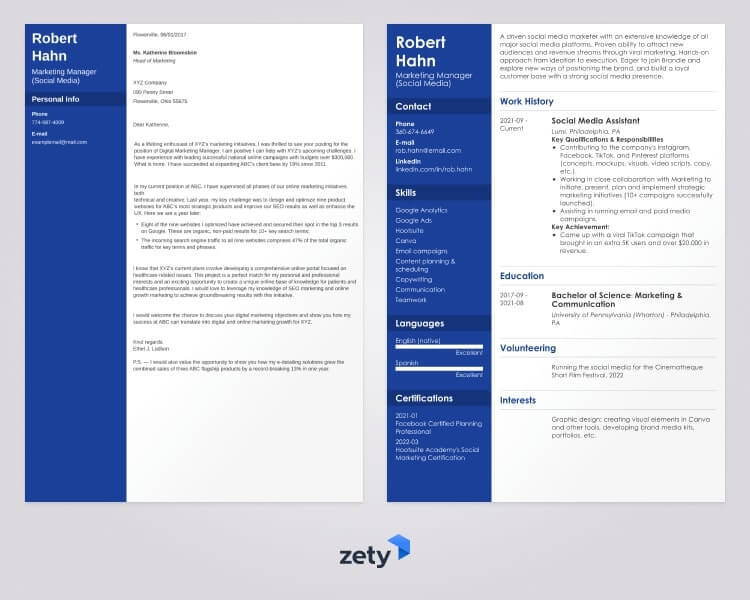 See more cover letter templates and start writing.
One last piece of advice. Follow up your application. If you haven't heard back within one week, contact the employer by email or phone about the status of your application. It's a great way of improving your chances of landing an interview.
And that's it. You're all set to land the best customer service jobs out there.
Thanks for reading. Got any job hunting tips and tricks you'd like to share? Is there anything you'd like me to explain in more detail regarding a CV for customer service? If you've got any questions at all, please use the comments section below. I'm looking forward to hearing from you.
About Zety's Editorial Process
Our editorial team has thoroughly reviewed this article to ensure it follows Zety's editorial guidelines. Our dedication lies in sharing our expertise and providing you with actionable career advice that offers you real value. Every year, the quality of our content attracts 40 million readers to our site. But that's not all – we conduct original research to gain a detailed understanding of the labour market. We take pride in being cited by top universities and leading media outlets in the UK and worldwide.
Sources