Professional Cover Letter Templates
Click on a cover letter template, fill it online and download in seconds. Build a professional cover letter in a few clicks. Just pick one of 18+ cover letter templates below, add ready-made content and get the job.
Best cover letter templates
for any situation
A cover letter for a CV or application is a brief presentation of your experience and skills in narrative form. The purpose of a cover letter is to highlight the most important information from your CV and add extra reasons why you should be hired. It's about looks and contents. And Zety will help with both—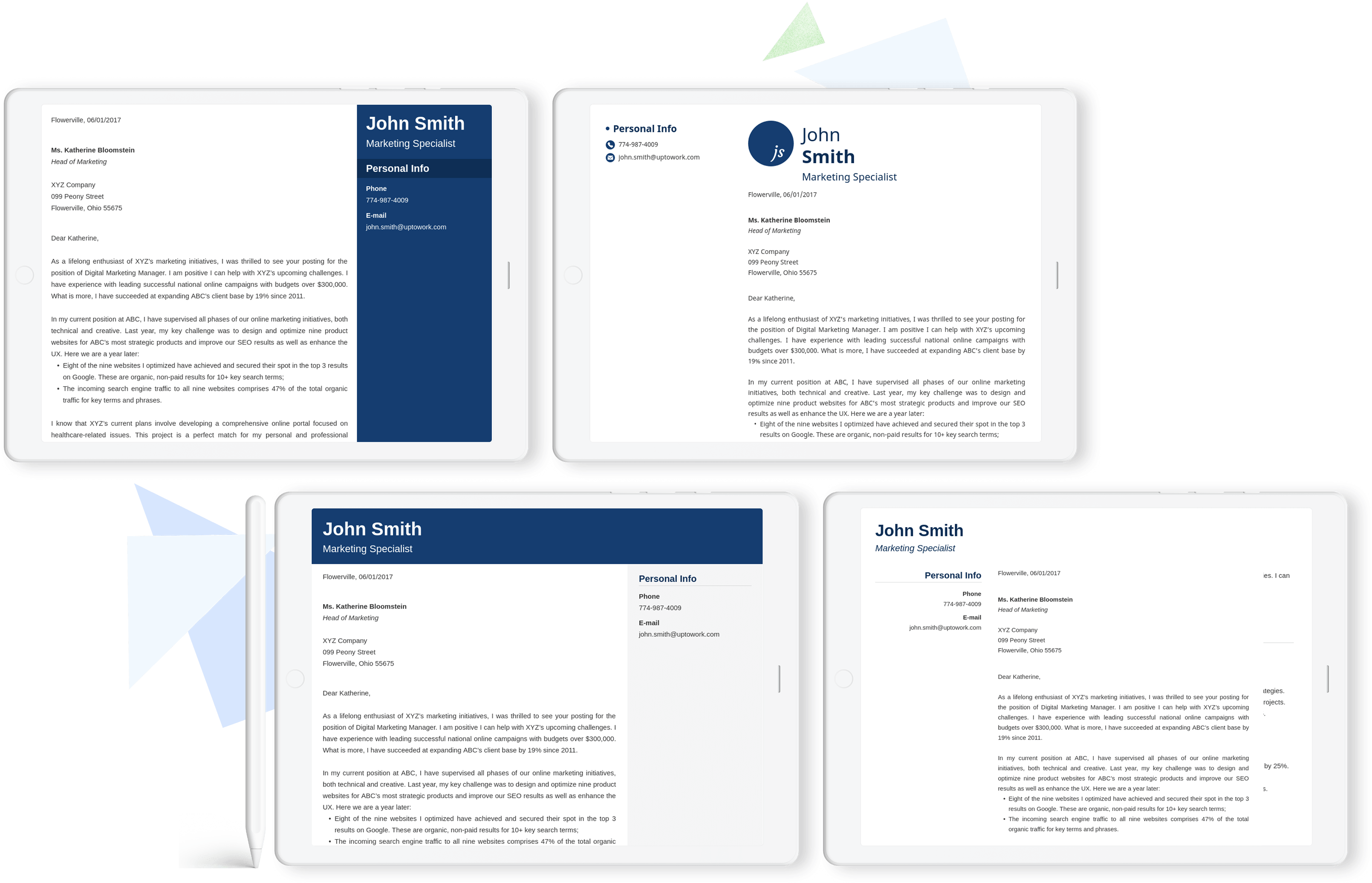 Professional design
These CV cover letter templates match Zety's CV templates and give your documents a polished look. Highlight key achievements in bullet points, use colour and style to draw attention to what matters to employers. Writing a cover letter feels like doing homework assignments, but not with Zety—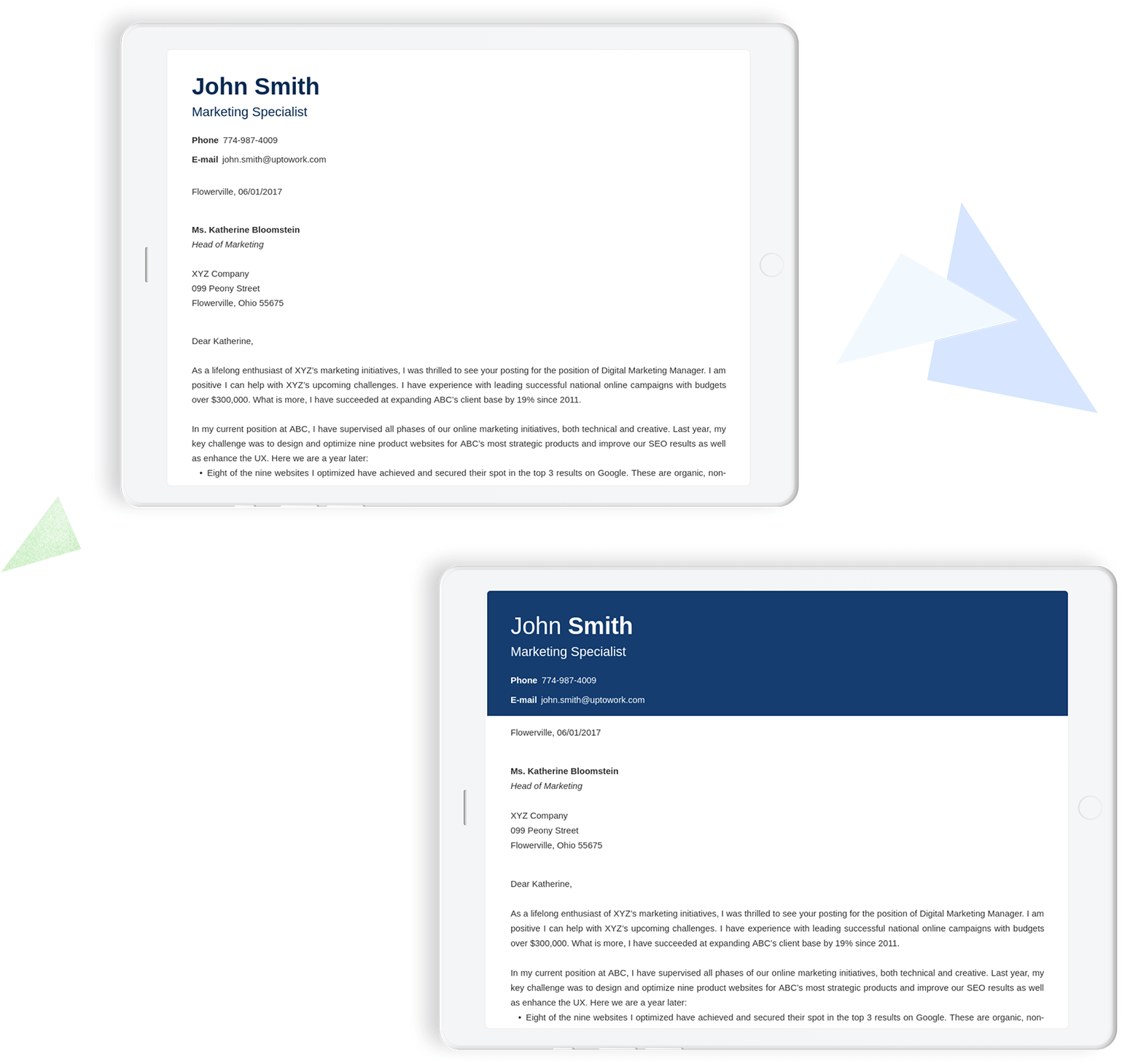 Ease of use
Fill in any of these professional cover letter format templates with help from our app. Simply tell the wizard a few things about yourself, and get a ready cover letter sample in a few clicks. Stop worrying about every single word you use and focus on what matters: your future job.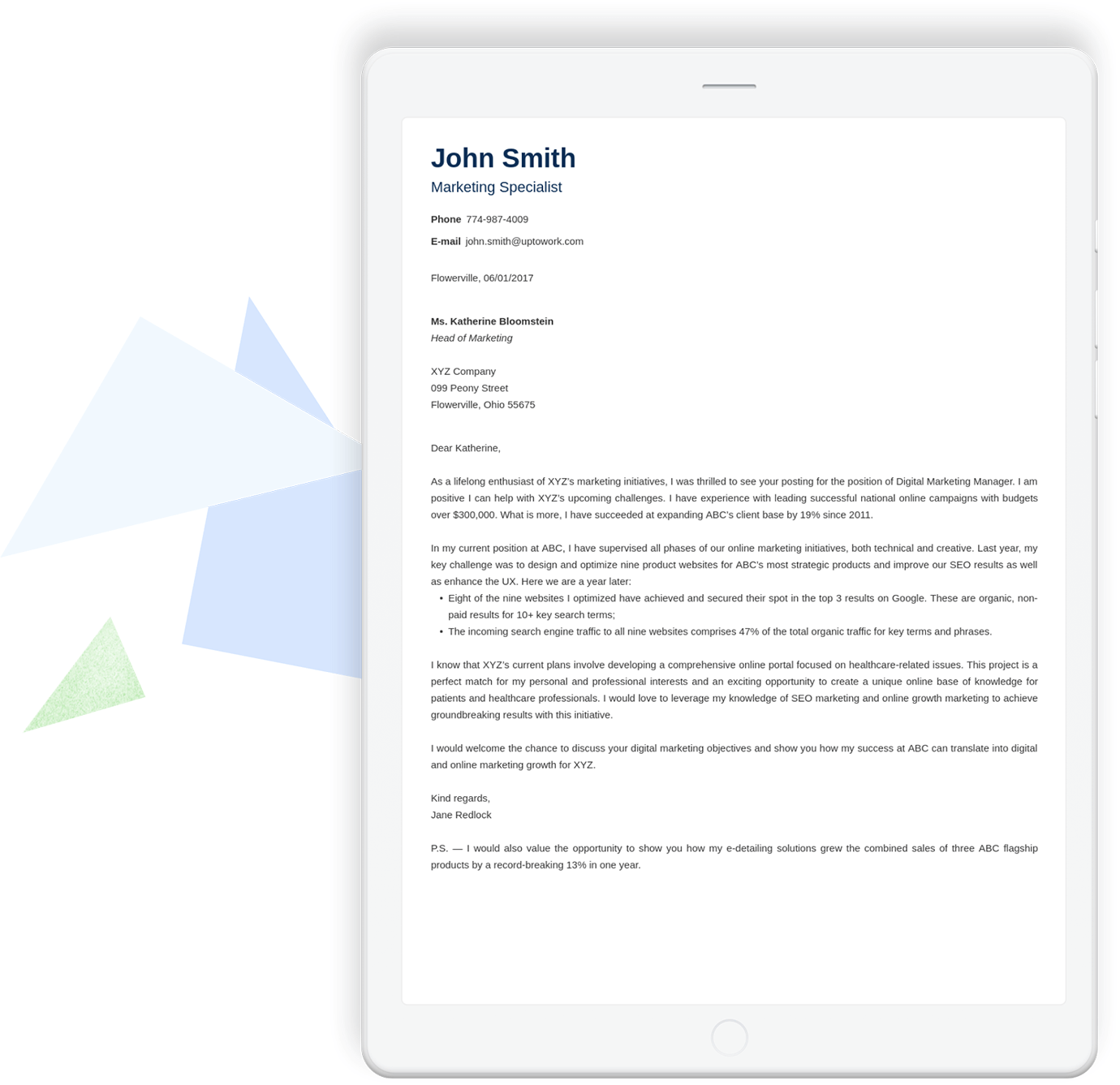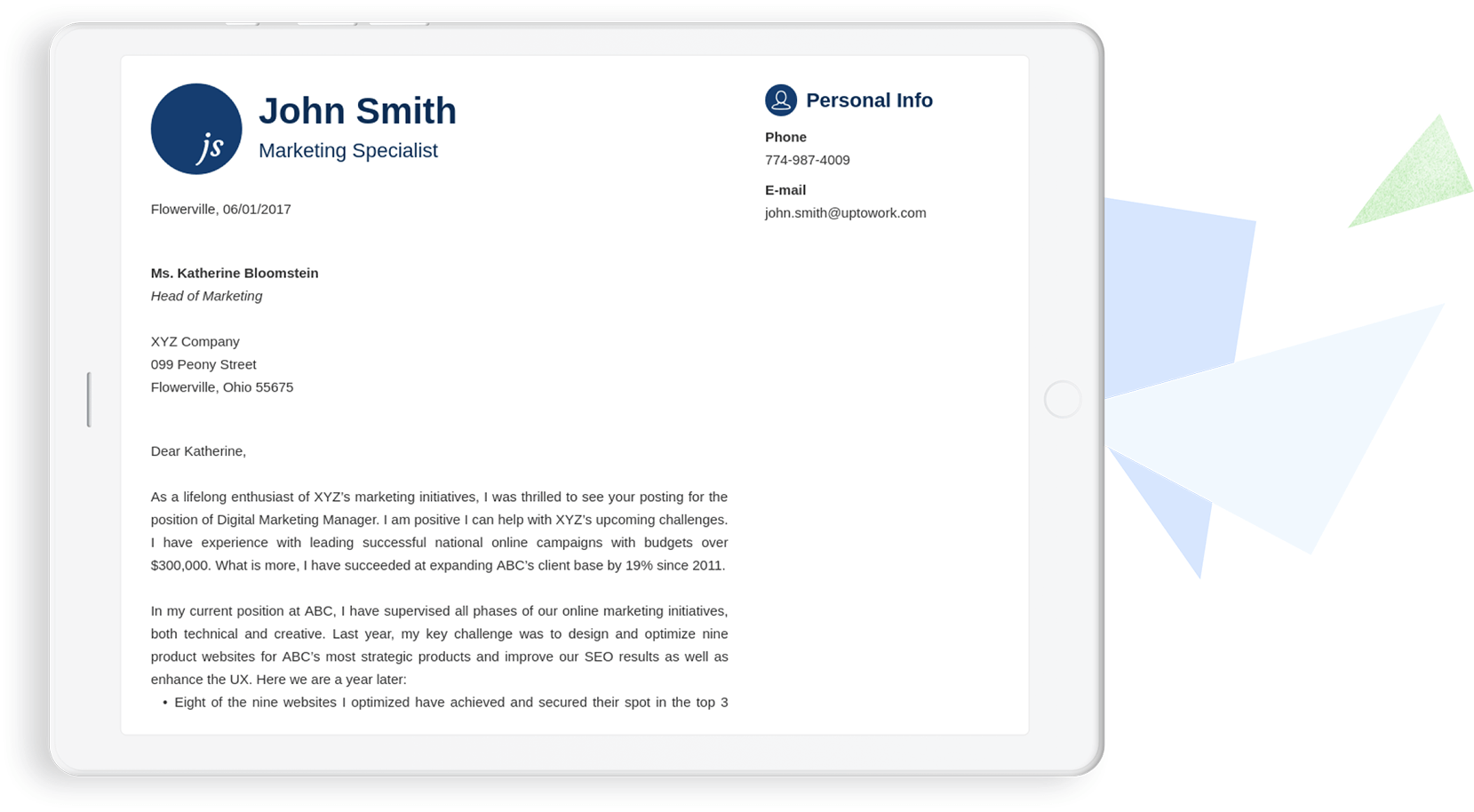 Speed
These user-friendly cover letter templates will save you hours of painful work. Remember the last sample you downloaded and got stuck filling out? This won't happen again. Pick a cover letter layout, click a few buttons and you're done. Download your cover letter template in pdf or Word format.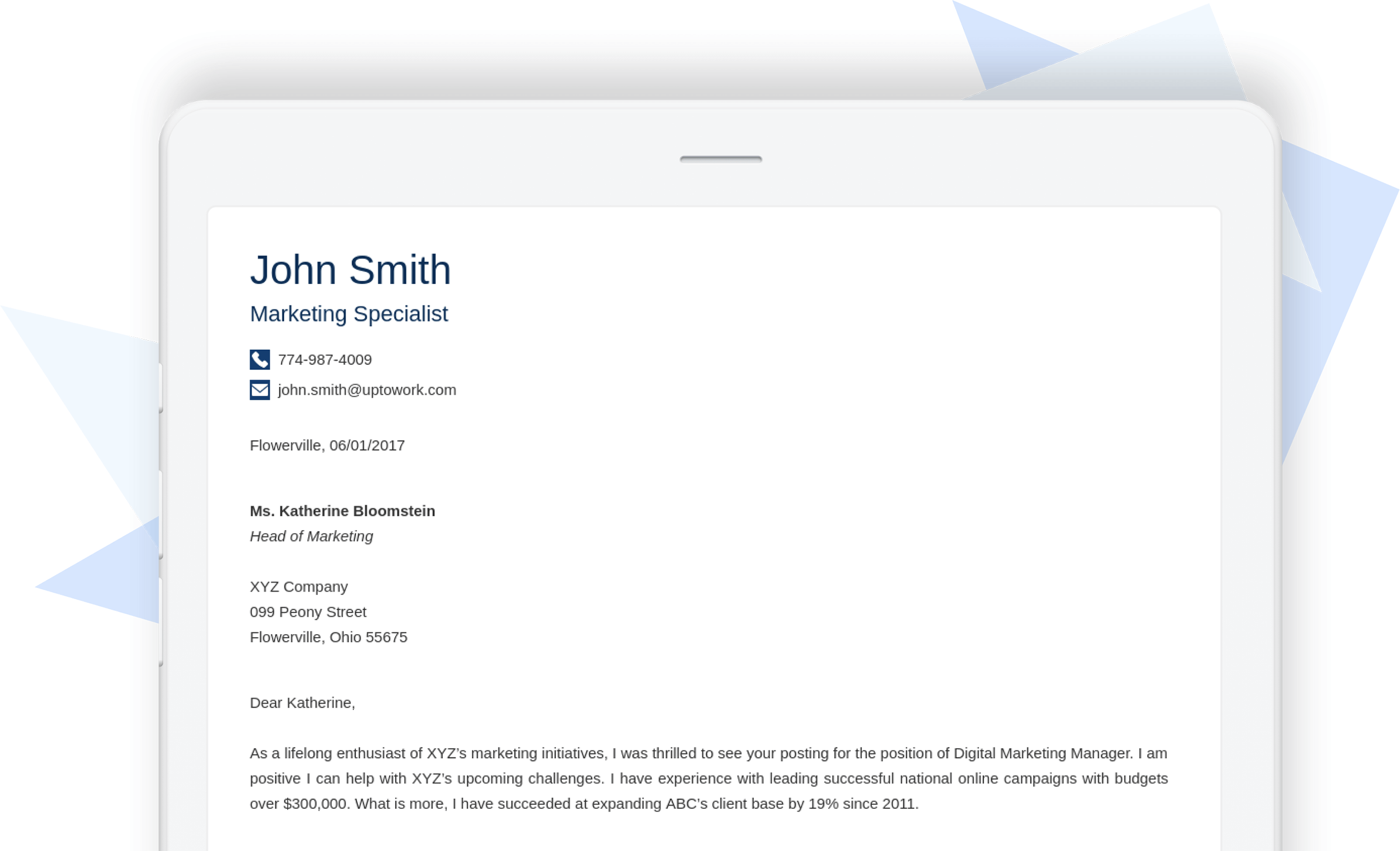 Confidence boost
Don't ignore your cover letter. About 20-50% recruiters expect you to write one even if they don't read it. Writing a cover letter from scratch feels like a chore, but it doesn't have to. You can create a cover letter for a job of your dreams in minutes. Employers will recognise you for who you are: the ideal candidate.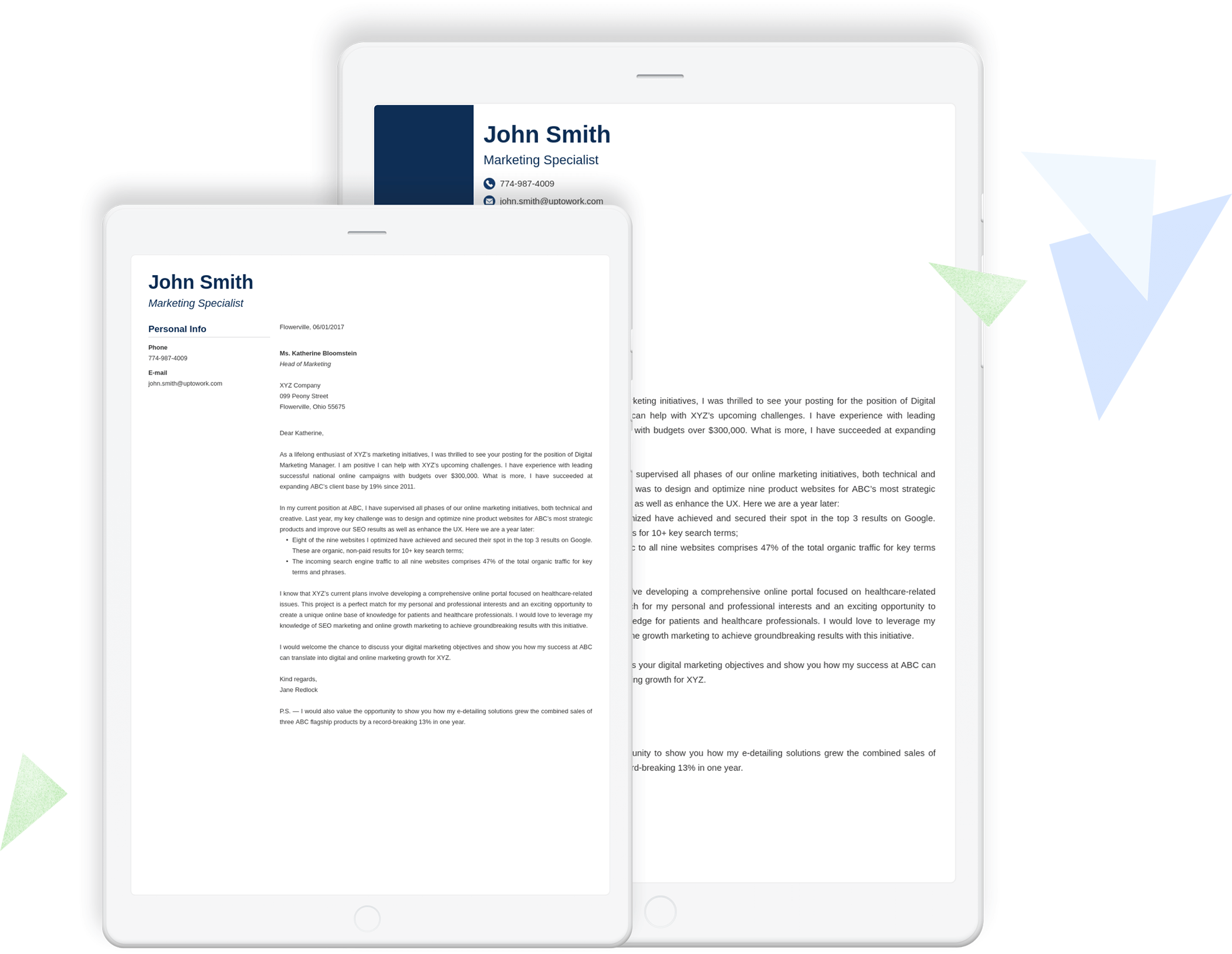 Proven effectiveness
A Zety CV and a cover letter is your one-two punch that will help you beat the competition. Only 20% of all applications contain cover letters and with Zety you'll stand out as the best candidate. Creating a cover letter can be simple, fast and is proven to get jobs. It's surprising how little effort you need.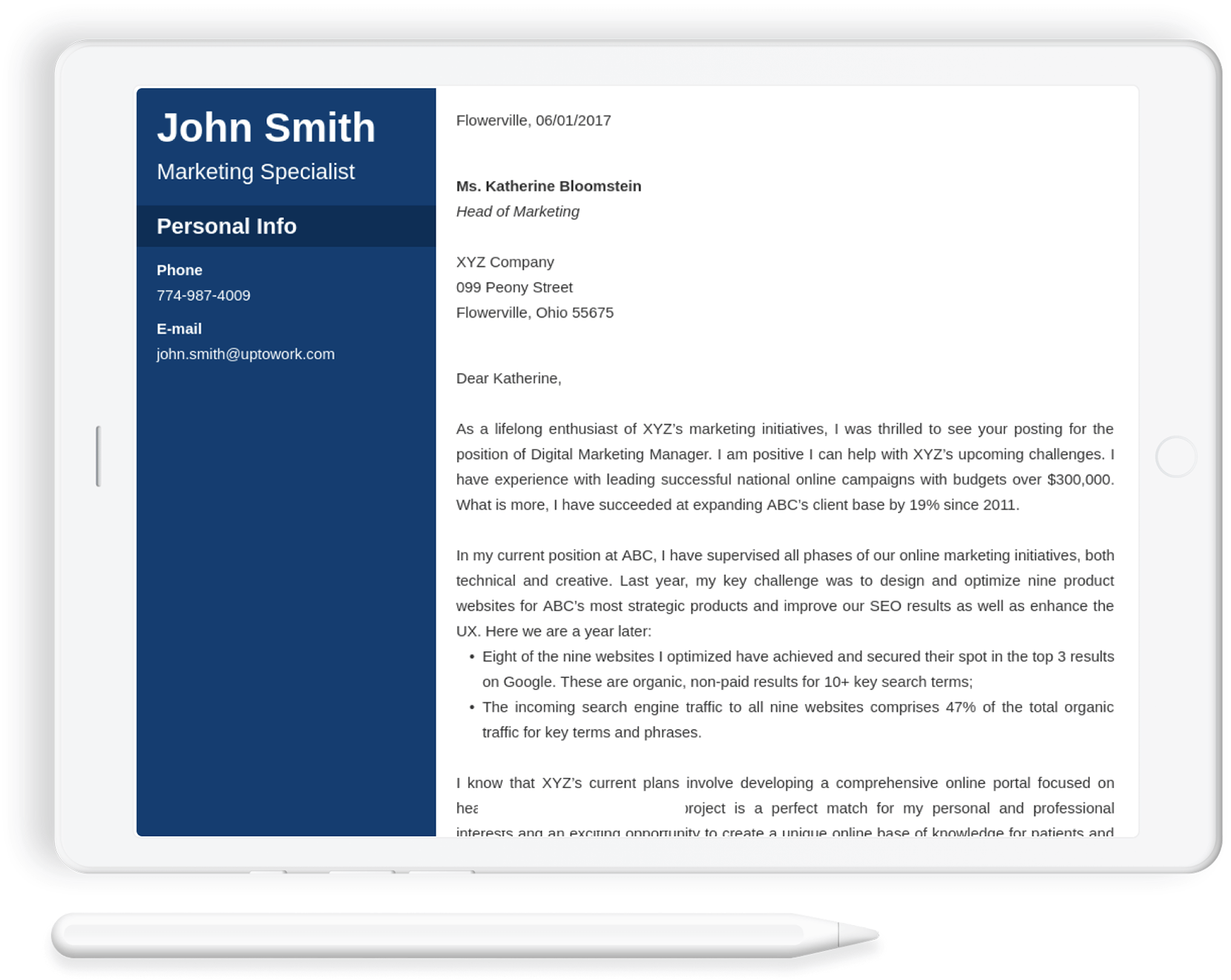 Why users choose our cover letter templates:
Frequently Asked Questions about Cover Letter Templates
Where can I find a free cover letter template?
Zety offers 18 professional cover letter templates, which you can edit quickly and easily using our cover letter builder. All you have to do is pick a cover letter template you like and fill in the blanks… or, to make things even easier, upload your CV and have our generator write your cover letter for you. Each cover letter design comes with a matching professional CV template, so you can apply for your dream job with a high-end set of documents in a matter of minutes.
What is the recommended UK cover letter format?
Here's how to format a cover letter in the UK:
Address your cover letter using a business letter-style heading: your name and contact details, followed by the date of writing and, finally, the name and contact information of the addressee (i.e. the hiring manager or recruiter).
Left-align everything and use a good, readable font—ideally, the same as your CV font. Use one-inch margins and 1–1.15 line spacing.
Keep it short: the best length for a cover letter is under one page.
If that sounds like a lot of messing around, keep in mind that the Zety CV builder can take care of the formatting for you, both on your CV and cover letter, with no software or computer skills needed. Visit our blog for more cover letter tips and, if you're writing your cover letter in the body of an email, check out this guide on the proper email cover letter format.
What should I include in my cover letter?
Writing a cover letter can be tricky, even if you've done it before. Here's what to include in a cover letter to boost your chances of getting hired:
Your contact details and the recruiter's details (in a business-style header).
A professional greeting, ideally using the recruiter's surname, e.g. Dear Mr Smith. Dear Hiring Manager is a good alternative if you don't know who'll read your cover letter.
A selection of your best professional achievements, made more impactful with numbers and action verbs, e.g. Achieved a 15% boost in productivity.
A few of your key professional skills relevant to the job ad.
Your motivation for wanting to join the company, including your shared values or something you like about their profile/methods/product/operations/etc.
A strong cover letter ending, such as a promise to achieve a specific goal for the company.
And that's pretty much a complete cover letter. To make sure your CV is up to scratch, too, read this guide on what to include in a CV.
How do you start a cover letter?
We recommend starting strong, with a powerful accomplishment that shows your professional value straight away. For maximum impact, your cover letter opening paragraph could include:
The position you're applying for,
A major professional achievement of yours to catch the reader's attention,
A promise to achieve the same and more for the company to which you're applying.
Make sure to use the new company's name in the opening paragraph—it shows you care, and that your job application is not just a copy-paste job.
Can I see some cover letter examples?
Sure—you'll find dozens of cover letter examples for specific professions on our website, entirely for free. You can read a sample letter for your role, copy it, change the details, and use as yours if you want—or simply load it into a Zety cover letter template to take care of formatting and content in one fell swoop. We also offer lots of professional CV examples for various industries and jobs, and short cover letter examples if you're in a rush. All of our examples are written by Certified Professional Resume Writers, so they're as high-quality as they come!
Is a simple cover letter template better than a creative one?
For roles where creativity is key, you may want to go with a more colourful, bold, creative job application cover letter template. Still, a basic, simple cover letter template will likely be a better, "safer" choice for most jobs. Remember that no matter what template you choose, your cover letter format (i.e. the order and formatting of paragraphs) should stay the same, and that it's always best to use matching cover letter and CV templates.
Do I need a different cover letter for every job application?
Ideally, yes. While your cover letter structure shouldn't change, you should adapt the contents to each job, taking into account the specifics of the role and the company, alongside the requirements outlined in the job ad. Although you're probably applying for similar positions, each company is likely to have a slightly different approach, values, and skill/experience requirements. Arguably, the point of a cover letter nowadays is to show your motivation to join this particular company and prove you're the best candidate for them, so it's unavoidable that to boost your chances, you'll need to tailor your cover letter each time. To make this easier, the Zety builder offers unlimited cloud storage—so you can copy, edit, and save as many cover letters as you want.
How do I write a cover letter with no work experience?
In the absence of work experience, there are a few cover letter strategies you can use to boost your chances of getting an interview invite:
Highlight your transferable skills, i.e. skills you've picked up elsewhere (during internships, at school, or while practising your hobbies). For example, taking IT at secondary school probably taught you to use MS Office, which is a valuable hard skill in many jobs.
Focus on your motivation and enthusiasm, proving you're eager to learn and determined to succeed in this particular role.
Swap professional achievements for relevant academic ones.
For more details, read our guide on writing a cover letter for an internship and take a look at this graduate cover letter example.
Are Zety cover letter templates free?
The Zety cover letter builder is free to use—you can edit your cover letter and CV as much as you like at no cost. Once you're happy with the results, it costs £1.79 to download your documents (PDF, Word, JPEG, SVG, and TXT formats are available). This fee gives you two-week access and during this time, you can edit and download your documents as many times as you want.