Graduate Cover Letter Examples [20+ Expert Tips]
Here's what nobody told you at uni. To get the best graduate jobs you need a first-class cover letter. Learn to write it with our graduate cover letter examples.
Being a fresh graduate in the job market is tough. There are over 2 million people currently pursuing higher education in the UK. That means a lot of graduates entering the job market every year.
Writing a good CV to get a job is important, but you have to do more if you want to stand out in such a massive crowd.
The best way to do that is with a perfectly crafted graduate letter. It enhances your CV the same way that a first enhances your degree. And in just five minutes you'll learn to write one.
This guide will show you graduate cover letter examples plus the best tips on how to write a graduate cover letter step-by-step.
Want to write your cover letter fast? Use our cover letter builder. Choose from 20+ professional cover letter templates that match your CV. See actionable examples and get expert tips along the way.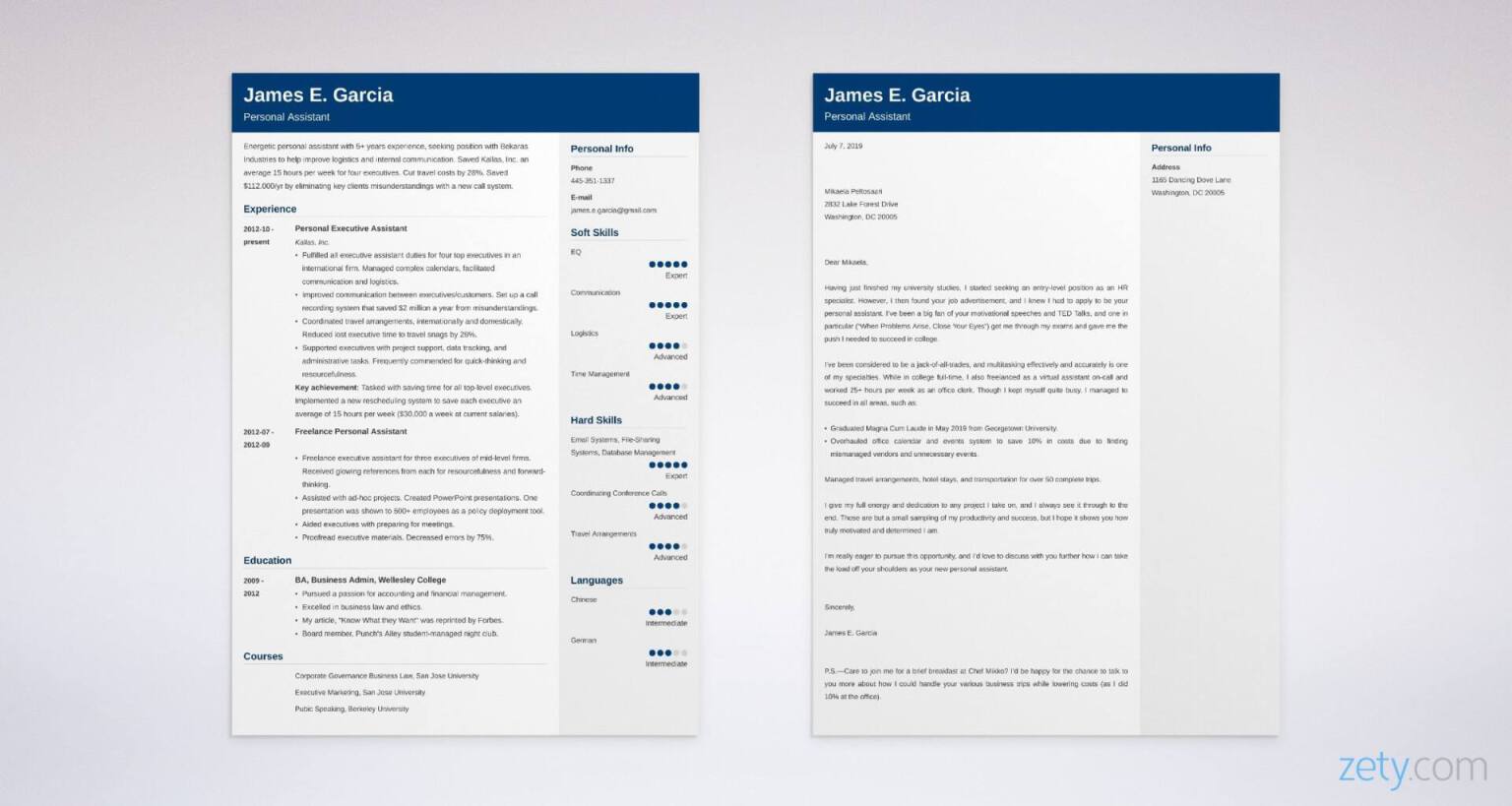 Sample Cover Letter for a CV—See more cover letter templates and create your cover letter here.
Let's begin.
Engineering Graduate Cover Letter Example
Derek Moore
Engineering Graduate
27 Fosbury Lane
London
NW10 8GN
0777 777 7777
d.moore_zety@gmail.com
linkedin.com/in/d.moorezety
18th March 2020
Clive Cook
HR Manager
Bionetix Inc.
32 Nelson Grove
London
SW1 5GQ


Dear Mr Cook,

As a passionate advocate for the biomedical research carried out by Bionetix, I was thrilled to see the opportunity to join you as an entry-level mechanical project engineer. With my first-class honours Engineering (Biomedical) BEng from UCL, I am confident I can contribute my skills to Bionetix continued growth in the field of biomedical engineering.
I noted from your CEOs recent ICBBE address that your key area of development moving forward will be in the field of implants and bionics. This is an area I have some experience in having completed a summer internship with Sawbones Inc. I contributed to the final development stages of a new type of artificial hip joint which is now being used in the UK and the Netherlands, generating in excess of £20m in sales and reducing patient recovery time by 30%.
It would be an incredible opportunity to launch my career with an organisation with such credentials as Bionetix, whose reputation for cutting edge research and innovative solutions is second to none in Europe. I'd love to speak to you in person, so we can discuss my final year research project in biomedical engineering where I proposed a novel implantable brain drug delivery advice for neuro-oncology.
Thank you for taking the time to consider my application. Please don't hesitate to phone me at your convenience so we can discuss the role further.
Yours sincerely,

Derek Moore
So you've seen a perfect example of a graduate cover letter. Read on and you'll see how to do it yourself. But remember—
A cover letter means nothing without an equally well-written CV to complement it. See our graduate CV writing guide here: Graduate CV Example & Template
And once you've established your career we've got cover letter guides to help:
Graduate Cover Letter Template
Here's how to write a graduate job cover letter:
1. Use the Correct Graduate Cover Letter Format
Use one-inch margins on every side of the page.
Set your line spacing to single or 1.15.
Select an easily readable font set to 11–12pt in size. The best CV fonts are great for cover letters too.
Read more: How to Format a Cover Letter
2. Create a Professional Graduate Cover Letter Header
Start off with right-alignment, then write your name and contact information first.
This should include your phone number, email, LinkedIn and if relevant, social media account details like Twitter.
Write the date below and use the right format. E.g. 18th March 2020.
Then change to left-alignment and write the addressee's details. Always try to use the hiring manager's name.
What if you can't find the name of the hiring manager? Do some research. Look at the company's website and check LinkedIn. Or even simpler, call reception and ask. That bit of extra work is worth it. Using a person's name has a powerful influence on their brain.
Read more: How to Address a Cover Letter
3. Start with a Personal Greeting and an Attention-Grabbing First Paragraph
Start with "Dear" and address the hiring manager by name.
Mention the title of the job you're applying for.
Highlight an impressive achievement, academic or professional, to get the reader hooked.
Read more: How to Start a Cover Letter
4. Show You're the Ideal Candidate
Referring to the job advert, show how your relevant education, skills and experience can help to meet the employer's objectives.
Also include some other impressive achievements that you're proud of.
Quantify your achievements with numbers: Structure them with accomplishment statements. They're the best way of showing how you'll excel at the job.
And remember to keep it brief. Read more here: How Long Should a Cover Letter Be? Ideal Length
5. Explain Why You Want the Job
Show enthusiasm and passion by complimenting the organisation you're applying to.
Show why you want this specific job more than any other.
Use this strategy and you'll convince the hiring manager that you're committed.
6. Say Thank You and Include a Call to Action
Make sure you suggest a phone call or meeting to discuss the role further. That's your call to action.
Always say thank you. Gratitude has a powerful effect that goes beyond being polite.
Reinforce your value to the employer—outline your goals for professional development and/or another winning achievement.
Read more: How to End a Cover Letter
7. Finish Big with a Professional Sign-Off
Write your full name to sign off.
Use Yours sincerely if you know the person's name and Yours faithfully if you don't.
Put a digital copy of your handwritten signature below your sign-off.
If your graduate cover letter is being sent as the body of an email, put your contact details below your signature.
This guide is intended as a quick checklist. For more detailed writing advice read more here: How to Write a Cover Letter [Complete Guide]
As you can see, a well-written graduate cover letter makes a huge difference, but to really have a chance of getting the best start to your career, you still need to write a great CV.
When making a CV in our builder, drag & drop bullet points, skills, and auto-fill the boring stuff. Spell check? Check. Start building your CV here.
When you're done, Zety's CV builder will score your CV and tell you exactly how to make it better.
Thanks for reading! Now it's your turn. What did you think of our graduate engineer cover letter? Would you like advice on other specific scenarios like a graduate engineering cover letter or graduate data analyst cover letter? Ask away in the comments section and I'll be happy to reply.
About Zety's Editorial Process
Our editorial team has thoroughly reviewed this article to ensure it follows Zety's editorial guidelines. Our dedication lies in sharing our expertise and providing you with actionable career advice that offers you real value. Every year, the quality of our content attracts 40 million readers to our site. But that's not all – we conduct original research to gain a detailed understanding of the labour market. We take pride in being cited by top universities and leading media outlets in the UK and worldwide.
Sources