Architecture Cover Letter [Examples & Writing Guide]
We've drawn up meticulously detailed plans for building your architecture cover letter. Change your application from a two-up two-down into The Shard.
You know your colonnades from your corbels, your brutalist from your baroque. Being an accomplished architect requires detailed specialist knowledge but when it comes to job applications you might find yourself at a loss.
So we've drawn up the blueprint for a beautifully constructed architecture cover letter to help you land your dream job. In just five minutes, you'll learn how to construct a cover letter architecture that would make Zaha Hadid proud.
We've even got architecture cover letter examples that you can adapt and use to write your own.
Want to write your cover letter fast? Use our cover letter builder. Choose from 20+ professional cover letter templates that match your CV. See actionable examples and get expert tips along the way.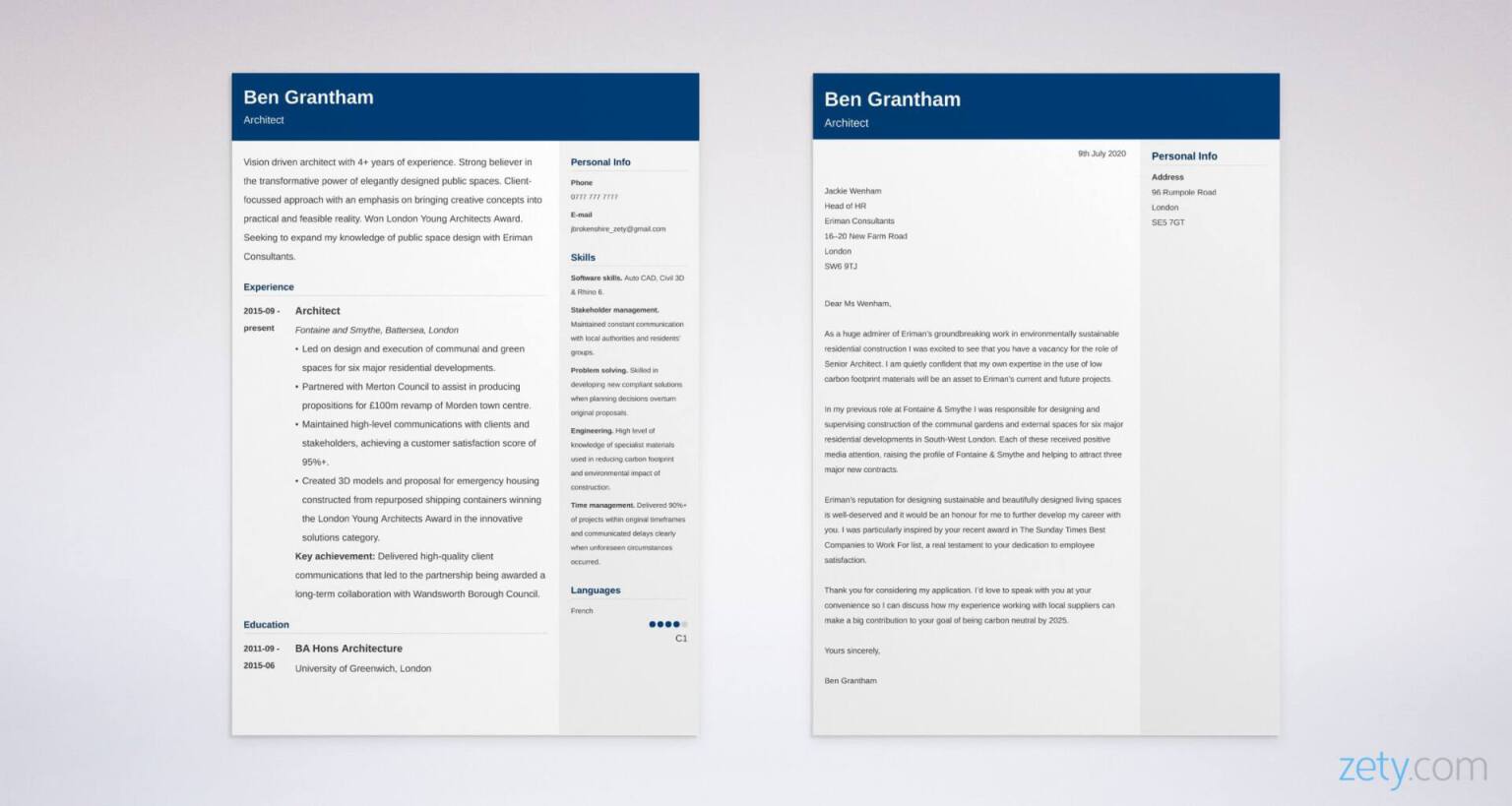 Architecture Cover Letter for a CV—See more cover letter examples and create your cover letter here.
Architecture Cover Letter Sample
Ben Grantham
96 Rumpole Road
London
SE5 7GT
9th July 2020
Jackie Wenham
Head of HR
Eriman Consultants
16–20 New Farm Road
London
SW6 9TJ
Dear Ms Wenham,
As a huge admirer of Eriman's groundbreaking work in environmentally sustainable residential construction I was excited to see that you have a vacancy for the role of Senior Architect. I am quietly confident that my own expertise in the use of low carbon footprint materials will be an asset to Eriman's current and future projects.
In my previous role at Fontaine & Smythe I was responsible for designing and supervising construction of the communal gardens and external spaces for six major residential developments in South-West London. Each of these received positive media attention, raising the profile of Fontaine & Smythe and helping to attract three major new contracts.
Eriman's reputation for designing sustainable and beautifully designed living spaces is well-deserved and it would be an honour for me to further develop my career with you. I was particularly inspired by your recent award in The Sunday Times Best Companies to Work For list, a real testament to your dedication to employee satisfaction.
Thank you for considering my application. I'd love to speak with you at your convenience so I can discuss how my experience working with local suppliers can make a big contribution to your goal of being carbon neutral by 2025.
Yours sincerely,
Ben Grantham
That was a perfectly built architecture cover letter sample, and now you'll learn how to write your own, but remember—
An architecture cover letter is nothing without a well-written architecture CV to pair it with. Learn to write it here: Architecture CV Example & Guide
And if you're not applying for architecture jobs we've got cover letter advice for other careers too.
Architecture Cover Letter Template
Here's how to write a cover letter for architecture jobs.
1. Have a Well-Designed Architecture Cover Letter Format
Being an architect involves a degree of creativity and innovation. But the world of recruitment is a little more conservative. Before you start writing your architect cover letter make sure you adhere to these basic formatting rules.
Read more: Complete Guide to Cover Letter Format
2. Write Your Architecture Cover Letter Header
Your cover letter header is the very first section of the page that contains the contact details and date. It's important to get right because you're writing what is essentially a formal business letter and there are certain rules that need to be followed. Here they are.
Your personal details go first and the text has to be right-aligned. Then stick with right-alignment, leave a space, and write the date. Make sure you use the correct format, e.g. 8th July 2020.
Then change over to left-alignment and write the hiring manager's contact details. Always try to find out their name and use it because when they read their own name it'll instantly make them pay more attention.
And the easiest way to find out the hiring manager's name is just to phone the company and ask.
Read more: How to Address a Cover Letter
3. Start with a Personal Greeting and an Attention-Grabbing First Paragraph
If we compare writing your architecture cover letter to constructing a building, this is laying the foundations. Your first paragraph should be the solid start that you build the rest of your content on. Here's how to make it rock solid.
Use a standard formal greeting to start with. A simple 'Dear [hiring manager's name]' or alternatively 'Dear Hiring Manager' if you couldn't find their name.
Then the first thing to mention is the specific role you're applying for. It helps make your intentions clear and shows you've written a letter tailored to the job.
And always include an impressive professional achievement as a hook to make the hiring manager sit up and pay attention.
Read more: How to Write Your Cover Letter Opening
4. Prove That You're the Best Candidate
Now we start building structure on top of your foundations. The second paragraph has to add more evidence that you're the best hire for the job. Here's how to write it.
Make a plan before you start writing. Do some research by re-reading the job advert and listing the experience and skills that it mentions. Then choose some impressive experience and accomplishments of your own to include that match up with the job requirements.
And to reinforce this part of your cover letter use numbers to quantify your achievements and accomplishment statements rather than just rattling off responsibilities.
Read more: 14 of the Best Cover Letter Tips for Success
5. Show That You Genuinely Want the Job
An architectural cover letter doesn't have to be all stiff and formal. There has to be passion and energy for the company and the role you're targetting. This is especially true when you don't have a lot of experience, such as if you're writing a cover letter for an architecture fresh graduate. That commitment and positivity shows the hiring manager you're going to be an effective new starter. Here's how to achieve it.
Do some research about the firm you're applying to. Pick out a positive aspect of working for them or a well-known success and include it as your inspiration for wanting to work there.
You can also mention how your talents will help solve their challenges and contribute to future growth.
Read more: What is a Cover Letter For a Job? Purpose of a Cover Letter
6. Finish With a Thank You and a Call to Action
Time for the last paragraph of your architecture cover letter. And just as you'd look pretty silly if you designed a building with a leaky roof, this final part of your cover letter construction has to be watertight too. Here's how.
Say thank you, and use a call to action to increase your chances of an interview. All you've got to do is ask the hiring manager to make contact with you so you can discuss the job in more detail.
And give them an incentive by mentioning another tidbit of your skill or experience that could contribute to the business.
Pro Tip: You don't need to say 'please find attached my CV', it's really just a waste of space.
Read more: How to Write Your Cover Letter Closing
7. Don't Forget Your Sign-Off
Just like your architect cover letter header, it can feel like a mere formality but your sign-off also has to follow a strict set of rules to set the right tone.
Use your full name and insert a digital copy of your handwritten signature.
Sign off with 'Yours sincerely' if you used the hiring manager's name and 'Yours faithfully' if you used 'Dear Hiring Manager'.
And for cover letters written as the body of an email, incorporate your contact details into the email signature rather than the header.
If you'd like a more detailed blueprint for creating your cover letter architecture then you can learn more here: Complete Guide to Writing a Cover Letter
And now you've just built a perfect cover letter, remember to build a perfect CV to go with it.
When making a CV in our builder, drag & drop bullet points, skills, and auto-fill the boring stuff. Spell check? Check. Start building your CV here.
When you're done, Zety's CV builder will score your CV and tell you exactly how to make it better.
And that's all, thank you for reading. If there's anything else you'd like to know about writing a good architecture cover letter then go ahead and ask in the comments section. I look forward to hearing from you.
About Zety's Editorial Process
Our editorial team has thoroughly reviewed this article to ensure it follows Zety's editorial guidelines. Our dedication lies in sharing our expertise and providing you with actionable career advice that offers you real value. Every year, the quality of our content attracts 40 million readers to our site. But that's not all – we conduct original research to gain a detailed understanding of the labour market. We take pride in being cited by top universities and leading media outlets in the UK and worldwide.