Customer Service Cover Letter Example [20+ Tips]
Drop that complaint response letter you're writing and get started on a customer service cover letter that'll put you on the path to job-hunting success.
In customer service you're flooded with letters. Incoming complaint letters, outgoing complaint response letters. It's enough to drive anyone mad.
But what if I told you there was a different kind of letter. One that's easy to write and can help you get the best customer service advisor jobs.
There is. You just need a well-written customer service cover letter. It has the power to transform your job application, like a raging complaint changed into a glowing compliment.
A perfect customer service cover letter can make all the difference to your job application. And in just five minutes you'll be able to write one.
This guide will show you a sample cover letter for a customer service advisor role, plus the best tips on how to write a formal customer service cover letter step-by-step.
Want to write your cover letter fast? Use our cover letter builder. Choose from 20+ professional cover letter templates that match your CV. See actionable examples and get expert tips along the way.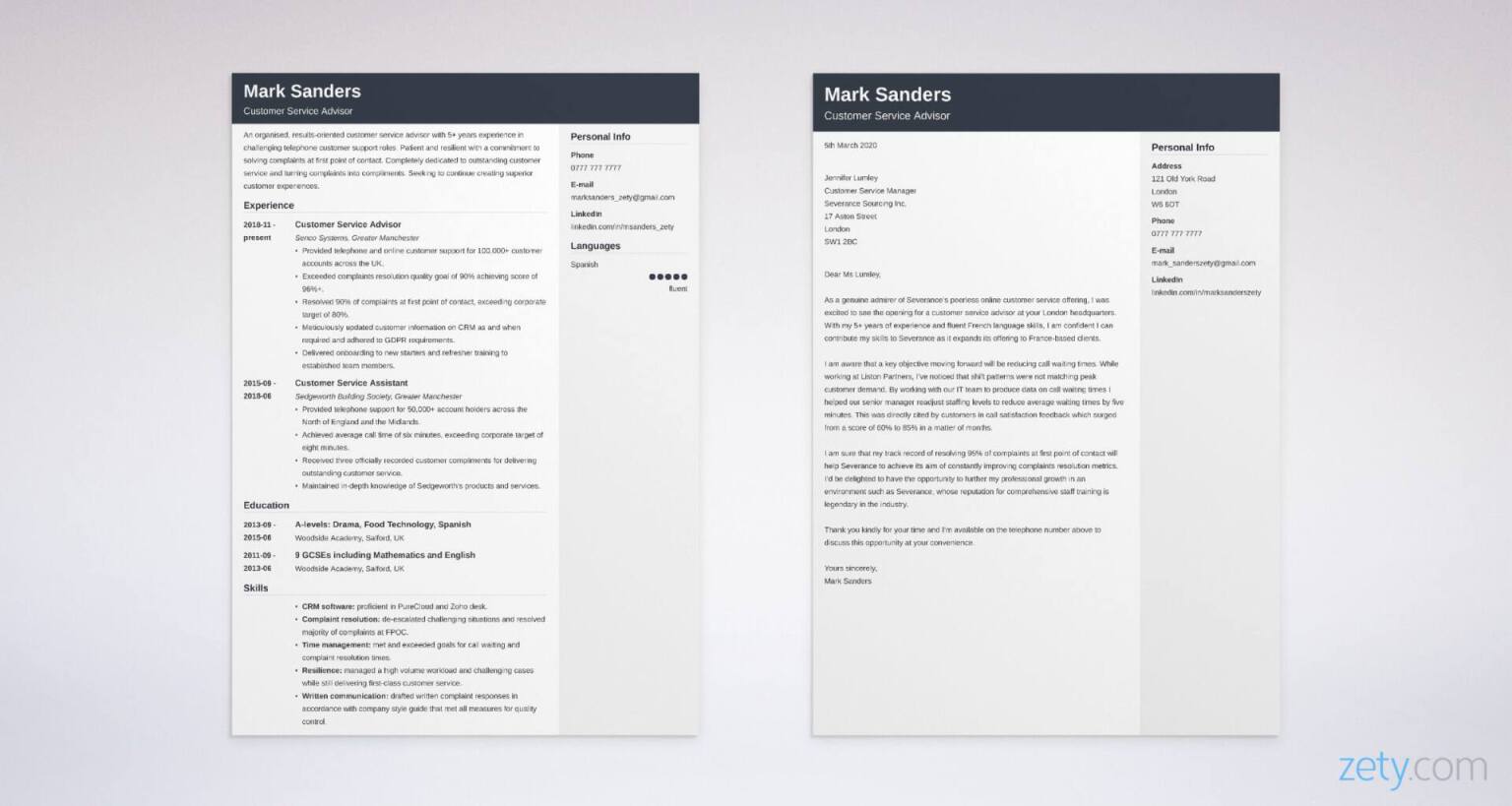 Customer Service Cover Letter for a CV—See more cover letter templates and create your cover letter here.
Let's make a start.
Customer Service Cover Letter Sample
Mark Sanders
Customer Service Advisor
121 Old York Road
London
W6 6DT
0777 777 7777
mark_sanderszety@gmail.com
linkedin.com/in/marksanderszety
5th March 2020
Jennifer Lumley
Customer Service Manager
Severance Sourcing Inc.
17 Aston Street
London
SW1 2BC


Dear Ms Lumley,

As a genuine admirer of Severance's peerless online customer service offering, I was excited to see the opening for a customer service advisor at your London headquarters. With my 5+ years of experience and fluent French language skills, I am confident I can contribute my skills to Severance as it expands its offering to France-based clients.
I am aware that a key objective moving forward will be reducing call waiting times. While working at Liston Partners, I've noticed that shift patterns were not matching peak customer demand. By working with our IT team to produce data on call waiting times I helped our senior manager readjust staffing levels to reduce average waiting times by five minutes. This was directly cited by customers in call satisfaction feedback which surged from a score of 60% to 85% in a matter of months.
I am sure that my track record of resolving 95% of complaints at first point of contact will help Severance to achieve its aim of constantly improving complaints resolution metrics. I'd be delighted to have the opportunity to further my professional growth in an environment such as Severance, whose reputation for comprehensive staff training is legendary in the industry.
Thank you kindly for your time and I'm available on the telephone number above to discuss this opportunity at your convenience.
Yours sincerely,

Mark Sanders
So you've seen a genuinely impressive example of a cover letter for customer service advisor/assistant positions. Read on to learn how to do it yourself. But bear in mind—
A perfect cover letter means nothing without a perfect CV to accompany it. See our customer service CV writing guide here: Customer Service CV Example & Template
And we have cover letter guides for other careers too:
Customer Service Cover Letter Template
Here's how to write a customer service cover letter for your job application:
1. Use the Correct Customer Service Cover Letter Format
Set one-inch margins on all sides of the page.
Use single or 1.15 line spacing for the best cover letter format.
Choose an elegant font in 11pt to 12pt size. Good CV fonts are perfect for cover letters.
2. Create a Professional Customer Service Advisor Cover Letter Header
Write your name and contact information first, top corner, right-aligned.
Include your phone number, email, LinkedIn and optionally, relevant social media handles such as Twitter.
Put the date below, also right-aligned and use the right format. E.g. 11th March 2020.
Then left-align and include the addressee's details. Preferably using the hiring manager's name.
Can't find the name of the hiring manager? Check the company's website, do some research on LinkedIn. If all else fails, call reception and ask. Don't be self-conscious, it's worth it. Using a person's name has a powerful effect.
Read more: How to Address a Cover Letter
3. Start with a Personal Greeting and a Compelling First Paragraph
Start with "Dear" and address the hiring manager by name.
State which role you're applying for.
Highlight an impressive professional achievement to 'hook' the reader.
Read more: How to Start a Cover Letter
4. Show You're the Perfect Candidate
Refer to the job advert and demonstrate how your relevant experience and skills can help solve their problems.
Mention some additional compelling achievements that you're proud of.
Quantify your achievements whenever possible: Use accomplishment statements. They're a powerful way of showing how you'll excel at the job.
And remember to keep it short and sweet. Read more here: How Long Should a Cover Letter Be? Ideal Length
5. Explain Why You Want the Job
Show passion and enthusiasm by complimenting the employer.
Demonstrate why you want this particular job above all the others.
Do this and you'll convince them you're committed.
6. Say Thank You and Include a Call to Action
Always suggest a call or a meeting to discuss the role further.
Say thank you in your customer service assistant cover letter. It has a powerful effect that goes beyond good manners.
Reinforce your value—demonstrate goals for growth and/or another professional achievement.
Read more: How to End a Cover Letter
7. Finish Strong with a Professional Sign-Off
Sign off your customer service representative cover letter with your full name.
Yours sincerely is used if you know the person's name. Yours faithfully if you don't.
Include a digital copy of your handwritten signature below your sign-off.
If you're sending your a customer service advisor cover letter as the body of an email, put your contact details below your signature.
This guide is intended as a quick checklist. For more detailed writing advice read more here: How to Write a Cover Letter [Complete Guide]
As you can see, a great CS cover letter makes a huge difference, but to really have a chance of getting your dream job, you still need to write a perfect CV.
When making a CV in our builder, drag & drop bullet points, skills, and auto-fill the boring stuff. Spell check? Check. Start building your CV here.
When you're done, Zety's CV builder will score your CV and tell you exactly how to make it better.
Thanks for reading! Now it's your turn. What did you think of our customer service advisor cover letter example? What are your top tips for creating an outstanding cover letter template for customer service? Fire away in the comments section and I'll be happy to help.
About Zety's Editorial Process
Our editorial team has thoroughly reviewed this article to ensure it follows Zety's editorial guidelines. Our dedication lies in sharing our expertise and providing you with actionable career advice that offers you real value. Every year, the quality of our content attracts 40 million readers to our site. But that's not all – we conduct original research to gain a detailed understanding of the labour market. We take pride in being cited by top universities and leading media outlets in the UK and worldwide.
Sources