Graphic Design Cover Letter Example & Writing Guide
A creative concept for a graphic design cover letter that's as visually appealing as your finest projects and guaranteed to level up your job search.
There's nothing like creating a perfect piece of graphic design that's crisp, compelling, engaging and completely for purpose. So how would you like to get that same sense of satisfaction whilst winning yourself a new job at the same time?
You can do just that but discovering how to create a perfect graphic design cover letter. In just five minutes you'll learn how to write a cover letter for graphic design jobs that'll secure your next gig in no time.
Read on and you'll see graphic design cover letter examples that you can use a template to create your own. Now let's start sketching it out.
Want to write your cover letter fast? Use our cover letter builder. Choose from 20+ professional cover letter templates that match your CV. See actionable examples and get expert tips along the way.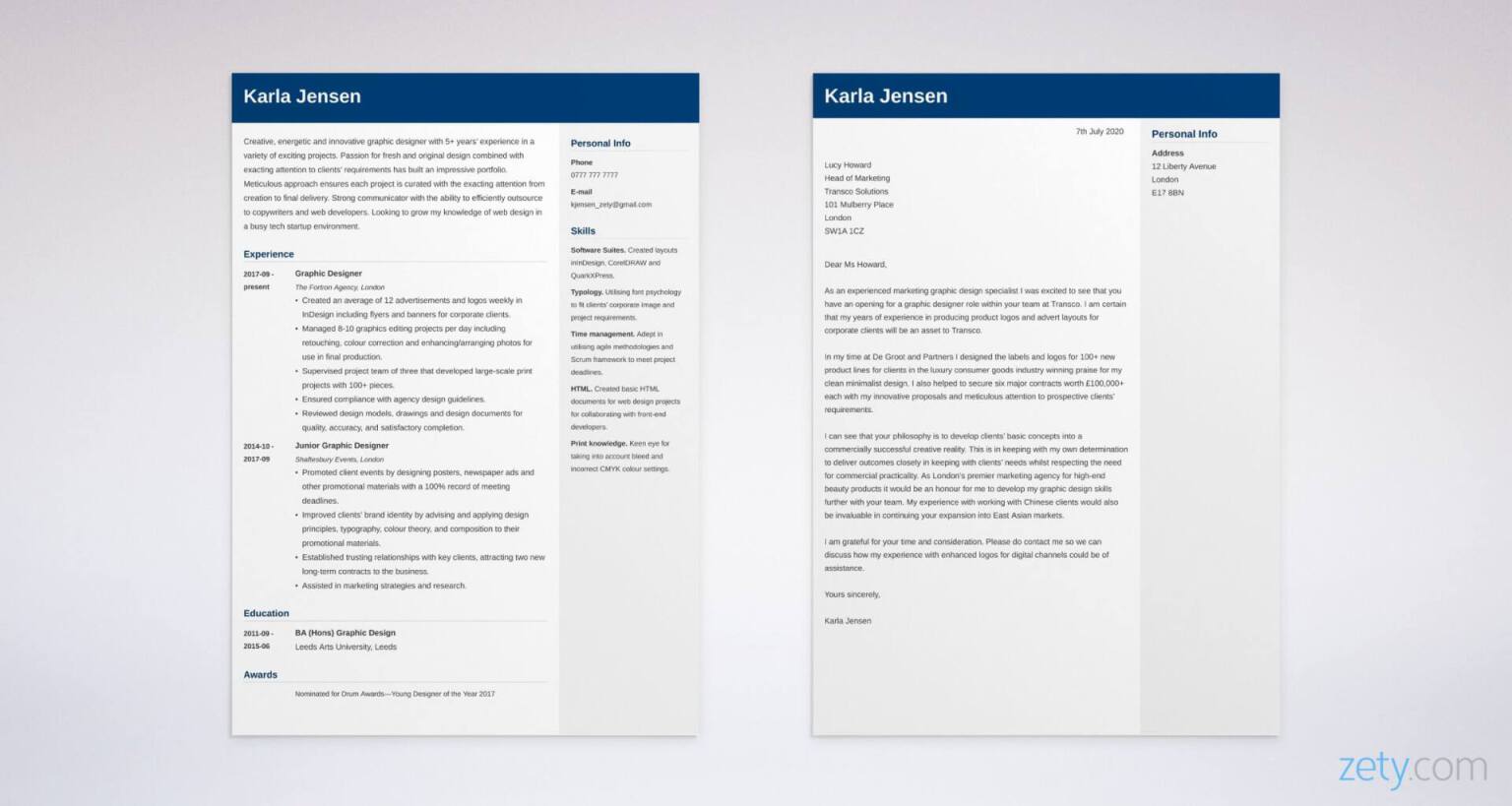 Graphic Designer Cover Letter for a CV—See more cover letter templates and create your cover letter here.
Graphic Design Cover Letter Sample
Karla Jensen
12 Liberty Avenue
London
E17 8BN
7th July 2020
Lucy Howard
Head of Marketing
Transco Solutions
101 Mulberry Place
London
SW1A 1CZ
Dear Ms Howard,
As an experienced marketing graphic design specialist I was excited to see that you have an opening for a graphic designer role within your team at Transco. I am certain that my years of experience in producing product logos and advert layouts for corporate clients will be an asset to Transco.
In my time at De Groot and Partners I designed the labels and logos for 100+ new product lines for clients in the luxury consumer goods industry winning praise for my clean minimalist design. I also helped to secure six major contracts worth £100,000+ each with my innovative proposals and meticulous attention to prospective clients' requirements.
I can see that your philosophy is to develop clients' basic concepts into a commercially successful creative reality. This is in keeping with my own determination to deliver outcomes closely in keeping with clients' needs whilst respecting the need for commercial practicality. As London's premier marketing agency for high-end beauty products it would be an honour for me to develop my graphic design skills further with your team. My experience with working with Chinese clients would also be invaluable in continuing your expansion into East Asian markets.
I am grateful for your time and consideration. Please do contact me so we can discuss how my experience with enhanced logos for digital channels could be of assistance.
Yours sincerely,
Karla Jensen
You've just seen a perfectly drawn cover letter for graphic designer jobs and you're about to learn how to write your own but—
No matter how good your cover letter is, it still needs a well-written CV to go with it. Here's how to write it: Graphic Designer CV Example & Writing Guide
And if it's not a graphic design job you're after, we've got other cover letter guides too:
Graphic Designer Cover Letter Template
This is how to write a cover letter for graphic design jobs.
1. Start With a Crisp Cover Letter Format
Every good graphic designer knows that you need planning and precision to create an effective visual concept. A good graphic design cover letter is no different, it needs to be carefully formatted to create a good impression. Here's how to do it.
Start off by using a cover letter template that matches your CV template. Set one-inch margins on all sides of the page and have your line spacing set as single or 1.15.
Then choose a good font. I know I'm preaching to the converted when it comes to the power of typography but choose the best font for a CV and it'll work well for cover letters too. We suggest sticking with the tried and true sans serif classics like Calibri and Arial.
And plan your content for the best cover letter length. You should never write more than one page.
Read more: How to Format a Cover Letter: With Examples
2. Write Your Graphic Designer Cover Letter Header
It's the first part of your cover letter and a section that often gets overlooked. The problem with that is, people tend to read content using f-shaped scanning. Their eyes tend to pay most attention to the top of the page so mistakes there are even more obvious. Here's how to make sure you don't grab the reader's attention for all the wrong reasons.
Get the cover letter address right. UK business letter format is very particular. Start with your own personal details written with right-alignment. Then leave a space and write the date, using the correct format, e.g. 7th July 2020.
Next, switch to left-alignment and write the hiring manager's contact details. Try to find out their name and use it if you can. Doing this helps to activate their brain and makes them more compliant. Strange but true!
The easiest way to find out the name of the hiring manager is just to give the company a call and ask. It's an easy hack to make your cover letter more effective, so take advantage of it.
Read more: How to Address a Cover Letter
3. Begin With a Personal Greeting and an Attention-Grabbing First Paragraph
So the boring part is over with, now let's get started on the content of your graphic design cover letter. Here's how to perfect your first paragraph.
Use the standard formal greeting, 'Dear [hiring manager's name]' or 'Dear Hiring Manager' if you don't have a name to use. Note well that I didn't mention 'To Whom It May Concern' or 'Dear Sir/Madam'. They're a little too quaint and stiff for a modern cover letter.
Name the role you're applying for in the first sentence. It helps focus the hiring manager's attention and shows you've tailored your cover letter to the job rather than doing a generic copy-paste job.
The use a 'hook' to grab the reader's attention and begin reeling them in. Mention an impressive professional accomplishment that shows you're a great candidate for this particular graphic design job.
Read more: How to Write Your Cover Letter Opening
4. Prove that You're the Best Candidate
Now we start to fill in the outline we sketched out in your introduction. In your second paragraph you need to add more details about what a great potential employee you are.
Before you start writing, read the job advert again and pay particular attention to the skills and experience it demands. Then choose an example of your own skills and experience that matches up with the job requirements.
Make it even more convincing by quantifying your achievements with numbers and using accomplishment statements instead of merely describing responsibilities.
Read more: 14 Top Cover Letter Tips for Success
5. Show How Much You Want the Job
Showing passion and energy go a long way to convincing the recruiter to put you in the yes pile. This is particularly important when you don't have much experience such as when you're writing a graphic design internship cover letter. That's because commitment and enthusiasm are essential when developing new skills.
Show that commitment and enthusiasm by researching the company and choosing a positive fact about them that's inspired you to work for them.
You can also mention how you could help solve their current challenges and contribute to their future success. Again, a little research will help tell you what those challenges and future plans are.
6. Finish With a Call to Action and a Thank You
Now for the finishing touches. Time to ensure you finish off strong and consolidate all of the hard work that went into your preceding paragraphs. Here's how to pencil in the final details.
Increase your chances of getting an interview with a call to action. Ask the hiring manager to get in touch with you so you can discuss the role further. And make the offer more intriguing by mentioning one last impressive ability that'll help you contribute to the business.
Always say thank you, plus remember there's no need to waste space by saying 'please find attached my CV'
Read more: How to Close a Cover Letter
7. Sign Off Strongly
And the very last thing to do is get your sign-off right. Here's how to follow standard UK letter formatting to do it properly.
Sign off using your full name and add a digital copy of your handwritten signature for a professional graphic flourish.
Use 'Yours sincerely' if you used the hiring manager's name and 'Yours faithfully' if the cover letter is addressed anonymously.
And if the cover letter is being sent as the body of an email, put your personal details immediately below your signature rather than as a header.
If you'd like more in-depth advice on writing your cover letter for graphic design jobs, read more here: Complete Guide to Writing a Cover Letter
And now that you've drawn up a perfect cover letter, don't forget to create a perfect CV to complement it.
When making a CV in our builder, drag & drop bullet points, skills, and auto-fill the boring stuff. Spell check? Check. Start building your CV here.
When you're done, Zety's CV builder will score your CV and tell you exactly how to make it better.
And that's it, thanks for reading. I hope you've found our graphic design cover letter tips useful. If you've got any questions at all, please feel free to let me know in the comments section and I'll be happy to get back to you.
About Zety's Editorial Process
Our editorial team has thoroughly reviewed this article to ensure it follows Zety's editorial guidelines. Our dedication lies in sharing our expertise and providing you with actionable career advice that offers you real value. Every year, the quality of our content attracts 40 million readers to our site. But that's not all – we conduct original research to gain a detailed understanding of the labour market. We take pride in being cited by top universities and leading media outlets in the UK and worldwide.
Sources