Retail Cover Letter Examples, Templates & Tips for 2023
Hiring managers like to shop around for the best buy. If you want them to splash the cash, you need a retail cover letter that'll turn you into the best-selling item.
Why do you need a perfect retail cover letter?
With the growth of online shopping, the high street isn't what it used to be. But there are still jobs out there for quality candidates. Your application has to stand out like a big red 'Sale' sign to prove you're the best.
To do that, write a great cover letter for retail. It's how you transform your application into a shiny bestseller.
See one of the best retail cover letter examples and learn how to write one that's just as perfect.
This guide will show you cover letter examples for retail that'll help you to write your own step-by-step.
Want to write your cover letter fast? Use our cover letter builder. Choose from 20+ professional cover letter templates that match your CV. See actionable examples and get expert tips along the way.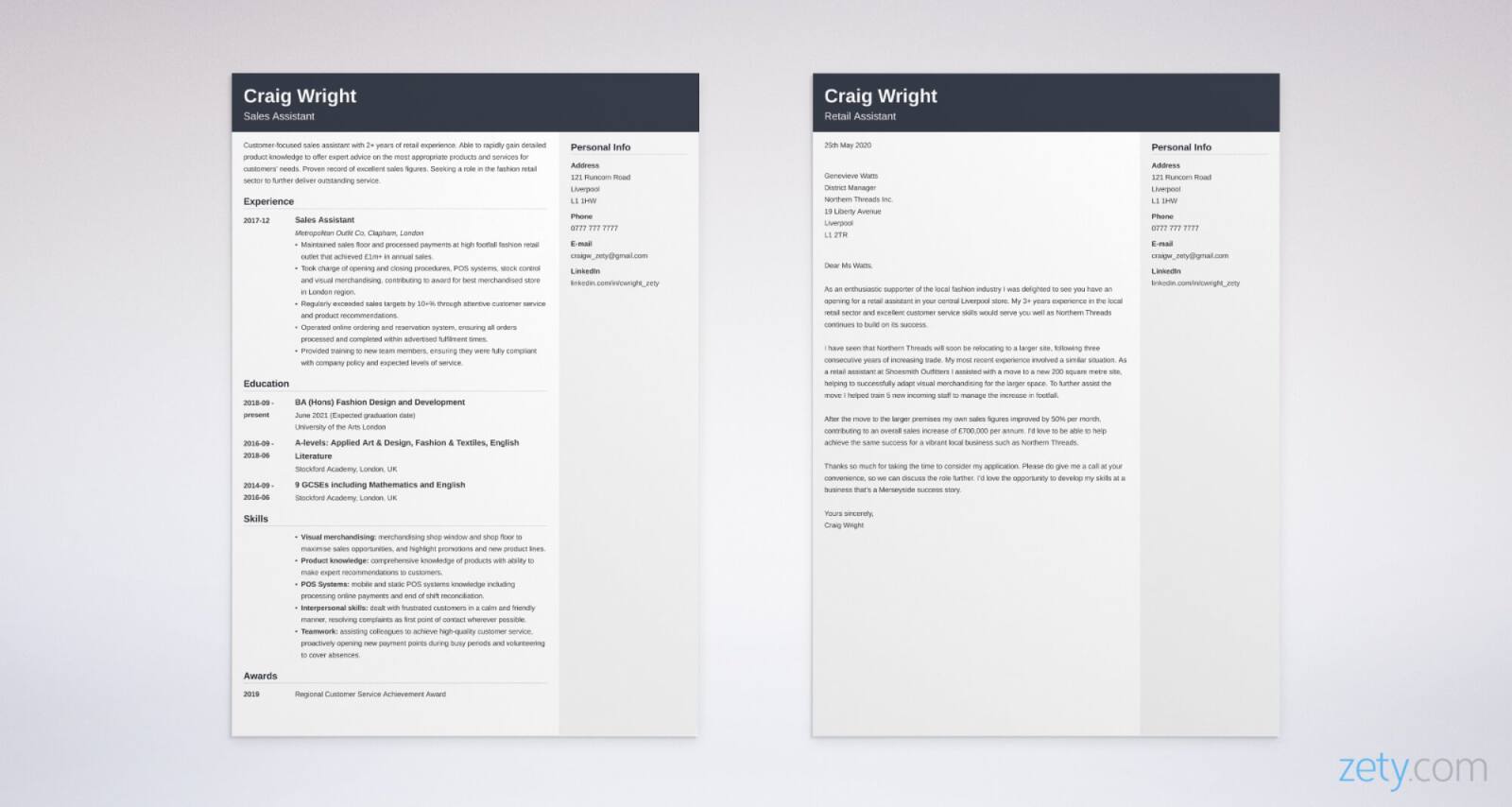 Retail Cover Letter for a CV—See more cover letter templates and create your cover letter here.
And if retail isn't your thing we've got other cover letter guides too.
Cover Letter for Retail Job Sample
Craig Wright
Retail Assistant
121 Runcorn Road
Liverpool
L1 1HW
craigw_zety@gmail.com
linkedin.com/in/cwright_zety
25th May 2020
Genevieve Watts
District Manager
Northern Threads Inc.
19 Liberty Avenue
Liverpool
L1 2TR
Dear Ms Watts,
As an enthusiastic supporter of the local fashion industry I was delighted to see you have an opening for a retail assistant in your central Liverpool store. My 3+ years experience in the local retail sector and excellent customer service skills would serve you well as Northern Threads continues to build on its success.
I have seen that Northern Threads will soon be relocating to a larger site, following three consecutive years of increasing trade. My most recent experience involved a similar situation. As a retail assistant at Shoesmith Outfitters I assisted with a move to a new 200 square metre site, helping to successfully adapt visual merchandising for the larger space. To further assist the move I helped train 5 new incoming staff to manage the increase in footfall.
After the move to the larger premises my own sales figures improved by 50% per month, contributing to an overall sales increase of £700,000 per annum. I'd love to be able to help achieve the same success for a vibrant local business such as Northern Threads.
Thanks so much for taking the time to consider my application. Please do give me a call at your convenience, so we can discuss the role further. I'd love the opportunity to develop my skills at a business that's a Merseyside success story.
Yours sincerely,
Craig Wright
You've just read a great retail assistant cover letter. Keep reading and you'll see how to write your own. Just remember—
Even the best cover letter examples for retail won't sell without a good CV included in the deal. We've got a retail CV writing guide here: Retail CV Examples: Template for a Sales Assistant
Retail Cover Letter Template
This is how to write a cover letter for a retail job application.
1. Start with a Professional Retail Cover Letter Format
It's just like creating a successful piece of visual merchandising. If it's neat and tidy you're already winning. Here's how to do it to your retail cover letter.
Read more: Step-by-Step Guide to Cover Letter Format
2. Write Your Retail Cover Letter Header
Your cover letter header has to follow the standard rules for UK business letter layout. Here's how to get it right.
Address your cover letter correctly. Your name and contact details go first and should be right-aligned. As well as your address, you need to include the following: your job title, phone number, email address, LinkedIn profile if you have one.
Then leave a single line space and write the date, always using the correct format. E.g. 25th May 2020.
Next, switch to left-alignment and write the recipient's contact details. Ideally you should use the hiring manager's name.
But how do you find the hiring manager's name I hear you ask? It's easy, check if it's written on the job application, do some research on LinkedIn, or just phone and ask. That little bit of effort pays off because using a person's name has a proven powerful effect.
Read more: How to Address a Cover Letter
3. Set up Shop With a Personal Greeting and a Compelling First Paragraph on Your Retail Cover Letter
Now it's time to start writing the body of your letter. The first paragraph of your retail cover letter has to be attention-grabbing and ensure that the hiring manager keeps reading.
Start your greeting formally with "Dear" and use the hiring manager's name. If you couldn't find a name, use "Dear Hiring Manager". Never settle for "To Whom It May Concern" or "Dear Sir/Madam", they're both too cold and impersonal.
In your first paragraph, mention the specific role you're applying for. It shows you've written a targetted cover letter and helps make your intent clear to the recruiter.
Then use a "hook" to catch their interest. Your "bait" is an eye-catching accomplishment you've achieved at work.
Read more: How to Start a Cover Letter
4. Make Your Cover Letter for Retail Prove You're the Ideal Candidate
Next we move on to the middle of your retail cover letter. Your second paragraph has to keep up the pace and add even more proof of what a great potential employee you are.
Check the job advert. It'll set out all the skills and experience the hiring manager is looking for in a candidate. You need to demonstrate that your own abilities match up.
Do this by mentioning some additional professional achievements that you're proud of. You can make them look even better by quantifying them with numbers.
Structure your achievements by writing them as accomplishment statements. That means you're not just saying what you did but explaining how well you did it.
Read more: 14 of the Best Cover Letter Tips for Success
5. Show How Much You Want the Job
Time for the third paragraph of your retail cover letter. Now you need to show exactly why you want this job in retail with this employer. To do it, you need to:
Demonstrate your passion and enthusiasm. Do a little research about the employer and highlight a positive fact about the company that makes you want to work for them.
Show how you can help solve their problems. E.g. if you're super fast at processing payments then explain how you could help reduce customer waiting times at point of sale.
Following this approach will prove that you're going to be a committed and productive employee.
6. Finish Your Retail Cover Letter With a Thank You and a Call to Action
In the last paragraph you need to seal the deal. Popular wisdom tells us that first impressions count, but last impressions are just as crucial. Here's how to make sure you finish as strong as you started.
Include a call to action by asking the hiring manager to get in touch with you to discuss the role further. You increase your chances of an interview if you ask for it.
Always say thank you. I know that seems obvious, but it's not just good manners. Gratitude is proven to motivate people, giving another little boost to your application.
Drive home your value as a candidate. Add another professional accomplishment or discuss your goals to advance your career.
And you don't have to say "please find attached my CV".
Read more: How to End a Cover Letter
7. Correctly Sign-Off Your Retail Cover Letter
Just like your address and greeting, you need to follow standard business letter formatting.
Sign off your retail cover letter using your full name.
Use Yours sincerely if you've addressed it to a named person and Yours faithfully if you didn't.
And if your cover letter for retail is being sent as the body of an email, put your contact details right below your signature instead of on top.
This guide to writing a cover letter for retail jobs is designed as a brief summary. For more comprehensive and detailed advice, read more here: Complete Guide to Writing a Cover Letter
And my last tip. A well-written cover letter for retail can make all the difference to your job hunt. But it still needs a great CV to accompany it.
When making a CV in our builder, drag & drop bullet points, skills, and auto-fill the boring stuff. Spell check? Check. Start building your CV here.
When you're done, Zety's CV builder will score your CV and tell you exactly how to make it better.
Thanks for reading. I hope you've been able to make good use of our cover letter examples for retail. If there are any specific retail cover letter examples you need help with then let me know. Whether it's a retail cover letter with no experience or a retail manager cover letter, please ask and I'll be happy to help.
About Zety's Editorial Process
Our editorial team has thoroughly reviewed this article to ensure it follows Zety's editorial guidelines. Our dedication lies in sharing our expertise and providing you with actionable career advice that offers you real value. Every year, the quality of our content attracts 40 million readers to our site. But that's not all – we conduct original research to gain a detailed understanding of the labour market. We take pride in being cited by top universities and leading media outlets in the UK and worldwide.
Sources