How to Sign a Cover Letter: Signature Examples for 2023
You want to come off as a professional on your application. So should you add a cover letter signature to an ideally crafted document, or would that be overkill? Let's find out!
You have an amazing resume, and you've created an outstanding cover letter. It makes you feel confident regarding your application. Just before clicking "Send." one tiny little question pops into your mind. How to sign a cover letter?
Don't worry! We've got you covered. And soon enough, you'll learn everything you need to know about a cover letter signature.
This guide will show you:
What is a cover letter signature.
How to sign a cover letter properly.
Good and bad examples of how to sign off a cover letter .
Want to write your cover letter fast? Use our cover letter builder. Choose from 20+ professional cover letter templates that match your resume. See actionable examples and get expert tips along the way.
Sample cover letter for a resume—See more cover letter examples and create your cover letter here.
Want to learn more about writing a perfect cover letter? Visit our guides:
What's a Cover Letter Signature?
According to a study, 83% of recruiters say a cover letter is an important part of the application. And paying attention to every small detail in your cover letter is a way to say, "I am a pro." That's why learning how to sign a cover letter properly is as important as learning how to start writing a cover letter.
The cover letter signature is a significant part of a cover letter. It's the last impression you leave your reader with. Just after the conclusion and after you propose a specific date for your interview, there's a place for a cover letter signature. And doing it right can leave the hiring manager with a positive first impression of you as a professional candidate. A good fit for the job!
A cover letter signature is a polite sign-off followed by your full name and contact details. That applies to a document sent via email. However, if you want to sign a printed cover letter, you should leave some blank space between your cover letter sign-off and your full name at the end of the document and sign it with black ink. Whether you send your cover letter electronically or via traditional mail, you write your sign-off after a specific paragraph. In that paragraph, you thank the hiring manager for taking the time to read your cover letter and for considering your application, and after you directly ask for a meeting, you should choose one of the professional sign-offs.
Looking for the best way to format your cover letter? Visit our guide: How to Format a Cover Letter
How to Sign a Cover Letter Sent by Email?
What's important to mention here is that it's not required to sign a cover letter that's being sent electronically or uploaded on a company's website. But having a proper electronic cover letter signature could actually do the trick.
Depending on the position you're after, the way you sign your cover letter may vary. If you're applying for a graphic designer opening, including a link to your Behance might be a good idea. And if you're trying to land a social media specialist job, any links to your social media profiles can be helpful.
Things to Include in a Cover Letter Signature
Closing salutation
Your full name
Phone number
Email address
Job title (optional)
Home address (optional)
LinkedIn profile(optional)
Other optional contact information, such as Instagram, Facebook, and Behance business profiles, or a link to your professional website
And that's pretty much how you make a perfect electronic cover letter signature. You might've noticed it's the same information you put in the cover letter header. Easy, right? So, let's have a look at right and wrong examples:
Cover Letter Signature Examples
Right
Thank you for your consideration,
Kelly Ramos
502-135-2112
kelly_ramos@gmail.com
Right
Best regards,
Jason Oldman
659-435-9374
j.oldman@yahoo.com
Right
Sincerely yours,
Gavin Monday
660-634-8556
gavin.monday@gmail.com
Wrong
Cheers!
Kelly R.
https://www.tiktok.com/@kellyramos?lang=en
As you can see, not every closing salutation fits the business letter format. But do you know which sign-offs to use and which to avoid? Here's the list:
Sign-Offs to Use for a Cover Letter Signature
Thank you,
Best regards,
Kind regards,
Sincerely,
With best regards,
Best,
Thank you for your consideration,
Respectfully,
Regards,
Sincerely yours,
Yours truly,
Most sincerely,
Respectfully yours,
Sign-Offs to Avoid in a Cover Letter Signature
Cheers,
Affectionately,
Take Care,
Take it Easy,
See You Soon,
XOXO,
Best Wishes,
Yours Faithfully,
Fondly,
Warmest Regards,
Have a Nice Day,
Have a Great Week,
Have a Crazy Weekend,
Yours in Good Faith,
Godspeed,
Ciao,
Thx,
Cheerio,
:)
You get the idea.
OK, but what about a handwritten cover letter signature?
Pro tip: Don't make them read for hours before reaching your sign-off. The proper length of a cover letter should not exceed 200–400 words.
When to Handwrite Your Cover Letter Signature?
There are a couple of situations when you should include a handwritten signature in your cover letter. That includes sending it via traditional mail or paying a visit to a company headquarters and delivering the cover letter to the hiring manager personally.
Basically: when there's a hard copy of your document, add a handwritten signature. Or, in other words, whenever you print it, put your signature there.
Place your signature underneath your typed name, as it should always be there, no matter how you deliver your document to the hiring manager. Also, remember to use black ink, which is the most appropriate and professional choice.
When making a resume in our builder, drag & drop bullet points, skills, and auto-fill the boring stuff. Spell check? Check. Start building a professional resume template here for free.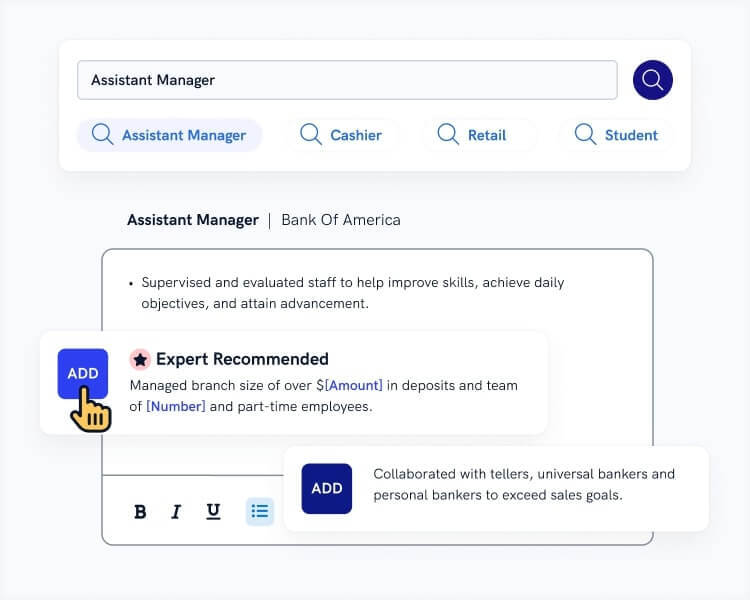 When you're done, Zety's resume builder will score your resume and tell you exactly how to make it better.
Key Takeaways
There are some simple rules of understanding how to sign a cover letter. Let's go briefly through them all:
Put your cover letter signature after the last paragraph, which will include a call to action and a proposition of a precise date for your meeting with a recruiter.
Your signature should include a closing salutation, your full name, and your contact information. It can also include your current job title, your home address, and a link to your LinkedIn profile (or other useful social media links).
Some closing salutations fit the business format of your document better than others. Be a pro. Choose the right cover letter signature.
Thanks for reading our article on cover letter signatures. Now you know well how to add it correctly and when you should have it handwritten! Is there anything you'd like us to add? You're welcome to share your ideas in the comment section below!
About Zety's Editorial Process
This article has been reviewed by our editorial team to make sure it follows Zety's editorial guidelines. We're committed to sharing our expertise and giving you trustworthy career advice tailored to your needs. High-quality content is what brings over 40 million readers to our site every year. But we don't stop there. Our team conducts original research to understand the job market better, and we pride ourselves on being quoted by top universities and prime media outlets from around the world.