You're about to write the perfect retail cover letter. First, though:
After weeks of searching, you've found the retail job of your big box dreams.
You thrive off the energy, customizing end caps to planogram spec, and working around the products you know and love.
This job feels ready-to-wear!
You've made a retail resume that feels right… But so have dozens of candidates applying for the same retail job.
Don't stress.
Most of them will fail to write a perfect retail cover letter. They won't even write a bad one.
That's why your chances are looking way better than theirs!
This retail cover letter guide will show you:
Perfect cover letter examples better than 9 out of 10 other cover letters.
How to write a retail cover letter that will land you more interviews.
Tips and examples of how to grab the recruiter's attention on a store cover letter.
How to sell your candidacy on a cover letter for retail sales to get any store job you want.
Want to save time and have your professional retail cover letter ready in minutes? Use our cover letter builder. Choose from 20+ professional cover letter templates that match your teaching resume. See actionable examples and get expert tips along the way.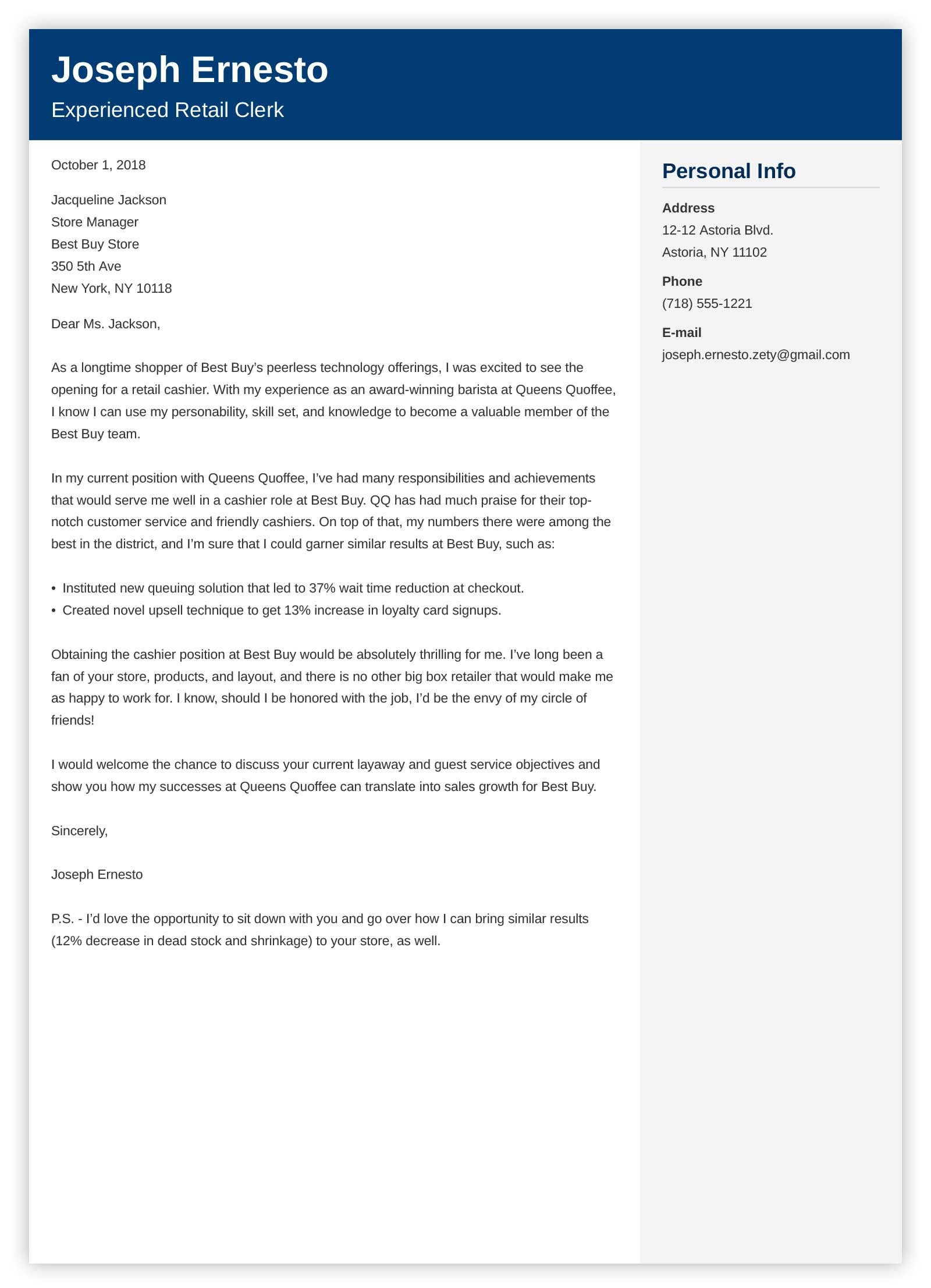 Professional retail cover letter example—See more cover letter templates and create your cover letter here.
Need more cover letter examples for client-facing jobs? Here you go:
1
What's the Best Structure for Retail Cover Letters?
You know how everything on a receipt has structure? You know where to look to get all the information you need.
That's because it's formatted right.
As should your retail sales or retail management cover letter.
Here's what you should include on a retail cover letter:
your contact information,
the store's (addressee's) details,
a greeting/salutation (e.g., Dear Ms. Johnson,),
an opening statement that grabs their attention,
short paragraph on why you're perfect for the store,
short paragraph on why the retail position is perfect for you,
closing statement that seals the deal
complimentary close (e.g., Regards, Sincerely) and your name
a postscript (P.S.).
Here, we're following our recommended structure on the elements of the perfect cover letter. To read more about the method behind our madness, see this article: What to Include in a Cover Letter (15+ Examples & A Complete Guide)
Didn't get an opportunity to use our retail resume guide to make sure that's done right?
Now's your chance: Retail Resume: Sample & Complete Guide [20+ Examples]
And in case you're suddenly wondering:
Yes, you need a cover letter for a retail job—you can't sell anything if you can't sell yourself.
2
How to Address Your Retail Store Cover Letter
If we're taking it from the top down like a shopping list, your address and theirs come first. Here's how to get them right:
Your Details
First, add your contact info at the top of the cover letter.
Must-haves include:
name,
email address,
phone number.
Optional items are your mailing address, branding statement, and a LinkedIn profile URL. As the addresser, your address can be aligned left, center, or right; I'd suggest sticking to the design of your resume, whether it's a cover letter for Menards or for Office Depot.
Pro Tip: Don't add the rest of your social links, profile URLs, and portfolio information with your contact details as you did on your retail resume, unless the retail cover letter template you choose includes an area for them.
The Date
Inserting the date of writing is necessary on any formal letter such as a store cover letter:
Thursday, October 1, 2018
The Retail Store's Details
After the date, add the addressee. In your case, it's the store (maybe the Best Buy or Target) you're applying at.
But that's not enough.
Find the specific name of the store manager or HR director to insert at the top of the store address. This will make it feel more personalized and will be much more compelling.
Here's what the finished cover letter address area should look like: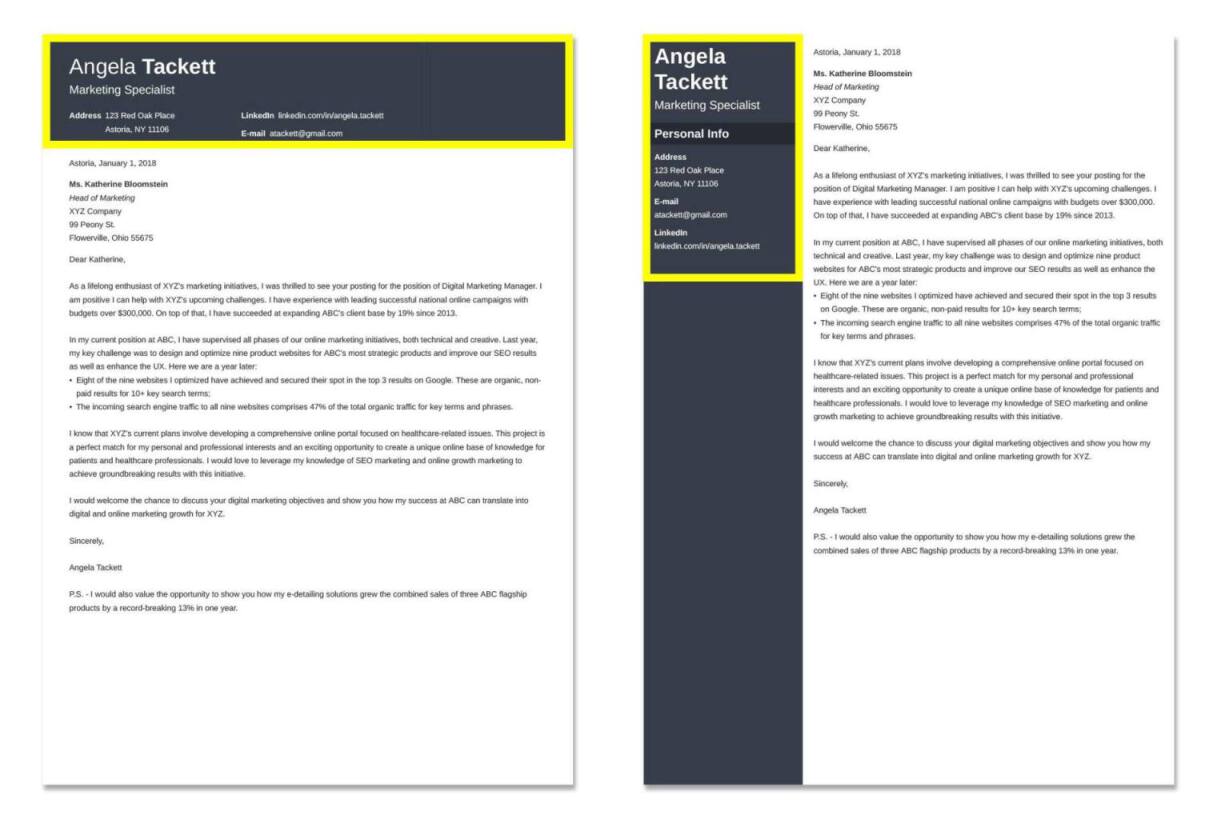 Not addressing your retail cover letter correctly is just as bad as not including one at all. Make sure you get it right: How to Address a Cover Letter: Sample & Guide [20+ Examples]
3
Starting Off the Retail Cover Letter on the Right Foot
The opening area of a cover letter for retail stores is super important to get right, as its top location gets the most eye time. We need a grand opening, if you will.
Greeting / Salutation
As we discussed previously in the address section, finding the name of the store manager makes the difference between it feeling personalized and it seeming like it was mass-emailed to the entire zip code.
Something like "Dear Ms. Jackson," works just perfectly. You can also transition from the formality in the address area by calling them by their first name: "Dear Jacqueline,".
Now, what about that "Dear" part? Dear is one of the best cover letter salutations, but if you're not satisfied or you can't find a name, we've got other options: How to Start a Cover Letter: Sample & Guide [20+ Examples]
Introductory Statement
Like perfect cross-merchandising, the opening paragraph on a retail clerk or cashier cover letter should hook the hiring manager immediately in a way that makes them want to read further.
Let's look at an example of a great retail cover letter opening:
As a longtime shopper of Best Buy's peerless technology offerings, I was excited to see the opening for a retail cashier. With my experience as an award-winning barista at Queens Quoffee, I know I can use my personability, skill set, and knowledge to become a valuable member of the Best Buy team.
See that?
This one is written about the store specifically, and it makes your case for why you'd be the perfect addition to their team.
This makes a great opening paragraph, and it will make them want to read more.
Want to write your retail cover letter fast? Use our cover letter builder. Choose from 20+ professional cover letter templates that match your retail resume. See actionable examples and get expert tips along the way.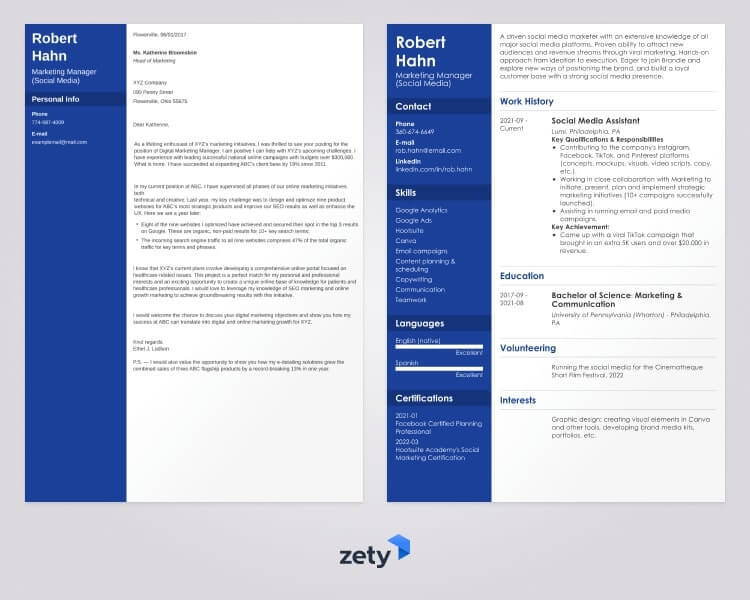 See more templates and create your resume and cover letter here.
Retail Cover Letter and Matching Resume—See more cover letter templates and create your cover letter here.
4
You + Retail Store = Perfect Partnership
A retail store can't survive without being able to sell its goods and services.
Likewise, you can't last long in the applicant pool if you aren't able to sell yourself as a candidate.
But you have to explain why you're the perfect candidate out of that stack of 250 others.
The odds don't seem to be in your favor.
But don't worry.
The next two areas (we suggest a paragraph for each) give you plenty of shelf space to make your case. Though they're opposites, these sections have a symbiotic, yin-yang-type relationship, like strategically placing limes next to the Coronas.
Why You're Perfect for Them
You've got them in the door, now start steering their carts in the right direction on your retail cover letter by showing them how you are the perfect fit for the store and team.
Here's what an applicant might say on a sample retail cover letter:
In my current position with Queens Quoffee, I've had many responsibilities and achievements that would serve me well in a cashier role at Best Buy. QQ has had much praise for their top-notch customer service and friendly cashiers. On top of that, my numbers there were among the best in the district, and I'm sure that I could garner similar results at Best Buy, such as:
Instituted new queuing solution that led to 37% wait time reduction at checkout.
Created novel upsell technique to get 13% increase in loyalty card signups.
See that?
A cover letter for retail is a cover letter with detail.
With that paragraph, you show that your acquired skills and experience would make you the ideal new hire for the job offered. You also added specific numbers so they get a taste as to what you could bring to their checkout lanes, rather than just vague words.
Even though you have no on-the-job experience, you look more competent than most of the competition. And we both know that really is the case!.
Pro Tip: Remember using keywords on the resume to ensure that it's tailored? Add them on your retail cover letter, as well. Oh, and make sure you use the best cover letter fonts so they can read it!
Why They're Perfect for You
You wouldn't want to be in a relationship where you love someone who doesn't love you back, right?
It's the same when applying to retail positions. You told them why you're the best possible future retail employee, so now let's explain why this store is the perfect choice for you:
Obtaining the cashier position at Best Buy would be a huge honor for me. I've long been a fan of your store and products, and there is no other big box retailer that would make me as happy to work for. I know I'd be the envy of my friends if I were to be hired!
How about that? You praised the store and explained why they are the center of your shopping universe—who can resist that?
We've got a Costco's-worth of tips on these two central paragraphs and on writing a retail clerk cover letter that will let you stand out: 35+ Successful Cover Letter Tips, Advice & Guidelines
5
A Compelling & Strong Retail Cover Letter Finish
You know those strategic cashwraps with the impulse buys lined up along the checkout lines?
That's how your cover letter should be.
Your retail cover letter closing should successfully funnel them all the way through till you're hired.
Use a compelling closing sentence or paragraph to briefly sum up:
I would welcome the chance to discuss your current layaway and guest service objectives and show you how my successes at Queens Quoffee can translate into sales growth for Best Buy.
See that? You bring it to a satisfying end by summarizing your retail cover letter and then leaving the ball in their court. You made it easy for them by keeping it short and sweet, like offering them a contactless payment method.
Complimentary Close
Add a closing sentiment and your name, and then you can let out a sigh of contentment at your accomplishment.
Here's how simple that is:
Sincerely,
Joseph Ernesto
Not much to it, right? All it takes is good manners when you sign off.
Pro Tip: You can let loose in your cover letter, but just as with the formal heading statement, where you addressed your cover letter, keep the closing sentiment formal, as well.
In a retail store, you walk out the same doors you enter. Similarly, closing strong on a cover letter is just as critical as an attention-grabbing beginning. Read this for more examples: How to End a Cover Letter: Sample & Complete Guide [+20 Examples]
6
A Postscript to Seal the Deal
Adding a P.S., though not necessary, is a great hack when writing a cover letter. Every great retail cover letter contains a postscript.
Here's what that looks like:
P.S. I'd love the opportunity to sit down with you and go over how I can bring similar results (12% decrease in dead stock and shrinkage) to your store, as well.
A P.S. (postscript) at the bottom of your supermarket or grocery store cover letter will draw the decision-maker's attention. Even if they don't care to read the rest of it.
It's a clever way to get one last word in edgewise before they finish.
Key Takeaway
As you can see, writing a retail cover letter is certainly not as complicated as you thought—and definitely nowhere near as tough as angry customers you'll face once you get the job!
Remember to follow these key points for a successful cover letter for retail:
Make a grand opening—Your cover letter's opening statement is important because it'll determine if the retail store manager reads on.
Show you belong together—Use the majority of the body area to show that you're a perfect fit for the store and they're the ideal business for you.
Finish strong—You held their attention throughout, but use a strong ending so they'll be sure to move on to your retail resume and offer you a retail interview.
Do you have any questions on how to write a retail cover letter? Not sure how to address a cover letter, start your body paragraphs, or end your cover letter for retail sales associates in a strong way? Get at us in the comments below, and we'll answer your question. Thanks for reading!