Customer Success Manager Cover Letter: Sample & How To Write
Let it be known that no customer shall walk away dissatisfied on your watch. But you can't prove that without an equally amazing customer success manager cover letter.
You've been down in the customer support trenches, maybe dabbled in some business analysis. Now, you're a manager, implementing SaaS campaigns to boost your client's market share and grow their businesses.
Or at least, you're trying to get there.
As a customer support manager, you provide excellent help, analysis, and strategies. You uphold the company's image as if it were your own.
And guess what—
The impression you make on your cover letter is what matters most.
Lucky for you, we have a guide that's got you covered with a sample customer success manager cover letter and extra tips that will help resolve all of your issues.
Want to write your cover letter fast? Use our cover letter builder. Choose from 20+ professional cover letter templates that match your resume. See actionable examples and get expert tips along the way.
Sample cover letter for a resume—See more cover letter templates and create your cover letter here.
Feel free to check out our other related guides below:
Customer Success Manager Cover Letter Sample
Mario Mullins
Customer Success Manager
1810 Franklin Street
Dothan, AL 36303
334-721-2242
mariomullins@hotmail.com
Linkedin.com/in/MarioMullins
04/02/2018
Ms. Frederica White
Hiring Manager at FlyHigh Inc.
1366 Stockert Hollow Road
Seattle, WA 98133
Dear Frederica,
CSM is the lifeblood of modern business, that's a fact that I've become well aware of in my 7 years of working in this position. When I found out about the new opening at FlyHigh Inc., it seemed like the natural next step forward, and I was very excited about being able to apply. Having increased satisfaction scores at CubedInteractive by 12%, I'm ready for new challenges: I'm sure I can help FlyHigh Inc. propel its clients even higher and faster.
At CubedInteractive, I was also able to successfully maintain a spotless 96% customer retention record, not without effort and dedication. With each and every one of my 8 long-term clients, I planned, designed, and implemented programs to boost their sales, from marketing campaigns to tools to market research.
I was glad to see that FlyHigh has a robust Business Analysis department. In my experience at Cubed, one of my primary goals was to establish constant communication and keep information flowing freely. Spearheading the implementation of this idea is my proudest achievement, as it helped generate roughly 10% more annual revenue through tighter deadlines, fewer delays, and a more streamlined approach to our customers.
Frederica, I'm positive that FlyHigh's similar business model would allow me to flourish and keep coming up with innovative ideas to increase customer retention, as well as gain new ground. I've created a mock-blitz campaign to grow your client base by 5-10% within 2 years, and I'd love to meet in person to discuss it.
Sincerely,
Mario Mullins
Customer Success Manager
334-721-2242
mariomullins@hotmail.com
That was handled perfectly, they would definitely be coming back for that kind of service!
What is considered the best industry practice when writing a cover letter?
Supplementing it with a great resume, of course! If you're looking for help with that, look no further than our comprehensive Customer Success Manager Resume Guide.
Customer Success Manager Cover Letter Template
Here's how you write a one-of-a-kind customer success manager cover letter:
1. Format Your Customer Success Manager Cover Letter Correctly
Studies have shown time and time again, that customer success management, if done right, is the right way to conduct business.
And it needs the right approach right from the get-go—just like your cover letter.
Take these cover letter tips as gospel. You wouldn't want to create a cover letter without following these basics:
Read more: Full Guide to Cover Letter Formatting
When making a resume in our builder, drag & drop bullet points, skills, and auto-fill the boring stuff. Spell check? Check. Start building a professional resume template here for free.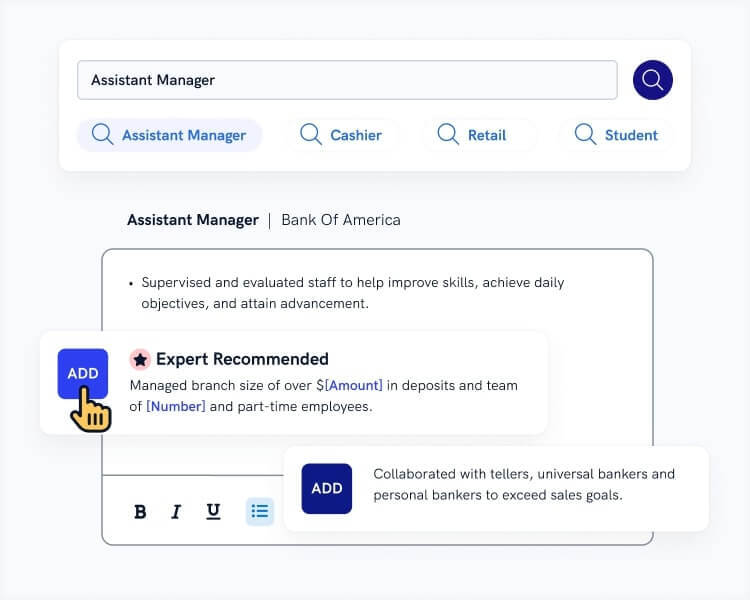 When you're done, our online resume builder will score your resume and our resume checker will tell you exactly how to make it better.
2. Create a Stunning Customer Success Manager Cover Letter Header
The header of your cover letter is much like the intro statement in a service call. It needs to clearly outline who is contacting whom and other such details.
Make sure to follow these steps to get it done right:
Put your contact information in the top-left corner. Include your full name, job title, email, and phone number, plus LinkedIn and/or Twitter handle (optional).
Leave one line blank.
Next, state the day you wrote the cover letter. You can also include the city name.
Leave another blank line.
Finish off by including the contact information of your addressee
Read more: How to Address a Cover Letter the Right Way
3. Blow the Doors Open with an Explosive Cover Letter Opening
A good first impression goes a long way—you know it better than most. That's why you need a professional cover letter salutation. In your greeting, again address the recruiter directly—
For example, Dear Mr Smith or Dear John will work just fine.
If you can't find the name of the person who'll read your cover letter in the job ad, do some research on the company's website or LinkedIn—or simply call the reception and ask.
If all else fails, go with "Dear Hiring Manager", but stay away from "Dear Sir/Madam" or "To Whom it May Concern". We're keeping things personal, remember?
Then, in the opening paragraph, mention how you found out about the position and what made you want to apply—
Followed by a major professional accomplishment that'll make the recruiter eager to read the rest of your application. Include power words and numbers in your achievement statement to really drive the message home.
Read more: How to Start a Cover Letter with a Bang
4. Prove Yourself in the Middle of Your Customer Success Manager Cover Letter
Ready to put your money where your mouth is?
Time to wow the reader with a selection of your finest workplace achievements. Just like in the introduction, make plentiful use of numbers and power verbs. Boosted customer retention by 15% sounds way better than Had better customer retention results, doesn't it?
So, in the second paragraph of your cover letter, show:
Your understanding of what the role involves, and
How you excelled at similar positions in the past, with examples where possible.
Weave in a few key skills, and you're golden!
One more tip before we move on: generic cover letters should be avoided like the plague, so make sure to tailor yours to the company and use their name at least once. No one likes talking to a robot for half an hour on the line to have their issue resolved, so why would recruiters bother reading robotic, copy-paste cover letters?
Read more: What Should the Perfect Cover Letter Say?
5. Explain Why This Company Is the Right One for You
Part of your job as a candidate is to make the recruiter's life as easy as possible, and their decision obvious—
So don't keep them guessing. Tell them directly why you're the best person for the role of customer success manager at their company.
Refer to the company values, structure, product, or project, and highlight what exactly draws you to the idea of working there. Perhaps you enjoy their product, or your personal values closely align with their corporate ones? Let them know!
As well as showing your motivation, this strategy proves you're in for the long haul—
Hiring processes are expensive, plus, proving the value of a product requires long-term commitment, so customer success management candidates with plans of staying for at least a couple of years have a better chance of getting hired.
Read more: How to Sell Yourself in a Cover Letter
6. Seal the Deal with a Jaw-Dropping Offer
At the end of the cover letter, summarize your excitement to join the company in a sentence or two.
Make sure to:
Reiterate the value that you know you'd bring to the table and how they would profit from it.
Entice them with a call to action and request a real-life conversation.
Doesn't that look so much better than the bland Thank you for your consideration that your competition ends their cover letters with?
Thought so!
Read more: How to Close out a Cover Letter
7. Sign-Off the Customer Success Manager Cover Letter Professionally
You're nearing the end of your cover letter journey—
It wasn't so bad, was it?
All that's left are a couple of formalities:
Leave a lasting mark in their memory by repeating your name and contact details one more time.
If you have a way of doing so, provide your digital signature.
Are any cover letter enclosures required? If so, don't forget to attach them as well.
Save as a PDF and name your cover letter file in a professional way. Fact is, lots of people title their cover letters anonymously. By naming the file something like [Name]_CoverLetter, you stand out more, and that matters a lot.
Keep in mind that cover letters are supposed to be quick reads. The ideal cover letter length is about 3 to 4 paragraphs, and definitely under one page.
Plus, a great cover letter that matches your resume will give you an advantage over other candidates. You can write it in our cover letter builder here. Here's what it may look like: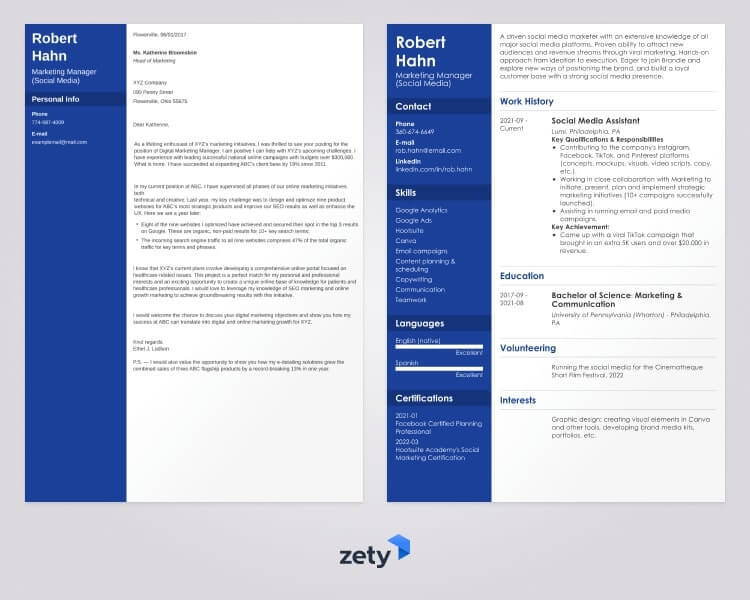 See more cover letter templates and start writing.
And with that, your chances have improved significantly! Your customer success cover manager cover letter is finished and ready to win you your dream job.
Thanks for reading. We sure hope we have managed to ensure your cover letter's success. If you have any questions, don't hesitate to leave them in the comment section below. Have a great day!
About Zety's Editorial Process
This article has been reviewed by our editorial team to make sure it follows Zety's editorial guidelines. We're committed to sharing our expertise and giving you trustworthy career advice tailored to your needs. High-quality content is what brings over 40 million readers to our site every year. But we don't stop there. Our team conducts original research to understand the job market better, and we pride ourselves on being quoted by top universities and prime media outlets from around the world.