Business Development Cover Letter Examples & Guide
You build client relationships that last, and drive legendary sales & marketing campaigns. Prove it to your next employer with a business development cover letter that turns heads.
So you found a great business development job ad and you can't wait to get started. You've even got the best resume on the block. But now you need a business development cover letter with a winning elevator speech. Do it right, and you'll look like Zig Ziglar or Erica Feidner in the rough.
Ready?
Want to write your cover letter fast? Use our cover letter builder. Choose from 20+ professional cover letter templates that match your resume. See actionable examples and get expert tips along the way.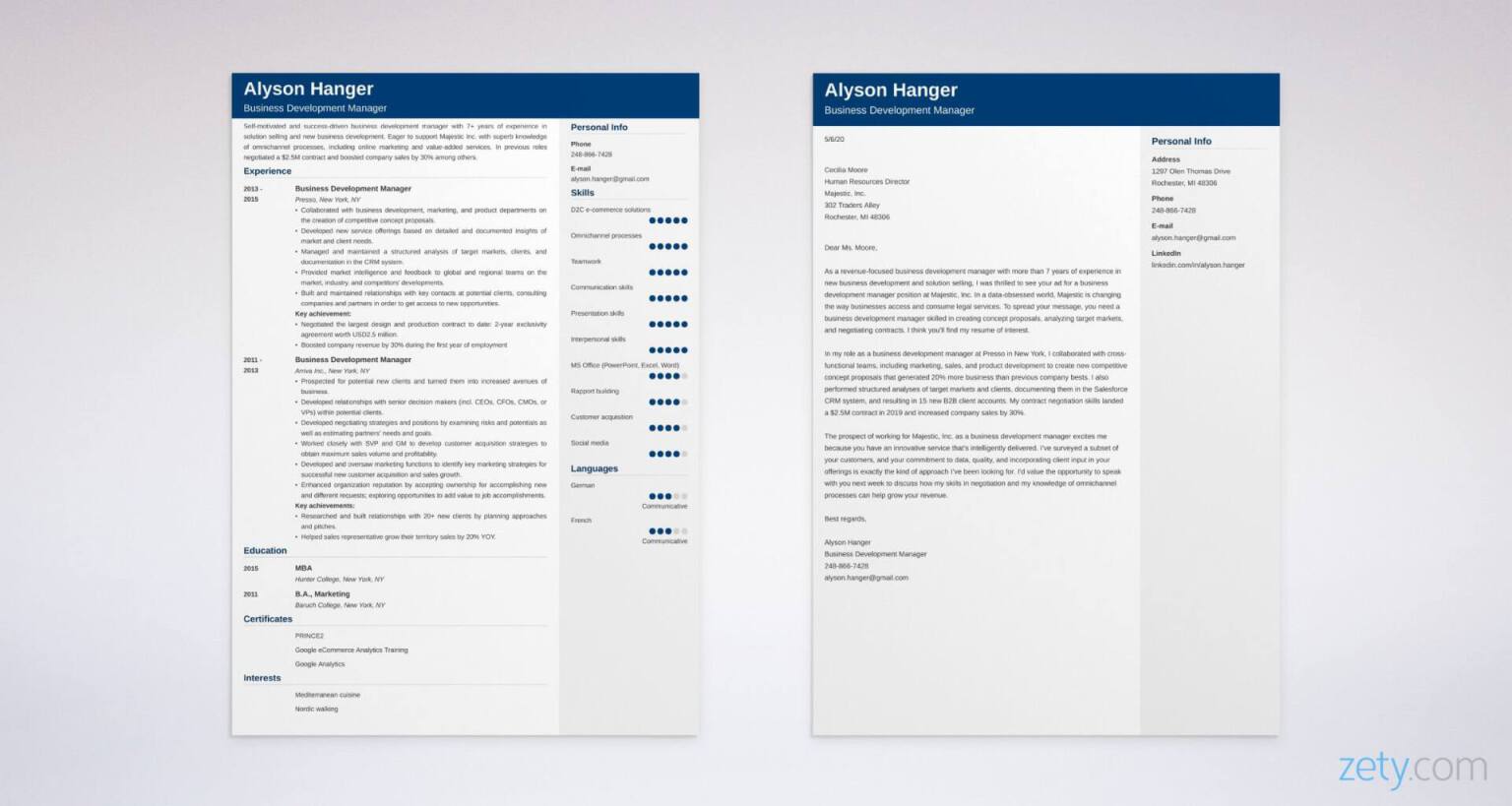 Sample cover letter for a resume—See more cover letter samples and create your cover letter here.
Below, you'll see a sample cover letter for business development jobs that get interviews, with step-by-step tips to make it work for you.
Business Development Cover Letter Sample
Alyson Hanger
Business Development Manager
1297 Olen Thomas Drive
Rochester, MI 48306
248-866-7428
alyson.hanger@gmail.com
linkedin.com/in/alyson.hanger
5/6/20
Cecilia Moore
Human Resources Director
Majestic, Inc.
302 Traders Alley
Rochester, MI 48306
Dear Ms. Moore,
As a revenue-focused business development manager with more than 7 years of experience in new business development and solution selling, I was thrilled to see your ad for a business development manager position at Majestic, Inc. In a data-obsessed world, Majestic is changing the way businesses access and consume legal services. To spread your message, you need a business development manager skilled in creating concept proposals, analyzing target markets, and negotiating contracts. I think you'll find my resume of interest.
In my role as a business development manager at Presso in New York, I collaborated with cross-functional teams, including marketing, sales, and product development to create new competitive concept proposals that generated 20% more business than previous company bests. I also performed structured analyses of target markets and clients, documenting them in the Salesforce CRM system, and resulting in 15 new B2B client accounts. My contract negotiation skills landed a $2.5M contract in 2019 and increased company sales by 30%.
The prospect of working for Majestic, Inc. as a business development manager excites me because you have an innovative service that's intelligently delivered. I've surveyed a subset of your customers, and your commitment to data, quality, and incorporating client input in your offerings is exactly the kind of approach I've been looking for. I'd value the opportunity to speak with you next week to discuss how my skills in negotiation and my knowledge of omnichannel processes can help grow your revenue.
Best regards,
Alyson Hanger
Business Development Manager
248-866-7428
alyson.hanger@gmail.com
That's a Fortune 100-level cover letter sample. But is your resume a boomerang? See our guide: Business Development Resume Guide
Hunting for specific business development jobs? See these guides:
Business Development Cover Letter Template
Here's how to write a cover letter for a business development job application:
1. Use the right business development cover letter format and layout
For the right cover letter design, follow these tips:
Read more: What Is a Cover Letter? Definition
2. Make a professional business development cover letter header
Write your full name and job title first.
List your address, email, phone number, and LinkedIn profile.
Skip a line. Add the date. Then skip another line.
Add the managers' name, business name, and street address.
Use your cover letter heading on your resume to create unity.
Read more: How to Address a Cover Letter
3. Write a first paragraph that drops jaws
Begin your letter with a cover letter salutation such as "Dear [Hiring Manager Name],". Avoid "To Whom It May Concern" cover letters.
Quickly tell them which job opening you're applying for.
Say something positive about the company. You can get it from their "about" page.
Describe a few of their top needs, so they know you understand them.
Read more: Ideas for How to Start a Cover Letter
4. Show business development accomplishments
Mention your top resume achievements.
Make sure they fit the skills you referenced in your first paragraph.
Include your biggest numbers. Numbers impress!
Read more: Do You Really Need a Cover Letter?
5. Explain why you like this business development job
Just like with selling, make your potential customer feel special.
To do it, look at their mission statement online, read press releases, or do a few informational interviews.
Showing liking for the job or company suggests you won't leave for a new job soon.
The average business development manager makes $72,422. You're far from average. Make sure your cover letter shows off your six-figure skills.
6. End your business development manager cover letter with an offer
In the last paragraph, request an interview.
Mention a couple of other business development skills.
Promise to talk about how you'll help with a specific business goal.
Don't add salary requirements in your cover letter. You'll have plenty of time to discuss it later.
Read more: How to End a Cover Letter
7. Add a professional sign-off to the end
Close with, "Best regards,".
For a more personal touch, add a digital version of your written signature.
Repeat your name, email address, and phone.
And... that's it! This is what a cover letter should say to get you hired!
One last thing. After you submit your application, follow up by email or phone once a week. Learn more: Application Follow-Up Email Templates
When making a resume in our builder, drag & drop bullet points, skills, and auto-fill the boring stuff. Spell check? Check. Start building a professional resume template here for free.
When you're done, Zety's resume builder will score your resume and our resume checker will tell you exactly how to make it better.
Questions? Concerns? We're here for you. If you're still unsure how to write a David-Ogilvy-level cover letter for business development jobs, drop me a line in the comments.
About Zety's Editorial Process
This article has been reviewed by our editorial team to make sure it follows Zety's editorial guidelines. We're committed to sharing our expertise and giving you trustworthy career advice tailored to your needs. High-quality content is what brings over 40 million readers to our site every year. But we don't stop there. Our team conducts original research to understand the job market better, and we pride ourselves on being quoted by top universities and prime media outlets from around the world.