You're about to make a great sales cover letter. But first, think about this:
You could sell a PC to Tim Cook.
You could sell sand to a camel.
You could sell an iPhone to a Luddite.
You're a salesperson, and you're good at it.
Now, the only thing left to sell is your cover letter to the hiring manager.
Worry not.
We'll show you how to write a cover letter sales managers will love so you get a chance to wow them at the sales interview for WHSmiths jobs, H&M vacancies, or anything else!
This sales and marketing cover letter guide will show you:
Sales representative cover letter examples better than 9 out of 10 other cover letters.
How to write a salesperson cover letter that will land you more interviews.
Tips and examples of how to grab the recruiter's attention on a sales rep cover letter.
How to sell your candidacy on a cover letter for sales positions to get any job you want.
Want to save time and have your professional sales cover letter ready in minutes? Use our cover letter builder. Choose from 20+ professional cover letter templates that match your teaching resume. See actionable examples and get expert tips along the way.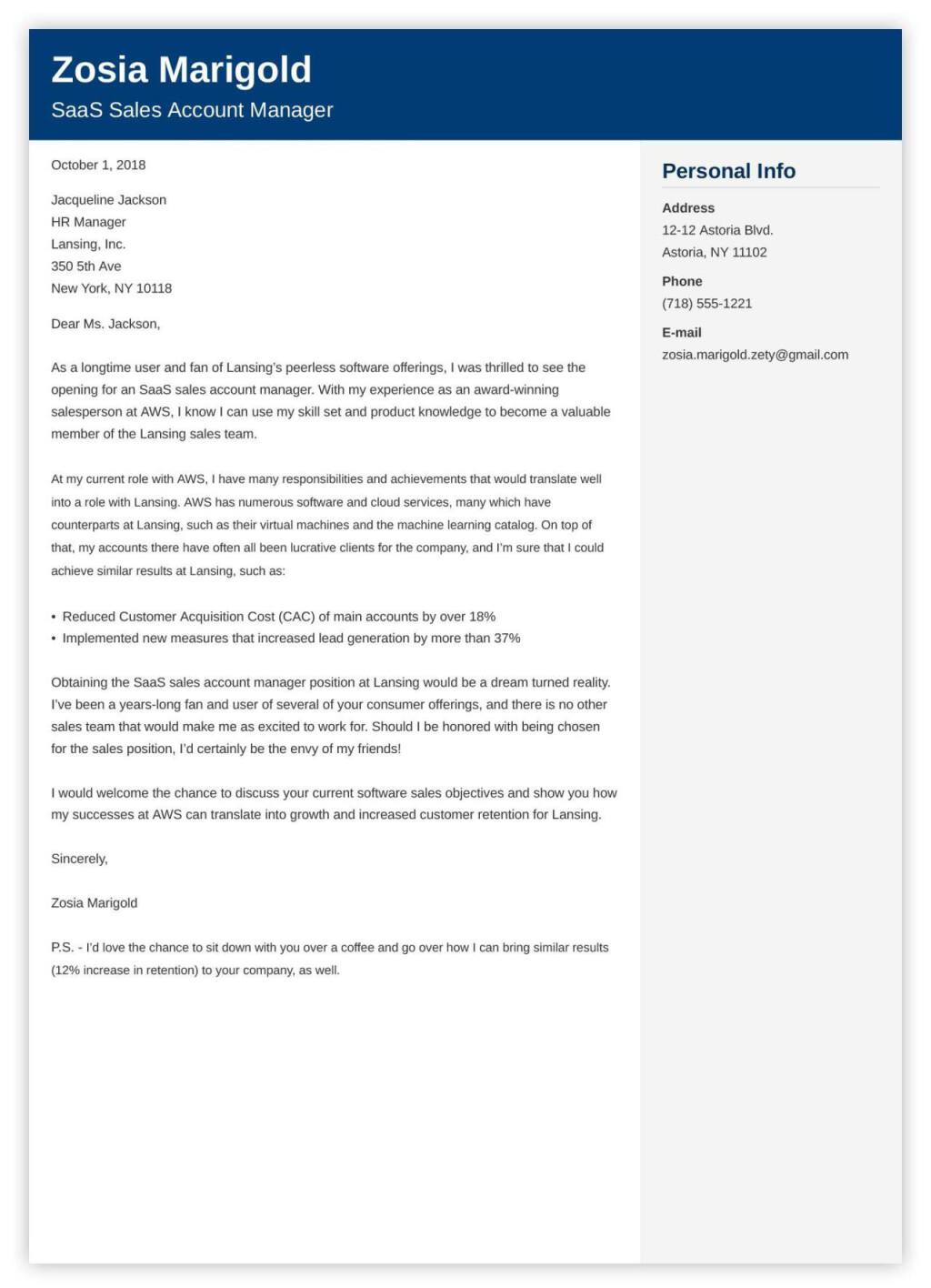 Example of cover letter for sales associate resume—See more cover letter templates and create your cover letter here.
Need to get more specific? Check out these cover letter examples:
Customer Service Cover Letter Example
1
What's the Best Structure for Sales Cover Letters?
Above, you just witnessed our take on a creative cover letter template that sells.
But what was so great about it?
Was it the intro? The template? Maybe the closing?
The answer is yes—all of these things. A great cover letter is one that is structured just right and which is pitch perfect.
Your sales associate cover letter is still a formal letter, so it's recommended you follow a formal letter layout, but here's what you should include on a cover letter in sales:
the company's details,
a greeting/salutation,
an opening statement,
why you're perfect for the sales team,
why the sales position is perfect for you,
closing statement,
complimentary close and your name,
a postscript (P.S.).
That's our recommended structure on what to put in the perfect inside or outside sales cover letter. It's kind of like the BANT framework, but to get the sales job.
Don't forget to make sure your corresponding resume for sales associates is in tip-top shape, as well:
2
How to Address Your Sales Cover Letter
Remember when you were starting the resume to apply for this job in sales?
You'll create a similar heading area with your personal deets and contact info here on your letter of application.
Its design differs depending on the modern cover letter template you choose, but stick to the same sales resume template you chose.
Your Personal Details
Your contact info goes at the very top of your sales cover letter draft.
Mission-critical items include your name, email address, and phone number, and a LinkedIn profile URL. Some choice inclusions are your mailing address and/or a branding statement or professional title.
As the sender, your address can be aligned left, center, or right, but follow the same design as your sales rep resume, like we mentioned before.
Pro Tip: Don't add the remainder of your social links, profile URLs, and portfolio information with your contact details as you did on your salesperson resume, unless the account executive cover letter template you choose includes an area for them.
The Date of Writing
A formal letter, such as a cover letter, requires a date:
Whether you're a director of sales or a mere store assistant, make sure you add it!
The Company's Details
Next, add the addressee, which, in your case, is the hiring manager, sales executive, or HR director. Follow that up by inserting the company address just beneath.
Here's what the finished sales associate cover letter address area might look like: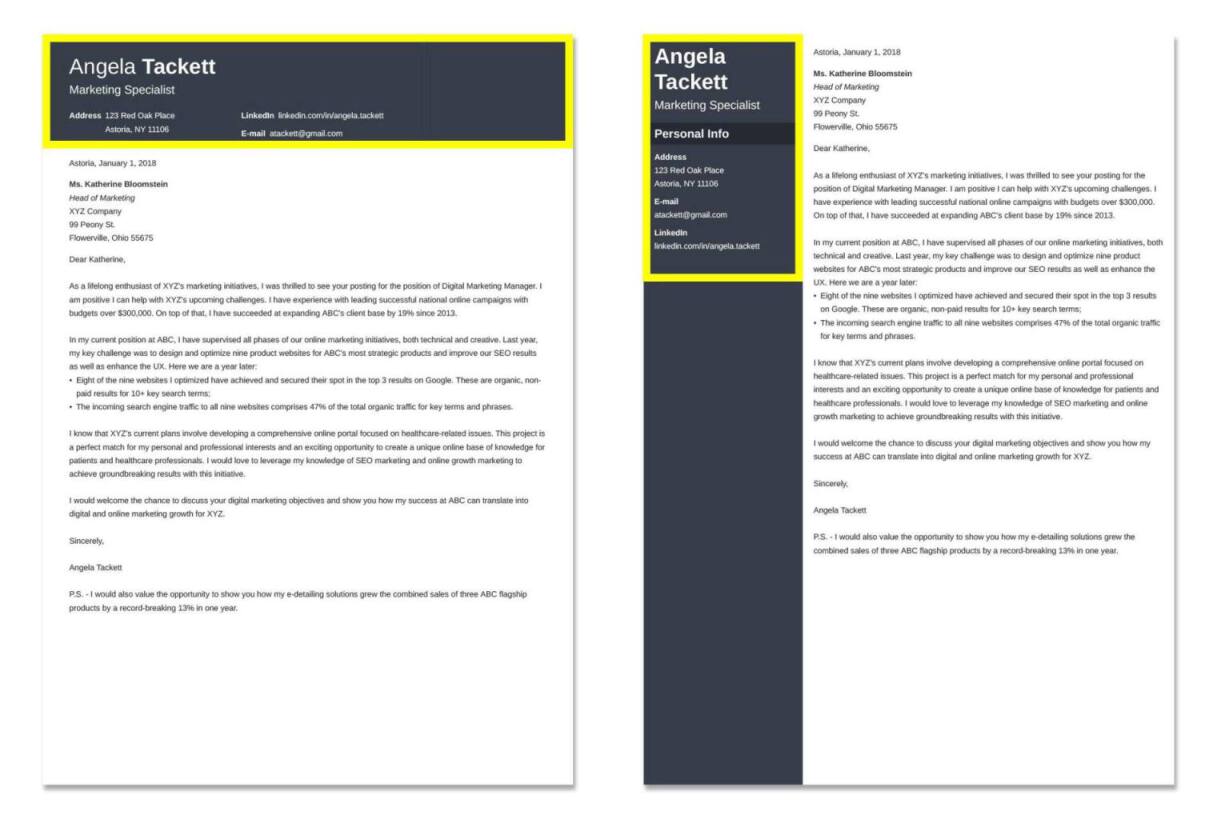 Addressing your cover sheet for resumes the wrong way is just like not including one at all, so make sure you get it right: How to Address a Cover Letter: Sample & Guide [20+ Examples]
3
Starting Off on the Right Foot
The opening area, whether its a business development rep cover letter or a sales development rep cover letter, is super important to get right.
Its prominent location ensures that it gets the most eye time, and if you've got to hook them here if you want a shot at them reading the rest of it.
Greeting / Salutation
Say you're cold calling. After it rings on their end and they pick up, you just launch into your spiel: Hello, so would you like to buy our cutting-edge...
You can see why that wouldn't work, right?
You're looking for conversion, not churn, and on your sales rep or sales manager cover letter, the same rule applies.
Finding the name of the dear hiring manager makes the difference between it feeling personalized and it seeming like it was mass-delivered to the entire sales district.
Something like "Dear Ms. Jackson," works just fine, but you can also transition from the rigid formality in the address header by using their first name: "Dear Jacqueline,".
Now, what about that "Dear" part? Dear is one of the best sales cover letter salutations, but if you're not happy with it or you can't find a name, we've got other options for various scenarios: How to Start a Cover Letter: Sample & Guide [20+ Examples]
Introductory Statement
Like the irresistible first line in any great sales proposal, the opening paragraph on a sales associate cover letter should hook them immediately in a way that makes them want to read on.
There are plenty of ways to go about this, but as long as they grab the hiring manager's attention and makes them want to read further, you can't go wrong.
Let's look at an example of a great account manager cover letter opening:
As a longtime user and fan of Lansing's peerless software offerings, I was thrilled to see the opening for an SaaS sales account manager. With my experience as an award-winning salesperson at AWS, I know I can use my skill set and product knowledge to become a valuable member of the Lansing sales team.
This sales resume cover letter sample is written about the company specifically. It gives a seductive taste of why you'd be perfect for their sales team.
It's not only a great opening paragraph, but it'll make them want to read more!
Like I mentioned, there are other ways to go about your sales introductory statement. For more irresistible and enticing ideas, see: How to Write a Cover Letter: Sample & Guide [20+ Examples]
Want to write your salesperson cover letter fast? Use our cover letter builder. Choose from 20+ professional cover letter templates that match your resume. See actionable examples and get expert tips along the way.
Plus, a great cover letter that matches your resume will give you an advantage over other candidates. You can write your cover letter in our resume builder here. Here's what it may look like: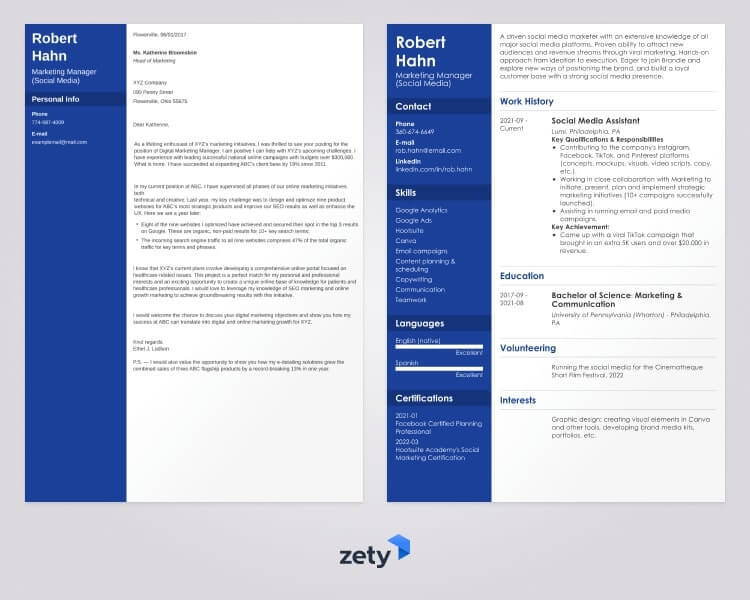 See more templates and create your resume and cover letter here.
Sales Representative Cover Letter and Matching Resume—See more cover letter templates and create your cover letter here.
4
You + Company = Perfect Sales Partnership
They have a stack of 250 resumes to sift through.
It's a hirer's market.
The odds don't seem to be in your favor, but don't stress.
You'll be one of few who wrote a cover letter.
And the only one who did this so masterfully.
These next two areas (a paragraph for each is suggested) give you plenty of room to motivate them to hire you; after all, a cover letter is also known as a motivation letter or letter of motivation. Though they're opposites, they work together in a symbiotic manner.
Why You're Perfect for Them
You've stunned them with that seductively sick sales start.
Now, time to quickly and expertly reel them in by showing how you're the perfect fit for their sales team.
Here's what a job applicant might say on a sample sales account manager cover letter:
At my current role with AWS, I have many responsibilities and achievements that would translate well into a role with Lansing. AWS has numerous software and cloud services, many which have counterparts at Lansing, such as their virtual machines and the machine learning catalog. On top of that, my accounts there have often all been lucrative clients for the company, and I'm sure that I could achieve similar results at Lansing, such as:
Reduced Customer Acquisition Cost (CAC) of main accounts by over 18%
Implemented new measures that increased lead generation by more than 37%
See that cover letter sample for job applications in sales? With this compelling paragraph, they see that your acquired sales associate skills and sales experience makes you the ideal new hire for the sales job. Also, you prove it with quantifiable numbers.
Pro Tip: Remember using keywords on your resume? It's one of the most important ways to make sure it's tailored. Add them on your inbound or outbound sales cover letter, as well.
Why They're Perfect for You
You gave a powerful spiel just now. Good job! But now they look at you, the salesman or saleswoman, and get a bit guarded, like I wonder what's in it for them?
It's the same when applying to sales positions.
They already know money is a key part of why you're selling them, but if that's all there is for you, they'll choose someone else. They don't want to feel that you're only in it for the money. You told them why you're the best possible future salesperson, so now explain why this sales job is perfect for you:
Obtaining the SaaS sales account manager position at Lansing would be a dream turned reality. I've been a years-long fan and user of several of your consumer offerings, and there is no other sales team that would make me as excited to work for. Should I be honored with being chosen for the sales position, I'd certainly be the envy of my friends!
How about that cover letter example for job applications in sales?
You've praised the company and explained why their sales team is the only one for you—the VP of sales or the hiring sales manager will feel like they just earned one hell of a commission after finding your cover letter!
Here's a kicker for you. We've got a wealth of tips on these two central resume cover sheet paragraphs and on writing a senior or junior sales cover letter that will let you stand out: 35+ Successful Cover Letter Tips, Advice & Guidelines
5
A Compelling & Strong Finish
You've come so far, but don't blow it yet by losing that momentum before you cross the finish line.
Summon that second wind so you can end it with a powerful closing statement.
Use a potent closing sentence or paragraph to quickly tie it all together:
I would welcome the chance to discuss your current software sales objectives and show you how my successes at AWS can translate into growth and increased customer retention for Lansing.
This sales cover letter sample was easy-breezy, right? You wrapped it up with a bow by summarizing your cover letter in sales and then leaving the decision in their hands. For them, all they see is up and to the right!
Complimentary Close
A closing sentiment followed by your name seals the deal.
Here's how complicated that is:
Sincerely,
Zosia Marigold
Not complicated at all, right? That closing sentiment ("Sincerely" here) is known as a complimentary close or complimentary closing, and that is then followed by your John Hancock to end the cover letter.
Ending strongly on a cover letter for retail sales positions or commercial is just as critical as an attention-grabbing start, like the perfect value proposition. Read this for more tips and examples: How to End a Cover Letter: Sample & Complete Guide [+20 Examples]
6
A Postscript to Seal the Deal
Wait, you said we were done!
I know, but just hear me out for one more moment, if you will.
Adding a P.S., though not necessary, is a great writing hack when preparing a sales cover letter. Every great cover letter for salespeople contains a postscript.
Here's what I mean:
P.S. I'd love the chance to sit down with you over a coffee and go over how I can bring similar results (12% increase in retention) to your company, as well.
What do you think?
A P.S. (postscript) at the bottom of your cover letter draws the attention of the hiring manager, like you'll do when you pitch a client. It's a good way to seal the deal so you can get paid for sealing deals!
Key Takeaway
Writing a job converting sales cover letter wasn't as complicated as you thought, now, was it?
Just remember to keep these points in mind for a successful cover letter for sales jobs:
Start with a bang—Your opening statement on your selling cover letter is important because it'll determine if the VP of Sales or Director of Sales reads any further or slams the door in your face.
Show you belong together—This is your sales pitch, your spiel. Use the body area to show (and prove!) that you're a perfect fit for the company and they're the ideal sales team for you.
Finish strong—You held their attention to the end, but use a strong ending so they'll be sure to move on to your resume and a lucrative sales interview.
Now you have a cover letter that'll surely take you from Closed-Lost to Closed-Won in the company's hiring funnel.
Have any questions on how to write a sales cover letter? Not sure how to address a cover letter for sales assistants, start your body paragraphs, or end your cover letter in a strong way? Get at us in the comments below, and we'll answer your question. Thanks for reading!