Business Development Manager Resume: Sample & 20+ Tips
It would be a shame if your superb BD abilities were presented on an underdeveloped business development resume. Let's make sure your resume delivers.
Business Development Manager Resume Sample
Alyson Hanger
alyson.hanger@gmail.com
248-866-7428
Objective
Self-motivated and success-driven business development manager with 7+ years of experience in solution selling and new business development. Eager to support Majestic Inc. with superb knowledge of omnichannel processes, including online marketing and value-added services. In previous roles negotiated a $2.5M contract and boosted company sales by 30% among others.
Work Experience
Business Development Manager
Presso, New York, NY
2013–2015
Collaborated with business development, marketing, and product departments on the creation of competitive concept proposals.
Developed new service offerings based on detailed and documented insights of market and client needs.
Managed and maintained a structured analysis of target markets, clients, and documentation in the CRM system.
Provided market intelligence and feedback to global and regional teams on the market, industry, and competitors' developments.
Built and maintained relationships with key contacts at potential clients, consulting companies and partners in order to get access to new opportunities.
Key achievement:
Negotiated the largest design and production contract to date: 2-year exclusivity agreement worth USD2.5 million.
Boosted company revenue by 30% during the first year of employment
Business Development Manager
Arriva Inc., New York, NY
2011–2013
Prospected for potential new clients and turned them into increased avenues of business.
Developed relationships with senior decision makers (incl. CEOs, CFOs, CMOs, or VPs) within potential clients.
Developed negotiating strategies and positions by examining risks and potentials as well as estimating partners' needs and goals.
Worked closely with SVP and GM to develop customer acquisition strategies to obtain maximum sales volume and profitability.
Developed and oversaw marketing functions to identify key marketing strategies for successful new customer acquisition and sales growth.
Enhanced organization reputation by accepting ownership for accomplishing new and different requests; exploring opportunities to add value to job accomplishments.
Key achievements:
Researched and built relationships with 20+ new clients by planning approaches and pitches.
Helped sales representative grow their territory sales by 20% YOY.
Education
MBA
Hunter College, New York, NY
2015
B.A., Marketing
Baruch College, New York, NY
2011
Key Skills
D2C e-commerce solutions
Omnichannel processes
Teamwork
Communication skills
Presentation skills
Interpersonal skills
MS Office (PowerPoint, Excel, Word)
Rapport building
Customer acquisition
Social media
Certifications
PRINCE2
Google eCommerce Analytics Training
Google Analytics
Languages
German—Communicative
French—Communicative
Interests
Mediterranean cuisine
Nordic walking
Want to save time and have your resume ready in 5 minutes? Try our resume builder. It's fast and easy to use. Plus, you'll get ready-made content to add with one click. See 20+ resume templates and create your resume here.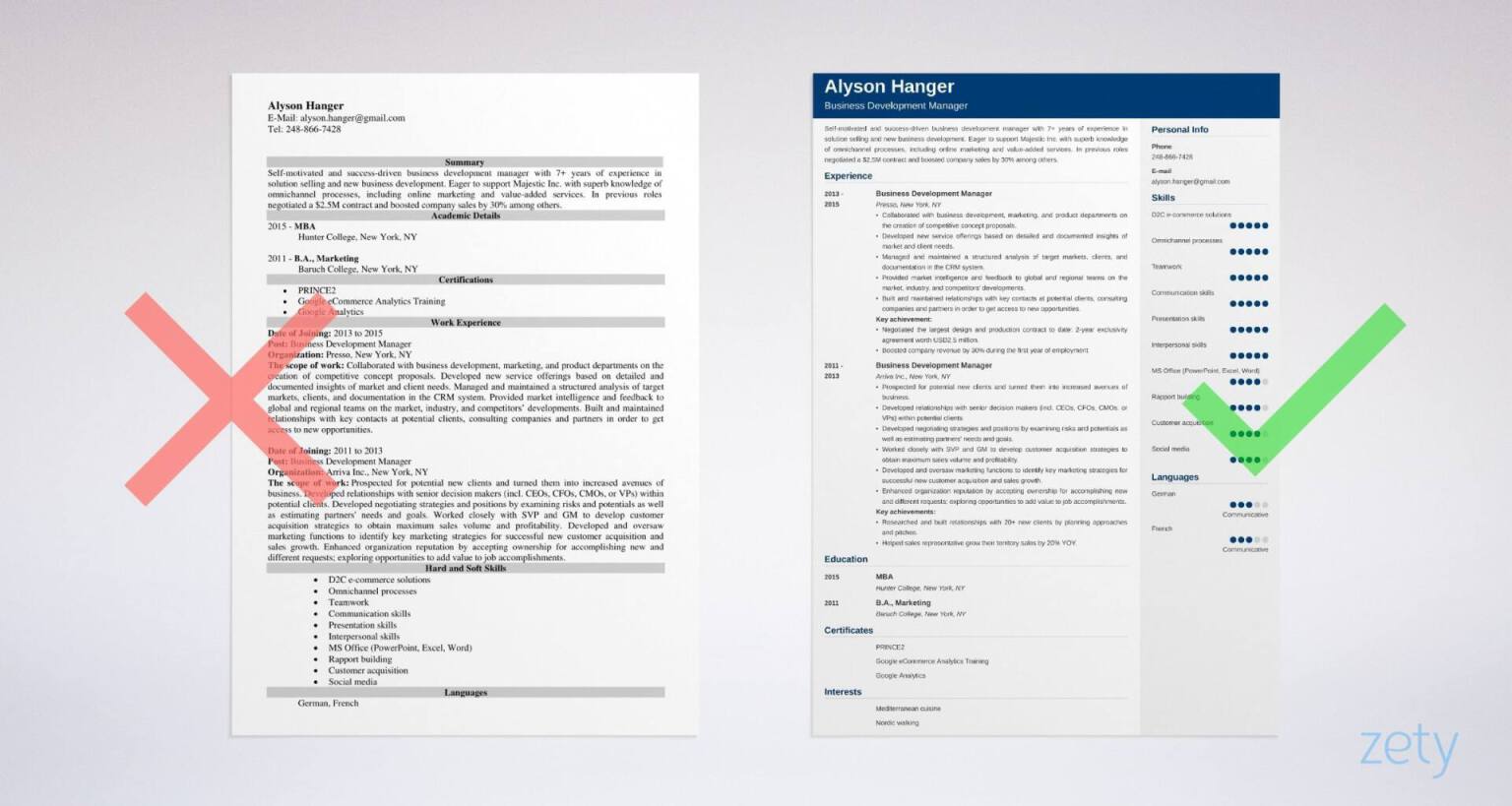 Sample Business Development Resume—See more templates and create your resume here.
Targeting other positions in sales and marketing? Check out our guides:
Here's how to write a business development resume that builds rapport with the hiring manager without delay.
1. Choose the Best Format for Your Business Development Resume
As a business development manager, you know that the key to successful sales is a great relationship with the client.
Start building a long-lasting relationship with the recruiter by following these tips:
2. Write a Business Development Resume Objective or Summary
Here's the thing—
It is vital to know how to write a profile in your resume.
Your resume profile is a short blurb at the top of your business development resume in the style of an elevator pitch.
You can choose between:
A business development resume summary. It's a great option if you have at least 2 years of professional experience. It's a short 2- or 3-sentence paragraph presenting your experience and key accomplishments.
A business development resume objective works great for entry-level positions and career changers. It's a short paragraph whose main focus is on your transferable skills that make you a great fit for the role.
In each case, your business development resume will become more impressive if you include numbers and percentages that show how capable you really are.
Pro Tip: You can write this section of your business development manager resume at the very end. Once you've got the full version, it will be much easier to pick out the highlights.
3. Create the Perfect Business Development Resume Job Description Section

Listen:
It's not enough to know how to mention your experience in a resume.
Your new business development resume must clearly show—
You're simply the best.
So—
Tailor your resume to show off your relevant experience and skills:
Start off with your current position. Then mention the previous ones.
Put company names, locations, dates worked, and job titles in all entries.
Describe your experience on a bullet point list. Stay under 7 bullet points in each entry.
Make sure each bullet contains the right words to use on a resume, e.g. managed, built, negotiated, enhanced, etc.
Try to quantify your experience as much as you can with numbers and percentages.
Focus on the relevant experience. Don't list everything you've ever done.
Pro Tip: Put your most impressive accomplishments in a key achievements subsection.
4. Make Your Business Development Resume Education Section Deliver
Just like all the other sections—
Your business development resume education section can't be underdeveloped.
Here's what to put under education on a resume:
If you have over 5 years of experience, list the school name, location, graduation year, and degree earned. That's about it.
Under 5 years of experience? Consider adding info on your GPA (if you scored above 3.5), relevant coursework, extracurricular activities, as well as academic achievements.
Wondering how to list certifications on your resume?
It's best to put them in a separate section, so they're clearly visible.
Pro Tip: If you're writing your resume within 3 years of graduation, consider adding info on your GPA if it's above 3.5.
5. Highlight Your Business Development Skills
Show the hiring manager you've got what it takes to take the company to new heights.
Use the list below as a source of inspiration and a list of business development resume keywords you may want to include
Business Development Manager Resume—Skills
Customer acquisition
D2C e-commerce solutions
Financial planning
Logistics requirements
MS Office (PowerPoint, Excel, Word)
Omnichannel processes
Presentation skills
Product development
Sales management
Sales marketing budget
Social media
Team management
Remember: Don't clutter your business development resume with every single skill you have. Pick out the ones relevant to the job.
This is how to do it right:
Start with preparing a list of all your skills and abilities (include your hard skills, and list your technical skills as well).
Take another look at the job posting to see what skills are mentioned there specifically.
Look at your own skill list and pick out the skills you see in the job ad.
Focus on the skills you're proficient at. Pick out up to 10 for your key skills section.
Sprinkle your entire business development resume with your top skills. Your resume profile and experience sections are great places.
Pro Tip: Make sure the skills you choose to present match the position you're applying for. A VP business development resume surely needs to be packed full of strong business skills.
When making a resume in our builder, drag & drop bullet points, skills, and auto-fill the boring stuff. Spell check? Check. Start building your resume here.
When you're done, Zety's resume builder will score your resume and tell you exactly how to make it better.
6. Add Other Sections to Your Business Development Resume
Impress the recruiter even more by adding extra sections to your business development resume:
7. Attach a Business Development Resume Cover Letter

Keep asking yourself:
Do I need a cover letter for my resume?
Well, you do.
If you write a cover letter, you'll be instantly better than half of the candidates because that many of them don't do that.
And half of the recruiters do expect a cover letter from you.
Follow the tips below and learn how to write a good cover letter in a flash:
See to it that the length of your cover letter isn't discouraging.
Pro Tip: Send a follow up email after application to show you're seriously interested.
You've done it!
This is how you make a job-winning resume for business development positions.


Are you writing a new business development resume for the first time? Or perhaps you're a seasoned pro eager to help the rookies out? We'd love to hear from you, leave your comment below!