Our customers have been hired by:
A bad advertisement can bury a great brand. And a bad resume can make a great brand manager completely invisible.
You not only have a head full of fantastic ideas, but you also know everything about marketing. So it's time to put your knowledge into practice. Be your own brand ambassador and increase the recruiters' awareness of your professionalism with a neat brand manager resume.
This guide will show you:
A brand manager resume example better than 9 out of 10 other resumes.
How to write a brand manager resume that will land you more interviews.
Tips and examples of how to put skills and achievements on a brand manager resume.
How to describe your experience on a resume for a brand manager to get any job you want.
Want to save time and have your resume ready in 5 minutes? Try our resume builder. It's fast and easy to use. Plus, you'll get ready-made content to add with one click. See 20+ resume templates and create your resume here.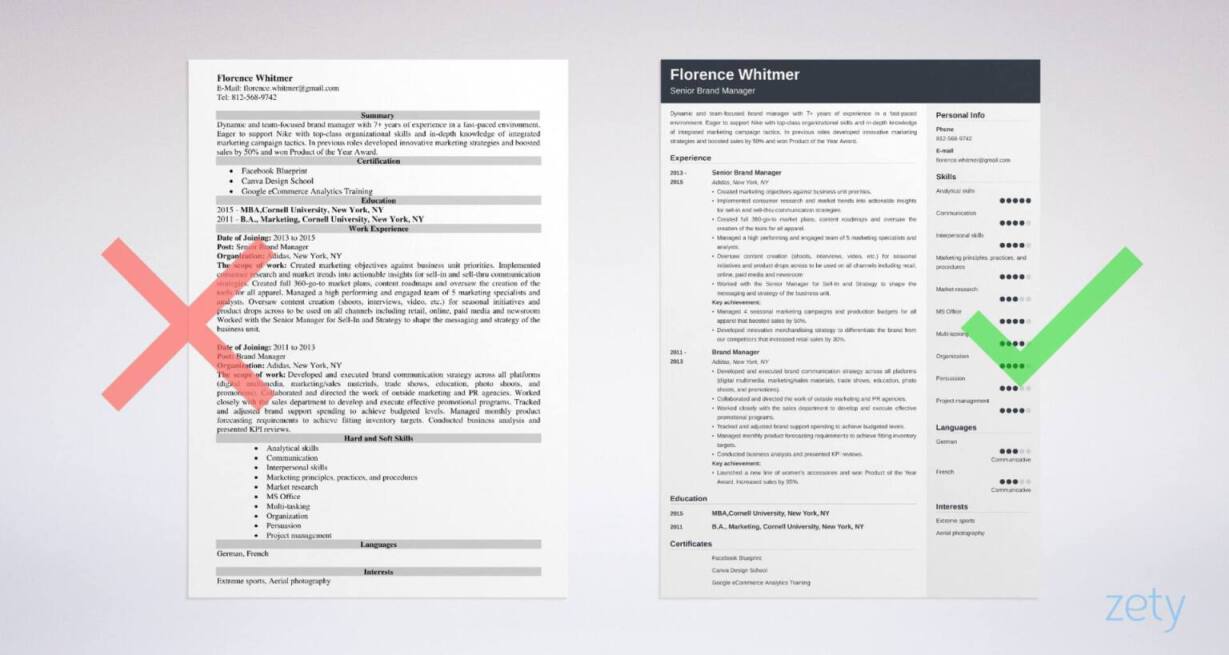 Sample resume made with our builder—See more resume examples here.
Are you representing a brand? If yes, you might want to switch over to: Brand Ambassador Resume Sample & Guide
Looking for other jobs in sales and marketing? Here's a couple of guides you might find interesting:
Brand Manager Resume Sample
Florence Whitmer
florence.whitmer@gmail.com
812-568-9742
Objective
Dynamic and team-focused brand manager with 7+ years of experience in a fast-paced environment. Eager to support Nike with top-class organizational skills and in-depth knowledge of integrated marketing campaign tactics. In previous roles developed innovative marketing strategies and boosted sales by 50% and won Product of the Year Award.
Work Experience
Senior Brand Manager
Adidas, New York, NY
2013–2015
Created marketing objectives against business unit priorities.
Implemented consumer research and market trends into actionable insights for sell-in and sell-thru communication strategies.
Created full 360-go-to market plans, content roadmaps and oversaw the creation of the tools for all apparel.
Managed a high performing and engaged team of 5 marketing specialists and analysts.
Oversaw content creation (shoots, interviews, video, etc.) for seasonal initiatives and product drops across to be used on all channels including retail, online, paid media and newsroom
Worked with the Senior Manager for Sell-In and Strategy to shape the messaging and strategy of the business unit.
Key achievement:
Managed 4 seasonal marketing campaigns and production budgets for all apparel that boosted sales by 50%.
Developed innovative merchandising strategy to differentiate the brand from our competitors that increased retail sales by 30%.
Brand Manager
Adidas, New York, NY
2011–2013
Developed and executed brand communication strategy across all platforms (digital multimedia, marketing/sales materials, trade shows, education, photo shoots, and promotions).
Collaborated and directed the work of outside marketing and PR agencies.
Worked closely with the sales department to develop and execute effective promotional programs.
Tracked and adjusted brand support spending to achieve budgeted levels.
Managed monthly product forecasting requirements to achieve fitting inventory targets.
Conducted business analysis and presented KPI reviews.
Key achievement:
Launched a new line of women's accessories and won Product of the Year Award. Increased sales by 35%.
Education
MBA
Cornell University, New York, NY
2015
B.A., Marketing
Cornell University, New York, NY
2011
Key Skills
Analytical skills
Communication
Interpersonal skills
Marketing principles, practices, and procedures
Market research
MS Office
Multi-tasking
Organization
Persuasion
Project management
Certifications
Facebook Blueprint
Canva Design School
Google eCommerce Analytics Training
Languages
German—Communicative
French—Communicative
Interests
Extreme sports
Aerial photography
Here's how to write a brand manager resume that manages to deliver:
1. Choose the Best Format for Your Brand Manager Resume
A brand manager is responsible for promoting the image of the company as well as the products or services the company offers. This is why a brand manager resume should highlight such skills as creativity, business acumen, great organization, and communication skills.
Your resume must instantly communicate your personal brand value, and prove that you know how to take care of building someone else's brand.
Here's a list of proven guidelines that will help you make your the most of your brand manager resume:
2. Write a Brand Manager Resume Objective or Summary
Your brand manager resume should open with the so-called profile summary for a job.
It's a short introductory paragraph that can take the form of either a resume summary or resume objective.
Here's how to distinguish between the two:
A professional resume summary is a great choice for candidates with more than 2 years of brand management experience. It brings up your key achievements and offers a short rundown of your previous experience.
A resume career objective works best for entry-level positions or career transitioners. Why? Well, it concentrates on your transferable skills to convince the hiring manager you're a great fit for the position.
Either way—
Your resume profile will become much more convincing if you add some numbers to it to prove what your true impact is.
Pro Tip: Leave writing this section for the very end. It's a short version of your brand manager resume, so it'll be much easier to write once you've got the full-length version on hand.
3. Create the Perfect Brand Manager Job Description for a Resume

Here's the deal:
Your resume work experience section is where you close the deal with the hiring manager.
It only needs to show one thing:
You'll get the job done better than anyone else.
How to do this?
Learn how to tailor your resume to a job posting:
Put your latest position first. Follow it up with the previous ones.
Make sure the job titles on your resume are understandable and describe the nature of your job. Also, list the company names and dates worked.
Display your duties and achievements on a list of bullet points. Up to seven bullets per position will be enough.
See to it the bullets contain resume action words such as managed, boosted, delivered, improved, etc.
Focus on your relevant experience. Don't list everything you've ever done in your life.
Pro Tip: If you find it hard to quantify every experience bullet, find up to 3 things you can put a number to and present them in a key achievements subsection.
When making a resume in our builder, drag & drop bullet points, skills, and auto-fill the boring stuff. Spell check? Check. Start building a professional resume template here for free.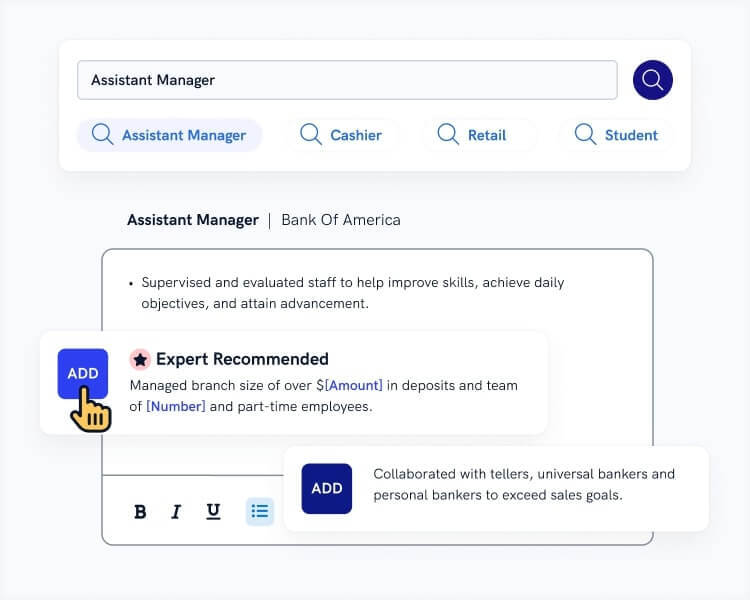 When you're done, Zety's resume builder will score your resume and our resume checker will tell you exactly how to make it better.
4. Make Your Brand Manager Resume Education Section Great
Listing education on a resume is important.
All the more so as you can get some additional points for your educational endeavors and certifications you hold.
If you have more than 5 years of experience, you can keep your brand manager resume education section short and sweet. Degree, school name, location, and graduation year will be enough.
Less than 5 years of professional experience? Your assistant brand manager resume education section will benefit from including info on your GPA (if higher than 3.5), academic achievements and honors, extracurricular activities, and relevant coursework.
Listing certifications on a resume is always welcome. Just put them in a dedicated section to make sure they have all the visibility they deserve.
5. Highlight Your Brand Manager Skills
Displaying the right skills on your brand manager resume is crucial.
Use the list below to get inspired:
Brand Marketing Manager Resume—Skills
Marketing principles, practices, and procedures
Market research
MS Office
Persuasion
Presenting
Product development
Sales management
Sales marketing budget
Social media
Team management
Multi-tasking
It's crucial for you to concentrate on relevant skills. Don't put all the things you can do. Dog walking is a skill, but your associate brand manager resume won't necessarily benefit from it.
This is how to pick out the best skills for your brand manager resume:
Start with making a list of all skills to put in a resume. Include a soft skills list, as well as a list of technical skills for a resume).
Look at the job offer again to see what skills the employer is looking for specifically.
Take another look at your list and find the ones you have.
In your brand manager resume focus only on your strongest skills and list them in your key skills section.
Make sure your entire brand manager resume is full of skills: you can put some in your resume profile. See to it that you can explain each skill you list by referring to your experience section.
Pro Tip: Populate your key skills section with up to 10 of your top skills. Leave out the ones you don't have a great grasp of.
6. Add Other Sections to Your Brand Manager Resume
Boost your personal brand proposition by adding extra sections to your brand manager resume:
7. Attach a Brand Manager Resume Cover Letter

If you're asking yourself:
Should I include a cover letter?
The answer is: yes, you should.
A well-written cover letter can double your chances of landing an interview. Only half of the candidates send them, but more than 50% of recruiters expect them.
And—
If you know how to do it, writing a cover letter will be smooth:
Finally—
Double-check that the length of your cover letter is within acceptable margins.
Pro Tip: To show you're a serious candidate, learn how to follow up on a job in a short email.
Here we go!
This is how to make a job-winning resume for brand manager positions.


Plus, a great cover letter that matches your resume will give you an advantage over other candidates. You can write it in our cover letter builder here. Here's what it may look like: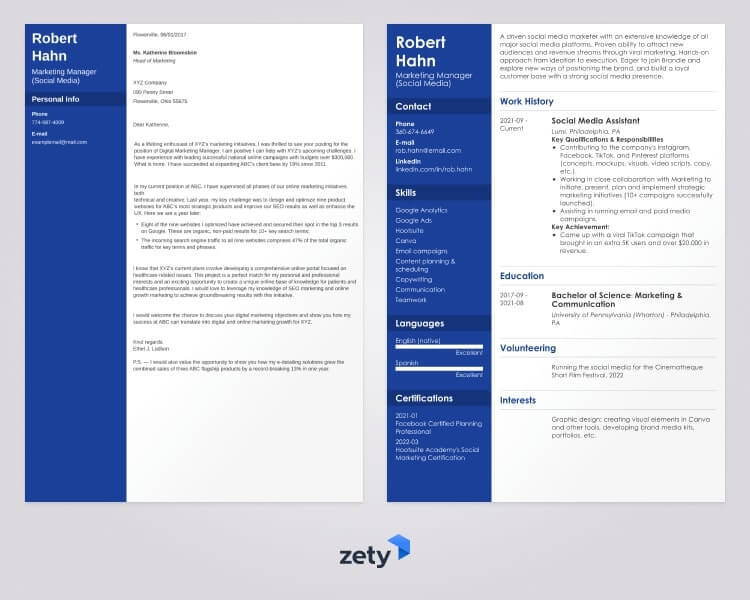 See more cover letter templates and start writing.
Are you writing a brand manager resume for the first time? Or perhaps you're a seasoned pro eager to help the rookies out? We'd love to hear from you, leave your comment below!
About Zety's Editorial Process
This article has been reviewed by our editorial team to make sure it follows Zety's editorial guidelines. We're committed to sharing our expertise and giving you trustworthy career advice tailored to your needs. High-quality content is what brings over 40 million readers to our site every year. But we don't stop there. Our team conducts original research to understand the job market better, and we pride ourselves on being quoted by top universities and prime media outlets from around the world.