Sales Manager Resume Examples that Get Jobs in 2023
As a sales manager, you know what it takes to be invited to a team of professionals. Now, use your knowledge to prepare a resume that gets you noticed and invited for an interview.
Sales managers are the alchemists of business, turning leads into gold. But when it comes to your resume, you need a touch of magic to make it sparkle.
Our guide is like a Philosopher's Stone, here to grant your wish, turning your sales manager resume into a dazzling display that'll have recruiters spellbound. Time to conjure up some career success!
This guide will show you:
A sample resume for sales manager jobs better than 9 out of 10 other resumes.
How to write a sales manager resume in our builder and land more interviews.
Tips and examples of how to write skills for sales manager resumes.
How to prepare sales manager job description resume to get any job you want.
Want to save time and have your resume ready in 5 minutes? Try our resume builder. It's fast and easy to use. Plus, you'll get ready-made content to add with one click. See 20+ resume templates and create your resume here.
Sample resume made with our builder—See more resume examples here.
Looking for related jobs in sales? See one of our dedicated guides:
For more examples check our amazing collection here:
Here's how to write a sales manager resume:
1
Sales Manager Resume Example
Peter Dumas
Sales Manager
987-456-1003
peterdumas@email.com
linkedin.com/in/peterdumas
Summary
Dynamic and detail-oriented Sales Manager with over 5 years of experience in business development and sales operation management. Aiming to leverage expertise in customer relations and sales analytics to successfully fill the Sales Manager role at OptimumByte Technologies. Increased sales volume by 25% in 2 years as Sales Manager at ApexQuest Dynamics by developing a new marketing plan.
Experience
Sales Manager
ApexQuest Dynamics, Springdale, AR
June 2015–September 2020
Key Qualifications & Responsibilities
Developed comprehensive sales strategies and prepared detailed presentations that increased new customer acquisition by 30% in two years.
Utilized rigorous analytics processes to identify market trends and opportunities for growth.
Monitored customer satisfaction levels, evaluated feedback, and coordinated with product development teams for impactful product improvements.
Managed day-to-day operations of the team, including performance reviews, team meetings, coaching sessions, and recruitment activities.
Key Achievement:
Successfully developed comprehensive marketing plans that resulted in a 25% increase in overall revenue.
Sales Representative
StellarShift Innovations, Springdale, AR April 2013–May 2015
Key Qualifications & Responsibilities
Created successful product launches, resulting in an increase of new customers by 35% within a year.
Developed customer satisfaction plans that improved client retention rate by 10% within four months.
Established strong relationships with key partners across the region to identify new opportunities for expansion.
Provided technical support during the client onboarding process.
Key Achievement:
Successfully reduced budget costs by 20% while maintaining a consistently high standard of quality products and services.
Education
Bachelor of Science Degree in Business Administration
University of Arkansas at Fayetteville, Fayetteville, Arkansas
July 2010–May 2013
Relevant extracurricular activities:
Student Government Association (SGA)
Academic achievements:
GPA 3.8
Dean's List for three consecutive semesters
Treasurer of the Business Administration Club for one year
Skills
Customer Relationship Management (CRM)
Sales Analytics
Reporting & Analysis
Market Research
Product Strategy
Pitching & Negotiation
Budget Planning & Forecasting
Lead Generation & Qualifying
Digital Marketing & Social Selling
Certifications
Certified Professional Salesperson (CPS), American Professional Sales Association, 2018
Awards
Top Performer Award 2014–2015
Memberships
Member of the Professional Sales Organization since 2014
Languages:
English—Native
Spanish—Fluent
Interests:
Running marathons, having participated in two half marathons.
Creating digital drawings and content for a personal website and blog.
Traveling to different countries and exploring nature.
Pick a Good Sales Manager Resume Template
Here's the thing: we make judgments based on first impressions. Research suggests it only takes 1/10 of a second to form one. This is why choosing the best template for your sales manager resume is so vital. A recruiter's brief glance may decide about your future.
So make sure your sales manager resume:
Looks elegant and professional
Is easily navigable and legible
Puts white space to good use
How? First off, go for the reverse-chronological resume format. It puts your experience and key achievements in the limelight. Also, it's the best-established resume format and all recruiters feel comfortable reading it.
If you want to be absolutely certain your formatting stays intact on the hiring manager's end, export your sales manager resume to PDF.
Our resume builder takes care of all the formatting so you can focus on the content. Just pick one of the 20+ resume templates. Customize the colors, fonts, and much more.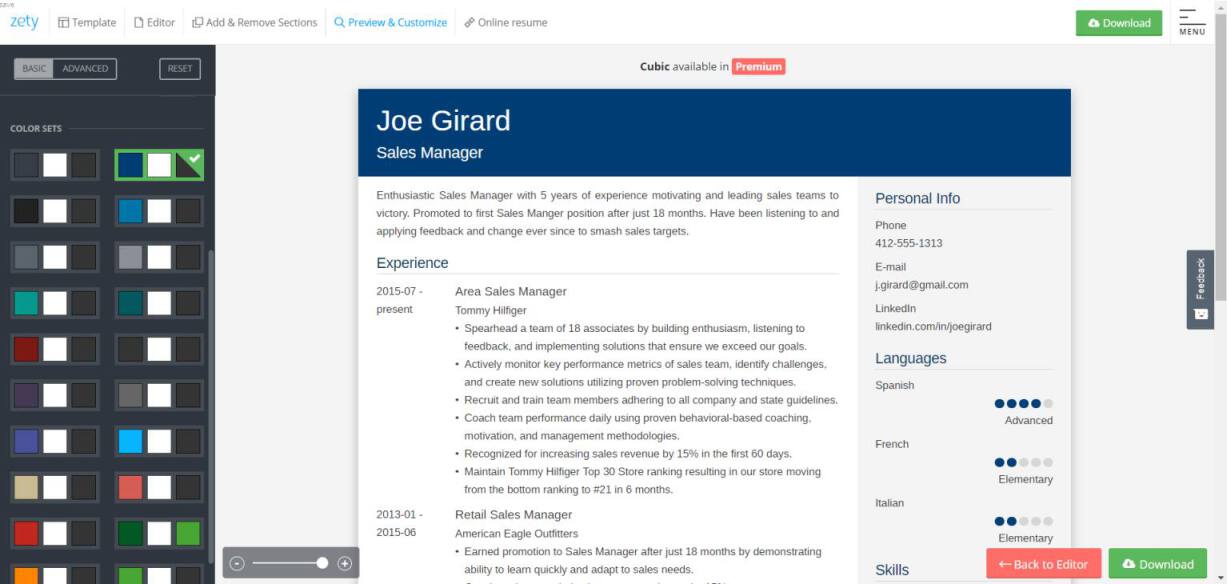 All our templates have been approved by recruiters and career experts, and are 100% ATS-compliant.
Here's what your sales manager resume could look like. Sales management resume examples are the best when you want to get insights and inspiration.
Best Sales Manager Resume Examples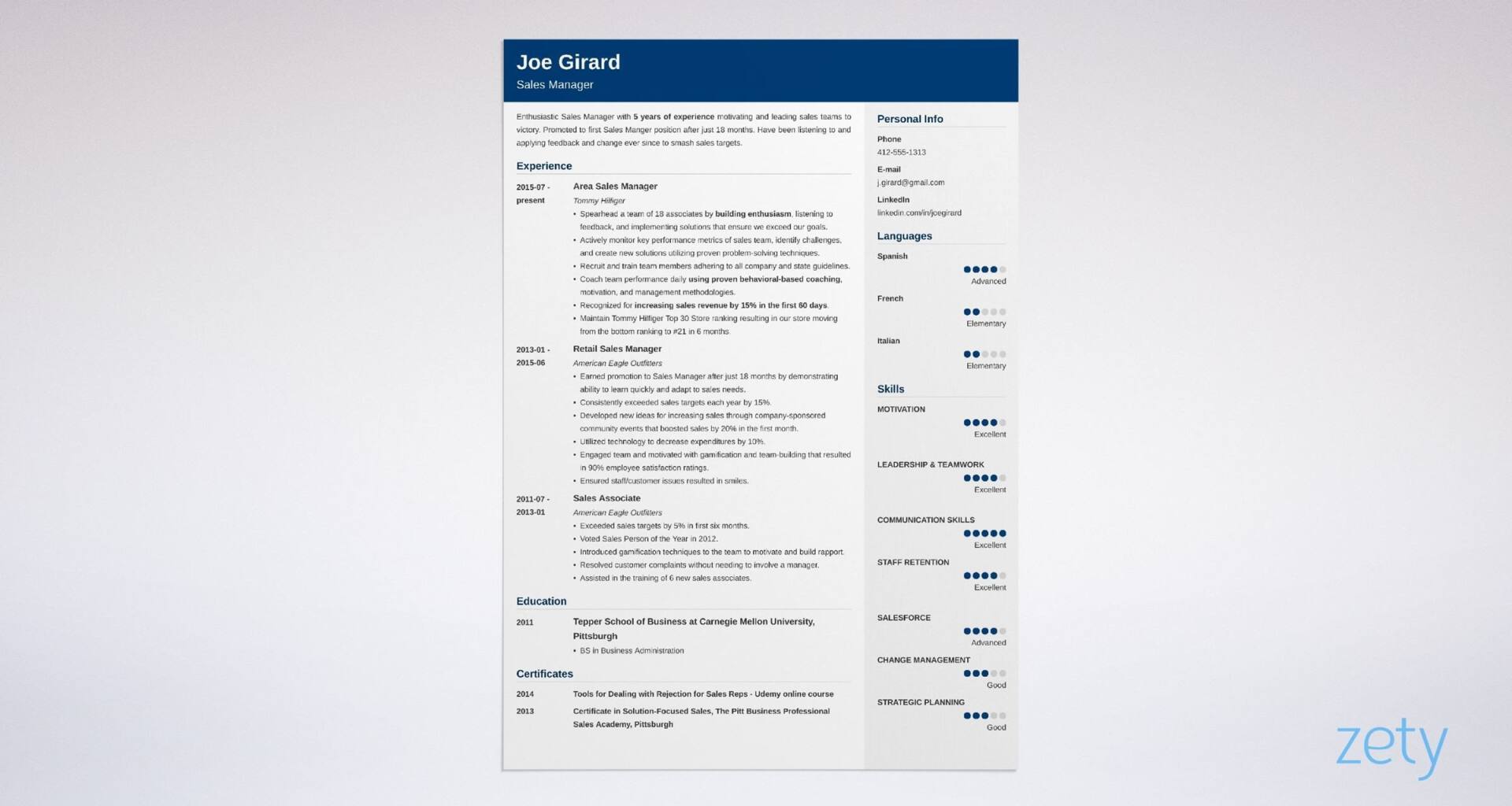 Pro Tip: Match your resume to the company culture. Our resume builder offers a range of styles: from creative to elegant to minimal.
Looking for advice on resume length? Not sure if a one-page resume is better than a two-page resume? Get the ideal resume length with our guide: How Long Should a Resume Be? Ideal Resume Length
2
Write a Sales Manager Resume Objective or Summary
If your resume looks good enough—you'll win 6 seconds of the recruiter's attention. This is how much (or little) time they'll spend scanning your sales manager resume.
The trick is to make your resume riveting. How? By topping it with the choicest opening section. One that will make the other candidates look like they're applying for a job at a lemonade stand. Before we move on, let's take a look at the differences between a resume summary and objective.
A sales manager resume summary is a brief rundown of your relevant experience and key achievements. It's perfect for experienced candidates for sales manager positions.
Take a look at these two automobile sales manager resume summaries:
Sales Manager Resume Summary Statement
right
Enthusiastic Automotive Sales Manager with 5 years of experience motivating and leading sales teams to victory eager to join Car Max. Consistently increased automotive sales over 15% annually. Completed Purdue University training in Lean Manufacturing.
wrong
Experienced Sales Manager seeks a job to use my talents and skills in. I always meet sales goals, and I enjoy leading sales teams.
Here's a quick breakdown of why the good example leaves the bad one far behind:
It starts with your strong character trait.
Shows who you are and specifies your experience.
Addresses the company by name.
Shows what you can offer by mentioning your biggest achievement(s).
And:
Offers numbers wherever possible.
A sales manager resume objective focuses on your skills and shows why you're a perfect fit for the position. It works best for candidates who want to switch careers, step up the career ladder, or get a place at an entry-level sales management training program for freshers.
Whatever your motivation, one thing remains the same: Your sales manager resume objective just can't suck. Here are examples of right and wrong sales manager resume objectives:
Objective for Sales Manager Resume
right
Dedicated business management graduate with a specialization in sales and marketing management. Earned the top sales award during an internship through strong leadership and attention to the need for change. Seeking a challenging entry-level sales manager training program position.
wrong
I am a business management graduate who specialized in sales looking for a sales management position.
The good example focuses on the specific skills the recruiter is after. The ones that show your potential for success in the role of a sales manager.
When making a resume in our builder, drag & drop bullet points, skills, and auto-fill the boring stuff. Spell check? Check. Start building a professional resume template here for free.
When you're done, our easy resume builder will score your resume and our resume checker will tell you exactly how to make it better.
Looking for more examples of salesman resume objectives and resume summaries? Here's a selection of our guides:
3
Make the Most of Every Sales Manager Resume Job Description
Listen: the hiring manager is not looking for a salesman you surely are. They're looking for a leader you have to become. So—let your sales manager resume job description show you're ready to lead and inspire your team.
How to Prepare a Sales Manager Job Description for a Resume
Put your latest position up top. Let the previous one follow it, and so on.
Add your job title, company name, and dates.
Try not to list more than 6 bullet points for each position.
Describe your responsibilities in terms of achievements. Responsibilities + numbers = achievements.
Put numbers where you can. Numbers speak louder than words.
Tailor your resume to the job. Show what you've done that's relevant to this particular position.
Looks like a lot to pay attention to? Fret not. Our resume builder will guide you every step of the way when writing your sales manager resume.
Follow our career experts' pro tips to get every single detail right.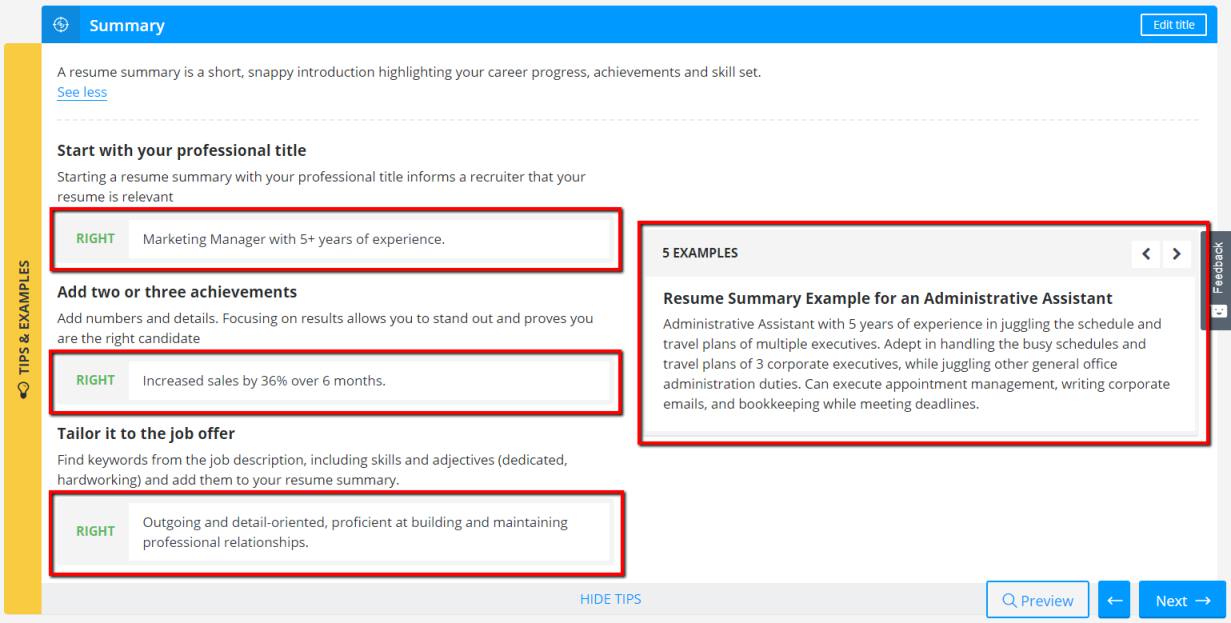 Ready-to-use examples written by HR pros to help you land that job interview. Try our resume builder now.
Now, let's take a look at a sales manager job description from a job ad. All the key skills are underlined:
Sales Manager Responsibilities:
Analyze sales statistics

to define sales potential.

Ensure customer satisfaction

and

resolve customer issues

.

Manage day-to-day performance

of sales team.

Motivate, train, and coach

sales staff while applying feedback.

Build

consistent

lead generation

with the marketing team.

Monitor performance metrics

of sales team and report data.
Remember—your sales manager resume must be more than a laundry list of all the stuff you've ever done. Show the hiring manager you're great at doing what they need you to do. Here's what a tailored sales manager resume job description could look like:
Sales Manager Job Description for a Resume
right
Area Sales Manager
Kaplan Education 2014 – 2016
San Francisco, CA
Spearheaded a team of 12 associates

by building enthusiasm and adapting feedback.
Actively

monitored key performance metrics

of sales team, identified challenges, and created new solutions applying proven problem-solving techniques.

Inspired team performance

daily using proven behavioral-based coaching, motivation, and management methodologies.
Recognized for

increasing sales revenue by 15%

in the first 60 days.
wrong
Area Sales Manager
Kaplan Education 2014 – 2016
San Francisco, CA
Analyzed sales statistics to define sales targets.
Resolved customer issues and ensured client satisfaction.
Recruited high-performing sales staff.

The difference? In the good example, the keywords from the job ad fit into the natural flow of each bullet point. The bad example is nothing more than a copy-pasted job description from the job offer. Ouch.
Even if it manages to fool the ATS, the hiring manager is going to feed their shredder with it. Generic resumes are every shredder's favorite. Now, if you want to move into your first sales manager role, you need to follow the same rules. To cut a long story short:
Customize your experience section to the job description
Focus on the skills the hiring manager is after
Here's what your sales manager job description could read like:
Assistant Sales Manager Job Description—Resume Example
right
Sales Representative
IKEA 2015 – 2017
Cleveland, OH
Introduced gamification techniques to the team to

motivate and build rapport

.

Settled customer complaints

without needing to involve a manager.

Assisted in the training of new sales associates

adapting feedback and adhering to company policies.
Voted

Salesperson of the Year

in 2016.

Led sales team

to

exceed sales targets by 15%

each year.
This sales manager job description proves that this sales rep is ready to inspire their team to succeed.
Remember—you might want to make some parts of your job description stand out more. Use bold to highlight what you're most proud of. You can also underline, add links, and much more. With our resume builder formatting is easy and intuitive.
Sales Manager Resume Sample

Edit the text to direct the recruiter's eyes wherever you desire. Try our resume builder now.
If you're still hungry for more information on how to make a job-winning experience section on your sales manager resume, read our guide: Work Experience on a Resume: Job Description Samples and Tips
4
Put the Right Sales Manager Skills on Your Resume
It's really simple: you'll get the job if your skills are up to par. So—you must make sure everything that makes you stand out from the crowd gets proper exposure on your sales manager resume.
What skills to include on a perfect sales manager resume?
In short, the relevant ones. Take a good look at the job offer you're replying to, and pick out the skills the company is looking for. Got them? Chances are most of them are already in your job description. Yay!
But you can still sprinkle your sales manager resume objective or summary with some more skills. And put the ones you take most pride in a separate key skills section. Remember, though.
Relevance is key. It's not about any skills, it's about the ones that make you a great manager. If you're looking for inspiration, here's a list of some typical key skills for a sales manager resume.
Examples of Sales Manager Skills for Your Resume
Analytical skills
Budgeting
Building relationships
Coaching
Delegation
Managing processes
Market knowledge
Meeting sales goals
Motivation
Negotiation
Problem-solving
Reporting
CRM: Salesforce, Microsoft Dynamics 365, Sugar Sell, HubSpot Sales
Sales planning
Selling to customer needs
Staffing
Strategy
Vision
Pro Tip: Don't go overboard with how many skills you list. Choose up to 7-9 of your top sales manager skills. This way you'll avoid the so-called Presenter's Paradox.
To save space and make your skills section stand out, try moving it to the sidebar on your resume. The good news?
In our resume builder you can move and rearrange the sections easily. Take a look: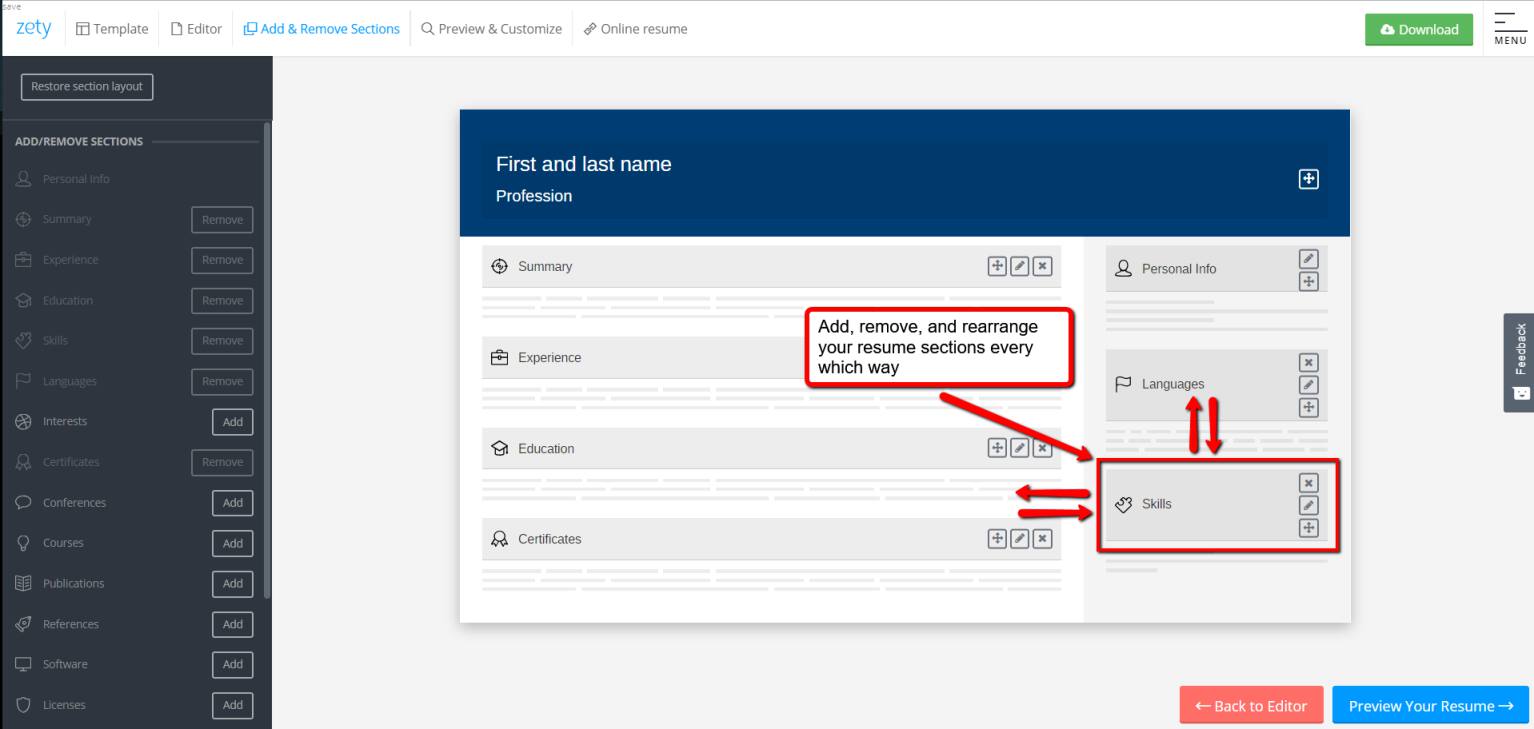 Add, remove, and move around your sales manager resume sections using our builder. Create your resume now.
Looking for more inspiration on the best skills for managers? Here's a guide you may find interesting: Top 10 Management Skills: List & Great Advice (Not Just for Managers)
5
Create an Education Section That Doesn't Undersell You
Here's the thing. You're applying for a managerial position, you can't be green behind the ears. You can omit the entire education section entirely, right? Wrong.


Don't skip any section. Ever. As a seasoned pro, you're free to limit your sales manager resume education section to the necessary minimum, though.
List your:
Degree
Major/minor
School name
Graduation date

Add only your highest degree of education on your resume. There's no need to dive any deeper.
Senior Sales Manager Resume Sample—Education Section
right
2011 BS in Business Administration
Tepper School of Business at Carnegie Mellon University, Pittsburgh, PA


Need more information on how to list education on your resume? Head straight to our guide: Education Resume Section: Examples for Different Scenarios
6
Do Add Other Sections for the Best Sales Manager Resume
At this point, we can easily say your sales manager resume has everything a good resume needs. It's done. Or is it?
Remember—on average, you must beat 250+ candidates. So, let them be the average. For you, it's time to add value. How?
By including extra sections, such as:
Awards
Courses
Conferences
Industry blog
Prove your worth to the hiring manager, show you're a perfect cultural fit ready to drive change!
Not sure what extra sections to add to your sales manager resume? Take a look at our guide: What to Include on a Job-Winning Resume
7
Write a Sales Manager Resume Cover Letter
Yes, it's true: Only half of hiring managers care about cover letters, according to our HR statistics report. But—less than half of candidates send them.
So ask yourself this question—would you rather get the job and overdeliver along the way, or get rejected because you underdelivered Well, let's take it a step further. Would you rather inspire a team of overachievers, or struggle with a bunch of sluggards?
See how it works? A well-written cover letter not only can double your chances but also shows you care. This is what's being tested with the "cover letters optional" blurb in the job ad.
A great cover letter that matches the style of your sales manager resume will give you an edge over the other candidates. Plus, you get the extra change to underline your awesome sales manager skills.
All in all, a great cover letter that matches your resume will give you an advantage over other candidates. You can write it in our cover letter builder here. Here's what it may look like: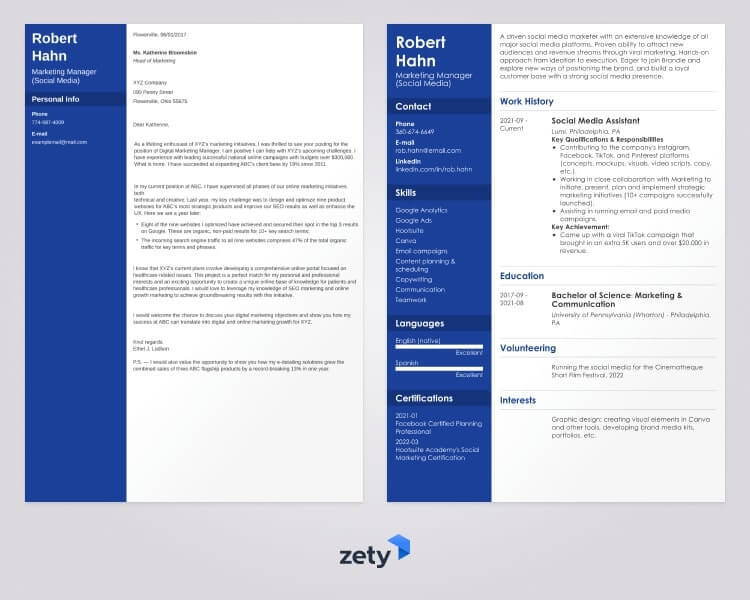 See more cover letter templates and start writing.
Don't know how to go about writing a cover letter? Here's a guide that will help you out: Cover Letter Writing in 8 Simple Steps [Proven Template]
Key Takeaway
Here's a brief summary of the most important points about making a sales manager resume:
Choose an elegant sales manager resume template.
Start with a compelling sales manager resume objective or summary. Show off your skills and key achievements.
Create a relevant sales manager job description for your resume. Focus on your achievements, not responsibilities.
Include additional sections for extra value.
Tailor your resume to a particular job offer. Call the company you're applying to by name in the opening statement.
Are you writing a sales manager resume for the first time? Or perhaps you're a seasoned pro eager to help the rookies out? We'd love to hear from you, leave your comment below!
About Zety's Editorial Process
This article has been reviewed by our editorial team to make sure it follows Zety's editorial guidelines. We're committed to sharing our expertise and giving you trustworthy career advice tailored to your needs. High-quality content is what brings over 40 million readers to our site every year. But we don't stop there. Our team conducts original research to understand the job market better, and we pride ourselves on being quoted by top universities and prime media outlets from around the world.