We're about to write the best sales associate resume, but first:
So, you think you have the salesman skills and experience to work in retail?
Sure you do. The only problem is there are plenty of fish in the sea just like you.
And that means you may not get the chance to show employers you're the best if your sales associate resume sample doesn't sell.
That's why you should treat your retail resume as the product you have to sell. No, scratch that. It's the product you need to sell.
Your sales resume is that sales pitch that will ultimately prove you are the perfect person for that retail sales job.
This guide will show you:
A sales associate resume example better than 9 out of 10 other resumes.
How to write a sales associate resume that will land you more interviews.
Tips and examples of how to put skills and achievements on a sales associate resume.
How to describe your experience on a resume for a sales associate to get any job you want.
Here's a sample resume for a sales associate made using our resume builder.
Want to save time and have your resume ready in 5 minutes? Try our resume builder. It's fast and easy to use. Plus, you'll get tips and right vs. wrong examples while writing your resume. See +20 resume templates and create your resume here.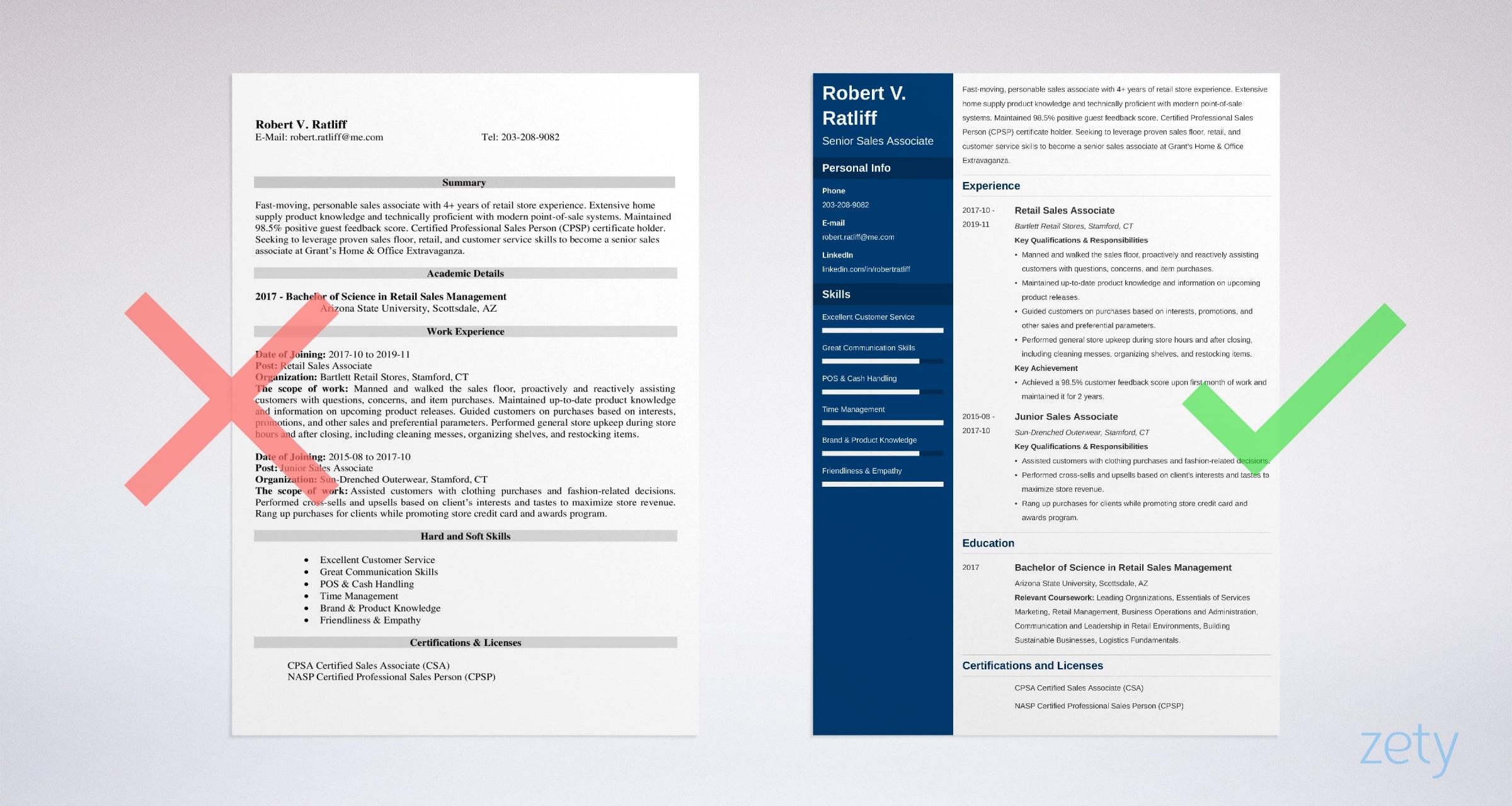 Sales Associate Resume Examples - See more templates and create your resume here.
1
What's the Best Format for a Sales Associate Resume?
Would you go around trying to sell a Chevrolet Camaro wearing sandals and shorts?
Not if you wanted to be taken seriously.
That's why you should choose the right format for your retail associate resume. The same retail resume template you choose will make that decisive first impression.
You want the right clothing for the right product, right?

Say hello to the reverse-chronological resume format.
It's standard and easy to read-through. It places emphasis on your work history and experience.
Hiring managers can scan it. They'll know where key elements are. And will see straight away that it's complete. In fact, even robots or Applicant Tracking Systems (ATS) can read it.
The list starts with your most recent work. And your other jobs follow in reverse order. So you'll be showing yourself off in your best light.
To stand out, you'll want to make your experience and skills shine.
Want to make sure your resume will hook every recruiter and get you that interview? Get our free checklist and learn what makes a job-winning resume: 46 Things You Need To Do Before You Send Your Resume.
Still not sure what format you want for your retail associate resume? Read our guide: "3 Resume Formats: How to Choose the Best One [Examples]"
2
Contact Information Is Not as Basic as It Seems
You'll want to start your resume for sales associate with the usual information:
Your Name
An Updated Phone Number
A Professional Email Address
Most people are happy to use free email accounts from providers like Gmail. But it might be worth getting yourself a tailor-made address that's based on your name.
One that doesn't include the service provider's name.
The advantage of doing so is twofold:
It'll make you look more professional.
It'll be simpler and more memorable.
| Right | Wrong |
| --- | --- |
| john@johnsmith.com | johnsmith@bitinternet.com |
| johnsmith@gmail.com | longjohnsilver@hotmail.com |
Want to know what else to put on your sales resume? We've got you covered! Read our guide: "What to Put on a Resume to Make it Perfect [Tips & Examples]"
3
How to Write a Sales Associate Resume Objective or Summary
The opening line to a novel is important. It sets the tone for the rest of the book. And it's very similar when writing your retail sales resume sample.
If you are a recent graduate or career changer with no experience in retail sales, you'll need to write a sales resume objective.

What is a Sales Associate Resume Objective?
Resume objectives are short, targeted statements at the beginning of your resume.
Your salesman resume objective should reflect what you have already achieved outside of retail. It will spell out why this experience is relevant by highlighting specific accomplishments.
Resume Objective:
Right
Graduate from the University of Leeds with a BA in English. A passion for sales has led to work experience at London's leading advertising agencies M&C, Saatchi, and BBH. Raised over £20,000 for charity with a sponsored marathon while at university.
Wrong
Graduate from the University of Leeds with a BA in English. Looking to apply my persuasive ability with words to the realms of marketing and sales. Hardworking, conscientious individual whose passion for marketing and sales knows no bounds.
What is a Sales Associate Resume Summary?


A resume summary is a few lines at the beginning of your resume. This will include work experience that matches the retail sales job description.
It should focus on tangible results rather than a list of qualities.
Resume summary:
Right
Sales Associate experienced in both print and online media having worked in this sector for five years. Have exceeded annual sales targets by at least 7% every year. And have maintained a customer retention rate of 80% year on year.
Wrong
Experienced Sales Associate for both print and online media - having worked in this sector for five years. Dedicated and willing to to take short lunches at my desk or on the move, and putting in long hours when required to. Am a reliable, enthusiastic, pro-active and energetic team player.
Our resume builder (you can create your resume here) will give you tips and examples on how to write your resume summary or any other section. You can easily copy them straight into your resume - it will save you a ton of time.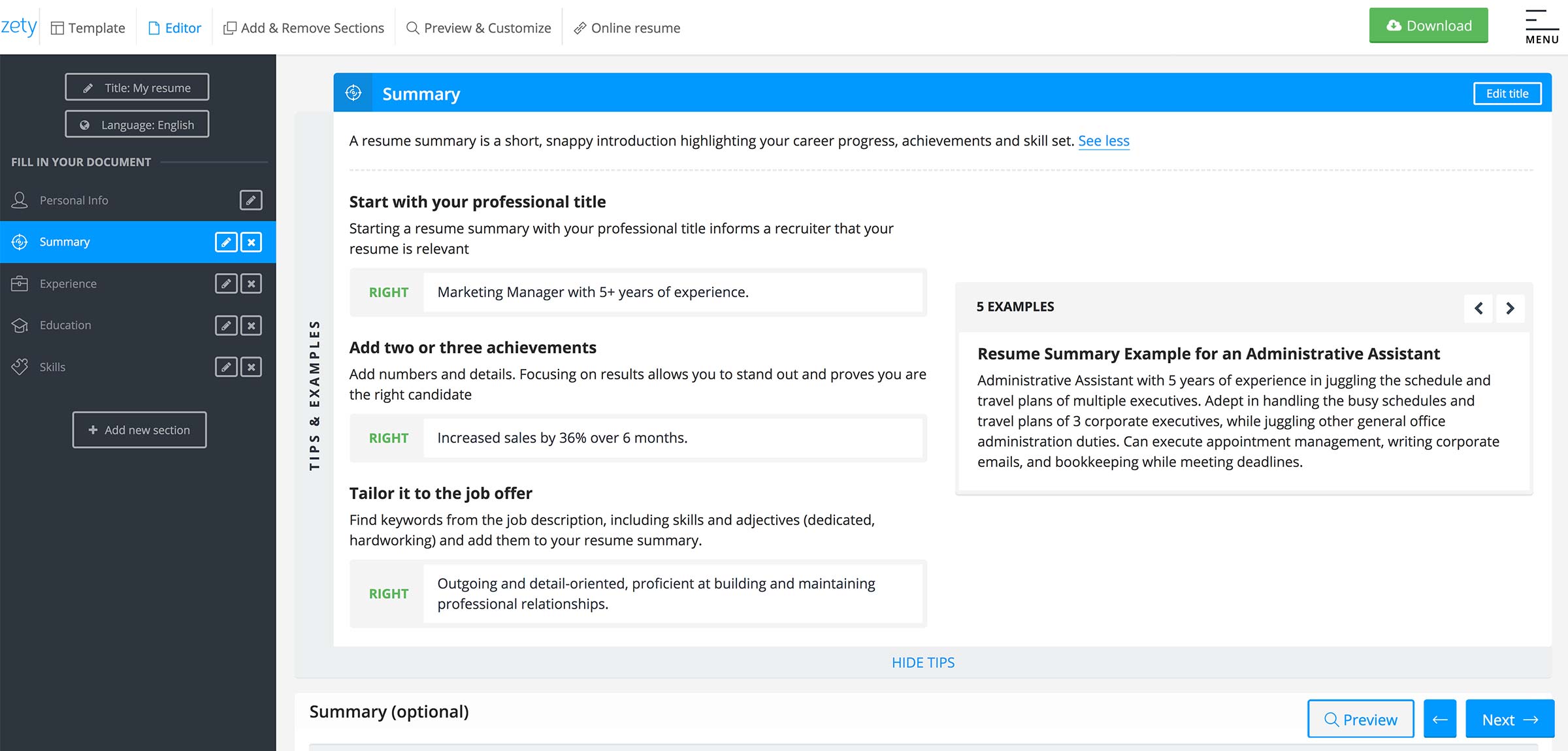 Inside Zety's resume builder you will find tips and examples for your resume.
Want to see more examples of sales person resume objectives and resume summaries? Read our guides: "How to Write a Resume Summary: 21 Best Examples You Will See" and "+20 Resume Objectives Examples - Use Them on Your Resume (Tips)"
4
How to Describe Your Sales Associate Experience
What is a sales associate, and what experience is the hiring manager looking for?

That depends on the retail sales associate job description.

Start with your most recent job first and list up to six responsibilities under each job. Then tailor those responsibilities to the sales associate job description.
Back up everything you put on your retail associate resume with impressive examples. And by this we mean significant achievements rather than routine duties and responsibilities of a sales associate.
Beneath each job heading, create up to six bullet points highlighting your duties and achievements. Employers want to see how your efforts affect a company's business.
Clothing Store Sales Associate Resume Work History Sample:
Sales Associate October 2013 - Present
Upscale Retail
Exceeded sales target for the year by 26%.
Attained 87% customer satisfaction in year one, and 92% in year two.
Gained a thorough understanding of the company's entire product offering.
Managed to upsell products by focusing on customers' past purchases.
Resolved 90% of customer complaints with one telephone conversation.
The average sales associate salary is $9.75, and it's field sales that drive the wages up.
Tips for How to Write an Experience Section for a Retail Resume
Did you do anything that resulted in saving money?
Did you do anything that resulted in earning money?
Did you exceed sales targets?
Did you exceed customer satisfaction targets?
Did your boss ever praise you for doing something well?
Did you train anyone?
Action Verbs You Can Use to Highlight Sales Associate Resume Duties and Responsibilities:
Motivate
Establish
Plan
Organize
Present
Resolve
Think outside of the box - there are a lot of common responsibilities and duties of a retail sales associate, a customer service associate and a cashier.
If you want to stand out, make sure that your retail resume for a sales associate has special skills that prove your impact.
Pro Tip: Sales Associates must be in constant contact with people. So, it's best if you have an outgoing, energetic personality. Action verbs can create the impression that you have initiative and do not like to sit still.
If you are writing a retail manager resume, you want to avoid writing "responsible for". Try these action words:
Spearheaded
Authorized
Delegated
Trained
Directed
They will definetly put your retail management resume heads and shoulders above your competition.
To learn more about action words for a retail resume, take a look at: "+80 Examples of Resume Power Words for Every Profession"
5
Is Your Education Section Underperforming? It Might Be
You don't need to have a high school diploma or university degree for sales associate jobs.
But many employers will warm to candidates that can show that they have an academic track record.
That's especially true if you have a degree in business and are applying for a business-to-business (B2B) sales associate role.
It's not so true if you're applying for a role in business-to-consumer (B2C) sales or retail sales.
Here a lack of a degree won't matter in the least.
But let's say you have finished high school.
Here's an example of a high school education on a sales associate resume:
Centreville High School, Centreville, MI
Graduated in 2010
Let's say that you went to college, but you didnt finish your degree. You can still put that on your resume.
Example of unfinished higher education on a sales associate resume:
Michigan State University, East Lansing, MI
2010 - 2012 Completed 60 credits toward a BBA
In the technical or scientific sectors, a degree in relevant subjects will also help. As would a degree in business or economics if you were entering the world of insurance sales.
Regardless, start your education section by highlighting your highest educational attainment first.
And make sure you list the name of your school, your degree, your major, and the year you graduated. It isn't necessary to include your GPA unless it's impressive and recent.
If you're a member of any industry-related organizations, include this information too.
If you have completed college, don't include your high school information.
Example of higher education on a sales associate resume:
BA in History - 2012
University of California at Los Angeles (UCLA)
3.5 GPA
Want more examples of how to put your education on a sales resume? Read our guide: "How to Put Your Education on a Resume [Tips & Examples]"
6
How to Put Sales Associate Skills on a Resume
Before you start listing your skills on your resume, take a good look at the retail sales associate job description.

What is a sales associate, what are the duties and responsibilities?
Make sure that you match the employer's requirements with your own qualifications.
Sales Resume Examples of Soft Skills :
Organization:
Keeping track of frequent customers.
Following company procedures.
Locating documentation and inventory.
Following the company's system for filing paperwork.
Customer Service :
Asking the right questions to instil confidence in your customers.
Anticipating customers' needs.
Listening
Communication and Relationship Building:
Speaking about products and services.
Being amiable, friendly, and relaxed.
Projecting confidence.
Putting customers at ease.
Literacy:
Calculating prices.
Understanding and writing memos and contact letters.
Problem Solving:
Understanding which solutions best meet customers' needs.
Patience:
Listening to customers' concerns.
Determining the real issues.
Reviewing information with clients.
Taking your time to make useful and constructive suggestions.
Hard skills are easier to pin down. They should include skills in Microsoft Office. And if you use PowerPoint, include this too. The more familiar you are with web-based technologies the better.
List those retail skills that are on the salesman jobs description first. Then continue to wow them with any extra IT skills you can bring to the party.
How to Quantify Your Retail Sales Associate Resume Skills:
| Right | Wrong |
| --- | --- |
| Proficient in Microsoft Office and PowerPoint. | Excellent IT skills. |
| Good listener and articulate speaker. Was involved with a debating society at college. | Good communicator. |
When making your retail resume, remember to go over
Want more salesman skills for your retail resume? Not sure which skills are best? Read our guide: "+30 Best Examples of What Skills to Put on a Resume (Proven Tips)"
7
How to Add Other Sections for an Effective Resume
If you have other experiences outside work, it may be worth including them on your retail resume.
You may, for instance, have helped out in a charity shop or a library and served the general public.
You might have done the accounts for a local charity. Or you may have been a member of a reading group or amateur dramatics society that required you to perform.
All these activities rely on qualities that are relevant for a role in sales.
How to present this on a sample sales resume:
You can add another section to your retail salesman resume with a simple title like Other Experience.
If you're making an entry-level sales associate resume, you can put this information in your experience section.
Then you will need to add:
Your Job Title
Name of the Company
A Brief Description of Duties
Use a title that explains exactly what you did.
For example:
Volunteer Sales Assistant
Check that you didn't sign any non-disclosure documents with these organizations.
If you have, don't disclose the name of the company. Instead, use a generic description of the nature of the business.
Add each company as a bullet point and describe your role within it.
For example:
Volunteer Sales Associate 2012-13 - Oxfam, Hampstead, London.
Served the general public. Operated the till. And created in-house posters to encourage the public to donate unwanted clothes.
Volunteer librarian for community library 2011-12 - Muswell Hill, London.
Catalogued books. Answered enquiries from the general public in person and by telephone. And set up several social media accounts.
Pro Tip: If you have hobbies and interests, they may be worth including at the end of your sales resume.
Not sure which of your hobbies and interests you should include? Read our guide: "+20 Best Examples of Hobbies & Interests To Put on a Resume (5 Tips)"
8
Here's the Most Common Myth About Cover Letters
Some will say that a cover letter isn't necessary and that 54% of employers don't read them. But there are still an awful lot of employers out there who do.
And it's a simple fact that a great cover letter can make all the difference for even an entry-level sales associate resume.
As an example, here's a great cover letter by a young guy called Robert Pirosh who dreamt of writing movies back in 1934.
So he wrote this cover letter to the head of MGM Studios in Hollywood:
Dear Sir,
I like words. I like fat buttery words, such as ooze, glutinous, toady. I like solemn, angular, creaky words, such as straitlaced, cantankerous, pecunious, valedictory. I like spurious, black-is-white words, such as mortician, liquidate, tonsorial, demi-monde. I like suave "v" words, such as Svengali, svelte, bravura, verve. I like crunchy, brittle, crackly words, such as splinter, grapple, jostle, crusty. I like sullen, crabbed, scowling words, such as skulk, glower, scabby, churl. I like Oh-Heavens, my-gracious, land's-sake words, such as tricksy, tucker, genteel, horrid. I like elegant, flowery words, such as estivate, peregrinate, elysium, halcyon. I like wormy, squirmy, mealy words, such as crawl, blubber, squeal, drip. I like sniggly, chuckling words, such as cowlick, gurgle, bubble and burp.
I like the word screenwriter better than copywriter, so I decided to quit my job in a New York advertising agency and try my luck in Hollywood. But before taking the plunge I went to Europe for a year of study, contemplation and horsing around.
I have just returned and I still like words. May I have a few with you?
Robert Pirosh
Okay, so this is a very clever letter. And of course your retail cover letter will be different.
But cover letters can add so much to your applications. Robert's demonstrates what he was so good at, and so passionate about:
Words.
His cover letter not only got him an interview; it got him a job. And he went on to become one of Hollywood's greatest screenwriters.
Dos and Don'ts for Your Retail Sales Associate Resume Cover Letter
A cover letter is always a nice touch and gives you an opportunity to be less formal and more personal.
Aim to be conversational in tone, but don't ramble. Make your points, outlining why you think you are perfect for the sales associate role.
Don't make outlandish claims or oversell yourself. You'll look like you're being arrogant or desperate. Possibly both.
But feel free to use humour - even if it's self-deprecating. If you manage to raise a smile, you won't be forgotten in a hurry.
From your employer's point of view, a sales associate who can make his customers smile is worth his weight in gold.
Plus, a great cover letter that matches your resume will give you an advantage over other candidates. You can write it in our cover letter builder here. Here's what it may look like: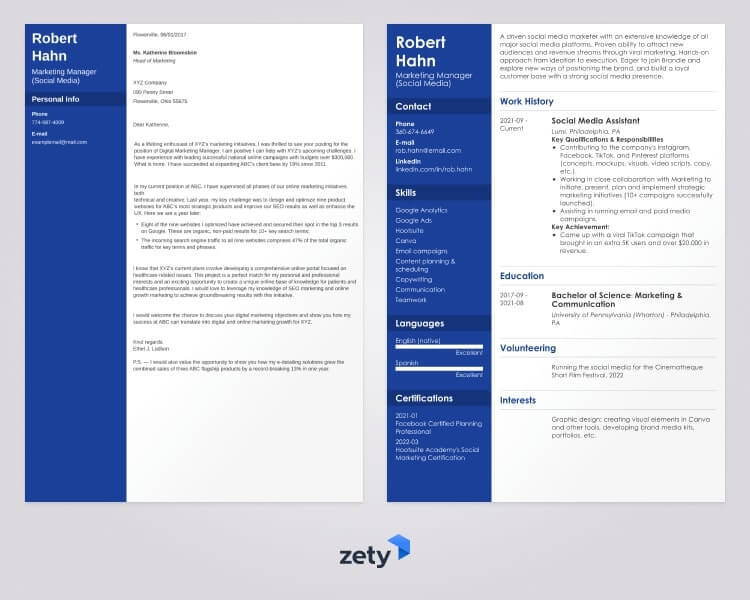 See more cover letter templates and start writing.
Stuck in a rut and can't write your Kmart sales associate cover letter? Have no worries. We'll help you off the starting blocks with a guide: "How To Write A Cover Letter [Complete Guide With Examples]"
Key Takeaway
Writing a cracking resume for a sales associate position isn't as difficult or as daunting as it may first seem.
All you need is a guiding hand, a healthy dollop of common-sense and a sensational retail resume template.
Here's a reminder of our useful and practical steps:
Use a reverse-chronological resume format for your resume for sales associate.
Don't forget to update your contact details. You can write the most dazzling resume in the history of civilization. But without your contact details, it's worth diddly-squat.
Include an objective for a sales associate resume or write a summary statement.
Highlight your most tangible and impressive duties and achievements in your experience section.
Tailor your experience and skills to the store associate job description.
Highlight your skills on your salesperson resume. Explain how you've used them. And then outline their impact.
Proofread your resume and send it with a customized cover letter.
Do you have any questions on how to make a sales associate resume? Give us a shout in the comments section!