Grocery Store Resume Example, Skills & Tips (+No Experience)
You know how to store, display, and sell virtually everything—or you're ready to learn. Prove there's no one better for the job with a freshly picked grocery store resume.
Groceries are a universal necessity, and employers need to shop around for new hires with the right skillset all the time. So how can you make them pick up your grocery store resume from the shelf?
Simple: elegant packaging, good value, with all the right parts and ingredients. Never made a resume that checked all those boxes? No worries—you're about to learn.
This guide will show you:
A grocery store resume example better than 9 out of 10 other resumes.
How to write a grocery store resume that will land you more interviews.
Tips and examples of how to put skills and achievements on a grocery store resume.
How to describe your experience on a resume for a grocery store to get hired faster than ever before.
Want to save time and have your resume ready in 5 minutes? Try our resume builder. It's fast and easy to use. Plus, you'll get ready-made content to add with one click. See 20+ resume templates and create your resume here.
Sample resume made with our builder—See more resume examples here.
Looking for similar positions (and their respective guides)? We've got you covered:
Grocery Store Clerk Resume Example
Melissa J. Eastin
Grocery Store Clerk
906-513-1032
melissaeastin@email.com
Resume Summary
Diligent grocery store clerk with 2 years of experience. Joined Maskom at 16 y.o. and became the youngest employee in company history to receive promotion for excellent service. Assisted roughly 750 clients daily in a busy store. Maintained a pleasant atmosphere and clean store floor of over 10,000 square feet with zero accidents. Seeking to provide perfect customer service and product knowledge to YourStore's clients.
Work Experience
Grocery Store Clerk
Maskom Ltd., Green Peaks, AZ
March 2019–February 2022
Key Qualifications & Responsibilities
Managed the stocking and cleaning of shelves while advising hundreds of customers daily.
Operated cash register with high accuracy and speed, with a 96% incident-free record.
Balanced transactions at end-of-day for cash reconciliation and inventory management purposes.
Placed purchase orders for items in the dairy and meats section on a weekly basis.
Cooperated with a team of 9–17 (depending on shift) coworkers to create a pleasant atmosphere in the store, resulting in a +0.4 rating on Google Maps over 2 years.
Key Achievement:
Spearheaded the idea of creating temporary merchandise displays, which saw quarterly gains of new customers rise by 4% over 5 consecutive quarters.
Education
Saint Martin College
Major: Universal Psychology
Minors: Social Studies, Business Administration
GPA: 3.8
Expected Graduation: July 2023
Academic Achievements:
Voted "Most Helpful Freshman" in 2019.
Made Dean's list twice.
Graham Brown High School
Graduated: August 2019
GPA: 3.6
Key Skills
Cash register operation
Merchandise display
Friendly & helpful attitude
Inventory management
Stocking & loading
Teamwork
Communication skills
Volunteer Work
Event Administrator during Red Cross's "Give it your All!" initiative in Winter 2015/16.
Foreign Language Skills
Spanish: Proficient
French: Intermediate
You've seen the sample, now it's time to write a grocery store resume of your own:
1. Choose the Best Format for Your Grocery Store Resume
Grocery store employees stock shelves, advise shoppers and ensure the overall client experience is positive. Regardless of your position, the goal of writing a grocery store resume is to show you're capable of providing professional customer service and that you can be trusted with handling cash and physical goods.
To do that, your resume needs to look and feel sweeter than a beautiful, ripe apple. Hiring managers may not be fruit pickers, but they for sure are picky. Fail to satisfy them and your resume lands in the waste produce basket.
Follow these resume formatting guidelines for a resume layout that's one big green flag:
Include your contact information in your resume, including your job title, phone, and email. A professional-looking resume header is the perfect place to display those.
Stick to the reverse-chronological resume format—recruiters prefer it, ATS resume software prefers it, and you should prefer it, too, since it's the best choice for showing off your biggest achievements.
Use white space and headings to make your resume easy to read. Setting 1–1.15 line spacing is a good idea, too.
Choose a professional resume font for an even better impression.
Set even margins around your resume, ideally 1-inch.
Don't go over the recommended resume length of one page. Two-page resumes are only an option for candidates with lots of experience applying for managerial positions—and even then, the second page may be overkill.
Read more: Ready-Made Modern Resume Templates to Fill In
2. Write a Grocery Store Resume Objective or Summary
You know how each store has a distinct color scheme, branding, logo, all that jazz? It lets you know where you are, and what you can expect upon walking inside.
Resumes kind of share that function too, and it comes in the form of a resume profile.
Essentially, it's an introductory statement used to capture the manager's attention. There are two types of profiles: objectives and summaries.
Write an eye-catching resume summary if you have 2+ years of relevant experience. Include an impressive achievement or two from your career so far to really stand out from the competition. Add a promise to achieve something useful for the new company (like maintain 100% customer satisfaction, for instance), and you're golden.
If you're writing a grocery store resume with no experience or you're changing careers, opt for a resume objective instead. Focus on the transferable skills you bring to the table and why they make you a perfect fit, capable of aptly meeting the store's needs.
Read more: Best Examples of Resume Opening Statements
3. Prepare a Grocery Job Description Section
Grocery store employees are at some of the highest risk of job loss due to the ever-progressing automation. It's up to you to prove you're an irreplaceable team member for years to come, and the work history section of your resume is your best bet at this stage.
Here's how to describe your work experience on your resume for maximum impact:
Read more: Cashier Job Description for a Resume: Examples & Guide
4. Mention Your Educational Background on a Grocery Store Resume
Lots of people ignore their education when composing their resume. And basically, that's like passing by the freshest produce just to dig into the past-due stuff.
The resume education section won't get you hired all on its own, that much should be clear. But don't underestimate it—it could easily turn out to be the ace up your sleeve.
For seasoned grocery store veterans, all you need to do is mention your highest obtained degree (be it from college or high school), the name of the school, and when you graduated.
If you don't have much experience, opt for more detail to show off your skills in a different way and fill in the gaps. Extracurricular activities can show interpersonal, teamwork, communication, and leadership skills (depending on the activity in question), while a high GPA on a resume proves you're a quick learner.
Read more: How to Put Your College Degree on a Resume: Examples
When making a resume in our builder, drag & drop bullet points, skills, and auto-fill the boring stuff. Spell check? Check. Start building a professional resume template here for free.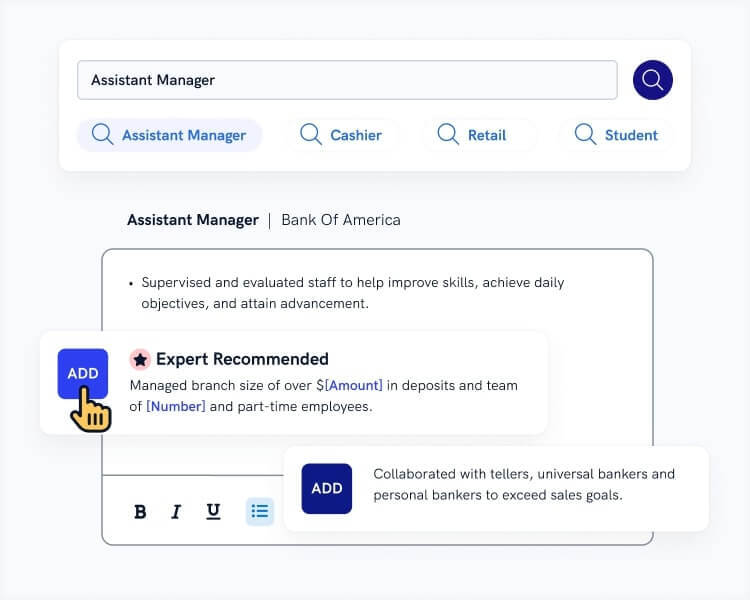 When you're done, our online resume builder will score your resume and our resume checker will tell you exactly how to make it better.
5. Include a Tailored Skills Section on Your Grocery Store Resume
The skills you claim to possess need to look like a pallet jack full of the right product. All loaded up, in one place, ready to pick up and put in the proper space.
However, if you overload it, it's just going to break under its own weight. A bloated skills section on a resume is often unrealistic, and employers know.
Here's what to do instead:
Create a list of all of your skills. Don't filter it just yet: just write down every skill of yours that you can think of.
Look to the requirements presented in the job ad. There, you'll find mentions of the skills the employer is looking for.
The matching pairs that you find between the posting and your own list are thebest skill keywords for your resume (which you need to beat the company's Applicant Tracking System). Pick up to 10, and you're done!
Here's a list of skills to get you started:
Grocery Store Resume Skills
Food Safety Procedures
Packing & Unpacking
Stocking
Unloading Deliveries
Inventory Management Skills
Responsibility
Perseverance
Store Floor Sanitization
Math Skills
Physical Fitness
Pallet Jack Operation
Read more: List of Best Cashier Skills to Put on a Resume
6. Add Extra Sections to Your Grocery Store Resume
A store that never does extra deals or discounts gets written off as a boring establishment that doesn't cater to customer needs. Hey, it may not be fair, but it's just the way the world can be sometimes.
Likewise, unless you try to spice up your resume, it won't get far. Give it an extra kick with some additional elements, such as:
None of these sections are mandatory, but they can go a long way towards making you stand out from the crowd. Just make sure that everything you include is somehow relevant to the job.
Read more: What to Put on a Resume: Full Guide with Examples
7. Include a Cover Letter with Your Grocery Store Resume
Not writing a cover letter saves you time, for sure.
It also wastes the opportunity of you getting hired. You need a cover letter. Not every recruiter reads cover letters, but some won't even consider your job application without one. Is it worth taking the risk?
It really isn't, assuming you genuinely want the job.
So, let's get to it. Here's how to write a cover letter for grocery store jobs:
Format your cover letter properly first.
Then, get your reader hooked in an engaging cover letter opening.
Elaborate on what makes that store in particular the one for you and how you are the one for them. Also, use the body of your cover letter to shine the light on more of your (preferably numbered) achievements.
End your cover letter with a call to action and a post-script. Both of these tend to stick in recruiters' memories for far longer.
Wasn't so bad, right? Keep an eye on your cover letter length: 3–4 paragraphs will be enough.
Plus, a great cover letter that matches your resume will give you an advantage over other candidates. You can write it in our cover letter builder here. Here's what it may look like: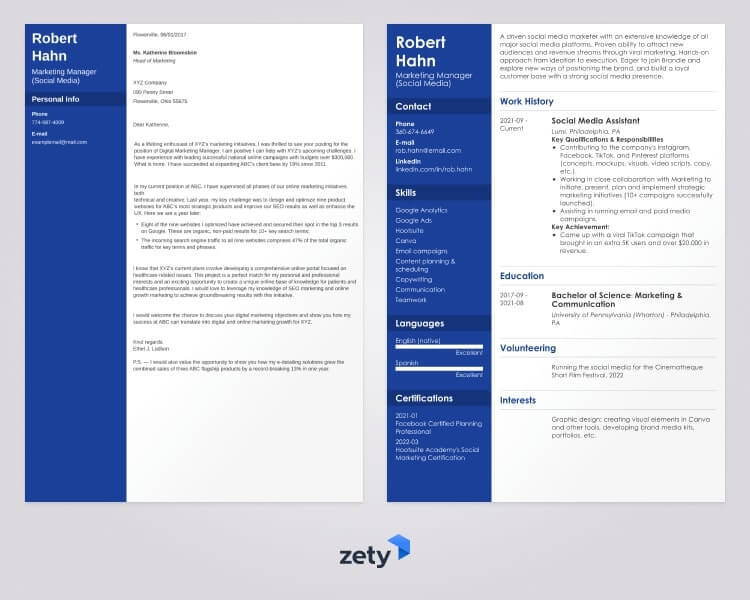 See more cover letter templates and start writing.
And that's it! Best of luck with your application!
Thanks for reading. Do you have any unanswered questions about how to write a resume for grocery store jobs? Perhaps you have some tips of your own to share? Let us know in the comments, we're always here to chat!
About Zety's Editorial Process
This article has been reviewed by our editorial team to make sure it follows Zety's editorial guidelines. We're committed to sharing our expertise and giving you trustworthy career advice tailored to your needs. High-quality content is what brings over 40 million readers to our site every year. But we don't stop there. Our team conducts original research to understand the job market better, and we pride ourselves on being quoted by top universities and prime media outlets from around the world.