You're one quick scroll-down away from seeing a pitch-perfect store manager resume sample. Better than that? You're a 5-minute read away from learning how to write one yourself.
A professional store manager resume (that lands jobs) has to prove that you're great at hiring, monitoring sales KPIs, resolving peer problems, training employees, and helping them reach their professional potential. All that while still working the sales floor. Seems impossible? It's easier than you think.
In this guide, you'll see:
A store manager resume sample better than 9 out of 10 other resumes.
How to write a retail manager resume even if you have no experience.
Tips and examples of how to put skills and achievements on a store manager resume.
How to describe your experience on a shop manager resume to get any job you want.
Want to save time and have your resume ready in 5 minutes? Try our resume builder. It's fast and easy to use. Plus, you'll get ready-made content to add with one click. See 20+ resume templates and create your resume here.
Sample resume made with our builder—See more resume samples here.
Targeting other positions in sales and retail?
Check out these dedicated guides:
Need general advice on writing a resume for managerial positions? See:
Store Manager Resume Example
Clarice Morgan
Store Manager
(123) 456-7890
claricemorgan@email.com
linkedin.com/in/claricemorgan
Summary
Skilled Store Manager with over 10 years of experience in the retail industry. Eager to leverage leadership and customer relationship skills to increase profitability and growth as the Store Manager at PrimeMart Superstore. Increased sales at Trendy Style Boutique by 40% over a two-year period. Achieved this number by conducting extensive research on customer preferences and building our catalog accordingly.
Experience
Store Manager
Trendy Style Boutique, Arlington, VA
April 2015–Present
Key Qualifications & Responsibilities
Implemented a customer service initiative that increased repeat business by 20%.
Oversaw a team of 15 employees, providing training and performance evaluations.
Managed inventory and supply orders.
Researched market trends to discover which products are in high demand.
Key Achievement:
Increased sales by 40% over two years by conducting extensive research on customer preferences.
Assistant Store Manager
Mega Mart Retail Center, Arlington, VA
January 2013–March 2015
Key Qualifications & Responsibilities
Assisted with the management of retail operations.
Supervised sales associates, ensuring customer satisfaction.
Assisted with inventory control and loss prevention.
Key Achievement:
Improved loss prevention strategies, resulting in a 25% reduction in shrinkage.
Education
Bachelor of Science in Business Management
University of Virginia, Charlottesville, VA
August 2009–May 2012
Relevant extracurricular activities
Member, Future Business Leaders of America
Volunteer, Local Food Bank
Academic achievements
Skills
Leadership
Customer Service
Inventory Management
Staff Training & Development
Sales Growth
Loss Prevention
Conflict Resolution
MS Office proficient
Certifications
Certified Retail Store Manager, National Retail Federation, 2015
Awards
2017, Store Manager of the Year, Trendy Style Boutique
Memberships
Member of the National Retail Federation since 2015
Presented at the 2018 NRF Conference on Effective Loss Prevention Strategies.
Languages
English—Native
Spanish—Intermediate
Interests
Running a leadership book club (50+ members).
Volunteering at the local animal shelter.
1
What's the Best Store Manager Resume Format?
Consider this:
Our HR statistics report shows recruiters spend just 7 seconds on every resume they get.
They don't read the whole thing. They skim it to find specific information.
So—
You have to make it easy for recruiters to spot all most relevant details on your professional store manager resume in a flash.
How?
Write your resume in the respected reverse-chronological resume format. Recruiters are familiar with it so they'll know where to look for what they need.
Plus, it focuses on the peak of your career—your current or most recent job will get the most attention.
Here's what to include in a good reverse-chronological store manager resume, from top to bottom.
Store Manager Resume Template
Contact information
Resume objective or summary
Work experience in reverse-chronological order
Education
Skills
Additional Sections (Certifications, Awards, Volunteer Experience, or Hobbies and Interests)
Pro Tip: Once you're done writing your professional resume for retail management positions, save it in PDF. This way, you'll keep your resume layout intact. Just remember to double-check with the job description if the company accepts PDF. If not—send your store manager resume in DOC.
Need more information on formatting your resume? Read: Resume Format: How to Choose the Best One
2
Store Manager Resume Objective or Summary?
Remember those 6 seconds of a recruiter's attention an average resume gets?
Exactly. An average one. And guess what?
There's a way you can make them read yours in full.
What way exactly?
Begin your retail manager resume with a short and sweet paragraph just below your contact information—it will be either a resume summary or a resume objective. Briefly explain what makes you the perfect candidate for this job.
Which one to choose?
If you've got relevant experience, use a store manager resume summary. Give an outline of your career and list your top achievements.
Writing an assistant store manager resume for your first managerial position? Switching careers? Go for a store manager resume objective. Discuss the skills you've mastered so far and how well you'd fit in.
Either one you write, remember about one crucial thing—
Every modern store manager resume summary or objective has to focus on what benefits your employer will get out of hiring you. Not how much you want the job.
Alright, let's see how good summaries or objectives for a retail manager resume work in practice. Check out the examples below.
Let's begin with summaries.
Retail Store Manager Resume Example—Resume Summary
right
Goal-oriented retail and online store manager with over 7 years of experience in growing top line sales and supervising e-commerce, seeking to leverage outstanding skills in sales coaching, web sales, and networking with key clients to help XYZ reach all your primary sales goals. Increased ABC's Florida online sales by 241% in 2017 through piloting of micro-sites.
wrong
Experienced retail and online store manager with well-developed set of sales skills seeking to join a retail store where I could excel in my everyday tasks and responsibilities.
See the difference?
The first store manager resume summary example lists verifiable, quantified achievements. Plus, it makes an offer the hiring manager won't want to refuse.
The second example? Could it be any more generic? (I know you read it in Chandler Bing's voice!)
Now let's compare two very different retail manager objective examples.
Retail Clothing Store Manager Resume Example—Resume Objective
RIGHT
Hard-working retail associate, skilled in POS tech and inventory management seeking to increase sales and customer loyalty as the new Assistant Store Manager at Chiller Outfitters. Devised and implemented a new control system for Tommy Hilfiger NYC which reduced shrink results from 4.1% to 1.65% within one year.
Wow, right? This guy's surely ready for new, managerial challenges!
WRONG
Successful retail associate looking to join a company for my first position as retail assistant manager. Skilled in all areas of sales, leadership, and management.
Again, perhaps not awful, but it lists no hard data and makes no irresistible offer. Every recruiter would just yawn and move on to the next of the 300 resumes on their desk.
Pro Tip: In every store manager resume summary or objective you write, address the company by name and indicate the position you're targeting. That means you cannot send the same store management resume for every application. And that's the point. Personalization works wonders!
When making a resume in our builder, drag & drop bullet points, skills, and auto-fill the boring stuff. Spell check? Check. Start building a professional resume template here for free.
When you're done, our easy resume builder will score your resume and our resume checker will tell you exactly how to make it better.
Writing the perfect store manager resume summary or objective can be tricky. For more expert tips and real-life examples, check out our handy guides: How to Write a Resume Summary and How to Write a Resume Objective.
3
How to Write Your Store Manager Resume Job Description?
Description of your previous positions is what matters most for recruiters and hiring managers.
The thing is—they don't want to read about what you did in previous jobs. That's pretty much summed up in your job title. They want to know how well you did it.
So—
In your store manager resume job description, don't just list your duties and responsibilities. Focus on accomplishments instead.
Here's how:
How to Write the Best Store Manager Resume Job Description
Start with your current or most recent job.
Follow it with your previous position and the one before that, and so on.
Underneath each position, add up to 5 bullet points describing your duties and, more importantly, your achievements.
Quantify whenever possible. Don't say you "significantly cut inventory costs." Say how much exactly. Numbers pop!
At the bottom, add a "Key achievement" subsection where you show off your best win.
Last but not least—pick phrases from the job ad, and refer to them in your work experience section. List relevant store manager responsibilities, not every single task you've performed. In other words: make a tailored or a targeted resume.
Have a look at some examples.
Sample Grocery Store Manager Resume—Job Description
RIGHT
Grocery Store Manager
2012–2018
Walgreens, Pittsburgh, PA
Successfully trained a total of 16 employees from retail associates to area managers.
Supervised data entry, freight deliveries, negatives, and pack away procedures for accurate POS inventory.
Recruited, interviewed, hired, developed, evaluated, coached, and counseled all local employees.
Consistently ensured Payroll expectations were compliant and deadlines were met. Strived for 100% accuracy and compliance in cash and inventory levels.
Key achievement: Fixed a recurring problem with in-store availability, reducing out of stocks by 48%, which led to sales increase of $112,000/year.
With a job description like this, the hiring manager will want to call this candidate in the middle of the night!
Pro Tip: Pack your work experience section full of action verbs (but no resume buzzwords!) "Trained," or "supervised" sound way better than "responsible for training and supervising."
Alright, but what if you've never worked as a full-blown retail manager yet and are targeting your first managerial position?
Well, the same rules apply.
What's most important is showing that you've got experience relevant to the position you're targeting.
Pay close attention to the job description. Highlight words that are related to your prospective duties. Then, ask yourself the big question—how many of these have you already done?
Quite a few, right? Then include these in your store manager resume job description.
Take a look:
Sample Retail Sales Manager Job Ad—Responsibilities


Analyze sales statistics

(1) to define sales potential.

Ensure customer satisfaction

(2) and resolve customer issues.
Manage day-to-day performance of sales team.

Motivate

(3),

train

(4), and coach sales staff while applying feedback.
Build consistent lead generation with the marketing team.

Monitor performance metrics

(5) of sales team and report data.
And here's a tailored sales manager resume job description:
Sample AT&T Retail Store Manager Resume—Job Description
RIGHT
Assistant Retail Sales Manager
2014–2018
AT&T, New York, NY
Consistently

analyzed sales statistics

(1) and

team performance metrics

(5) to ensure all major KPIs are met.

Settled customer complaints

(2) without needing to involve a manager.
Introduced gamification techniques to the team to

motivate

(3) and build rapport.

Assisted in the training

(4) of new sales associates adapting feedback and adhering to company policies.
Led sales team to exceed sales targets by 15% each year.
Key Achievement: Voted Salesperson of the Year in 2017.
One thing to keep in mind: don't cram past descriptions of your store management jobs with every task that will be expected of you in your new role. List only those duties that you are familiar with.
(Yes, this is a roundabout way of saying "don't lie on your resume," and yes, it applies to all sections.)
Want to make sure you'll nail your retail manager resume work experience section? Here's the guide to answer all your questions: How to List Work Experience on Your Resume
4
Is your Education Underselling You? It Might Be.
Since you're applying for a managerial position, you're probably not a recent graduate.
Does that mean you can leave your education off?
No!
Most employers still expect at least a Bachelor's degree from store managers.
The good news?
It's easy to list your education on a resume. All you have to include is:
Your degree type
Your major and minors (if applicable)
The name of the school
Graduation date
Like this:
Sample Store Manager Resume—Education Section
RIGHT
2011 BS in Business Administration
Tepper School of Business at Carnegie Mellon University, Pittsburgh, PA
The rule of thumb is to list only your highest degree. But if you've got Master's you can still include your Bachelor's.
Pro Tip: Writing a senior store manager resume? Leave your GPA off. For junior or assistant retail manager resumes, it's still not mandatory. Include it only if it's exceptionally high.
If you're hungry for more tips about listing your education on a resume for retail management positions, check out this handy guide: How to List Education on a Resume
5
How to Make the Most of Your Store Manager Resume Skills Section?
Think about rolling a sales campaign for your retail store.
Recent studies have found that the more personalized your marketing efforts are, the better the results.
The same goes for your store manager resume skills list. For greatest impact, you have to personalize it.
What do I mean?
Recruiters don't want to read long, unspecific lists of skills, entered in whatever order you see fit. What they want is to learn that you've got exactly the skills they're looking for.
So—
What should you do?
Remember when I mentioned tailoring? Here it comes again.
Store Manager Skills on a Resume—How to List Them
Start with a spreadsheet that lists all your professional skills.
Read the job description carefully. Look for skills-related keywords.
Check how many of these match your spreadsheet. These go in your resume skills section.
Don't just put the names of your skills. Provide evidence that shows your level of proficiency.
Apart from putting your skills in the dedicated skills section, mention them also in the work experience section and your resume summary or objective.
Here's a practical example:
Let's say, there's an opening for a new convenience store manager. The job ad states that the following skills are required:
New business development
Lead conversion
Budgeting
Here's a tailored retail manager resume skills list:
Sample Convenience Store Manager Resume—Skills List
Business Development: Developed new business to push sales revenue from $44,000/yr to $212,000 in 18 months.
Lead Conversion Solutions: Increased staff training to drive lead conversion up 20%.
Budgeting: Cut inventory costs by 25% through annual trend analysis.
See? That's music to every hiring manager's ears—relevant skills backed up with solid evidence of past success.
Feel like you could use some inspiration with your store manager skills list?
Have a look at this handy table that lists the most sought-after skills for a professional store management resume.
Sample Store Manager Resume Skills

| | |
| --- | --- |
| Technical Skills | Soft Skills |
| Inventory management | Adaptability |
| Merchandising | |
| Branding | Training and mentoring |
| Budgeting | Teamwork |
| Pricing | Strategic planning |
| Staffing | Written and verbal communication |
| Vendor relationships | Quick learning |
| Product and market knowledge | Multi-tasking |
| POS Skills (for instance, Shopify POS, uniCenta, NCR, Quickbooks POS, Epicor etc.) | Organization |
| Accounting and finance | Motivating others |
| CRM Software | Interpersonal skills |
Pro Tip: Always include a few of your soft skills in your store manager resume. This Harvard study shows that modern economy will increasingly reward candidates who combine technical with soft skills—that means more job opportunities and higher pay.
For more strategies to spice up that store or retail management resume with the best skills, see this comprehensive guide: 30 Best Resume Skills That Will Help You Land Your Next Job
6
How to Add Other Sections for an Effective Store Manager Resume
Got all the above sections?
Good. It's a decent store manager resume.
Not satisfied with "decent?" That's the spirit!
Let's supercharge your store manager resume with an additional section.
In it, show off your unquestionable achievements that set you apart from other candidates.

Need some examples? Check out this list:
Additional Sections for a Senior Store Manager Resume—Examples
Industry awards
Certifications
Influencing on social media
Additional training and participation in conferences
Can't showcase any of the above yet? Take it easy. An assistant or junior store manager resume or a management internship resume can still benefit from an extra section.


Here are some ideas:
Extra Sections for a Junior Store Management Resume—Examples
Academic achievements
Personal blog
Don't know what to include in the extra section of a professional store manager resume and what to leave off? Read our guide: Resume Sections to Include on Your Resume
7
How About a Store Manager Cover Letter?
Yes, you need a cover letter today.
Why?
50% of recruiters won't even bother to open your resume if there's no store manager cover letter attached.
Yup. You read that right.
No matter your industry or seniority level. Whether you're writing a cell phone, jewelry, or liquor store manager resume, including a cover letter doubles your chances of landing your next job. Can't argue with hard data, can you?
Plus, a great cover letter that matches your resume will give you an advantage over other candidates. You can write it in our cover letter builder here. Here's what it may look like: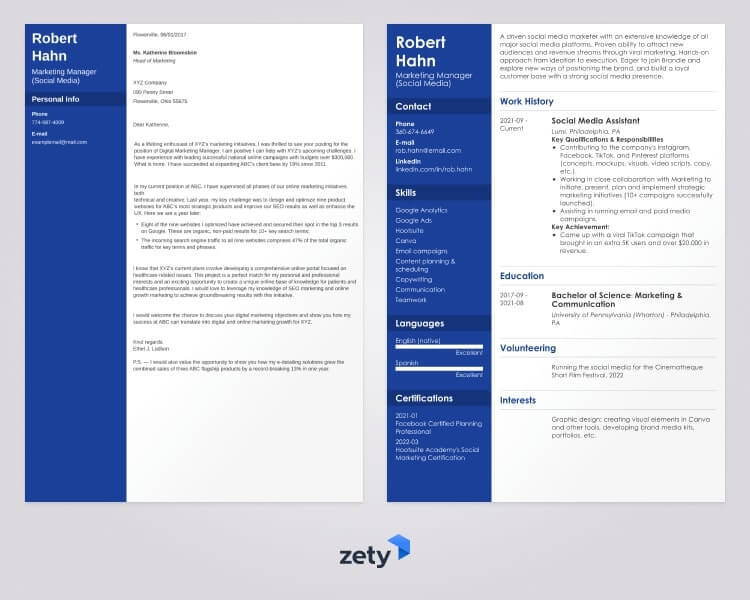 See more cover letter templates and start writing.
Not a natural born writer? Learn the art of writing amazing cover letters in just a few easy steps from this guide: How to Write a Cover Letter for a Job Application
Key Takeaway
To have a store manager resume that gets you the job, follow these key steps:
Open your store management resume with a resume objective or a resume summary. Say what makes you a great candidate and make an offer.
In the work experience section, focus on your achievements, not just responsibilities. Use action verbs and quantify whenever possible.
Match your skills list with the skills required in the job offer.
Include additional sections that prove your value as a candidate.
Personalize every resume you send. Use the name of the company you're applying to and tailor the contents of your resume to the job description.
All check? Well then—Good luck at your big interview!
Got any questions? Want to chat about writing your resume? That's great cause I can't wait to hear your thoughts! Drop me a line in the comments and I'll get back to you right away!
About Zety's Editorial Process
This article has been reviewed by our editorial team to make sure it follows Zety's editorial guidelines. We're committed to sharing our expertise and giving you trustworthy career advice tailored to your needs. High-quality content is what brings over 40 million readers to our site every year. But we don't stop there. Our team conducts original research to understand the job market better, and we pride ourselves on being quoted by top universities and prime media outlets from around the world.