General Manager Resume Template (Guide & 20+ Examples)
Ready to be the boss? This complete guide has examples and tips to help you write a boss resume, perfect for any management jobs, from retail stores to ritzy restaurants.
Being a general manager, you think in KPIs, speak in SOPs, and dream in SMART goals. You've just planned the exit strategy from your current position. Now you hope to leverage your career with a new job.
Want to prove that you not only speak in buzzwords but also work smart? You need an impressive general manager resume that shows that investing in you will bring great returns.
This guide will show you:
A general manager resume example better than 9 out of 10 other resumes.
How to write a general manager resume that will land you more interviews.
Tips and examples of how to put skills and achievements on a general manager resume.
How to describe your experience on a resume for a general manager to get any job you want.
Want to save time and have your resume ready in 5 minutes? Try our resume builder. It's fast and easy to use. Plus, you'll get ready-made content to add with one click. See 20+ resume templates and create your resume here.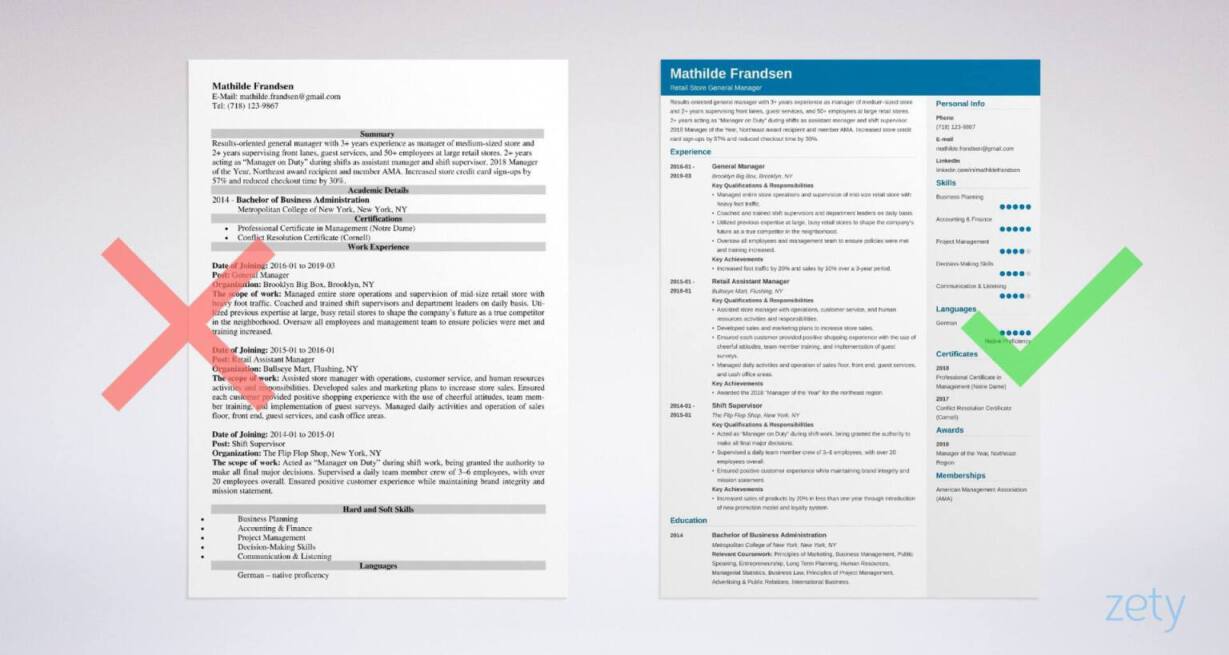 Sample resume made with our builder—See more resume samples here.
Check out other management-related resume guides:
General Manager Resume Sample
Mathilde Frandsen
Retail Store General Manager
mathilde.frandsen@gmail.com
(718) 123-9867
linkedin.com/in/mathildefrandsen
Summary of Qualifications
Results-oriented general manager with 3+ years experience as manager of medium-sized store and 2+ years supervising front lanes, guest services, and 50+ employees at large retail stores. 2+ years acting as "Manager on Duty" during shifts as assistant manager and shift supervisor. 2018 Manager of the Year, Northeast award recipient and member AMA. Increased store credit card sign-ups by 57% and reduced checkout time by 30%.
Work Experience
General Manager
January 2016–March 2019
Brooklyn Big Box, Brooklyn, NY
Key Qualifications & Responsibilities
Managed entire store operations and supervision of mid-size retail store with heavy foot traffic.
Coached and trained shift supervisors and department leaders on daily basis.
Utilized previous expertise at large, busy retail stores to shape the company's future as a true competitor in the neighborhood.
Oversaw all employees and management team to ensure policies were met and training increased.
Key Achievements
Increased foot traffic by 20% and sales by 10% over a 3-year period.
Retail Assistant Manager
January 2015–January 2016
Bullseye Mart, Flushing, NY
Key Qualifications & Responsibilities
Assisted store manager with operations, customer service, and human resources activities and responsibilities.
Developed sales and marketing plans to increase store sales.
Ensured each customer provided positive shopping experience with the use of cheerful attitudes, team member training, and implementation of guest surveys.
Managed daily activities and operation of sales floor, front end, guest services, and cash office areas.
Key Achievements
Awarded the 2018 "Manager of the Year" for the northeast region.
Shift Supervisor
January 2014–January 2015
The Flip Flop Shop, New York, NY
Key Qualifications & Responsibilities
Acted as "Manager on Duty" during shift work, being granted the authority to make all final major decisions.
Supervised a daily team member crew of 3–6 employees, with over 20 employees overall.
Ensured positive customer experience while maintaining brand integrity and mission statement.
Key Achievements
Increased sales of products by 20% in less than one year through introduction of new promotion model and loyalty system.
Education
Bachelor of Business Administration
Metropolitan College of New York, New York, NY
Graduation: 2014
Relevant Coursework: Principles of Marketing, Business Management, Public Speaking, Entrepreneurship, Long Term Planning, Human Resources, Managerial Statistics, Business Law, Principles of Project Management, Advertising & Public Relations, International Business.
Key Skills
Business Planning
Accounting & Finance
Project Management
Decision-Making Skills
Communication & Listening
Certifications
2018 Professional Certificate in Management (Notre Dame)
2017 Conflict Resolution Certificate (Cornell)
Awards
2018 Manager of the Year, Northeast Region
Memberships
American Management Association (AMA)
Languages
German: Native Proficiency
Now here's how to write a general manager resume:
1. Choose the Best Format for Your General Manager Resume
Whether it's overseeing a small corner deli or supervising a large retail store, general managers keep things running smoothly when they have a good structure in place.
Same here on your GM resume—
The perfect resume format ensures everything is easy for the store owner or district manager to read.
Follow these formatting rules on your general manager resume template:
Pro Tip: As you're applying to become a general manager, you likely don't have a resume without experience. If for some reason you do, though, try starting off at a supervisor or assistant manager level, first, and working your way up.
2. Write a General Manager Resume Summary or Objective
Your resume profile is a resume objective or summary statement.
This 3- or 4-line heading introduction gives the employer a quick look at your management background, supervisory skills, work experience, and related goals.
However—
It has to grab their attention right from the beginning.
Which one to use?
Use the resume summary if you have more than 2 years of management experience. The summary sums up your skills and experience from past management jobs. To top it off, you'll give a numbered accomplishment to prove your managerial abilities.
Use the resume objective if you have little to no experience as a manager. You'll give your ambitious career goals as a future general manager, while still proving your competence with a quantifiable achievement.
Pro Tip: The heading statement goes at the top of your restaurant GM resume or assistant general manager resume, but you don't have to write it first. Save it for the end to make it easier to write.
3. Create the Perfect General Manager Job Description for a Resume

Whether you're a retail GM or a writing a hotel general manager resume, get the work history section right.
So—
Here's how to ace the job description on general manager resumes:
Begin with your most recent job entry, and go backwards from there.
Place your professional job title at the top, followed by dates employed, the company's name, and 5 or 6 bullet points outlining your management responsibilities.
As you go further back, reduce the amount of management job description bullet points to include only the most relevant accomplishments.
Start each line with a resume action word or power verb (e.g., spearheaded, implemented, etc.)
Show off measurable achievements, rather than simply standard job duties.
Target each resume to one specific job, not every manager job in the country.
Pro Tip: If you don't have management experience, use the bullet points to promote some leadership responsibilities you had. Were you tasked with leading a project or training new employees? Though you didn't have the title, that's management material!
4. Make Your GM Resume Education Section Shine
Many prospective managers make a simple mistake—
They treat the resume education section as an afterthought.
Don't make this error.
Follow these rules when doing your education resume section:
Got 5+ years of mgmt experience? Go basic with only your degree, major, minors (if applicable), and college name.
Newer to management? Include extras like relevant classes, Latin honors, etc.
Completed university? Don't add high school on your resume.
Still studying? Include high school below.
Pro Tip: Relevant coursework for management jobs include business and management classes, of course. However, think bigger picture. Got a public speaking class or something in finance completed? They'll love it.
5. Highlight Your General Manager Skills
You're a leader, right?
Show them you got what it takes to be at the top with the right general manager resume skills section:
Sample General Manager Skills
Attention to Detail
Works Well Under Pressure
Accountability
Hold on a sec, though—
You can't just copy-paste these skills and be done with it.
Do this instead:
Jot down the job skills you have related to management, including both soft and hard skills.
Bring out the general manager job ad you're applying to.
Highlight management skills and industry-related skills (e.g., those that pertain to hotels, restaurants, etc.). Those are the best resume keywords to choose.
If one of your highlighted skills matches another on your list, add it to your GM resume!
Pro Tip: The soft skills you'll need as a general manager are relevant for most leadership jobs (e.g., critical thinking, decision making). However, the hard skills will be those that your industry requires, such as reservation booking systems if you're writing a hotel GM resume.
When making a resume in our builder, drag & drop bullet points, skills, and auto-fill the boring stuff. Spell check? Check. Start building a professional resume template here for free.
When you're done, our online resume builder will score your resume and our resume checker will tell you exactly how to make it better.
6. Add Other Sections to Your General Manager Resume
You now have a solid resume for a job as a general manager.
However—
So does everyone else.
Stand out from the other general manager candidates with some extra resume sections.
Here are some great additions for a resume for GM jobs:
memberships
projects
licenses
7. Attach a Cover Letter to Your General Manager Resume

Thinking about skipping the cover letter?
Don't.
Over 50% of employers say that a resume alone is insufficient.
So—
Whether writing restaurant general manager resumes or hotel manager resumes, don't forget your cover letter.
Here's how to write a general manager cover letter they'll love:
Get your cover letter format in order before beginning.
Start the cover letter with a compelling introduction.
Showcase management experience and industry-related abilities.
Add quantifiable achievements to prove your leadership value.
End the cover letter with a powerful closing statement and call to action.
We've also got some of the best cover letter tips to help you along. Check them out!
Pro Tip: Don't forget to follow up on your work application. Sending a quick email or making a brief phone call might just be the thing that gets you hired.
Plus, a great cover letter that matches your resume will give you an advantage over other candidates. You can write it in our cover letter builder here. Here's what it may look like: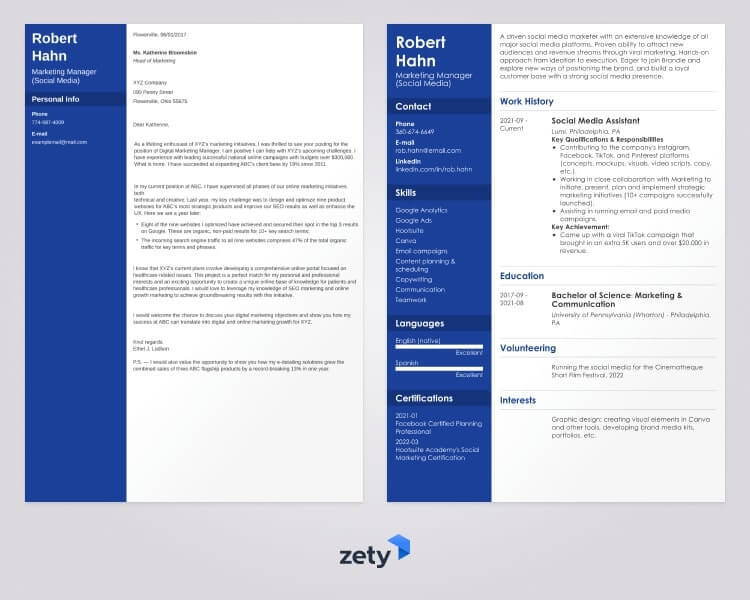 See more cover letter templates and start writing.
Got any questions on how to write a GM resume? Need more general manager resume examples? Not sure how to talk about leadership skills, manager certifications, or supervisor achievements? Get at us in the comments below, and thanks for reading!
About Zety's Editorial Process
This article has been reviewed by our editorial team to make sure it follows Zety's editorial guidelines. We're committed to sharing our expertise and giving you trustworthy career advice tailored to your needs. High-quality content is what brings over 40 million readers to our site every year. But we don't stop there. Our team conducts original research to understand the job market better, and we pride ourselves on being quoted by top universities and prime media outlets from around the world.