In 7 minutes, you'll know how to write a flawless manager resume. But first—
Picture a desk. It's yours, but you're not at it.
You're out there with the team. Leading. Coaching. Mentoring.
You support your people with so much passion and respect they would follow you to Walmart on Black Friday.
Now, prove that on a single sheet of paper among 300 others like it and get hired.
See the problem?
Your manager resume must do so much more than list experience and education.
It has to show you've got the horsepower to forge relationships. To transform individuals into a team.
Take heart.
This guide will show you:
A manager resume example better than 9 out of 10 other resumes.
How to write a management resume that will land more interviews.
Tips and examples of how to put skills and achievements on a managerial resume.
How to describe your experience on a resume for a manager to get any job you want.
Here's a sample resume for a manager made using our resume builder.
Want to save time and have your resume ready in 5 minutes? Try our resume builder. It's fast and easy to use. Plus, you'll get tips and right vs. wrong examples while writing your resume. See +20 resume templates and create your resume here.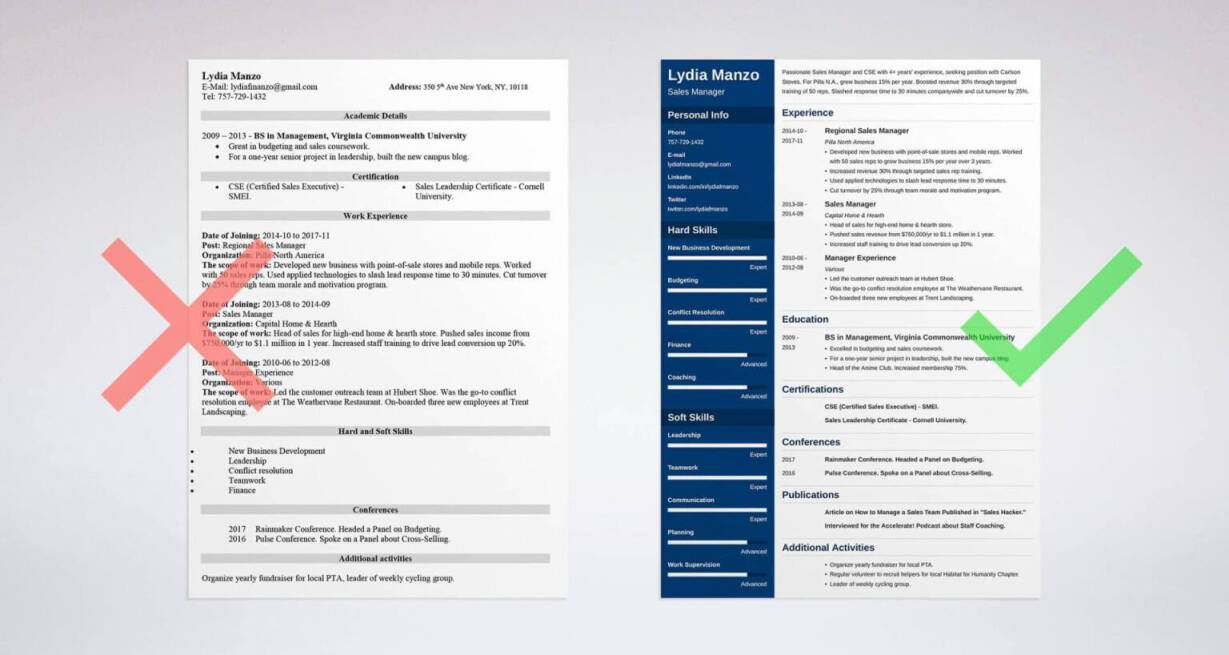 Manager Resume Example - See +20 resume templates and create your resume here
1
What's the Best Format for a Manager Resume?
Meet the corporate hiring manager, Ellen.
Why is she so irritated?
Answer: Her battered MS Surface holds 250 manager resumes, and she has to read them all.
Here's the worst part:
She scans each one in just six seconds.
That means your management resume format has to grab her, fast.
Reverse-chronological is the best pick for a managerial resume.
It fast-tracks your best achievements to the reader.
Use clear fonts like Arial or Cambria, big headings, and generous white space.
Finally, save it as a PDF. Management resume PDFs stay solid when they leave your desktop. MS Word resumes can go south in transit.
Pro Tip: PDFs are great, but double-check the job description. Some older Applicant Tracking Systems clash with manager resume PDFs.
If you need more information, read our guide: 3 Resume Formats: How to Choose the Best One [Examples]
Want to make sure your resume will hook every recruiter and get you that interview? Get our free checklist and learn what makes a job-winning resume: 46 Things You Need To Do Before You Send Your Resume.
2
How to Write a Resume Summary or Resume Objective
You're not Harry Potter.
You can't wave your magic wand and make the hiring manager read your management resume.
But you can write a first paragraph that does.
It's called a resume objective or a resume summary.
But which is which? And which one should you use?
Write a manager resume objective if you just launched your leadership career.
Write a resume summary if your legacy systems have legacy systems.
Let these two sales manager resume examples lead the way.
Entry-Level Management Examples [Resume Objectives]
See if you can spot the problem with the first of these two managerial resume samples:
wrong
Passionate entry-level sales manager, looking to train on the job. Skilled in leadership, conflict management, and budgeting.
What's wrong with that? Nothing, if you're a proto-Michael-Scott.
Spice it up with a few actual achievements from past non-management jobs.
right
Passionate, Cornell University Certified sales manager, seeking an assistant manager position with Capital Hearth. Past management experience includes leading the customer outreach team at Hubert Shoe and on-boarding three employees at Trent Landscaping. As volunteer recruiter for local Habitat for Humanity chapter, increased recruitment 31%.
Not exactly the next Bill Belichick yet, but far better than a total greenhorn.
Now what if you're already a stone's throw from Jack Welch status?
In that case, see these senior restaurant manager resume examples.
Senior Manager Resume Examples [Resume Summaries]
wrong
Enthusiastic restaurant manager with four years experience. Seeking new position with forward-thinking company. Highly skilled in budgeting, finance, conflict resolution, and all aspects of restaurant management.
That's not awful. Know any great companies looking for "not awful" managers?
To land the interview, you'll need to prove your Hector-Ruiz-level qualities.
right
Passionate Restaurant Manager with 4+ years' experience in multi-unit management, seeking position with Chipotle. At Pizza Hut, trained managers and staff to meet sales goals. Built strong relationships with food service vendors and retargeted inventory to cut costs. Implemented employee engagement program to slash food costs 15% and cut turnover by 25%.
Nice work. That's practically the poster child for It's Okay to Be the Boss.
What's good about it? It goes straight to tantalizing specifics.
Pro Tip: Keep your manager resume summary or resume objective short. It's just a hook to get the hiring manager to give your resume a careful read.
Our resume builder (you can create your resume here) will give you tips and examples on how to write your resume professional summary section. Or any section for that matter. You can copy the examples to your resume, customize, and save a lot of time.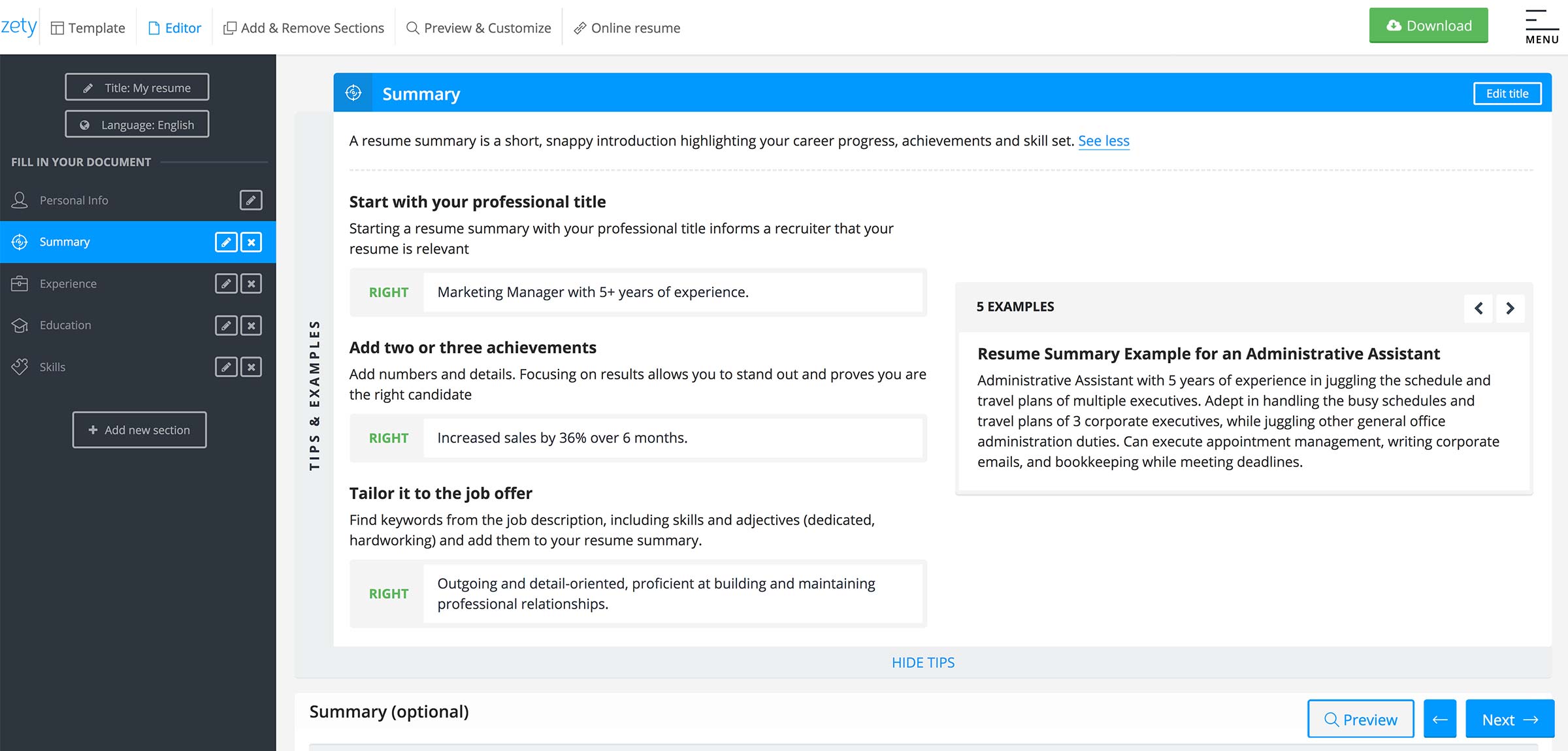 Inside our resume builder, you'll find expert tips and examples for your resume summary.
Need more help? Check out the sample resume for management up top. Also, see these guides: How To Write A Resume Summary: 21 Best Examples You Will See AND +20 Resume Objective Examples - Use Them on Your Resume (Tips)
3
How to Describe Your Management Experience
Here's a question that should terrify you:
Does the most experienced candidate always get the job?
More often, it's the one who shows it better on her managerial resume.
Display your most recent experience first.
List 3-5 resume bullet points crammed with measurable achievements.
Check out these two operations manager resume examples.
Manager Resume Examples [Experience]
This management resume sample nails it:
right
Operations Manager
Colunga Furniture
2014-2017
Handled order processing, scheduling, and vendor management for a high-volume furniture company.
Negotiated long-term deals with shipping companies, resulting in 22% cost savings.
Through improved warranty support and customer service training, increased repeat business 18%.
Worked with internal stakeholders to drive lead times down 20%.
The hiring manager just spilled her coffee. Your first-rate management position resume just blew her hair back.
Now look what happens when we lose those valuable metrics:
wrong
Operations Manager
Colunga Furniture
2014-2017
Handled all operations management duties for a high-volume furniture company.
In charge of order processing.
Directed and oversaw all scheduling and vendor management.
Negotiated deals with shipping companies.
Looks phoned-in, doesn't it?
But what if you've never held a management job?
Look at these two entry-level manager resume examples.
How to Write a Resume for Management with no Experience
Is it really possible to have zero management experience?
Have you ever:
Planned, organized, directed, or monitored?
Led a project?
On-boarded a new employee?
Held a training?
Managed a budget?
Coached anyone?
Resolved a conflict between two or more people?
Those are all leadership and management duties. They're what makes a successful manager.
Brainstorm to think of times you've handled them. Like this:
Two Management Resume Samples [No Experience]
What's wrong with this first marketing manager resume example?
wrong
Management Experience: No management experience yet, but 5+ years of marketing experience and I'm great at managing people.
Other Experience:
Receptionist
Customer Service
Yuck. Who put soap in the lasagna, right? It might as well say, "Don't hire me, I haven't got a clue."
But with a little brainstorming, you could have a professional resume for management like this:
right
Management Experience
2016 - 2017
Led the customer outreach team at Hubert Shoe.
Was the go-to conflict resolution employee at The Weathervane Restaurant.
On-boarded three new employees at Trent Landscaping.
Now you're showing some core competencies. But with a bit of strategy, even a newbie can have a managerial resume like that.
Pro Tip: In a new manager resume, the key is management vs leadership. After all, what is a good leader? Someone who has held a title, or someone who can lead?
Want the hiring manager to stay engaged? Use action words in your management position resume. See this guide: +80 Examples of Resume Action Words for Every Profession
4
Is Your Education Section a Barrier to Entry? It Might Be
Experience matters more than education in a managerial resume.
But if you don't list your education right, you're wasting it.
It's like having access to a team of high-end data analysts, then only using them for fantasy football.
Of course you'll show:
College Name and Location.
Years in School.
Degree.
But add accomplishments that fit the job like a custom Burberry.
Check out these two retail manager resume examples:
Manager Resume Examples [Education]
These managerial resume samples are for a job that stresses budgeting, sales, and leadership.
right
BS in Management
Virginia Commonwealth University, 2009 - 2013
Excelled in budgeting and sales coursework.
Built the new campus blog for a one-year senior project in leadership.
Head of the IT Club. Increased membership 75%.
Did we go back in time and meet a young Jeffrey Immelt or Phil Knight?
It's miles better than this next manager resume example.
wrong
BS in Management
Virginia Commonwealth University, 2009 - 2013
Took core business management classes.
GPA 3.2.
Who wrote that? Mr. Krabs from Spongebob? Everyone with a degree in business management took core management classes.
But add achievements, and you've won back the competitive advantage.
Pro Tip: Does GPA matter on a managerial resume? If it's recent or impressive, yes. Otherwise, hand it a pink slip and show it to the door.
Make your management resume shine like a fat bonus check. See this guide: How to Put Your Education on a Resume [Tips & Examples]
5
How to Put Skills on a Resume for a Manager
"I can pan for gold, hunt bear with a knife, and fly a hang glider."
Do you believe me?
Now what if I show video?
Writing a long list of manager resume skills impresses no one.
Proving them? That's another story.
Management Resume Examples [Skills]
Our hiring manager, Ellen, put these skills in the job description:
New business development, lead conversion, and budgeting.
You'll list those, plus a couple more to fill things out.
Then you'll prove your manager skills list like this:
General manager for high-end home & hearth store.
Developed new business to push sales revenue from $750,000/yr to $1.1 million in 1 year.
Increased staff training to drive lead conversion up 20%.
Created annual budgets. Cut inventory costs by 25% through annual trend analysis.
Zap. You just stuck your management resume to the job description with superglue.
Need a sample leadership skills list to start with? Use the one below.
List of Skills for a Management Resume
Let's ramp up your job search with this team leader skills list.
Find more management resume keywords in job offers online.
Management Skills List

Management Skills List

Soft Skills

Hard Skills

Leadership

Coaching

Communication

Hiring

Teamwork

Business Knowledge

Organization

Budgeting

Conflict Resolution

Planning

Finance

Problem Solving

Logistics

Delegation

Negotiating

Interpersonal Skills

Project Management

New Business Development
Follow the steps above, and your manager resume will make you look like Joan Holloway or Steven Reinemund.
Pro Tip: You may argue that tying skills to experience in a great resume for a manager still isn't "proof." It's proof enough. The hiring manager can get more detail in the interview.
Want to give your management resume a good retraining? See this guide: +30 Best Examples of What Skills to Put on a Resume (Proven Tips)
6
How to Show Certifications on a Resume
The hiring manager has 99 problems. Don't make "hunting for your license on a management resume" one of them.
If you're writing a project manager resume, you might have a PMP certification.
Sales manager resume? That might be a CSE.
Or maybe you're making a restaurant manager resume or retail manager resume. That might mean a ServSafe cert or an RMC.
Either way, display it proudly after your name, like this:
Lydia Manzo, CSE
Then put it in a special certifications section, like this:
Certifications
CSE (Certified Sales Executive) - SMEI.
Sales Leadership Certificate - Cornell University.
You can also list it in your management resume objective or resume summary.
Will a certification teach you how to be an effective manager? No, but you might learn something, and it'll give your managerial resume a fat promotion.
Pro Tip: Want a quick certification that looks great on a sales manager resume? Cornell University offers a 2-week online leadership class. Nothing impresses like "Cornell" on a resume.
Need more advice to make the best management position resume you can? See our guide: Complete Guide to Writing a Student Resume [13 Tips, Examples]
7
How to Add Other Sections for an Effective Resume
So much of leadership and management is interpersonal skills.
Show you have the characteristics of a good leader with targeted "other" sections.
Look at these two management resume examples:
Manager Resume Examples [Other Sections]
This first sample from a managerial resume practically calls in sick:
wrong
I collect spores, molds, and fungus.
I'm an excellent baker.
I love fantasy football.
Everyone needs hobbies, but yours should show that you can get the job done.
Now look at this next manager resume example. It fits the job description like a Vardon Overlap.
right
Conferences
Rainmaker Conference 2017. Headed a Panel on Leadership and Management.
Pulse Conference 2016. Spoke on a Panel about What Makes a Successful Manager.
Publications
"What is People Management" Article Published in Sales Hacker.
Interviewed for the Accelerate! Podcast on How to Be an Effective Manager.
Additional Activities
Organize yearly fundraiser for local PTA.
Regular volunteer to recruit helpers for local Habitat for Humanity Chapter.
Leader of weekly cycling group.
Pow. Hole in one.
The conferences and publications spotlight passion. The volunteer work and the cycling group showcase an ability to "Get Stuff Done."
Pro Tip: Consider joining a professional association, like the AMA, or taking classes. Either looks great on a managerial resume.
Need more help with what to add to your account manager resume? See our guide: +20 Best Examples of Hobbies & Interests To Put on a Resume (5 Tips)
8
How About a Cover Letter for a Manager?
"Nobody will read your management cover letter."
Yes, and nobody likes strawberry ice cream, either.
So why do they keep making it?
Over 8% of ice cream eaters like strawberry best.
Meanwhile, 40% of hiring managers won't read a resume without a cover letter.
That's why you need a cover letter for your professional manager resume.
Start with the hiring manager's name.
Next, show you understand the job description. Do that by talking up the qualities you have that match it.
Third, make an offer.
Dear Steve,
How would you like to cut your customer churn rate by 25%?
That's exactly what I did at Adeo, Inc. My secret? Analyzing churn and focusing on customer engagement. That came down to advanced listening skills, plus coaching internal stakeholders.
With 4+ years of experience in dedicated account management, I'm confident I can achieve the same results for you.
End it with a Call to Action (CTA). Something like, "Can we schedule a call to talk about raising your [Key Performance Indicator cited in the job offer] by [XYZ]%?"
Do that, and the hiring manager will read your managerial resume like it contains the secrets of the universe.
Pro Tip: Follow up on your job application within three days to jog the recruiter's mind about your excellent management resume. It's easy, and it can be the thing that lands the interview.
Plus, a great cover letter that matches your resume will give you an advantage over other candidates. You can write your cover letter in our resume builder here. Here's what it may look like: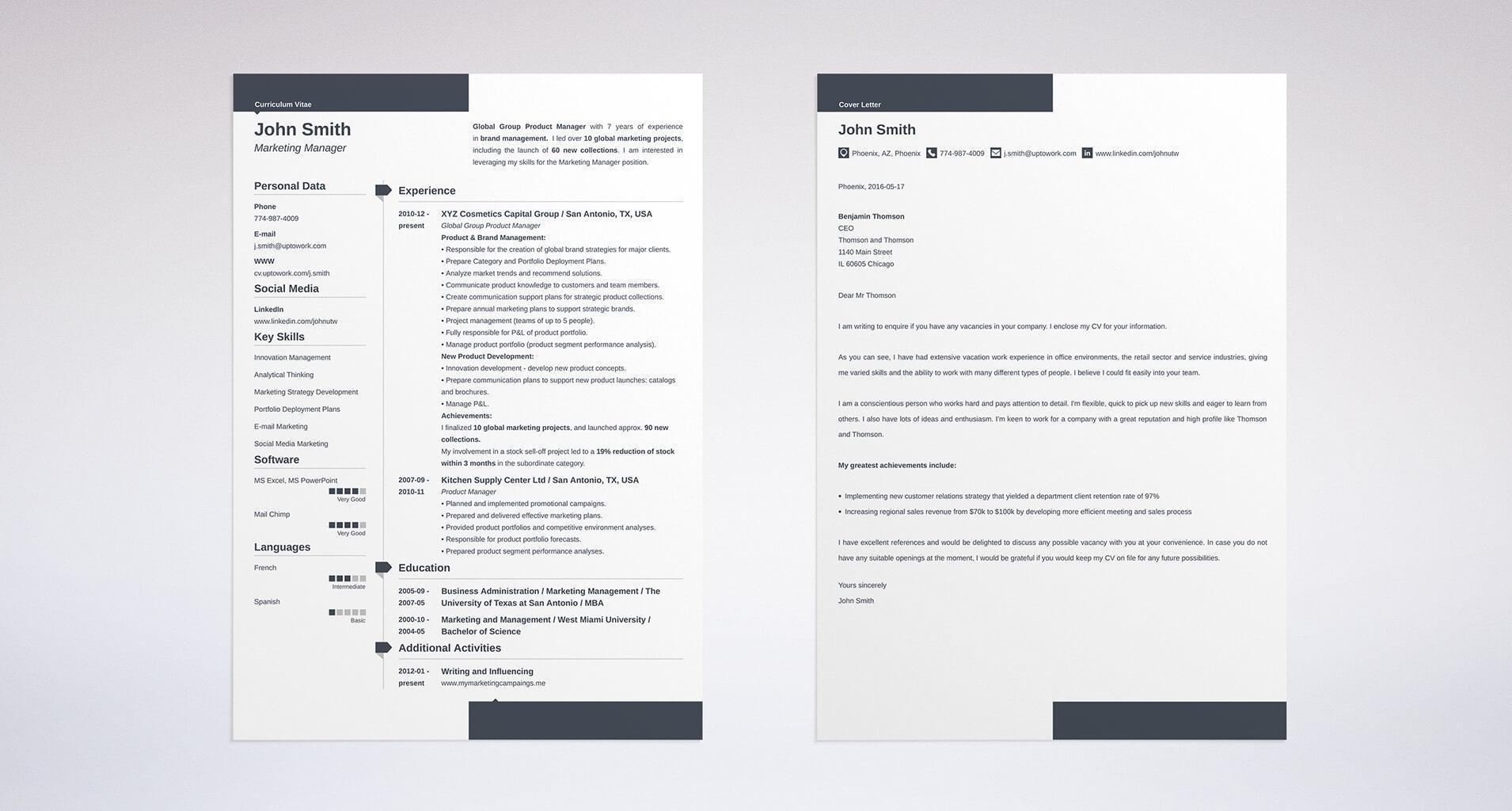 See more templates and create your resume and cover letter here.
Want more tips for your management cover letter? See our guide: 8 Steps to Writing the Perfect Cover Letter
9
How to Add Contact Info to Your Resume
Hmmm...
You got passed over for that dream job. Why?
Can you believe it was a contact info error on your manager resume?
Of course you added your:
Full Name
Updated Phone Number
Professional Email Address
Like this:
Lydia Manzo, CSE, lydiafmanzo@gmail.com, 757-729-1432
But you didn't add your LinkedIn profile. The hiring manager got interested in a candidate who did. Game over.
Pro Tip: If you need to give your LinkedIn presence a complete reorientation, see our guide on sprucing up your LinkedIn profile here.
Would you like more guidance to help you crush your managerial resume? See this guide: How to Make a Resume: A Step-by-Step Guide (+30 Examples)
Key Takeaway
Now you know how to write a manager resume that gets the interview. Build your own management resume templates by following these tips:
Start your managerial resume with the job offer. Highlight all the skills and qualities you see.
Put a resume summary or objective just below your contact information.
Prove your muscle in your bullet points.

Your experience and education should stick you to the job like a concentric merger.

Add depth to your professional manager resume with "other" sections.

Use awards, publications, and volunteer work to show your breadth and passion.
Do you have questions on how to write a great resume for a manager? Not sure how to describe your skills or achievements? Give us a shout in the comments! We love to help!