An operations manager is like a fighter pilot. Being one takes superhuman competence and confidence. You must master a million moving parts. And your operations manager resume has an awful lot to prove if you want to get that job.
A job-winning operations manager resume aims to show you know your way around redesigning business operations, have the industry knowledge and leadership abilities, and are an efficient problem solver. Well, let's find out how to write one, see great operations manager resume examples and get to writing!
This guide will show you:
An operations manager resume sample better than 9 out of 10 other resumes.
How to write an operations manager resume examples that lands more interviews.
Tips and examples of how to put skills and achievements on an operations management resume.
How to describe your experience on a resume for an operations manager to get any job you want.
Want to save time and have your resume ready in 5 minutes? Try our resume builder. It's fast and easy to use. Plus, you'll get ready-made content to add with one click. See 20+ resume templates and create your resume here.
Sample resume made with our builder—See more resume samples here.
Looking for general management positions, too? We've got you covered:
Still need more examples? Check Sample Resumes to Land Any Job.
Here's how to write an operations manager resume:
1
Operations manager resume example
Mark Stewart
Operations Manager
917-345-6789
markstewart@email.com
linkedin.com/in/mark.stewart
Summary
Highly organized and detail-oriented operations manager with 8+ years of experience in the tech industry. Eager to help Genisys Dynamics reach its maximum potential in performance, profits, and successful delivery of products/services. Implemented an efficient system for streamlining inventory control processes at Cygnus Innovations, resulting in a 33% reduction in delivery times. Also spearheaded a company-wide cost optimization initiative that resulted in over $200K savings annually.
Experience
Operations Manager
Cygnus Innovations, Dallas, TX
January 2018–Present
Key Qualifications & Responsibilities
Establishing best practices for the organization's operational activities to maintain high-quality control and customer service standards.
Overseeing daily operations, including order management, invoicing, inventory control, dispatch operations, returns management, etc.
Developing policies and procedures for optimizing operational efficiencies while minimizing costs.
Collaborating with key stakeholders across the organization to identify areas for improvement within existing processes.
Key Achievement:
Implemented an automated system to streamline inventory control processes, which led to a 33% reduction in delivery times.
Led a companywide cost optimization initiative that resulted in over $200K savings annually.
Operations Manager
Optimum Solutions, Austin, TX
May 2015-December 2017
Key Qualifications & Responsibilities:
Analyzed current operations activities and identified areas for improved efficiency.
Mentored team members to implement process improvements within their respective roles.
Designed training programs to ensure standardization of operational protocols across departments.
Negotiated contracts with vendors for better pricing terms and services.
Key Achievement:
Spearheaded a companywide cost optimization initiative resulting in over $200K savings annually.
Education
Bachelor's Degree - Business Administration
University of Texas at Austin, TX
May 2011–May 2015
Relevant Extracurricular Activities:
Member of the Business Administration Student Council – 2013-2015
Academic Achievements:
Dean's List - 2012, 2013, 2014
Skills
Leadership and management
Operational planning and execution principles.
Process analysis & process reengineering methods.
Troubleshooting technical problems.
Professional proficiency in MS Office Suite (Word, PowerPoint, Excel)
Communication
Negotiation
Adept at building relationships with internal & external stakeholders
Certifications
PMP Certification (Project Management Professional), Project Management Institute (PMI), 2016
Awards
Excellence Award for Most Significant Contribution To Operations Team Performance, Optimum Solutions, 2017
Memberships
Member Of The American Association Of Project Managers Since 2019.
Languages
English – Native
Spanish – Fluent
German – Advanced
Interests
Running – Completed multiple 5k races this year; First Place at the Dallas Run For Fun 5k Race.
Yoga – Certified 200-hour Yoga Teacher since 2018.
Painting – Exhibited artwork at local galleries.
Format Your Operations Manager Resume
Meet the board of directors. Nice roundtable. Their biggest fear is hiring someone who'll crash their company. They won't even think about applicants with sloppy operations manager resumes.
Select a trusted format like reverse-chronological. It shows your most recent management successes first.
Use clear, legible resume fonts, big headings, and white space to soothe the eye.
Next, save it as a PDF. Operations manager resumes in Word format may look nice on your machine. But they can turn into a brush fire in transit.
Just make sure the job description doesn't clamp down on PDF resumes. Some do. Always choose the format suggested in the ad.
Pro Tip: Proofread your business operations management resume twice, on different days. Have a trusted friend check it as well. Sloppy work will get the boot.
Not convinced reverse-chronological is the best operations management resume format? See this guide: 3 Resume Formats: How to Choose the Best One [Examples]
2
Write an Operations Manager Resume Summary or Resume Objective
Picture a big, smooth wall 100 feet high. It stands between you and the board of directors, and it's called a "recruiter." Her name is Anne. She'll skim your resume in mere seconds.
To engage her, you'll need a substantive sales pitch.
It's called a resume summary (or an operations manager profile summary). It needs to be the most compelling thing you've ever written.
The good news is, you've already got the assets.
Let these senior operations manager resume examples show you what I mean.
Operations Manager Resume Example [Objective]
wrong
Service operation manager with 15 years of experience, seeking a new situation. Highly skilled in leadership, Lean thinking, cost-cutting, and revenue generation.
Seems like possibly a good fit, right? But the board won't hire "possibly."
A winning resume for an operations manager shares impressive metrics.
Operations Manager Resume Example [Summary]
right
Highly effective operations manager with 15 years of experience. Seeking to dramatically improve KPIs for Audor Sports. At Skander Golf, used Lean training and integration to turn a $2 million/yr loss into a $1 million/yr profit in 1 year. Also cut inventory cost 45% and lead times 25%. Slashed turnover 40%.
That's job-ready. With a resume like that, you'll pull down an Amazon operations manager salary in no time.
Those measurable accomplishments make it sing.
Note that we say "resume summary." An operations manager resume objective is for those with no experience. That won't work for a director level job.
Pro Tip: Got writer's block? Don't start with your operations manager resume summary. Write your experience section first, then cherry-pick the best parts.
When making a resume in our builder, drag & drop bullet points, skills, and auto-fill the boring stuff. Spell check? Check. Start building a professional resume template here for free.
When you're done, our free resume builder will score your resume and our resume checker will tell you exactly how to make it better.
Ready to give your bank operations management resume a paradigm shift? See these guides:
How To Write A Resume Summary: 21 Best Examples You Will See and +20 Resume Objective Examples - Use Them on Your Resume (Tips)
3
Describe Your Operations Management Experience
Pretend you're buying a cake. One baker says he's passionate. He's got a degree. The other has ten years of experience. She's made cakes for royals and celebrities. She's been written up in glossy magazines.
Your operations manager resume must show you're baker #2.
These two sample director of operations resume clips will light the way.
Look at the difference in these two director of operations resume examples.
Operations Manager Resume Examples [Job Description]
right
Skander Golf, Inc.
Operations Manager
2009 - 2017
Implemented a lean training program that turned a $2 million annual loss into a $1 million annual profit in one year. Trained all 50 employees in Lean principles.
Installed pull systems to cut inventory cost by 45% over 6 months.
Initiated setup time reduction plan to cut lead times 25%.
Through company-wide incentive programs, decreased turnover 40%.
That shows synergy between your duties and achievements. The recruiter can't help but share it with the board.
But look at this non-viable operations manager resume example:
wrong
Skander Golf, Inc.
Operations Manager
2009 - 2017
Responsible for all operations management of a multi-million dollar sporting goods manufacturing company.
In charge of inventory and supply-chain management.
Spearheaded the Lean training initiative, including setup time reduction and pull systems implementation.
The granularity has vanished. So has any chance at getting interviewed.
Pro Tip: Don't have quite that much experience? Stuff your business or transportation operations management resume with duties from supporting roles.
Don't bore the board with your resume for operations manager jobs. Fill it with action words. Need some? See our guide: +80 Examples of Resume Action Words for Every Profession
4
Highlight Your Education Section on Your Operations Manager Resume
Your education section needs to show at least a bachelor's degree.
But it can do so much more.
If you only list your degree and GPA, it's like building a task force, then just using it to improve your golf grip. Instead, make your education section work like a Swiss Watch.
Start with:
College Name and Location.
Years in School.
Degree.
Then add achievements that plug into the job description.
These two logistics manager resume examples show the basics.
Resume for an Operations Manager Examples [Education]
Here are two warehouse operations management resume examples.
right
Bachelor of Science in Business Administration
Arizona State University, 1995 - 1999
Excelled in warehouse operations management coursework.
Captain, rowing team, two years.
Recipient, Pitchfork Award for organizational leadership excellence.
That's not an operations management job applicant. It's Jack Welch in disguise. It fits the job offer like a Rolex.
It shows a special kind of leader who is dedicated to the job at hand.
But what about the next of our operations manager resume examples?
wrong
Bachelor of Science in Business Administration
Arizona State University, 1995 - 1999
Graduated with a B.S. in Business Administration.
GPA 3.2
That's as empty as a vacant boardroom. It shows you graduated college, but nothing more.
But add achievements, and you're back in the winner's circle.
Pro Tip: Writing a retail operations manager resume? Highlight any retail operations classes or projects you did in school. Even general leadership experience works great.
Want to make your vp of operations resume crackle like a bull market? See our guide: How to Put Your Education on a Resume [Tips & Examples]
5
Put Operations Manager Skills on Your Resume
Let's look in on the board again. They've got two piles of operations manager job resumes. They're labeled, Second Look, and Trash. The ones in the Second Look pile all have one thing in common.
They prove their claims.
Operations Manager Skills
It's easy to create a laundry list of operations manager skills:
wrong
Operations Management Skills: Leadership, communication, collaboration, Lean thinking, budgeting, performance tracking, supply chain management, ERM, CRM, PLM, Strategy Development, Policy Deployment, Kitchen Sink Management...
That's kind of like saying "I know how to be a good operation manager." Sounds nice, but how exactly are you great?
To do it right:
First list skills shown in the operations manager job description. You may have a thousand. The job description tells you which ones matter most.
Next, show you've used them. Check out the next of our operations management resume samples below.
The board lists these skills in the job description:
Lean thinking, supply chain management, inventory reduction.
So, add those, plus a few more:
Inventory reduction, cost cutting, collaboration, revenue generation.
Then prove them with bullet points like this:
right
Cut 15% from annual budget through Lean programs without sacrificing quality.
Worked with suppliers to shift to Just-In-Time delivery,

slashing inventory 20%

.
Collaborated with sales and marketing teams to grow revenue 30%.
You just went from good to great. It's so much more than just an operations manager resume skills list.
To get started, use the skills below.
List of Skills to Put on an Operations Manager Resume
Let's launch your job search.
Pick from these business operations resume keywords and skills.
Then get more from other operations manager job descriptions online.
Operations Manager Resume Skills
Operations Manager Resume Skills

| | |
| --- | --- |
| Soft Skills | Hard Skills |
| | Budgeting |
| Communication | Lean Thinking |
| Interpersonal Skills | Performance Tracking |
| Listening | Delegation |
| Problem Solving | Financial Management |
| Collaboration | Supply Chain Management |
| | Enterprise Resource Planning |
| Decision Making | Customer Relationship Management |
| Psychology | Product Lifecycle Management |
| Detail Oriented | Strategy Development |
Follow the SOP above, and your resume for operations manager jobs will shine like it was written by Jamie Dimon.
Pro Tip: Skills for a warehouse operations manager resume will differ from bank, security, or IT operations manager resume skills. That's why a careful read of the job description is so important.
Need to restructure your operation resume skills list? See our guide: +30 Best Examples of What Skills to Put on a Resume (Proven Tips)
6
Add Other Sections for an Effective Manager of Operations Resume
"If you want something done, ask a busy person."
That's you.
You're passionate. Involved. Always pushing personal boundaries.
Convince the board with additional sections in your director level resume.
Do it right, and all the other resumes they see will fade to grey.
Let's look at two operations management resume examples.
Operations Manager Resume Examples [Other Sections]
The first of our operations manager resume sample "other" sections will get dehired.
wrong
I have an golf handicap of 8.
I drive a vintage Jaguar E-Type.
There's nothing wrong with golf, Jaguars, or sailing. But they don't make you a better operations manager.
For contrast, scan the next of our operations management resume examples.
right
Certificates
Six Sigma Black Belt Certification
CSCP - Certified Supply Chain Professional, APICS
Additional Activities
Member, Association for Operations Management (APICS).
Lead weekly cycling group. Increased membership 75%.
Publications
Article on supply chain management, "Better Operations" blog.
White paper on mistake proofing cited in Fortune Magazine.
Volunteer Work
Shelter Director, Dobson County Animal Shelter. Grew donations 50%.
Organize and manage two annual Red Cross blood drives.
Hole in one, right? Any of those achievements shows operations manager qualifications.
Obviously you don't have to list them all. But they give an idea of what a great "other" section looks like.
With a bit of elbow grease, anyone can have that kind of VP or plant manager resume.
Pro Tip: List conferences on a transportation or security operations manager resume. It works especially well if you participated on a panel.
Need some inspiration for a supply chain manager resume or distribution center manager resume? See this guide: +20 Best Examples of Hobbies & Interests To Put on a Resume (5 Tips)
7
Attach a Cover Letter to Your Operations Manager Resume
Let's eavesdrop on the board one more time. They're shucking cover letters off a stack of resumes.
Will they even read your operations manager cover letter?
Not if it's boring.
Don't say: Here's my operations manager resume. (They know that.)
Do say: Here's how I can help you meet your goals.
Check out this operations management cover letter sample:
Dear Robin,
I've been a fan of Dobson Ralco's commitment to putting the employees in charge for years. I was in attendance when your team won the 2014 Shingo Prize. As a longtime student of Lean thinking and a Six Sigma Black Belt, I think I'm in line with your philosophy. Some of my achievements include...
That works because it's personal, passionate, and offers proof.
First, it drops the hiring team lead's name.
Next, it shows passion for this specific job offer.
Last, it gives measured proof of how you'll help.
Close it with a call to action. "Can we set up a time to discuss ideas for raising revenue by 25%?" works great.
Pro Tip: Follow up on your resume and cover letter while they're fresh. Don't wait more than a week for your first nudge.
Plus, a great cover letter that matches your resume will give you an advantage over other candidates. You can write it in our cover letter builder here. Here's what it may look like: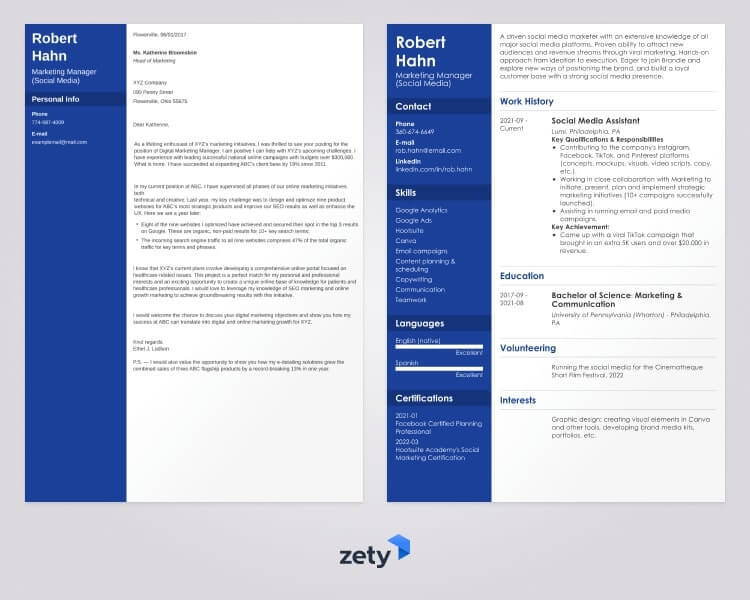 See more cover letter templates and start writing.
Want a use case for your operations manager cover letter? Check out our guide: How To Write A Cover Letter [Complete Guide With Examples]
8
Add Contact Info to Your Resume
Did you make a big mistake?
Most do when adding contact info.
Lead with the basics:
Full Name
Updated Phone Number
Professional Email Address
Like this:
Shaun Parvelu, Operations Manager, shaunparvelu@gmail.com, 773-457-1564
But add your LinkedIn address too. Fully 87% of recruiters hire from LinkedIn.
If you leave your profile off your resume, you're passing up a big chance to impress.
Pro Tip: Want to make sure your LinkedIn profile follows best practices? Snap it into line with our guide to LinkedIn excellence here.
Want more tips to make the best operations manager you can? See this article: "6 Proven Tips on How to Tailor Your Resume to the Job Description"
Key Takeaway
This guide shows you how to make an operations manager resume that soars. Follow these key tips to do it right:
Read the job description carefully. Stuff your operations manager resume with measurable wins that match it like a custom Hickey-Freeman.
Show Jeff-Bezos-level competence on a resume for operations jobs. To do that, add dedicated "other" sections that share your indispensability.
Write your operations management resume summary last. Build it from the best bits from your resume to make it shimmer.
Do you have questions on how to write a great resume for an operations manager? Not sure how to describe your skills or achievements? Give us a shout in the comments! We love to help!
About Zety's Editorial Process
This article has been reviewed by our editorial team to make sure it follows Zety's editorial guidelines. We're committed to sharing our expertise and giving you trustworthy career advice tailored to your needs. High-quality content is what brings over 40 million readers to our site every year. But we don't stop there. Our team conducts original research to understand the job market better, and we pride ourselves on being quoted by top universities and prime media outlets from around the world.