Facility Manager Resume Examples, Skills & Guide (2023)
Don't let a subpar facility manager resume hold you back from your dream job. Instead, secure your interview now. Best way to do it? Write a successful facilities manager resume.
You're one of those superheroes of a workplace—a facilities manager without whom the entire office would be in chaos. But before you can curate the daily workings of a company, you'll need to create the perfect facility manager resume that showcases your proven expertise.
If the thought seems daunting, don't worry! You're covered with step-by-step guidance on crafting a facilities manager resume that'll leave hiring managers in awe.
This guide will show you:
A facility manager resume example better than 9 out of 10 other resumes.
How to write a facilities manager resume that will land you more interviews.
Tips and examples of how to put skills and achievements on a facilities manager resume.
How to describe your experience on a resume for facilities manager to get any job you want.
Want to save time and have your resume ready in 5 minutes? Try our resume builder. It's fast and easy to use. Plus, you'll get ready-made content to add with one click. See 20+ resume templates and create your resume here.
Sample resume made with our builder—See more resume examples here.
Looking for a different job? Check these guides:
Couldn't find what you wanted? Check our list of 500+ professional resume examples.
Facilities Manager Resume Sample
Randall Wilcher
Facilities Manager
509-742-1451
randalljwilcher@rhyta.com
linkedin.com/in/randalljwilcher
Summary
Experienced facility manager with over 5 years of experience overseeing building operations, improving facility management processes, and driving operational efficiency. Successfully led a facility upgrade project resulting in a 20% increase in energy efficiency and reduced costs. Excited to bring expertise and knowledge to the team at UrbanDepot to enhance facility operations and ensure optimal business performance.
Work Experience
Facilities Manager
Lorecrate, New York, NY
January 2019–Present
Key Qualifications & Responsibilities
Managed facility maintenance schedules, provided technical expertise, and ensured compliance with safety regulations, resulting in a 10% reduction in facility-related incidents.
Developed and implemented an energy management program resulting in a 15% reduction in utility costs and a lowering of carbon emissions by over 25%.
Negotiated favorable contracts with vendors, resulting in a cost savings of over 20% on supplies and services.
Coordinated facility expansion project, which included the installation of new machinery and equipment, and a 15,000 sq. ft. addition, resulting in increased production capacity by 30%.
Key Achievement
Led the implementation of a Computerized Maintenance Management System (CMMS), which reduced downtime by 25% and improved maintenance productivity by over 40%.
Facilities Supervisor
Accentclamp, Los Angeles, CA
July 2016–December 2018
Key Qualifications & Responsibilities
Managed facility operations to ensure the smooth functioning of the building and machinery, resulting in a 15% increase in production.
Coordinated with contractors and vendors to secure necessary supplies and equipment, resulting in an over 25% reduction in maintenance costs.
Led a project for the installation of energy-efficient lighting systems and control systems that reduced energy consumption by over 20%.
Resolved critical mechanical and electrical issues, implemented best-practices safety procedures, and improved the efficiency of machinery by over 40%.
Key Achievement
Developed and led an effective safety program, which enhanced safety standards and reduced safety incidents by over 30%.
Education
Bachelor of Science in Facility Management
San Francisco State University, San Francisco, CA
September 2011–June 2015
Skills
Health and Safety Management
Facility Maintenance and Repairs
Energy Management and Sustainability
Project Management
Budget Management
Environmental Policy Management
Customer Service
Vendor Management
Technical Expertise
Leadership and Team Management
Creative Thinking
Certificates & Licenses
Facilities Management Professional (FMP), 2018
Certified Facility Manager (CFM), 2018
Certified Sustainable Building Advisor (CSBA), 2017
Languages
English—Native
Spanish—Advanced
French—Advanced
Now, let's teach you how to write a facilities manager resume just like that:
1. Pick the Best Facilities Manager Resume Format
As a facility manager, you ensure all facility operations run efficiently and safely. This includes inspecting and maintaining the building, coordinating repairs and maintenance, monitoring energy usage, and managing safety protocols.
But before you can show off your skills and experience, you need to ensure your resume is noticeable. The key to a great facilities manager resume is a clear structure that's easy for hiring managers to follow.
Here's how to format your resume in a way that's sure to impress:
These tips will help you to create a resume that is well organized, easy to read, and highlights the skills and experience that make you an ideal candidate for the job.
2. Craft a Facilities Manager Resume Summary or Objective
You understand the critical role you play in ensuring that everything from the electrical systems to the HVAC units is functioning smoothly. So make your resume work like a well-oiled machine, too. To do that, you'll need to prepare a professional statement that summarizes your claim for the position.
If you're a seasoned professional, showcase your experience in the field and any measurable achievements you've accomplished. This could include anything from reducing energy costs to improving building maintenance processes. Use the keywords from the job listing to craft a brief and impactful paragraph highlighting why you're the perfect candidate for the position.
On the other hand, if you're crafting an entry-level resume, a persuasive objective statement is essential. Focus on your transferable skills and qualifications that make you stand out. Explain your motivation to join the team and show why you'd be an asset to the organization.
In short, your facility management resume summary or objective should quickly and effectively convey your experience, achievements, and enthusiasm for the position.
3. Customize the Job Description on Your Facility Manager Resume
When it comes to creating a standout resume, one of the key sections to focus on is the work experience section. It's your chance to highlight your relevant experience that aligns with the position's requirements and to demonstrate why you're the perfect candidate for the job.
To make sure your facilities manager resume's job description section is effective, it's important to:
Thoroughly analyze the job description for the facilities manager position you're applying for. Take note of the specific skills, experience, and qualities the employer seeks, and tailor your resume to the job description accordingly.
Articulate your employment history in reverse chronological order, starting with your most recent position. Include your job title, the company's name, and the period worked.
Use bullet points to describe your quantifiable achievements and successes in each role, focusing on the results you achieved and the value you added. Also, be sure to use active verbs to make your accomplishments even more impactful.
Crafting a job description that accurately describes your experience, qualifications, and skills in a way that resonates with potential employers is essential.
4. Tune Up Your Education Section on Your Facility Manager Resume
As you work on crafting the perfect facilities manager resume, the education section may seem like an afterthought. After all, isn't it your job experience that really counts? Not for the facility manager.
While job experience is certainly important, the education section of your facilities manager resume can actually be a major asset, particularly if you have less than five years of experience under your belt.
Here are some tips to help you make the most of your education section:
When making a resume in our builder, drag & drop bullet points, skills, and auto-fill the boring stuff. Spell check? Check. Start building a professional resume template here for free.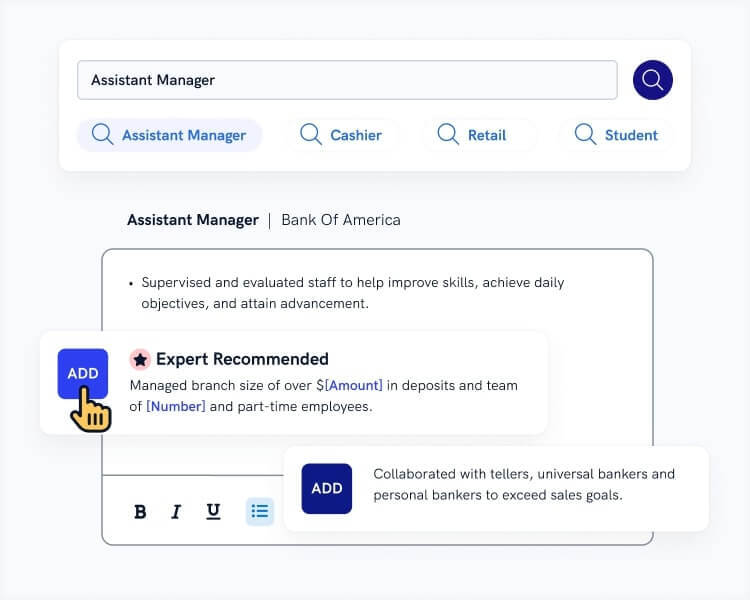 When you're done, our online resume builder will score your resume and our resume checker will tell you exactly how to make it better.
5. Show Skills On Your Resume for a Facility Manager
The skills section is a crucial element when crafting an effective resume for a facilities manager. It can be challenging to determine which skills to highlight when there are numerous skills you could potentially list. The key is presenting the most relevant skills for your desired job.
Here are some tips to help you create a skills portfolio the right way:
First, create a master list of all the skills you possess, regardless of whether they are hard skills (they are technical skills related to your profession) or soft skills (such as communication or leadership abilities).
Next, cross-reference your list with the job posting to identify the most valuable skills to employers. This will help you narrow down your focus and ensure that you are highlighting those that are most likely to get you the job.
Regarding the actual skills section on your facilities manager resume, aim to include 7-10 of the skills that make the best matches. These should include both hard and soft skills.
Here's a sample list of facilities manager skills that could be included in your skills section:
Facility Manager Resume Skills
Knowledge of building codes and regulations
Strong leadership abilities
Effective project management skills
Strong problem-solving abilities
Familiarity with facilities management software
Budget management and financial planning skills
Ability to manage contracts and vendor relationships
Proficiency in basic computer software programs, such as Microsoft Office
Strong understanding of safety protocols and procedures
Facility maintenance and repair knowledge
Environmental sustainability knowledge and experience
Strong organizational skills
Strategic planning abilities and goal setting
Experience and training in risk management and emergency preparedness
6. Add Extra Sections to Your Facility Manager Resume
To create an unforgettable facilities manager resume, you need to do more than just list your professional skills and experience.
Consider incorporating additional information to help you provide a complete representation of yourself as a candidate and make sure potential employers have a comprehensive understanding of who you are and why you're the perfect fit for the role.
Here are some extra resume sections to consider adding to your facilities manager resume:
Certifications and licenses: Include any relevant certificates or licenses you've earned, demonstrating your dedication to continual learning and staying current in your field.
Professional memberships: Highlight any memberships you have in professional organizations related to facilities management (like IFMA), showcasing your dedication to the industry and willingness to network with peers in the field.
Awards and achievements: Highlight any notable accolades you've received throughout your career. This could include recognition for outstanding performance, contributions to the industry, or leadership achievements.
Volunteer work: Including volunteer work on your facilities manager resume can demonstrate your community involvement.
Craft a complete representation of yourself to increase your chances of scoring the perfect job.
7. Attach a Cover Letter to Your Facility Manager Resume
Don't underestimate the power of a well-written cover letter when creating your facilities manager resume. Putting together a thoughtful and engaging letter gives potential employers insight into your enthusiasm for the job and aligns your experience with their objectives.
Follow these easy steps and give yourself the best chance at success:
Begin your cover letter with an attention-grabbing introduction that outlines why you're the ideal candidate for the role.
Outline how your experience, skills, and abilities make you suitable for this position and demonstrate a passion for facilities management.
Conclude your cover letter by inviting the hiring manager to contact you for an interview and use a professional sign-off.
Keep it concise; aim to fit all important information within three to six paragraphs.
Format your cover letter using a legible font and proper headings with contact information.
By incorporating these tips when writing a cover letter with your facilities manager resume, you can show employers that you're invested in their organization—giving yourself a decisive advantage!
Plus, a great cover letter that matches your resume will give you an advantage over other candidates. You can write it in our cover letter builder here. Here's what it may look like: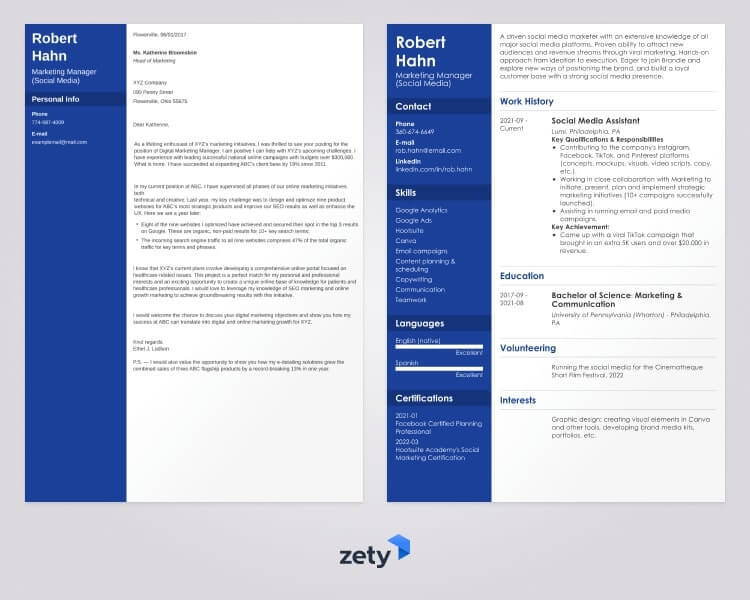 See more cover letter templates and start writing.
That's it! This comprehensive guide covers everything you need to create an outstanding facilities manager resume.
Thanks for reading. If you have any questions about writing a facilities manager resume, feel free to ping us in the comments section.
About Zety's Editorial Process
This article has been reviewed by our editorial team to make sure it follows Zety's editorial guidelines. We're committed to sharing our expertise and giving you trustworthy career advice tailored to your needs. High-quality content is what brings over 40 million readers to our site every year. But we don't stop there. Our team conducts original research to understand the job market better, and we pride ourselves on being quoted by top universities and prime media outlets from around the world.