Warehouse Manager Resume Sample [+Job Description]
You rule the stock that turns the WIP to money. Show employers you run an efficient, money-saving pick-and-packing ship with this expedited sample warehouse manager resume.
Just like your warehouse, a sheet of paper is a limited space. You wouldn't try to put more inventory than the warehouse shelves can hold, right? You also shouldn't put more info on your warehouse manager resume than the paper can take.
We know the ins and outs of organizing resumes. And we're about to deliver that knowledge straight to you.
This guide will show you:
A warehouse manager resume example better than 9 out of 10 other resumes.
How to write a warehouse manager resume that will land you more interviews.
Tips and examples of how to put skills and achievements on a warehouse manager resume.
How to describe your experience on a resume for a warehouse manager to get any job you want
Want to save time and have your resume ready in 5 minutes? Try our resume builder. It's fast and easy to use. Plus, you'll get ready-made content to add with one click. See 20+ resume templates and create your resume here.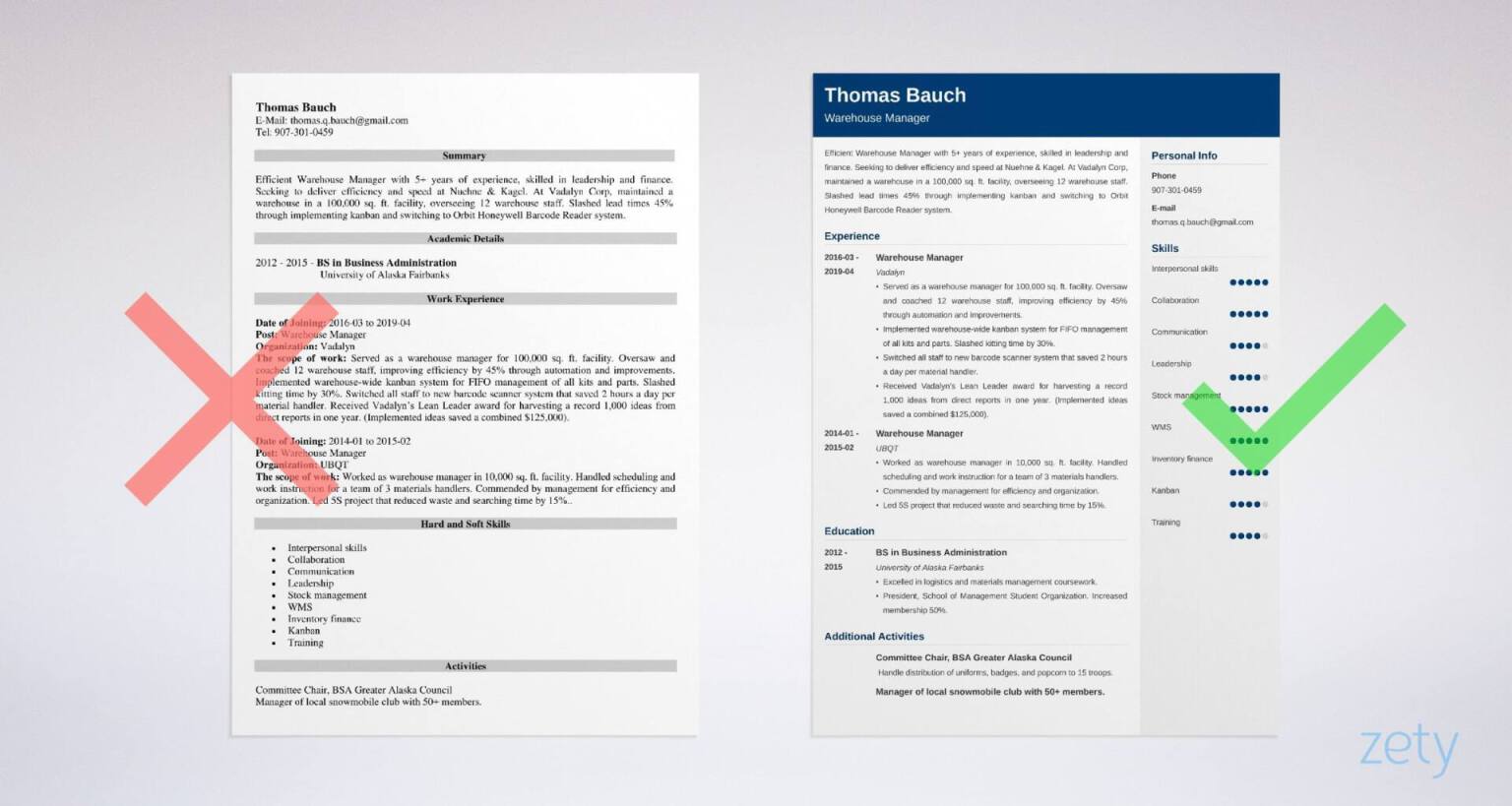 Sample resume made with our builder—See more resume examples here.
Are you more of a warehouse employee or maybe something else? See our guides:
Warehouse Manager Resume Sample & Template
Thomas Bauch, Warehouse Manager
thomas.q.bauch@gmail.com
907-301-0459
Professional Summary
Efficient Warehouse Manager with 5+ years of experience, skilled in leadership and finance. Seeking to deliver efficiency and speed at Nuehne & Kagel. At Vadalyn Corp, maintained a warehouse in a 100,000 sq. ft. facility, overseeing 12 warehouse staff. Slashed lead times 45% through implementing kanban and switching to Orbit Honeywell Barcode Reader system.
Work Experience
Warehouse Manager
Vadalyn
March 2015–April 2019
Served as a warehouse manager for 100,000 sq. ft. facility. Oversaw and coached 12 warehouse staff, improving efficiency by 45% through automation and improvements.
Implemented warehouse-wide kanban system for FIFO management of all kits and parts. Slashed kitting time by 30%.
Switched all staff to new barcode scanner system that saved 2 hours a day per material handler.
Received Vadalyn's Lean Leader award for harvesting a record 1,000 ideas from direct reports in one year. (Implemented ideas saved a combined $125,000).
Warehouse Manager
UBQT
Jan 2014–Feb 2015
Worked as warehouse manager in 10,000 sq. ft. facility. Handled scheduling and work instruction for a team of 3 materials handlers.
Commended by management for efficiency and organization.
Led 5S project that reduced waste and searching time by 15%.
Education
2011–2015 University of Alaska Fairbanks
BS in Business Administration
Excelled in logistics and materials management coursework.
President, School of Management Student Organization. Increased membership 50%.
Skills
Soft skills:

Interpersonal skills, collaboration, communication, leadership

Hard skills:

Stock management, WMS, inventory finance, kanban, training
Activities
Committee Chair, BSA Greater Alaska Council. Handle distribution of uniforms, badges, and popcorn to 15 troops.
Manager of local snowmobile club with 50+ members.
Here's how to write a warehouse manager resume that gets jobs:
1. Format Your Warehouse Manager Resume for Success
You wouldn't walk into an interview with your shirt untucked and mustard on your pants.
So don't use a sloppy warehouse manager resume format either.
To look presentable:
Pro Tip: How many pages should a resume be for warehouse manager jobs? The challenge is to show your best moments in a single sheet. The hiring manager's time is limited.
2. Write a Warehouse Manager Resume Objective or Resume Summary
How can you get more calls?
You need to show them fast your warehouse manager resume is worth reading.
So—
Put your best merchandise up front.
Do that with a well-written resume profile.
What's that?
If you've been at this for at least 2 years, write a professional summary. That's a short paragraph with a snapshot of your career.
In an entry-level resume for warehouse managers, write an objective for your resume instead. That's where you talk up your skills.
In either, show key professional achievements that prove your warehouse skills.
Pro Tip: If you're new, list transferable skills. Show things you did in non-warehouse manager jobs that prove you'll get the job done. I'm talking about soft skills like teamwork or leadership.
3. Write a Warehouse Lead Job Description for Your Resume
Answer this:
Would you rather hire a warehouse manager, or a highly competent warehouse manager?
You need to show you're candidate #2.
Here's how to write your resume work experience section:
Under each job, show the company, title, and dates you worked.
Include a few bullet points with duties and accomplishments.
Tailor your resume to the job with achievements that show you've got the exact warehouse skills they need. Example: "Used WMS to save 30% on costs."
See that 30%? That's a metric. Add them to show how big your warehouse leadership achievements are.
Want to keep them reading? Use strong resume words so employers don't lose focus.
Pro Tip: Wondering how to show warehouse manager experience on a resume? It's easy. See what skills the new job wants. Then show warehouse achievements that prove them.
4. Kit Your Warehouse Manager Resume Education Section
You can use your warehouse manager resume education section like a forklift.
Use it to load yourself into the job.
How?
It comes down to how to list education on a resume.
Use the resume shelf space to prove more hard and soft skills.
To do it:
First list school name, degree, and years.
Add bullets with favorite classes, projects, clubs, sports, or compliments from teachers.
The more recent your education, the more bullet points you should list.
Pro Tip: Does the employer really value leadership skills? Show a club, sports team, or other group you led to great effect.
5.Prove Warehouse Manager Skills in Your Resume
Use this warehouse manager resume skills list:
Warehouse Manager Resume Skills
Hard Skills:
Stock management
Math
Finance
Kanban
People management
Warehouse Management Software (WMS)
FIFO
Lean inventory management
Barcode scanners
Training
Safety
5S
Picking/packing
Kitting
Soft Skills:
Leadership
Delegation
Collaboration
Detail-oriented
Efficient
Work ethic
Warning—
Never list all those resume skills.
Focus on the ones you know this warehouse job wants. (They're in the warehouse manager job description.)
Pro Tip: Is there a skill they didn't list in the job ad, but you know they'll need it? All warehouse managers need budgeting skills. Go ahead and toss in central skills like that.
When making a resume in our builder, drag & drop bullet points, skills, and auto-fill the boring stuff. Spell check? Check. Start building a professional resume template here for free.
When you're done, our free resume builder will score your resume and our resume checker will tell you exactly how to make it better.
6. Add Other Sections to Your Warehouse Manager Resume
Your warehouse manager resume must stand out.
If you stop at experience and education, you won't make it.
So—
Add "other" sections like:
Associations
Activities
Conferences (especially if you spoke at them)
Awards or scholarships you got
Commendations from employers
Continuing education
Sports
Pro Tip: Even "other" sections in a warehouse management resume should prove key skills. Volunteering is nice, but volunteering in distribution fits your career.
Plus, a great cover letter that matches your resume will give you an advantage over other candidates. You can write it in our cover letter builder here. Here's what it may look like: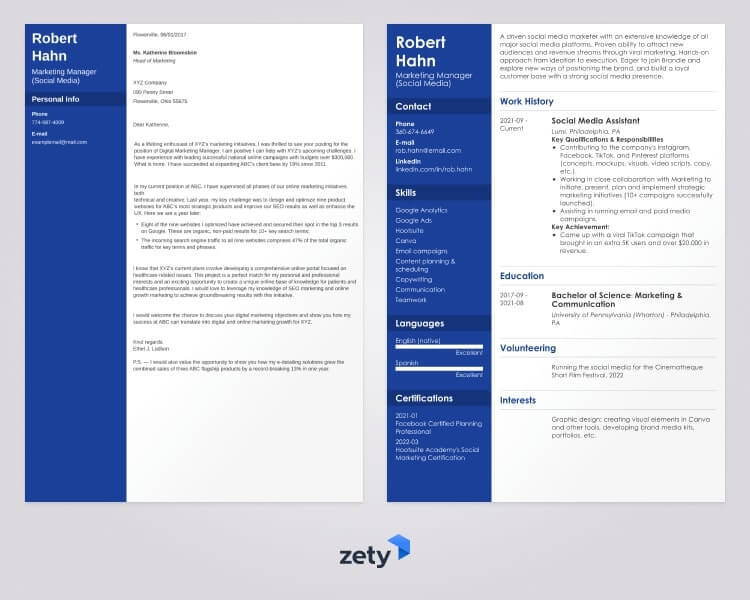 See more cover letter templates and start writing.
7. Send a Cover Letter With Your Warehouse Manager Resume
Is a cover letter necessary for a warehouse manager resume?
100%.
Why?
Because more than half of hiring managers require them.
Here's how to format a cover letter:
Write a cover letter introduction that makes them stop daydreaming about packing peanuts.
Show why you care so much about the job and company.
Tie your past career into their needs. (That means talking up your best warehouse manager achievements.)
Write a cover letter ending that makes them want to call you. (Offer to share more info about how you can help.)
Make your cover letter length about half a page.
Pro Tip: Don't forget—a follow-up email on your application can save your life. Send one in three days and one week to keep your warehouse manager resume top-of-mind.
That's it!
That's how to write a resume for warehouse manager positions.
Still got issues with how to write a warehouse manager resume? Got some great pointers yourself? Give us a shout in the comments. We'd love to talk!
About Zety's Editorial Process
This article has been reviewed by our editorial team to make sure it follows Zety's editorial guidelines. We're committed to sharing our expertise and giving you trustworthy career advice tailored to your needs. High-quality content is what brings over 40 million readers to our site every year. But we don't stop there. Our team conducts original research to understand the job market better, and we pride ourselves on being quoted by top universities and prime media outlets from around the world.