A logistics manager sits at their desk with a pile of resumes to their right. Yes, you've got competition—dozens of applicants want this supply chain position. It's like having an entire cargo manifest full of choices for the employer. Want to become their logistics coordinator?
Supply them with a damn-special, non-perishable logistics resume.
This logistics resume guide will show you:
An inventory control resume example better than 9 out of 10 other resumes.
How to write a logistic specialist resume that will land you more interviews.
Tips and examples of how to put skills on a logistics professional resume.
How to describe experience on a resume for logistics and supply chain management.
Want to save time and have your resume ready in 5 minutes? Try our resume builder. It's fast and easy to use. Plus, you'll get ready-made content to add with one click. See 20+ resume templates and create your resume here.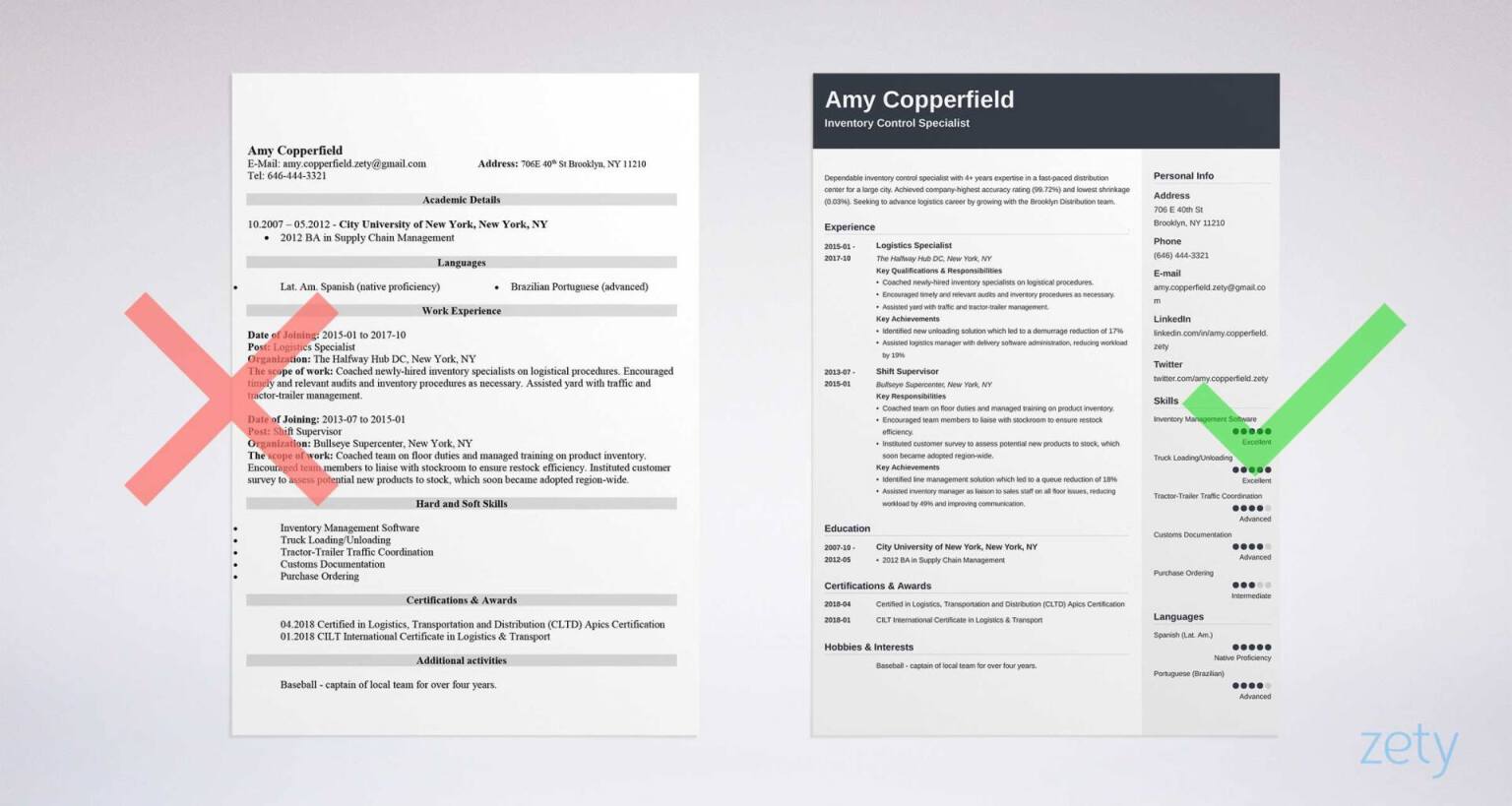 Sample resume made with our builder—See more resume examples here.
Also, check out our guides for related positions:
Haven't found what you need? Check our collection of over 500 resume examples for all types of jobs.
1
What's the Best Format for a Logistics Resume?
Logistics means tons of paperwork.
What distinguishes one document from the other is its structure—
Some are eye-friendly, others make you want to swear.
It's the same here on your logistics resume—you've got to plan how this paperwork will be structured.
(Otherwise there might be a lot of swearing.)
The resume format is that framework.
Use the reverse-chronological format, because it's a crowd pleaser. Employers, HR managers, recruiters, and ATS software alike can all easily understand this resume layout.
Going reverse-chron means simply adding your most recent entry first, and going backwards in time from there. Go this way about all sections of your resume.
Pro Tip: Most of the time, your supply chain manager resume will have the logistics experience section at the top, just under your resume intro statement. If you don't have experience relevant to logistics, boost the education section to the top.
Not sure about using the reverse-chronological format for your supply chain specialist resume?See our guide: How to Choose the Best Resume Format.


2
Logistics Resume Summary or Resume Objective?
The logistics manager will only scan your resume in less than 10 seconds, intitially.
You know what that means?
Like a forklift reaching high into the racks to bring down a tricky pallet, you need to hook them just right.
That's where your heading statement comes into play, just below your contact info.
You have two options:
Logistics Resume Summary
If you have experience on logistics (e.g., in military logistic departments) or supply chain jobs, then use the resume summary.
In a summary statement, your inventory control and transport experience gets summarized to introduce you and highlight key past achievements.
Don't create some generic statement which can apply to any company.
Tailor it to this specific position, and use numbers and quantifiable achievements to prove you are as you say.
It should come out to a short paragraph 2-4 sentences in length.
Here are two example summaries on logistics manager resumes:
right
Dependable inventory control specialist with 4+ years expertise in a fast-paced distribution center for a large city. Achieved company-highest accuracy rating (99.72%) and lowest shrinkage (0.03%), and eager to continue those wins over at Brooklyn Distribution.
wrong
I've been a specialist of inventory control for several years now. I am familiar with logistics duties, including ordering, returns, and traffic management procedures.
This "Wrong" resume example doesn't prove how well you can carry logistics tasks out.
That "Right" resume sample serves this purpose well—it gives numbers of key accomplishments and is written specifically for this one job.
Logistics Resume Objective
If you lack experience related to logistics, inventory control, or the supply chain, create a resume objective statement.
Again, you still need to tailor it to the position and use numbers to prove your worth.
Here are two sample supply chain resume objectives:
right
Hard-working barista with 2+ years experience in high-volume café, including stockroom inventory and ordering comestibles, in addition to front-of-house duties. Seeking to transfer top inventory regional audit score (99.79%) to a position as a supply chain specialist at Brooklyn Distribution.
wrong
I am a barista who would love to work in logistics. Though I don't have logistical experience, I can make a mean cup of coffee, which would benefit anyone in the breakroom.
The difference?
Deftly highlighted inventory control experience and accomplishments.
And to think a barista role didn't seem to have anything to do with supply chain management, at first!
Pro Tip: The objective or summary statement goes at the top of your resume, but, if you're having trouble, hold off writing it until the end.
We are stocked up with more advice and examples of resume summaries and career objective statements. Check out our guides: Professional Resume Summary Examples that Work and Career Objective Examples for Resumes to Use.
When making a resume in our builder, drag & drop bullet points, skills, and auto-fill the boring stuff. Spell check? Check. Start building a professional resume template here for free.
When you're done, our professional resume builder will score your resume and our resume checker will tell you exactly how to make it better.
3
How to Describe Your Logistics Experience
"Damn. That was the best document I've ever laid eyes upon!"
That's the reaction you want from the employer after reading your resume.
How to achieve that?
Stimulate their curiosity:
Experienced Logistics Specialist Resume Example
If you had a job in logistics in the past, you've got a leg up when writing a resume. Still, include only the best logistics responsibilities that match the company's or department's interests.
Take a look at these supply chain specialist resume samples:
right
Logistics Specialist
January 2014—December 2017
The Halfway Hub DC, New York, NY
Key Qualifications & Responsibilities
Tutored newly-hired inventory specialists on logistical procedures.
Assisted truck yard with traffic and tractor-trailer management.
Encouraged timely and relevant audits and inventory procedures as necessary.
Key Achievements
Identified new unloading solution which led to a demurrage reduction of 17%
Assisted logistics manager with delivery software administration, reducing workload by 19%
wrong
Logistics Specialist
January 2014—December 2017
The Halfway Hub DC, New York, NY
Key Responsibilities
Coordinated trailer yard traffic.
Helped train new inventory control staff.
Handled logistics and financial matters.
Saying you're responsible is not good enough; you've got to show them how well you performed your responsibilities with numbers and key achievements.
Sample Resume With No Logistics Experience
Never worked near a loading bay before?
No problem.
Simply show them you're the priority shipment if you don't have a logistics background:
right
Shift Supervisor
January 2013-December 2015
Queens Café, Astoria, NY
Key Responsibilities
Encouraged team members to liaise with backroom to ensure restock efficiency.
Managed inventory through placing orders for products and accessories.
Accommodated vendors with stock queries and product launches.
Key Achievements
Identified alternative queuing solution which led to a wait reduction of 8%.
Collaborated with store manager on implementing new stock demand, increasing sales by 49%.
See what we did there?
Being a café shift supervisor seems worlds away from a job in logistics. But—
When you think about it, there are always transferable skills and duties to list.
Pro Tip: While you're writing your inventory management resume, keep the job description out and open in front of you. This way, you'll be able to use the listing to guide what you're putting down.
Need some more ideas on the right achievements to put on a logistics specialist resume? Check out this guide: How to Put Achievements on a Resume.
4
Is Your Education Section Lost in Transit? It Might Be
Like a cluttered backroom, the education section is a waste of space, right?
Think again.
The education section is vital for inventory planning positions.
If you are looking for a more senior position, most require degrees.
And, if you're going for an entry-level logistics position, the education section is even more important, as you don't have relevant work history.
So, how to add education to a logistics resume?
If you've completed a degree:
BA in Supply Chain Management
Pace University, New York, NY
But what if you are still completing your university degree?
If your degree is still in progress:
Majoring in Supply Chain Management
Manhattan College, New York, NY
Expected Graduation in 2021
And what if all you have is your high school diploma?
Style your high school like this:
Landmark High School, New York, NY
Graduated in 2008
If you've completed a higher degree, don't add your high school. However, if you're working toward your college degree, add your high school as a second entry below.
Pro Tip: We skipped the GPA. Why? Unless it's super close to a 4.0, it'll just degrade your resume rather than help it.
Would you like more ways on how you can make the best use of your supply chain management resume education area?Then check out: How to Put Education on a Resume.
5
How to Put Skills on a Logistic Specialist Resume
Listing key skills on your resume will get you the interview.
But, what skills are logistics managers looking for?
Soft and hard skills, that's for sure!
Hard skills are those you can quantify and measure (e.g., Backroom Management Suite 5000 software).
Soft skills are abilities you pick up throughout life (e.g., problem solving).
Here are some examples:
Logistical Skills for a Resume
Logistics Resume Skills

| | |
| --- | --- |
| Logistics Hard Skills | Logistics Soft Skills |
| Inventory Management Software | Attention to Detail |
| Truck Loading/Unloading | |
| Tractor-Trailer Traffic Coordination | Multitasking |
| Customs Documentation | Analytical Skills |
| Forklift Maintenance | Teamwork |
| Purchase Ordering | Problem Solving |
But wait a sec.
Rather than trying to think of which software this company uses and which skills they prioritize, look at the job description.
It's all in there.
Take a look at the sample of logistics specialist job description skills and requirements:
Continually optimize the processes around managing Import/Export order management including potential pricing bid design, review and reporting with Logistics Management [1]
Accountable for cost management and some rate negotiation in addition to securing the proper agreements and documentation necessary for department guidelines.
Forecast and control transportation spend with annual improvements each year [2]
Evaluate and develop plans to raise service metrics and lead regular carrier reviews
Participate and contribute in regular department meetings, goals, objectives, forecasting and budgeting process [3]
Interact with chosen TMS solutions partners on a regular basis
That's an actual logistics specialist job description.
Here are two professional resume samples of skills sections:
right
Exceptional understanding of Logistics Management application [1]
Ability to accurately predict transportation budget for upcoming quarters [2]
Terrific participation record and interdepartmental communication [3]
wrong
Inventory software
Supply chain skills
Loading and unloading
See that?
With the job ad at your side, you have everything you need to write the perfect supply chain skills section.
Pro Tip: If you're adding skills that aren't asked for in the job description, just make sure it's relevant to logistics and supply chain management.
Want more tips for writing the perfect resume skills list for logisticians? See our guide: 30+ Key Skills for a Professional Resume.
6
How to Add Other Sections for an Effective Logistics Resume
Once you've come this far, you have a decent resume.
But so do the other candidates.
Everyone has included the above sections.
To make a more solid and one-of-a-kind resume for logistics, add additional resume sections.
Here are some great options:
Volunteer Work—as long as it's relevant, volunteer work only benefits your resume. Helped to rebuild homes after the hurricane? There are a lot of logistics involved in constructing new houses. Also, if you have a resume without experience, now you have some!
Certifications—save talking about your Barista Guild Level 2 Certification for your next date. But here are certificates which add value to a logistics resume:
Certified in Logistics, Transportation and Distribution (CLTD) Apics Certification
CILT International Certificate in Logistics & Transport
Apics Certified Supply Chain Professional (CSCP)
Apics Certificate in Production and Inventory Management (CPIM)
SCPro from the Council of Supply Chain Management Professionals (CSCMP)
Hobbies & Interests—group activities like participating with the local baseball team to emphasize your teamwork and leadership skills—perfect for distribution centers and stockrooms.
Languages—knowing a second language will place your shipping resume at the top of the pile—especially if that language is used among the other workers.
There's more! Check out our handy post about what to include on a resume to make sure your logistic resume draft is as unique as you are.
7
How About a Logistics Cover Letter?
A cover letter is always necessary.
A resume without a supply chain cover letter is like a stockroom without inventory.
It's incomplete.
Writing a cover letter for logistics isn't hard at all:
As with your resume, write a cover letter specifically tailored to the position.
Use the HR manager's name and company name within to personalize it.
Make it about them (the company), not about what you want.
Pro Tip: A cover letter lets you add items that your resume for supply chain couldn't. For example, mention something about them that stands out to you. Not only will you catch their attention, but they'll know for sure you didn't send them a generic one.
Did you know that our resume builder will also help you write a professional logistics cover letter for any of the logistics job titles? See these articles: 35+ Best Cover Letter Tips and How to Write a Cover Letter in 8 Steps.
And, the truth is that 40% of hiring managers won't read a resume if there's no cover letter attached.
Plus, a great cover letter that matches your resume will give you an advantage over other candidates. You can write it in our cover letter builder here. Here's what it may look like: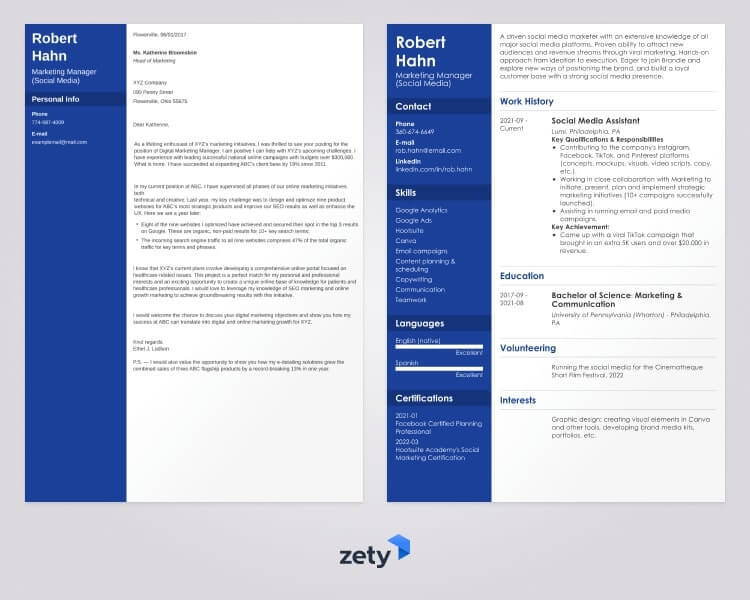 See more cover letter templates and start writing.
Key Takeaway
Remember these things when writing a logistics resume:
Have the job description out as you are writing your transport manager resume.
Use the reverse-chronological resume format so they're familiar.
Make your resume summary or objective enticing.
Don't just list your past duties; prove it to them with achievements.
Use the job ad to know the best supply chain skills to list on a resume.
Stand out from the rest of their resume inventory by using extra resume sections.
Don't forget to include a logistics cover letter!
Good luck at your logistics job interview!
Got any questions on how to write transportation resumes or supply chain manager resumes? Not sure how to list skills, education, or achievements as a military or medical logistic specialist? Let's chat below in the comments, and thanks for reading!
About Zety's Editorial Process
This article has been reviewed by our editorial team to make sure it follows Zety's editorial guidelines. We're committed to sharing our expertise and giving you trustworthy career advice tailored to your needs. High-quality content is what brings over 40 million readers to our site every year. But we don't stop there. Our team conducts original research to understand the job market better, and we pride ourselves on being quoted by top universities and prime media outlets from around the world.