Our customers have been hired by:
You're a master at listening, prioritizing, and making life-saving decisions. But that's not enough to get a job as a dispatcher. You also need a resume that clearly communicates your skills and background. Otherwise, your job application might never get a response—
And we don't want this to happen to you, so we've made a step-by-step guide to a job-winning dispatcher resume.
This guide will show you:
A dispatcher resume example better than 9 out of 10 other resumes.
How to write a dispatcher resume that will land you more interviews.
Tips and examples of how to put skills and achievements on a dispatcher resume.
How to describe your experience on a resume for a dispatcher to get any job you want.
Want to save time and have your resume ready in 5 minutes? Try our resume builder. It's fast and easy to use. Plus, you'll get ready-made content to add with one click. See 20+ resume templates and create your resume here.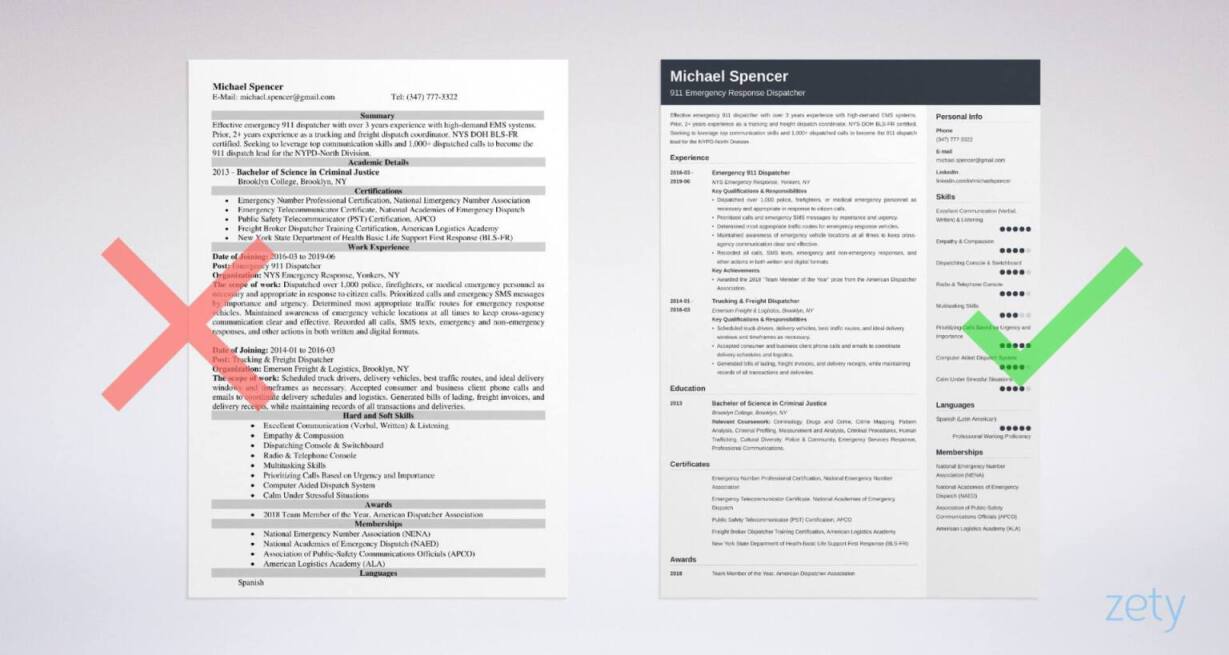 Sample resume made with our builder—See more resume samples here.
Check out other sample resume guides related to dispatcher jobs:
Dispatcher Resume Sample
Michael Spencer
911 Emergency Response Dispatcher
michael.spencer@gmail.com
(347) 777-3322
linkedin.com/in/michaelspencer
Summary of Qualifications
Effective emergency 911 dispatcher with over 3 years experience with high-demand EMS systems. Prior, 2+ years experience as a trucking and freight dispatch coordinator. NYS DOH BLS-FR certified. Seeking to leverage top communication skills and 1,000+ dispatched calls to become the 911 dispatch lead for the NYPD-North Division.
Work Experience
Emergency 911 Dispatcher
March 2016–June 2019
NYS Emergency Response, Yonkers, NY
Key Qualifications & Responsibilities
Dispatched over 1,000 police, firefighters, or medical emergency personnel as necessary and appropriate in response to citizen calls.
Prioritized calls and emergency SMS messages by importance and urgency.
Determined most appropriate traffic routes for emergency response vehicles.
Maintained awareness of emergency vehicle locations at all times to keep cross-agency communication clear and effective.
Recorded all calls, SMS texts, emergency and non-emergency responses, and other actions in both written and digital formats.
Key Achievements
Awarded the 2018 "Team Member of the Year" prize from the American Dispatcher Association.
Trucking & Freight Dispatcher
January 2014–March 2016
Emerson Freight & Logistics, Brooklyn, NY
Key Qualifications & Responsibilities
Scheduled truck drivers, delivery vehicles, best traffic routes, and ideal delivery windows and timeframes as necessary.
Accepted consumer and business client phone calls and emails to coordinate delivery schedules and logistics.
Generated bills of lading, freight invoices, and delivery receipts, while maintaining records of all transactions and deliveries.
Education
Bachelor of Science in Criminal Justice
Brooklyn College, Brooklyn, NY
Graduation: 2013
Relevant Coursework: Criminology, Drugs and Crime, Crime Mapping, Pattern Analysis, Criminal Profiling, Measurement and Analysis, Criminal Procedures, Human Trafficking, Cultural Diversity, Police & Community, Emergency Services Response, Professional Communications.
Key Skills
Excellent Communication (Verbal, Written) & Listening
Empathy & Compassion
Dispatching Console & Switchboard
Radio & Telephone Console
Multitasking Skills
Prioritizing Calls Based on Urgency and Importance
Computer Aided Dispatch System
Calm Under Stressful Situations
Certifications
Emergency Number Professional Certification, National Emergency Number Association
Emergency Telecommunicator Certificate, National Academies of Emergency Dispatch
Public Safety Telecommunicator (PST) Certification, APCO
Freight Broker Dispatcher Training Certification, American Logistics Academy
New York State Department of Health Basic Life Support First Response (BLS-FR)
Awards
2018 Team Member of the Year, American Dispatcher Association
Memberships
National Emergency Number Association (NENA)
National Academies of Emergency Dispatch (NAED)
Association of Public-Safety Communications Officials (APCO)
American Logistics Academy (ALA)
Languages
Spanish (Latin American): Professional Working Proficiency
Above was our take on the perfect dispatcher resume sample.
Now, let's make yours—
Here's how to write a dispatcher resume:
1. Choose the Best Format for Your Dispatcher Resume
Dispatchers are communications liaisons responsible for effectively organizing and communicating between a base of operations and road units. Your dispatcher resume should prove you are prevalent in emergency services, transportation companies (taxis), and freight and trucking operations.
Whether you're aim is to be a 911 dispatcher, security dispatcher, or service dispatcher, communication is key.
Same on a dispatch resume—
You need to communicate your eligibility by choosing the ideal resume format which keeps it all in an easy-to-read layout.
Here's how to format a dispatcher resume template effectively:
Pro Tip: Send your resume in PDF format unless they ask for one in Microsoft Word within the job ad. A PDF resume can be read on any computer or phone they want to open it on.
2. Write a Dispatcher Resume Objective or Summary
Sometimes called a professional profile, a resume objective or summary is your elevator pitch.
As a short opening paragraph, it gives employers an introduction to you, your background, skills, experience, and career goals.
However, like the flashing lights of an ambulance, it's got to grab their attention from the moment they lay eyes upon it.
A professional summary is ideal if you've plenty of dispatch experience. Using a numbered achievement to prove you're valuable, the summary statement "sums" your previous dispatch experience up for them in a neat little package.
A professional objective is the one to use when you have little or no experience. Instead of summing up your experience, the objective statement talks up your career goals. It still provides them with a quantifiable accomplishment, however.
Pro Tip: Write your dispatcher resume objective or summary statement last, even though it's the first thing they'll read. Using this method, you'll have a better idea of the juiciest morsels of information to sum up in the heading paragraph.
3. Create the Perfect Dispatcher Job Description for a Resume

Your security dispatcher or police dispatcher resume work experience section has got to deliver a one-two punch. It builds you up with relevant job duties and seals the deal with a key win.
So—
To create an awesome dispatcher job description resume section:
Place your current or last job first, followed by the one before that, all the way down.
Start with your position's job title, then add dates at the job, followed by the agency or company name.
List 5 or 6 bullet points giving them your job responsibilities and tasks.
Begin each bullet entry with an action word (e.g., dispatched, coordinated, etc.).
Give 1 or 2 measurable achievements to prove you know what you're doing.
Write a tailored resume, because employers hate those generic versions.
Pro Tip: Are you writing a no-experience resume for dispatcher jobs? Don't worry. Most dispatch jobs provide on-the-job training. However, still list the most dispatch-relevant job responsibilities to increase your chances of getting that interview call.
4. Make Your Dispatcher Resume Education Section Shine
You might not need more than a high school diploma for most dispatcher jobs.
However, it doesn't mean you can slack with the education on a resume.
So—
Here's how to win them over on a dispatch resume education section:
List your most advanced educational achievement first.
Include the degree or certificate earned, college name and location, and your date of graduation.
If relevant to your particular dispatch job, add coursework, academic awards, and a minor.
Include high school on your resume for dispatcher jobs only if you don't have a completed degree from a college or technical school.
Pro Tip: What's relevant coursework for dispatch jobs? Depends on the type. For emergency services, health and public service coursework is fitting. On the other hand, freight and truck dispatchers would benefit from adding any logistics and supply chain classes taken.
5. Highlight Your Dispatcher Skills Resume Section
According to the BLS, between 2016 and 2026 in the United States alone:
Police, fire, and ambulance dispatchers (public safety telecommunicators) are expected to increase by 8% (8,200 jobs).
All other dispatcher jobs, from trucking to taxis to airlines, will increase by almost 100,000 jobs, combined.
You've got truckfuls of competitors.
So—
Beat those other candidates by listing the best skills for dispatcher jobs on your resume:
Key Dispatcher Skills & Strengths for Dispatcher Resume
Empathy & Compassion
Dispatching Console & Switchboard
Freight Bills and Invoices
Radio & Telephone Console
Multitasking Skills
Prioritize Calls Based on Urgency and Importance
Shipping and Dispatch Documents
Computer Aided Dispatch System
Calm Under Stressful Situations
Logistics & Supply Chain
Arranging Deliveries & Pickups
Microsoft Office & Google Docs
Attention to Detail
Accountability
Department of Transportation Regulations (DOT regs)
Hold up a sec, though—
Above is a list of dispatcher resume example skills, but they're mixed (trucking dispatchers, emergency dispatchers, etc.) to give you an idea only.
Don't just copy that list into your 911 or AAA dispatcher resume.
Instead, here's what to do:
Pro Tip: Larger companies use software (an ATS—applicant tracking system) to manage the many resumes they receive. Stick as close to the job ad's wording as possible in order to score higher when the software parses your resume.
When making a resume in our builder, drag & drop bullet points, skills, and auto-fill the boring stuff. Spell check? Check. Start building a professional resume template here for free.
When you're done, our online resume builder will score your resume and our resume checker will tell you exactly how to make it better.
6. Add Other Sections to Your Dispatcher Resume
You now have a dispatcher resume, essentially.
However—
It's still pretty basic.
To make your resume unique from the other applicants, add some extra resume sections which fit the bill.
Here are a few great examples for a dispatcher resume:
Dispatcher organization memberships
7. Attach a Dispatcher Cover Letter to Your Resume

Should you write a cover letter?
Absolutely.
Most employers will overlook a resume which doesn't come with a covering letter.
With that said—
Here is how to write a cover letter for dispatcher jobs:
To make sure you maximize your application delivery, read up on our cover letter advice, how long a cover letter has to be, and what should be included in a cover letter.
Pro Tip: After a few days, send a follow-up email for a job application. During that time, don't forget to prepare for the job interview!
Plus, a great cover letter that matches your resume will give you an advantage over other candidates. You can write it in our cover letter builder here. Here's what it may look like: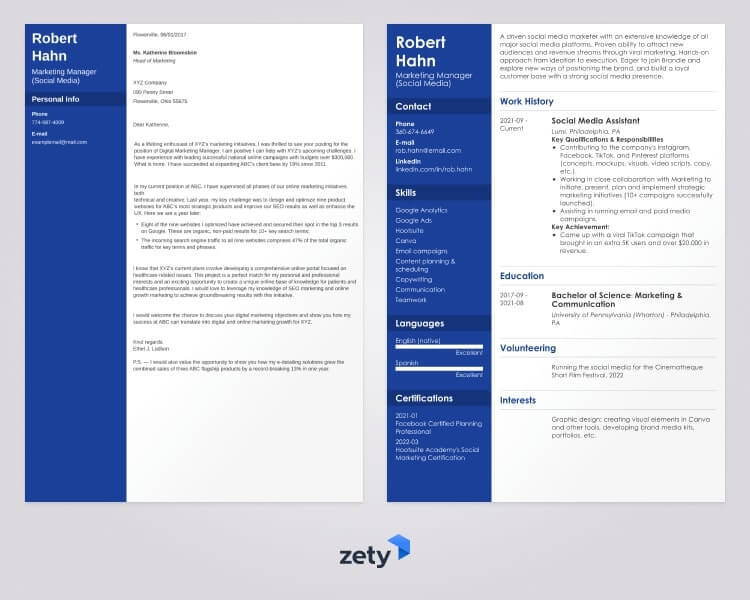 See more cover letter templates and start writing.
Got any questions on how to write a dispatcher resume? Not sure how to talk about telecommunicator skills, logistics certifications, or dispatch achievements? Get at us in the comments below, and thanks for reading!
About Zety's Editorial Process
This article has been reviewed by our editorial team to make sure it follows Zety's editorial guidelines. We're committed to sharing our expertise and giving you trustworthy career advice tailored to your needs. High-quality content is what brings over 40 million readers to our site every year. But we don't stop there. Our team conducts original research to understand the job market better, and we pride ourselves on being quoted by top universities and prime media outlets from around the world.
Sources