You've found the best firefighter resume example. That's good because—
Firefighters are a brotherhood.
They don't toss jobs to just anyone.
You don't have to be from Ladder 49 with thirty years on the line to land an opening.
But you've got to prove you're worthy. And you've got to do it with a single sheet of paper.
Don't panic. It's not a five-alarm assignment.
Show your skills and achievements right, and you'll stand out like Steve Buscemi in turnout gear.
This guide will show you:
A firefighter resume example better than 9 out of 10 others.
How to write a firefighter resume that gets more interviews.
Tips and examples of how to put skills and achievements on a resume for firefighters.
How to describe your experience on a resume for a firefighter to get any job you want.
Here's a sample resume for a firefighter made using our resume builder.
Want to save time and have your resume ready in 5 minutes? Try our resume builder. It's fast and easy to use. Plus, you'll get tips and right vs. wrong examples while writing your resume. See +20 resume templates and create your resume here.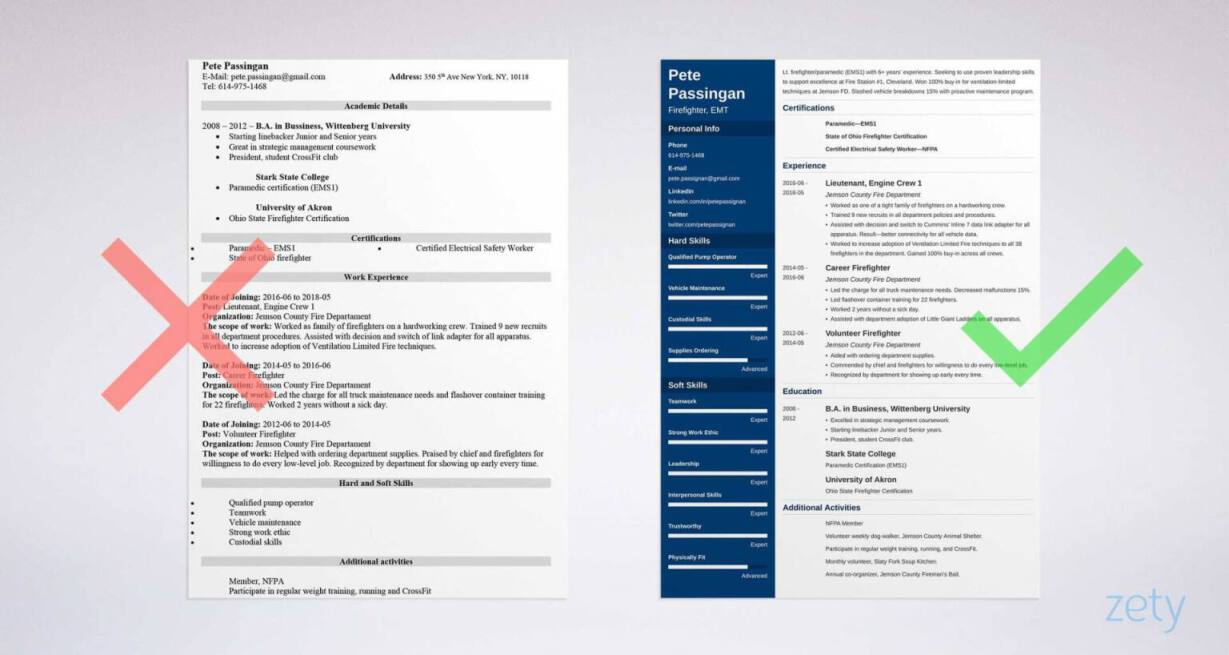 Firefighter Resume Examples - See more templates and create your resume here.
Still not committed to the life of ladders? Thinking about work as a police officer or security guard? See our other guides:
1
What's the Best Template for a Firefighter Resume?
In a job where one mistake can kill, firefighter resume format matters.
You fight fires, but your resume template has to start them—
Pick a trusted layout like the reverse-chronological resume template. It puts your best moments where the chief will see them.
Use white space, clear headings, and the best resume fonts to keep it visual.
Last, save your fire resume as a PDF. Firefighter resumes in word format can become structurally unsound once you send them.
Check the job offer to make sure PDFs aren't a code violation.
Pro Tip: Switching to firefighting from another career? Highlight transferable achievements. The combination resume format does that best.
Not sure about the reverse-chronological firefighter EMT resume format? Want to check out all the options before you're in the hot zone? See our guide: 3 Resume Formats: How to Choose the Best One
2
Firefighter Resume Objective or Resume Summary
"Oh, you're a firefighter? Is that like Backdraft?"
That's the dumbest thing a firefighter hears.
"Experienced, hardworking firefighter with broad-based skills developed through on-the-job training..."
That's the dumbest thing a fire chief reads in firefighter resumes.
The typical job opening generates 250 resumes. That means the chief will likely skim—not read—your resume.
Change that with a details-anchored firefighter resume objective or resume summary.
A resume objective shows passion. Use one if your experience is just a spark.
A resume summary shows experience. Write one if you were on the job when Steve McQueen was pretending to be.
The two senior firefighter resume examples below show the plan.
Firefighter Resume Examples [Resume Summaries]
Spot the hazard with the first of our senior firefighter resume samples:
wrong
Highly skilled firefighter with 6 years of experience. Handled all firefighter duties and responsibilities at Jemson County Fire Department. Proven skills in leadership and pump operation.
That's not exactly a smoke explosion but it won't kindle an interview inferno either.
So—do it like the next of our firefighter paramedic resume examples:
right
Lt. firefighter/paramedic (EMS1) with 6+ years' experience. Seeking to use proven leadership skills to support excellence at Fire Station #1, Cleveland. At Jemson County FD, won 100% buy-in from all team members for ventilation-limited techniques. Slashed vehicle breakdowns 15% through proactive maintenance program.
Nice. You're in the Red Adair zone. The measurable accomplishments make it glow.
But—
What if you're writing a firefighter resume with no experience?
See the next two entry-level firefighter resume examples.
Two Entry-Level Firefighter Resume Objectives
If your firefighter experience is sputtering, try a resume objective.
Back before the great Chicago fire, that meant showing passion. That's what this sample firefighter resume objective tries to do:
wrong
Tough firefighter, focused on helping people and saving lives. Have completed firefighter training. Skilled in pump operation. Have valid driver's license and am very excited to learn on the job.
Gosh, that chap has verve! Now let's hire someone with experience.
Here's the big secret: Even in a firefighter resume with no experience, you need experience.
Sound confusing? See the next of our firefighter resume examples:
right
Hard-working, team player firefighter and paramedic (EMS1). As volunteer at Jemson County FD, aided with ordering supplies. Cut supply costs 10% through better vendor relationships. Commended by chief 2x for stepping up for every low-level task.
See? No experience, but experience. The chief will drop his copy of 3000 Degrees when he reads it.
Don't have even that much experience?
You do, or you can get it fast. I'll show how next.
Eyes and ears open, mouth shut. There's too much to learn when you're a rookie. That's very important considering you may be fighting anywhere from 20 to 1,500 applicants!

Sean Fellers
FFIC, Vandalia Division of Frie, Ohio
Pro Tip: Write your firefighter EMT resume objective or resume summary last. With the rest of your resume in place, the spark of inspiration will come easy.
Our resume builder (you can create your resume here) will give you tips and examples on how to write your resume professional summary section. Or any section for that matter. You can copy the examples to your resume, customize, and save a lot of time.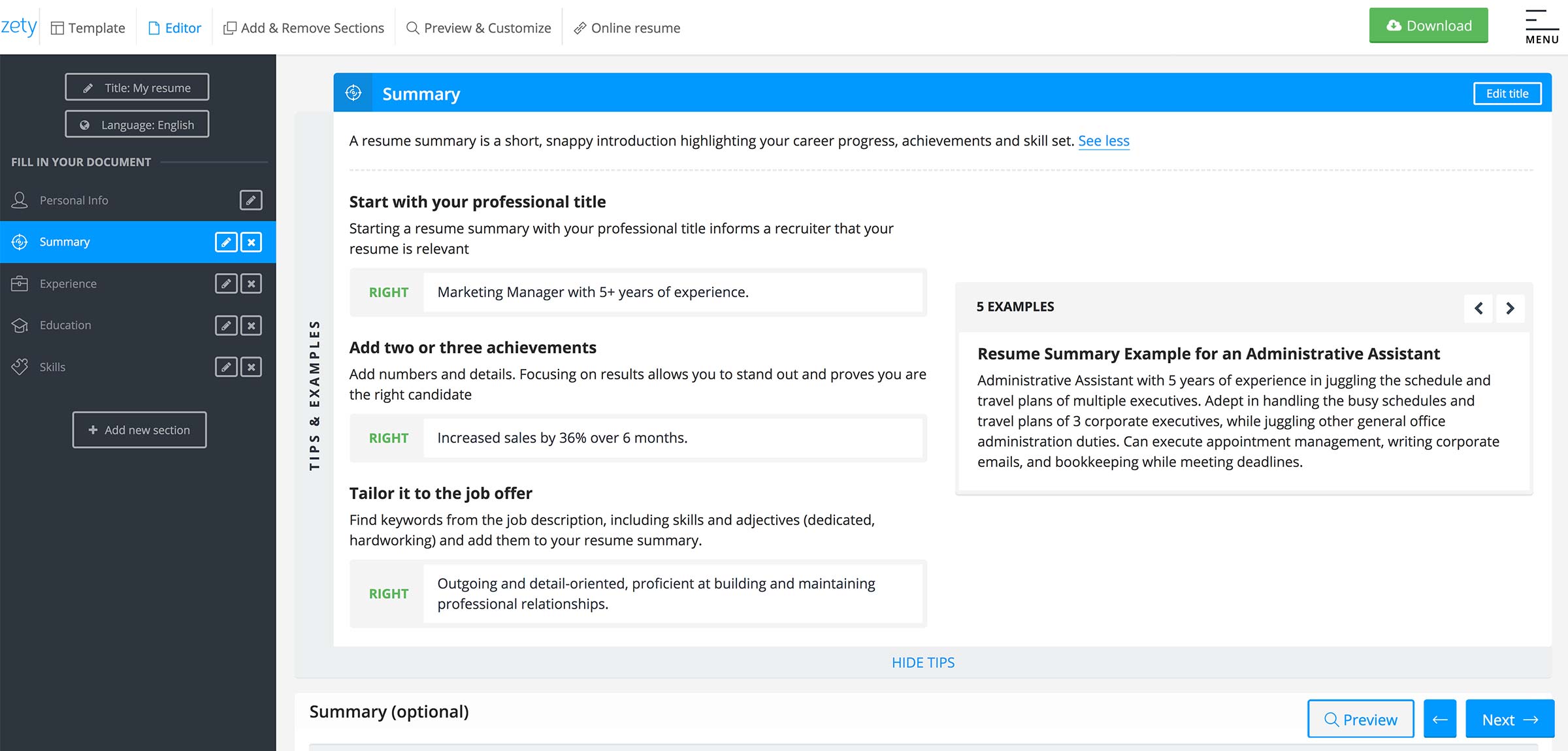 Inside our resume builder, you'll find expert tips and examples for your resume summary.
To get more interviews, stage your job search with the sample firefighter resume up top. Also, see our guides: How To Write A Resume Summary: 21 Best Examples You Will See AND +20 Resume Objective Examples - Use Them on Your Resume (Tips)
3
The Perfect Firefighter Job Description for a Resume
Meet the fire chief.
His name's Dave.
Nice Halligan bottle-opener keychain.
What does he look for most in firefighter resumes? An ivy league degree? Connections to the Kardashians?
Or does he want experience?
But you can't just say, "experienced firefighter" on a fire resume.
You've got to show accomplishments he cares about, and metrics that prove their size.
Do it with 3-5 resume bullet points per job. The professional fire lieutenant resume examples below light it up.
Firefighter Resume Examples [Experience]
Compare these two sample firefighter resume experience sections:
right
Lieutenant, Engine Crew 1
Jemson County Fire Department
2016–2018
Worked as one of a tight family of firefighters on a hard-working crew.
Trained 9 recruits in all department policies and procedures.
Assisted with decision and switch to Cummins' Inline 7 data link adapter for all apparatus. Result—better connectivity for all vehicle data.
Worked to increase adoption of Ventilation Limited Fire techniques to all 38 firefighters in the department. Gained 100% buy-in across all crews.
The chief would have to have a standpipe for a head to pass that up.
But lose the achievements, and you get the next of our fire service resume examples:
wrong
Firefighter
Jemson County Fire Department
2016–2018
Handled all firefighter requirements, duties and responsibilities.
Assisted with training new recruits.
Single-handedly saved 3 babies from burning buildings.
What a whacker. It looks under control until you stack it next to 200 others. Then it turns to soot.
And if you have no experience at firefighter jobs?
See the next two entry-level firefighter resume examples for a map.
How to Write a Resume for Firefighters with no Experience
I've got great news.
It's easy to learn how to become a firefighter.
Almost 70% of all U.S. firefighters are paid volunteers.
Volunteer work on a resume for firefighters is NYFD-worthy. It's not hard to get, since departments rely on vollies to fill their staffing.
You can also list transferable accomplishments from other jobs. Add anything that shows:
Teamwork
Physical Fitness
Strong Work Ethic
Honesty
Putting those things on an entry-level firefighter resume will get attention like Jack Morrison at a Wendy's.
The next two entry-level firefighter EMT resume samples show the difference.
Two Entry-Level Firefighter Resume Samples [No Experience]
Look at these two firefighter resume examples:
wrong
Firefighter Experience: Still looking for my first real firefighting job. I'm a hard worker and I'd make a great employee.
Other Experience:
Construction employee
Retail worker
That guy probably has a tot-finder in his window.
You need measurable achievements, like this fire department resume example:
right
Volunteer Firefighter
2016–2018
Aided with ordering department supplies. Slashed supplier costs by 10%.
Commended by chief and firefighters for willingness to do every low-level job.
Recognized by department for showing up early every time.
Perfect. She's a Hellfighter. Basically, an entry-level firefighter resume is a volunteer firefighter resume.
But don't submit a generic EMT resume to firefighter jobs. Departments do want EMTs, but show you're targeting a firefighter career.
Prove you're responsible about being on time. That's a big thing in the fire service considering it's paramilitary background. As we say, 'Early is on time, on time is late, and late is unacceptable.

Sean Fellers
FFIC, Vandalia Division of Fire, Ohio
Pro Tip: How do you prove work ethic in a fire dept resume? Find evidence in your past. Even a nice compliment from a former boss can show you're stretchin' ready.
Don't make your fireman resume as boring as cleaning the firehouse. Spice it up with action words. See our guide: 240 Resume Action Words & Power Words to Make Your Resume Shine
4
Is Your Education Section Fizzling? It Might Be
Let's get one thing straight.
Firefighters don't need an education.
A high school diploma is enough.
But it's better to have it and not need it than need it and not have it.
In other words, you have to show it. So—use it to show the right stuff.
Start with:
School Name and Location.
Years in School.
Degree.
Then add relevant firefighter accomplishments.
The next two fire dept resume examples nail it:
Firefighter Resume Examples [Education]
Which of these sample firefighter resume sections will get the job?
right
B.A. in Business, Wittenberg University
2008–2012
Excelled in strategic management coursework.
Starting linebacker Junior and Senior years.
President, student CrossFit club.
You don't need thermal imaging to see that applicant is hot. He's got leadership skills, and he's athletic.
But burn off those details, and:
wrong
B.A. in Business, Wittenberg University
2008–2012
Graduated with degree.
GPA 2.9
Total structure fire. It needs relevant details.
Pro Tip: Does GPA matter on a fire resume? If it's very recent or very high, yes. If not, save the space for an impressive job-related accomplishment.
Make your firefighter resume education section work like a dead-blow hammer. See our guide: How to Put Your Education on a Resume
5
How to Put Skills on a Resume for a Firefighter
Guess what?
You can't say, "I'm skilled" on a fire department resume.
But you can pick the right skills from the job offer.
Then, prove them just enough to get the interview.
The next two fire department resume examples explain.
Firefighter Resume Examples [Skills]
Pretend the chief put these skills in the firefighter job description:
Firefighter Skills: (1) vehicle maintenance, (2) training skills, (3) dependability.
If the job isn't listed online, maybe you learned about those skills by talking to the firefighters. Or you met the chief himself.
The point is, don't just say you've got the skills.
Skills for Firefighter Resume
Led the charge for all (1)

vehicle maintenance

needs. Decreased malfunctions 15%.
Led flashover container (2)

training

for 22 firefighters.
(3)

Worked 2 years without a sick day

.
With a tied-in fire dept resume like that, you'll unleash a direct attack of interviews. You just proved you've got exactly what they're targeting.
Need some firefighter skills for your resume? Try the list below.
List of Skills to Put on a Firefighter Resume
This isn't a comprehensive list of firefighter resume skills, but it's a great start. It's stuffed with great resume keywords.
Need more? Look at firefighter jobs online.
Firefighter Resume Skills

Firefighter Resume Skills

Soft Skills

Hard Skills

Strong Work Ethic

Qualified Pump Operator

Teamwork

Vehicle Maintenance

Leadership

Custodial Skills

Trustworthy

Light Carpentry

Honest

Computer Skills

Communication

Valid Driver's License

Interpersonal Skills

Swiftwater Rescue

Physically Fit

Electrical Work

Problem Solving

Sprinkler Specialist

Listening

Supplies Ordering
Departments are usually looking for solid work ethic and honesty. I would say those are two of the most highly coveted traits. Anything on a resume that shows those would be good.
Ben Evers
Lieutenant of Engine Company 2, Washington D.C. Fire Department
In a wildland firefighter resume, show skills at conducting backfire operations, operating hoses, and forecasting fire behavior.
Pro Tip: Don't be a woo-woo! Never brag in a resume for firefighters. "Responsible for truck maintenance and ordering supplies" is resume gold. "Carried two old ladies from a burning building" isn't.
Still looking for skills to gear up your fire service resume? See our guide: +30 Best Examples of What Skills to Put on a Resume (Proven Tips)
6
How to Show Certifications on a Resume
Do certifications matter on a firefighter resume?
You bet your maltese cross forehead tattoo they do.
So don't make a rookie mistake and bury them.
If you're a paramedic, you're in. As long as you show it right on your resume for firefighter jobs.
Put it by your name, in your resume objective, and in a special certifications section near the top.
Certifications
Paramedic—EMS1
State of Ohio Firefighter Certification
Certified Electrical Safety Worker—NFPA
That way, even if the chief skims your fire fighter resume, you're hired.
Add other certifications on a resume for firefighters. But make sure your paramedic cert stands out.
Don't have a paramedic cert? EMT is next in line.
Most fire departments are taking over EMS responsibilities, so an EMT cert is useful. However, a paramedic certification is almost a guaranteed "in". It can take a year or sometimes 2 to get it. But with a paramedic license, many departments (even big cities) will let you skip most of the long drawn out hiring process and straight-up hire you.
Ben Evers
Lieutenant of Engine Company 2, Washington D.C. Fire Department
Pro Tip: Got a valid driver's license? That's a must on a resume for firefighter jobs. Also add a DOD fire cert if you've got it. Other certifications from the NFPA look good too.
Need other ideas to pump up an inner city or wildland firefighter resume? See our guide: What To Put On A Resume To Make It Perfect [Tips & Examples]
7
Add these Things and Make Your Resume First Due
A monkey can ride the apparatus.
But will you work hard? Do more than your share? Show up early?
Firefighting is a team sport. The department wants to know you're trustworthy and great to work with.
So—on your firefighter EMT resume, say, I'm trustworthy and great to work with.
NO.
Show evidence instead, with "other" sections on a resume for firefighters.
Watch that crackle in two sample fire service resume sections.
Firefighter Resume Examples [Other Sections]
Don't add irrelevant items to a resume for firefighter jobs:
wrong
Spending time with my cats
Discussing Proust
That guy might make a great firefighter. But you'd never know it from that firefighter paramedic resume example.
But check out this one:
right
Additional Activities
NFPA Member
Volunteer weekly dog-walker, Jemson County Animal Shelter.
Participate in regular weight training, running, and CrossFit.
Monthly volunteer, Slaty Fork Soup Kitchen.
Annual co-organizer, Jemson County Fireman's Ball.
That firefighter resume example shows you've earned your place in the collapse zone.
You clearly want to help, and you make sure you're fit to do it.
It may be obvious, but stay out of trouble. You won't get hired with a criminal record.
Ben Evers
Lieutenant of Engine Company 2, Washington D.C. Fire Department
Pro Tip: Attending conferences or writing articles can help a firefighter EMT resume. But the best "other" sections on a resume for firefighters show you love to help your team succeed.
Not sure what bells and whistles belong on your fire lieutenant resume? See our guide: +20 Best Examples of Hobbies & Interests To Put on a Resume (5 Tips)
8
What About a Firefighter Cover Letter?
Do you need to send a cover letter with a firefighter resume?
Yes, but—
Not a generic cover letter
Not a braggy cover letter
Not a why I want to be a firefighter essay
Get the chief's attention with his or her name.
Then show you understand what the department needs.
Land the interview by promising to fill those needs.
Do all three, and you'll stand out like Keith Jardine.
That's what this short example firefighter cover letter does:
Firefighter Cover Letter Example
I've wanted to work for Cleveland Fire Station #1 since I graduated college. I know you want paramedics who can keep their ears open and their mouths shut. I think I fill the bill, with my EMS1 cert and two commendations from my chief for willingness to do every low-level job in the department. When I facilitated the switch to Streamlight's portable scene light...
Always end a cover letter with an offer. For instance? "I'd welcome the opportunity to show how I cut supplier costs 15% through smarter vendor selection."
Pro Tip: Should you follow up on your firefighter cover letter in three days? One week? Do both. Two short, polite emails won't annoy anyone, but they might get you the interview.
Plus, a great cover letter that matches your resume will give you an advantage over other candidates. You can write your cover letter in our resume builder here. Here's what it may look like: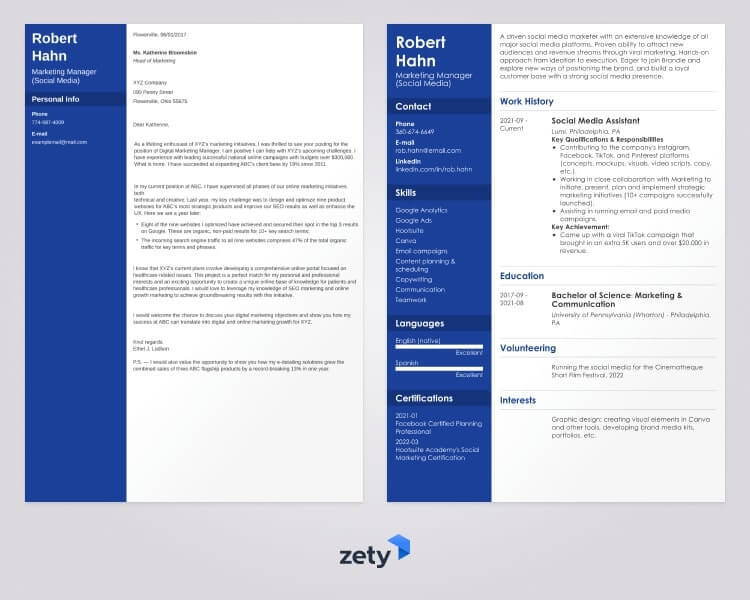 See more templates and create your resume and cover letter here.
Want your firefighter cover letter to pop like a deflagration? See our guide: How To Write A Cover Letter in 8 Simple Steps
9
Don't Add Contact Info to Your Resume Yet
Big mistake.
You added this contact info to your firefighter resume:
Full Name
Updated Phone Number
Professional Email Address
Like so:
Pete Passingan, Lt. firefighter/paramedic (EMS1), pete.passignan@gmail.com, 614-975-1468
That's great—so far.
You even avoided using bigfunpartyboy2398723@hotmail.com. You went with the more professional firstname.lastname@gmail.com.
But you didn't sanitize your social media profiles.
Even if you don't put your Facebook profile in your contact info, social media can sink you.
One off-color Facebook comment from five years ago can send your job search up in smoke.
So—use our guide to putting out your social media grease fire.
Pro Tip: Do you need a street address on a resume for firefighters? If you live close to the department, it's a plus, so add it. Otherwise, it's not required.
Want more help to write a firefighter resume that blazes like the Towering Inferno? See our guide: How to Make a Resume: A Step-by-Step Guide (+30 Examples)
Key Takeaway
Here's a recap of how to write a firefighter resume with high head pressure:
Write a firefighter resume objective. Put your best 2–3 measurable accomplishments in it.
Custom-fit your resume for firefighter jobs. Know what the department wants, then show evidence you've got those qualities.
Add other sections that prove your firefighter skills. In a firefighter EMT resume, that usually means showing you're a team player, not a freelancer.
Definitely write a firefighter cover letter. You need to give the chief a reason to read your resume, so make your letter anything but generic.
Do you have questions on how to write a great resume for a firefighter? Not sure how to describe your skills or achievements? Give us a shout in the comments! We'd be happy to reply!