Criminal Justice Resume: Examples, Objective [+ Entry-Level]
Working in the force requires precision and sound judgment to put the criminals in their place. Apply the same principle to your criminal justice resume to avoid sirens going off.
People warned you that it will be difficult to land a job with a criminal justice major… But you went for it anyway, and good for you—
Chances are, society will owe you a debt of gratitude one day.
But for that to happen, you first need to beat the odds and land your dream job. And regardless of what career path you're on, it all starts with a resume to serve as solid evidence of your assets.
This guide will show you:


A criminal justice resume example better than 9 out of 10 other resumes.
How to write a criminal justice resume that will land you more interviews.
Tips and examples of how to put skills and achievements on a criminal justice resume.
How to describe your experience on a resume for a criminal justice professional to get any job you want.
Want to save time and have your resume ready in 5 minutes? Try our resume builder. It's fast and easy to use. Plus, you'll get ready-made content to add with one click. See 20+ resume templates and create your resume here.
Sample resume made with our builder—See more resume examples here.
Interested in similar positions? Look no further than our other guides below:
Criminal Justice Sample Resume
George Flanigan
Criminal Justice Specialist
570-829-1367
gflanigan@zetymail.com
Linkedin.com/in/george.c.flanigan1
Professional Summary
Experienced criminal justice specialist working for over 7 years, primarily in youth correctional facilities and general case management. Applied extensive knowledge of theories and legal principles to assist in over 2,500 cases. Managed team of 17 employees. Kept detailed evidence, interviewed witnesses, and reached a 98% case resolution rate.
Work History
Criminal Justice Specialist
Criminal Justice Information Authority, Chicago, IL
November 2016–present
Participating in a rotating system to ensure 24 hour service availability.
Conducting criminal analysis of up to 45+ monthly ongoing cases.
Liaising all internal and external communications regarding policy & procedures, and handling of correspondences.
Co-managing a team of 17 forensic scientists, criminal investigators, and paralegals.
Criminal Justice Juvenile Specialist
Zebulon Pike Youth Services Center, Boston, MA
March 2014–August 2016
Facilitated the creation of regular thematic group sessions to develop rapport with youth.
Counseled at-risk youth to form personal connections and steer them toward a better direction

.

Managed fiscal and budgetary matters related to grants received by the center, totaling to an amount of over $750,000.
Education
BSc in Criminal Justice
Boston University Metropolitan College (MET)
Graduated: 2013
Key Skills
Criminal Law
Social Science Theory
Record-Keeping
Analytical Thinking
Personnel Management
Investigative Skills
Evidence Analysis
Certifications
State of Illinois Law Enforcement Certification, 2016
Certificate in Youth Counseling, Institute of Counseling, 2014
Additional Activities
Criminal Justice & Criminology Lecturer at Loyola University, Chicago
This is how you write a successful resume for criminal justice positions:
1. Begin by Formatting Your Criminal Justice Resume Correctly
The term "criminal justice" applies to a wide array of law enforcement professions, employing those that uphold the law, persecute offenders, and protect the general population.
Whether you work in a courthouse, a precinct, or in a lab analyzing evidence and fingerprint samples, the one thing you need to focus on is the format of your resume.
Try winging it without one, and it's like starting an investigation by passing a sentence before gathering testimony.
Here are a few essential resume tips for this part:
Read more: How to Start a Resume: Examples & Tips
2. Write a Professional Criminal Justice Resume Objective or Summary
Life is busy when your job is to uphold the law.
Criminals to catch, suspects to interrogate, due process to give…
Unlucky for you, chances are nobody will want to go down the rabbit hole of your entire life story to decide if you're the right fit. Primarily because there are hundreds of other applications stacked high on the recruiter's desk.
A resume profile, however, solves that issue by presenting your best side in an easily digestible format.
There are two kinds: the resume summary and resume objective, and, not unlike good cop/bad cop, their goal is the same. It is the approach they take that makes all the difference.
Resume summaries best fit those who've been working in the criminal justice field for more than 2 years. Write down your most impressive achievements, illustrate them with numbers, and you're good to go.
Resume objectives work better if you're either just starting out or have recently changed careers. Instead of describing your relevant experience (which you don't have), focus on other positive traits. Think transferable skills and knowledge from past positions that would translate well into success in criminal justice.
Pro Tip: It's very common to hear that the resume introduction is a real head-scratcher. If writing one feels like an unsolvable crime to you, focus on other resume parts first, and come back to it with a fresh mind after you're done.
3. Describe Your Criminal Justice Experience
Let's stop for a moment and consider the stakes.
Police officer positions are scheduled to rise 7% between now and 2030, according to the BLS. Almost 52,000 new jobs. Great!
What's it like for other jobs?
You get the point—lots more jobs are on the way… But so is lots of competition.
That's why it's absolutely imperative to get your work experience section in order:
Read more: How to Write a Targeted Resume: Tips and Examples
4. Mention Your Education on a Criminal Justice Resume
Education is, needless to say, crucial for anyone employed in law enforcement.
If you can't certify decent to flawless knowledge of the law, your chances of getting hired are rather slim.
They're even slimmer if you don't know how to properly demonstrate your education on a resume. Here are a few pointers:
Over 5 years in the workforce? School name, highest obtained degree, and graduation year is all that you need.
Less than that? Fill in the blanks with extra detail from your school years such as relevant coursework you enjoyed, GPA that's high enough to put on a resume, student club memberships, and other after-school activities.
Still finishing tertiary education? Mention your high school, otherwise don't bother putting it in there.
Read more: Listing a Degree on Your Resume: Everything You Need to Know
When making a resume in our builder, drag & drop bullet points, skills, and auto-fill the boring stuff. Spell check? Check. Start building a professional resume template here for free.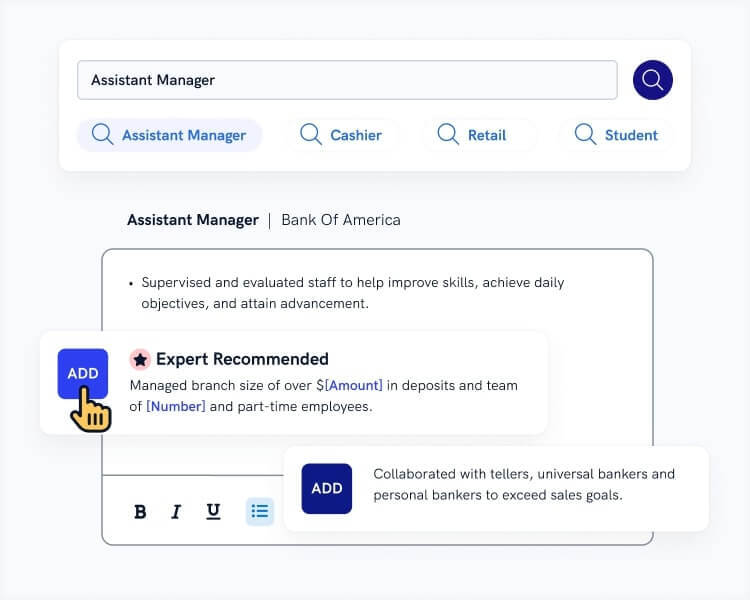 When you're done, our online resume builder will score your resume and our resume checker will tell you exactly how to make it better.
5. Demonstrate the Right Criminal Justice Skills
This part could vary a lot, depending on the exact subfield you're pursuing a career in.
One thing remains certain, though—
Mess it up, and you end up looking like you graduated from the Police Academy, all six of them.
Follow the protocol below instead:
For reference, we picked out some of the best general criminal justice skills in this handy list below:
Best Criminal Justice Skills for a Resume—Sample List
Legal Knowledge
Investigative Skills
Evidence Collection & Analysis
Interviewing Suspects & Witnesses
Reporting & Documentation
Following Protocol
Background Checks
Conflict Resolution
Psychology
Physical Fitness
Empathy
Crime Trend Analysis
Read more: Key Skills to Put on a Resume: Tips & 99+ Examples
6. Include Additional Sections on Your Criminal Justice Resume
In general, the resume you've crafted thus far is probably pretty decent.
The problem is, it's got the same sections as the resumes of the thousands of different candidates you're likely to be competing against.
Increase your chances even more by standing out with some extra resume sections, like these:
Making a good impression with some extra flair will make you look like Phoenix Wright. But don't get too hasty and make sure to avoid the big resume no-no's, which we listed in our article: What Not to Include in a Resume: Full List with Examples
7.Attach a Cover Letter With Your Criminal Justice Resume
How necessary is a cover letter?
Very much so.
To put it bluntly, you could be solving cases in Twin Peaks on the daily, yet without a cover letter, you'd probably not get hired.
Follow these cover letter tips to turn heads:
Pow, that's how it's done! Assuming you didn't hit them with an overly long cover letter, you can bet your bottom dollar they'll be all over you. The best cover letter length is 3–4 paragraphs, all on one page.
Read more: How to Write a Cover Letter: Guide & Samples
Plus, a great cover letter that matches your resume will give you an advantage over other candidates. You can write it in our cover letter builder here. Here's what it may look like: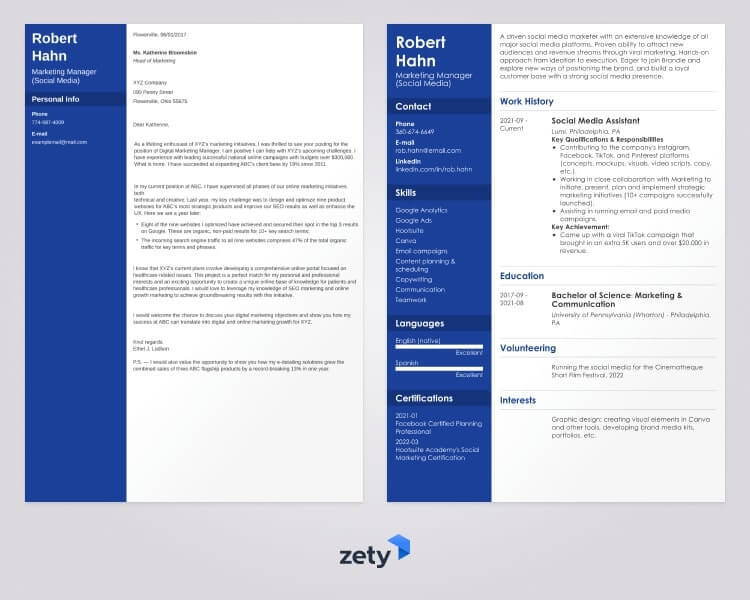 See more cover letter templates and start writing.
And done!
An excellent criminal justice resume.
Thank you for reading. If there are any elements you think we should have included, or if you have tips to share with your fellow criminal justice experts, feel free to head to the comments section below!
About Zety's Editorial Process
This article has been reviewed by our editorial team to make sure it follows Zety's editorial guidelines. We're committed to sharing our expertise and giving you trustworthy career advice tailored to your needs. High-quality content is what brings over 40 million readers to our site every year. But we don't stop there. Our team conducts original research to understand the job market better, and we pride ourselves on being quoted by top universities and prime media outlets from around the world.
Sources