Law Student Resume With No Legal Experience (Template)
Our sample law student resume and step-by-step guidelines will help you win your first case and get that interview.
ou've studied law for years. You feel that the time has come to start putting theory into practice. But whenever you send your law student resume to firms and agencies, they offer you two things only: mailroom jobs and unpaid internships.
Don't cease and desist on your career.
Prove to those companies that you're the best candidate out there for entry-level lawyer jobs or prestigious internships.
Break the status quo and write a law student resume that will impress recruiters and boost your career.
This guide will show you:
A law student resume example better than 9 out of 10 other resumes.
How to write a law student resume that will land you more interviews.
Tips and examples of how to put skills and achievements on a law student resume.
How to describe your experience on a resume for a law student to get any job you want.
Want to save time and have your resume ready in 5 minutes? Try our resume builder. It's fast and easy to use. Plus, you'll get ready-made content to add with one click. See 20+ resume templates and create your resume here.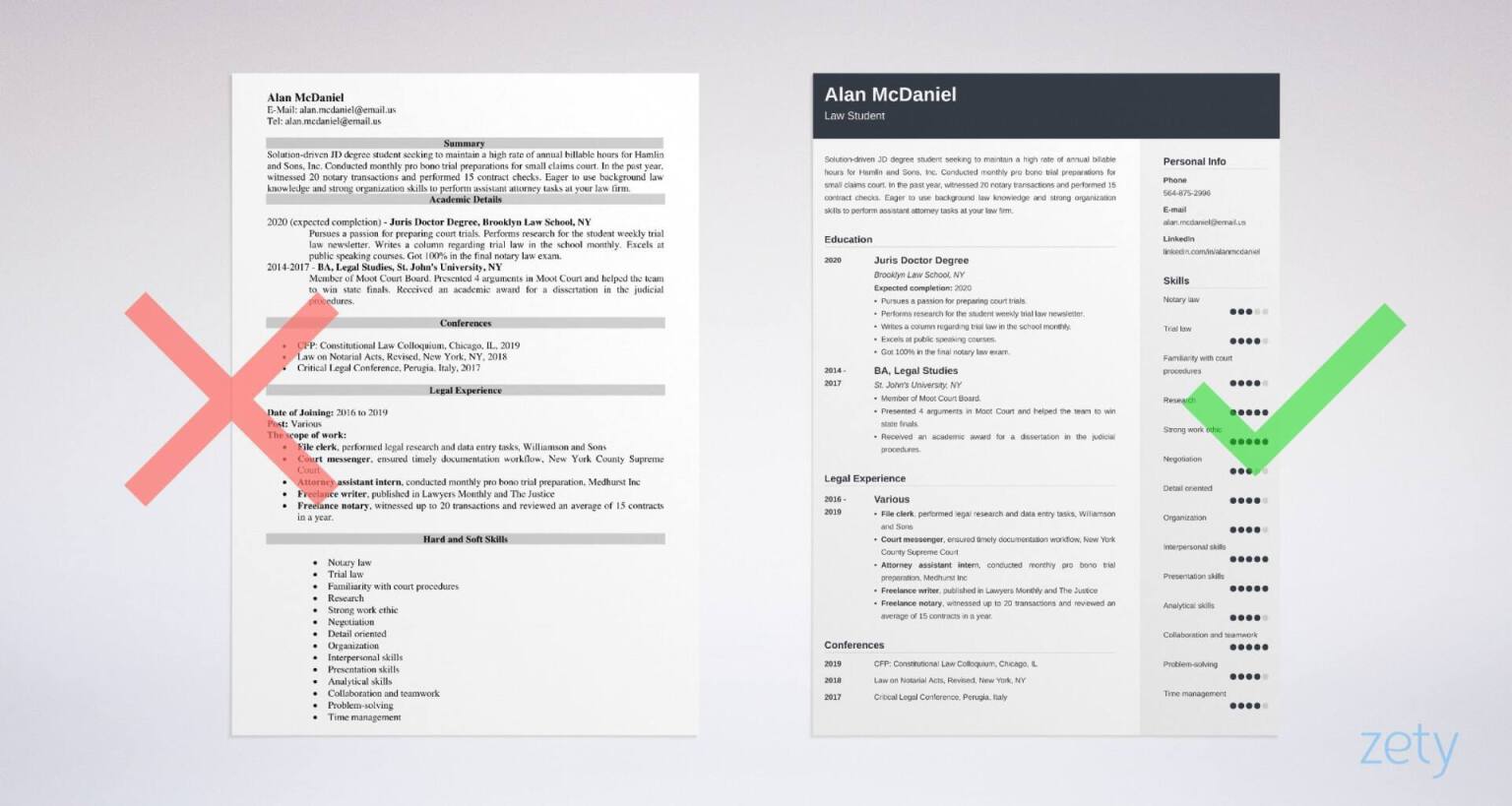 Sample resume made with our builder—See more resume examples here.
Want to see other guides devoted to legal professions? Read the articles below:
Writing your resume for the first time? Check out these:
Still need more examples? Check Sample Resumes to Land Any Job.
Law Student Resume Template
Alan McDaniel
alan.mcdaniel@email.us
564-875-2996
linkedin.com/in/alanmcdaniel
Resume Objective
Solution-driven JD degree student seeking to maintain a high rate of annual billable hours for Hamlin and Sons, Inc. Conducted monthly pro bono trial preparations for small claims court. In the past year, witnessed 20 notary transactions and performed 15 contract checks. Eager to use background law knowledge and strong organization skills to perform assistant attorney tasks at your law firm.
Education
Juris Doctor Degree
Brooklyn Law School, NY
Expected completion: 2020
Pursues a passion for preparing court trials.
Performs research for the student weekly trial law newsletter.
Writes a column regarding trial law in the school monthly.
Excels at public speaking courses.
Got 100% in the final notary law exam.
BA, Legal Studies
St. John's University, NY
2014-2017
Member of Moot Court Board.
Presented 4 arguments in Moot Court and helped the team to win state finals.
Received an academic award for a dissertation in the judicial procedures.
Legal Experience
Various
2016-2019
File clerk

, performed legal research and data entry tasks, Williamson and Sons

Court messenger

, ensured timely documentation workflow, New York County Supreme Court

Attorney assistant intern

, conducted monthly pro bono trial preparation, Medhurst Inc

Freelance writer

, published in Lawyers Monthly and The Justice

Freelance notary

, witnessed up to 20 transactions and reviewed an average of 15 contracts in a year.
Skills
Notary law
Trial law
Familiarity with court procedures
Research
Strong work ethic
Negotiation
Detail oriented
Organization
Interpersonal skills
Presentation skills
Analytical skills
Collaboration and teamwork
Problem-solving
Time management
Conferences
CFP: Constitutional Law Colloquium, Chicago, IL, 2019
Law on Notarial Acts, Revised, New York, NY, 2018
Critical Legal Conference, Perugia, Italy, 2017
Here's how to write a law student resume that proves you're a vital asset:
1. Choose the Best Format for Your Law Student Resume
To get ready for future practice, law students can apply for a variety of entry-level and internship legal positions. Your law student resume may target jobs, such as a court messenger, file clerk, and document coder, as well as an attorney assistant and notary.
But—
How to take your first steps on a law professional career path?
Keep calm and do things in the right order.
Start from creating a crystal clear law student resume and follow the formatting tips below:
Pro Tip: What contact information should your resume header include? Add your first and last name, phone number, and professional email address (not the one you came up with in the early teen days). Social media and personal blogs are only good when formal and industry-related.
2. Write a Law Student Resume Objective or Summary
How you open the case in court—matters. Do it right and you'll have the jury on your side.
Your law student resume opening paragraph is equally important.
Grab the hiring manager's attention with a professional profile, a short introductory paragraph that goes right under the resume header.
Your best choice will be a resume career objective. It works well for candidates with zero to little professional experience and those targeting entry-level positions. It puts a focus on skills and career drive, instead of summarizing your experience history (which you don't yet have).
Use your resume objective to show the recruiters you can add real value to the company. Prove that your skills and talents will be beneficial for them.
Pro Tip: In your resume objective, name the company and the position you're applying for. It's a formal way to address the employer's needs directly.
3. Make Your Law Student Resume Education Section Great
You're a law student so your resume education section is the essence of the matter.
Whether you're targeting a small law firm or prestigious corporation, your education needs to be appealing.
Put the education section just under your resume objective and convince the jury with your academic achievements.
How to do this?
Start with your highest or current degree. Your master's degree goes to the top, then your bachelor's degree. Omit high school.
Follow this order: degree, the name of the institution, graduation date (or prospective graduation date, if still learning), your major and minors (if applicable).
Add the following to each education entry: GPA (if higher than 3.5), relevant coursework, key academic achievements, extracurricular activities.
Note: If you're preparing for bar exams and want to stay up to date, visit the website of National Conference of Bar Examiners.
Pro Tip: Wondering what achievements suit your law student resume? Think about professor commendations, academic awards, and interesting research discoveries.
4. Create a Great Law Student Job Description for a Resume
How to write your resume job description when you have little or no professional experience?
Well—
There's no way you leave the pleading paper blank. You need to make your case.
And there's a winning strategy of doing this.
Think back and consider any of these to be great entries for your law student resume:
Freelance jobs (writing, checking documents)
Pro bono work
Volunteering in courts
Internship experience
Judicial clerkship gigs
Witnessing transactions and contracts
If you had a few relevant jobs in the past, follow this pattern to present them on your resume:
Start with your latest or current job.
List your job titles, company names, locations, and dates worked.
Put your responsibilities and achievements on a bullet point list of up to 6 bullets each.
Start each bullet with resume action verbs, such as managed, coordinated, monitored, performed, etc.
If you're not able to elaborate on your past experience gigs, cut the experience section of your resume to the chase:
Start with the section header, e.g. Legal and Transferable Experience.
List your job titles, main responsibilities, and company names (one bullet point each), e.g. Freelance Notary, witnessing 20 contracts per year, Willis & Jones.
Start each bullet with resume action verbs, such as managed, coordinated, monitored, performed, etc.
Pro Tip: Trying to write a law student resume with no legal experience at all? Think of any non-legal jobs you had that can show your transferable skills. Data entry—attention to detail, academic research—the capability to use sources and check documents, etc.
5. Highlight Your Law Student Skills
Use the list below to pick out your key law student skills and hit the right resume keywords.
Sample Law Student Resume Skills
Knowledge of legal procedures
Law knowledge (specific to the position)
Research
Writing
Client service
Work ethic
Negotiation
Litigation
Documentation
Detail oriented
Organization
Persuasiveness
See? The above list of job skills combines both soft skills and hard skills.
Plus, mentions work ethic, crucial to law practice.
But don't just list random skills that come to your mind—
Instead, tailor the skills to the job ad.
Pro Tip: If you want to read more about the good qualities of a law student, see this summary by The Bureau of Labor Statistics.
When making a resume in our builder, drag & drop bullet points, skills, and auto-fill the boring stuff. Spell check? Check. Start building a professional resume template here for free.
When you're done, Zety's resume builder will score your resume and tell you exactly how to make it better.
6. Add Other Sections to Your Law Student Resume
Want to impress the recruiter with some other accomplishments or tell something about your non-professional self?
Do it wisely. You don't want a piece of negative evidence, right?
Look at the below examples that are great for your law student resume:
Journal and non-journal publications
Conferences
Student organizations
Voluntary work
Activities
Moot court gigs
Pro Tip: When adding hobbies to your law student resume don't act like Fletcher Reede. Mention only the things that you're genuinely interested in. That'll help you avoid awkward silence during the interview when the recruiter asks about your passions.
7. Attach a Law Student Resume Cover Letter

So, here's the truth.
There are piles of law student resumes awaiting a quick look-see. Your resume gets only an average of 7 seconds of the hiring manager's time, according to our HR statistics report.
That's why the importance of a cover letter is so huge—only 50% of candidates attach it and over 50% recruiters expect it!
Use the tips below and write a law student cover letter that will go to bat for you:
Pro Tip: Don't go Slippin Jimmy style in your cover letter. Avoid excessive language and being too descriptive. Keep your cover letter simple if you want them to call you.
Plus, a great cover letter that matches your resume will give you an advantage over other candidates. You can write it in our cover letter builder here. Here's what it may look like: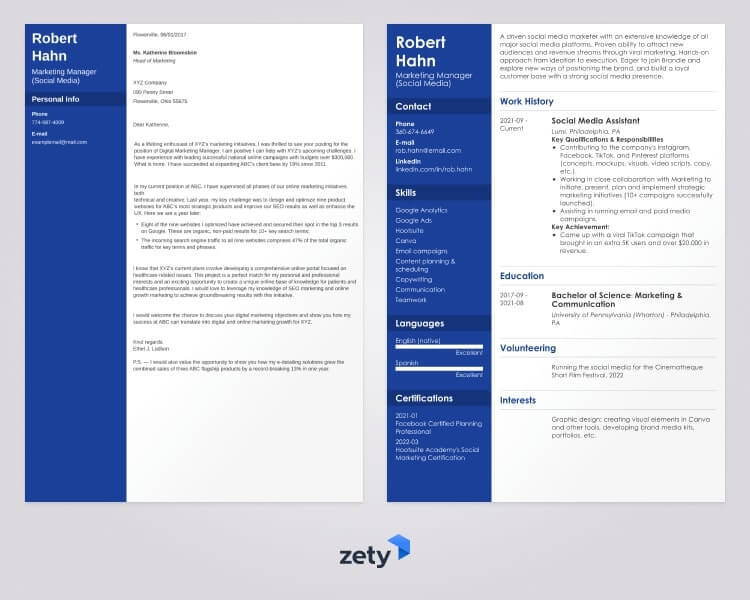 See more cover letter templates and start writing.
This is it!
You've just seen a law student resume template and a set of useful tips.
Now it's your hearing!


Are you writing your law student resume from scratch? Or perhaps you want to improve the sample law student resumes you've already produced? We'd love to hear from you, leave your comment below!