Law Clerk Resume Example & Job Description for 2023
Here's non-legal advice: Create a perfect law clerk resume to help you get your desired job. With our guide and expert tips, it's simpler than winning any case!
All rise!
As a law clerk, you're a pro at preparing most complex documents that must be 100% correct. Contracts, deeds, agreements, wills, and bills – you've got them all covered. But what about your law clerk resume? Can this document help you win the case of getting hired?
Learn what skills can impress your future employer, how to create a perfect summary for a law clerk's resume, and get an interview with a law firm you admire!
This guide will show you:
A law clerk resume example better than 9 out of 10 other resumes.
How to write law clerk resume descriptions to land more interviews.
Tips and examples of how to put skills and achievements on a law clerk resume.
How to describe your experience on a law clerk resume to get any job you want.
Want to save time and have your resume ready in 5 minutes? Try our resume builder. It's fast and easy to use. Plus, you'll get ready-made content to add with one click. See 20+ resume templates and create your resume here.
Sample resume made with our builder—See more resume examples here.
Looking for similar resume examples? Find them here:
Law Clerk Resume Example
Jason Dunham
Law Clerk
j-dunham@gmail.com
531-934-2736
Summary
Highly-motivated and people-oriented law clerk with 3+ years of experience specializing in environmental law and data analysis. Delivered legal research and support for a team of attorneys with an 85% success rate, and successfully negotiated an agreement for 10+ top clients. Currently looking to support lawyers and judges in criminal cases.
Work Experience
Law Clerk
Marsh, Park and Smith Law Group, Atlanta, GA
October 2019–Present
Successfully negotiated an agreement for 10+ top clients
Searched for legal documents and studied the law of cases and petitions relevant to 20+ environmental law court cases.
Completed 30+ additional projects for other cases, including criminal cases, within the company.
Education
Bachelors in Paralegal
Clayton State University, Morrow, GA
September 2015—July 2019
GPA: 4.2 with cum laude honors
Skills
Environmental Law
Criminal Law
Court Transcription
Document Filling
Agreement Drafting
MS Office
Research
Presentation
Team-player
Commitment
Interests
Sports (a striker for a local amateur soccer team, Celts Soccer Club., and a keen marathon runner)
Drama (member of a local amateur acting group, The Scots Plays)
Languages
American English—Native
Mexican Spanish—Conversational
That's one of the ideal law clerk's resume examples. Now let's learn how to build your own!
1. Select a Job-winning Format for Your Law Clerk Resume
Law clerks assist with preparing court papers, support lawyers during the entire litigation, and conduct legal research. The responsibilities are also related to preparing for trials, interviews, hearings, meetings, and depositions in which lawyers and sometimes law clerks participate.
Before writing your own law clerk resume, a description of your profession is something you should revisit. But since we already know it, let's start talking about the structure of your resume. It's a base you'll build on, just like hard evidence is what you can build your case on. In both these cases, the better the foundation, the better the outcome!
How to properly format your law clerk resume?
Resume header, which includes your name, contact information, and your current position
Summary Statement or Career Objective
Work Experience
Education
Relevant Skills
Additional sections (certifications, conferences, hobbies, languages, voluntary work, etc.)
Learn more about creating a resume for any legal profession: Law & Legal Resume Templates
2. Create a Perfect Law Clerk Resume Objective or Summary
The estimated 10-year prediction of job growth for law clerks is 3.47%. So there will be more and more competitors on your way to assist lawyers in their day-to-day routine. That means more and more resumes will land on their desks, and they will need more time to read through them all carefully. Luckily, there's a way to say a lot about yourself in a few short paragraphs.
Writing a summary or objective is a perfect way to start a resume. They are both short introductory paragraphs. So what's the difference?
Luckily for us all, some formulas are 100% legal that you can follow to make your resume summary or objective!
How to write your summary statement for a law clerk resume?
Adjective + Job Title + Years of Experience + Achievements + Skills + What You Want to Do for the Employer
How to write an objective for a resume for a law clerk?
Adjective(s)/Certificate(s) + Your Job Title or Degree + seeking employment as + Position Name at + Company Name + to apply my + Your Relevant Skills + to help + What Do You Want To Help The Company Achieve
Now you have a short introduction to your skills, achievements, and goals. That should keep a recruiter interested for a while!
Pro Tip: Write your summary and objective last. Even though they are placed at the beginning of your resume, it's easier to create them when you have all your resume sections ready.
3. Create the Perfect Law Clerk Job Description for a Resume
That's perhaps the most important part of a resume. It's like a closing speech you've helped prepare at 4 a.m. And since it's such a crucial part of your resume, let's ensure you know how to nail it!
How to make an outstanding work experience section on a law clerk resume:
You might wonder if you should include irrelevant work experience on a resume. But when it comes to our following sections, there's no room for wondering. It's a must!
If you have no experience to put on your resume and still want to apply, read our guide: Resume with No Experience
4. Prove Your Education Section is Impressive
It's nothing aliquid novi that you should use your education to impress the recruiters. Having a well-written education resume section is especially important if you're a law clerk with little to no experience. But even if your first job was back when Constitution laws were developed— you still need to shine in this section!
How to create an excellent education section for a law clerk resume?
You've proven your experience, and you've spoken about your education. But what you need to be a great law clerk is a set of specific skills. So let's show'em bright and clear! Time for exhibit 5: a perfect set of skills!
Pro Tip: Place your education section above your resume job descriptions if you've just graduated or have little professional experience as a law clerk.
When making a resume in our builder, drag & drop bullet points, skills, and auto-fill the boring stuff. Spell check? Check. Start building a professional resume template here for free.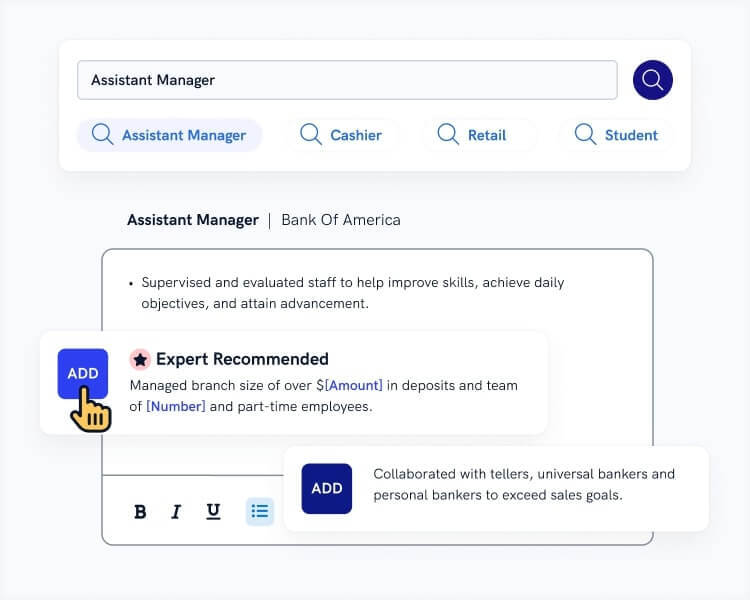 When you're done, Zety's resume builder will score your resume and our resume checker will tell you exactly how to make it better.
5. Let Your Skills Speak for Your Law Clerk Resume
Preparing legal documents, maintaining files, conducting research, and all the other things on your daily to-do list are doable only with a great educational background and years of experience. You must have a certain set of skills to fulfil these duties right. And you must put those skills on your resume to make the recruiter think, "Gee, that one's skilled!".
How to highlight your skills on a law clerk resume?
Let's take a look at some of the most wanted skills a law clerk's resume should include:
Law Clerk Resume Skills
Environmental Law
Criminal Law
Court Transcription
Familiarity with Legal Terminology & Documentation
Document Filling
Agreement Drafting
Research Skills
Knowledge of Compliance Laws
Commitment
Experience, education, and skills. Seems like you can rest your case? Well, not just yet! There might be something more you want to write in your law clerk resume!
Do you want to appeal to be an even more attractive candidate? Read our guide: Top Skills For in 2023
6. Include Additional Sections in Your Law Clerk Resume
Including additional information on a resume is great if there's something more your recruiter should know about you. Something relevant and impressive. Something that will make the judge go, "Guilty… of getting hired!".
What should you put in additional sections on your law clerk resume?
Do you possess some evidence proving you're the right fit for the job? Let's put them in the cover letter!
Pro Tip: A resume reference section is not something you put in additional secretions of your resume. Recruiters know they can ask you for references, so you don't need to put that information on your resume.
7. Attach a Cover Letter to Your Law Clerk Resume
You've got your file ready to take to court. But don't use them just yet. First, let's learn how to write a cover letter to boost your chances of getting the job. Especially since 83% of HR professionals claim that cover letters are essential when deciding who to hire.
How to write a perfect cover letter for a law clerk?
Creating a perfect law clerk cover letter might be tricky. Unless you read our guide: Law Firm Cover Letter Examples
Plus, a great cover letter that matches your resume will give you an advantage over other candidates. You can write it in our cover letter builder here. Here's what it may look like: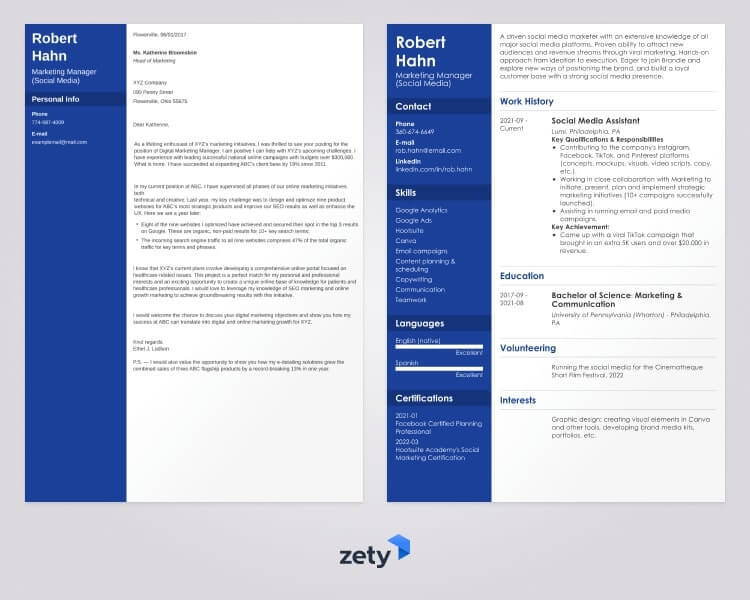 See more cover letter templates and start writing.
Now you're ready to hand in your law clerk application. Go, apply, and make the world a better, safer, and more righteous place!
Thank you for reading! Let's talk about writing a perfect law clerk resume in the comment section below!