Why is writing a strong lawyer resume so important?
There are around 1.3 million of lawyers for 790,000 jobs, with another 45,000 annually stepping into the market. It's not just hard to get a job as a lawyer. It's very hard.
To get interviews with prestigious law firms and plush corporate companies, your attorney resume has to be nothing short of perfect—like a brief by Latham & Watkins. The good news? Writing a great lawyer resume is way, way easier than going through law school.
This guide will show you:
A lawyer resume example better than 9 out of 10 other resumes.
How to write a legal resume that lands more interviews.
Tips and examples of how to put skills and achievements on an attorney resume.
How to describe your experience on a resume for a lawyer to get any job you want.
Want to save time and have your resume ready in 5 minutes? Try our resume builder. It's fast and easy to use. Plus, you'll get ready-made content to add with one click. See 20+ resume templates and create your resume here.
Sample resume made with our builder—See more resume examples here.
Not a full-blown attorney yet? Do you need to write a resume for paralegal or legal assistant positions? Perhaps considering a temporary administrative role at a law firm? See our other guides:
Also remember that writing a Professional Attorney Cover Letter can boost your chance to get the job!
1
Attorney Resume Example
Michael Hoffman
Attorney
(312) 555-5555
michael.hoffman@email.com
linkedin.com/in/michael.hoffman
Summary
Dedicated Attorney with over 10 years of experience in the legal profession. Eager to support Prestige Legal Services in achieving their clients' legal objectives while ensuring the firm's reputation for excellence. Successfully led a team that won a landmark case in corporate litigation in 2015.
Experience
Senior Attorney
Justice Law Firm, Chicago, IL
June 2010–Present
Key Qualifications & Responsibilities
Managed a diverse caseload of corporate lawsuits and legal predicaments.
Supervised a team of junior attorneys and paralegals.
Provided counsel to corporate clients on numerous legal issues.
Key Achievement:
Junior Attorney
Elite Attorneys & Associates, Chicago, IL
Aug 2005–May 2010
Key Qualifications & Responsibilities
Assisted in the preparation of legal documents.
Conducted research to support ongoing cases.
Participated in court hearings and negotiations.
Key Achievement:
Reduced client liability by 30% through strategic negotiation tactics.
Education
Juris Doctor
University of Chicago Law School, Chicago, IL
Sept 2001–May 2005
Relevant extracurricular activities
Moot Court Board
Law Review Editor
Academic achievements
Graduated magna cum laude.
Received the CALI Excellence for the Future Award for demonstrating excellence in the study of Corporate Law.
Skills
Legal research
Client counseling
Case management
Negotiation
Team leadership
Communication
Critical thinking
Attention to detail
Certifications
Licensed to practice law in Illinois, American Bar Association, 2005
Awards
2018, Attorney of the Year, American Bar Association
Memberships
Member of the American Bar Association since 2005
Delivered a lecture on "The Future of Corporate Law" at the 2017 American Bar Association Conference.
Languages
English—Native proficiency
Spanish—Intermediate proficiency
Interests
Reading legal thrillers.
Participating in community legal aid services.
What's the Best Format for an Attorney Resume?
Meet the hiring manager at that superstar firm.
Her name's Katie and she craves attention to detail.
Is it any wonder your lawyer resume must embody that?
Impress her with the best legal resume format. The chronological resume format makes your case block by block.
It starts with your most recent wins.
Leverage white space, the best resume fonts, and clear headings. Let nothing stand between you and the interview.
Not sure whether to send your resume in PDF or Word form?
PDFs are now machine readable. Use a PDF unless the job offer outlaws it.
Pro Tip: Are you writing an entry-level attorney resume? The chronological resume format is still your best bet. If you're a career-changer, consider the combination resume layout. This legal resume format lets you focus on transferable experience.
Want to do due diligence on legal resumes formats? See our guide: 3 Resume Formats: How to Choose the Best One [Examples]
2
Law Resume Summary or Resume Objective?
A brief's opening paragraph should tell the judge what the case is about.
Likewise, the opening paragraph of a resume for a lawyer should summarize your resume.
If you've got more experience than Horace Rumpole, use a resume summary. It shows your best legal achievements that fit the job.
Fresh out of law school? Use a resume objective. It shows you're a great pick based on passion and enthusiasm. Though as you'll see, that's not enough by itself.
The two legal resume examples below present the evidence.
Attorney Resume Examples [Resume Summaries]
Which of these lawyer resume examples looks more appealing?
wrong
Enthusiastic general counsel attorney seeking high-paying position. Very skilled in corporate law and trademark law. Extremely hard worker and not afraid to work long hours.

That's not actionable, but it won't land a ton of interviews.
Instead, emulate this experienced attorney resume example:
right
Goal-focused litigation attorney with 4+ years' experience. Seeking to leverage proven trial, preparation, and negotiation skills for Diversi & Leadbetter. At LDP, maintained 1600 billable hours/year with 95% client satisfaction. Carried 37 cases to trial and settled 93/100 mediations.
That lawyer resume summary could get you in at Ropes & Gray.
Is your experience more like a blank pleading template? See the law student resume examples below.
Two Entry-Level Attorney Resume Objectives
Still an entry-level attorney with no experience?
They used to say to highlight your passion. That's how the first of our law student resume examples does it:
wrong
Junior attorney seeking entry-level position. Haven't yet held a full time lawyer job yet but I've been working very hard at retail and bartending to make ends meet.
Can you handle the truth? These days, that kind of legal resume objective will get thrown out for lack of evidence.
You need details for an attorney resume objective like this:
right
Hard-working attorney seeking to maintain a high rate of annual billable hours for Locklin & Gates, Inc. Have judged 5 High School Moot Court Competitions. Have performed 15 contract reviews for local artists. Conduct monthly pro bono trial preparations for small claims court.
Case closed.
But how did a recent graduate get that kind of experience for a law student resume?
I'll show that next.
Pro Tip: Don't write your lawyer resume summary first. Write the rest of your attorney resume first, so you'll have plenty of precedent to draw on.
When making a resume in our builder, drag & drop bullet points, skills, and auto-fill the boring stuff. Spell check? Check. Start building a professional resume template here for free.
When you're done, Zety's resume builder will score your resume and our resume checker will tell you exactly how to make it better.
Ready to write the perfect law resume objective or resume summary? Need a great summary for a general counsel resume? See our guides:
How To Write A Resume Summary: 21 Best Examples You Will See and +20 Resume Objective Examples - Use Them on Your Resume (Tips)
3
How to Describe Your Legal Experience
Let's peek in on our hiring manager, Katie.
Experience matters a lot to her.
But she doesn't just want to know you've had a legal job.
She wants to see you've had the best law jobs that fit the job she's offering.
So, lock your experience to the job description like an ironclad contract.
First, highlight the qualities in the job description.
Then, search your past for admissible proof.
The legal resume examples below show how.
Two Experienced Attorney Resume Samples
The first of these lawyer resume examples is irrefutable:
right
Litman, Day, & Phair
Attorney
2014–2018
Carried 37 case files from concept through trial and sometimes appeal.
Conducted 100+ mediations with a 93% settlement rate.
Scored a 95% on client satisfaction exit surveys.
Maintained 1600 minimum annual billable hours.
That makes your case like Johnny Cochran. It's got measurable achievements that match the job description perfectly.
The next of our lawyer resume examples doesn't do as well:
wrong
Litman, Day, & Phair
Attorney
2014–2018
Trial lawyer for busy firm with a large roster of high-end clients.
Responsible for conducting client mediations and settlements.
Conducted all aspects of trial work, including preparation, depositions, and delegating lesser staff to office staff.
It's clear you have experience. But were more like Atticus Finch or Saul Goodman? In other words, what effect did you have?
The best legal resumes include metrics and numbers.
Writing an attorney resume with no legal experience?
In that case, see the two law school resume examples below.
How to Write a Resume for an Attorney with no Experience
The bad news?
According to the New York Times, 40% of law students are still unemployed ten months after graduation.
If you've got no experience, consider beefing up your law student resume with:
Pro bono work
Volunteering at courts
Judging high school moot court competitions
Doing small freelance jobs
Taking on an internship or a judicial clerkship
Watch that at work in two entry-level legal resume examples.
Two Attorney Resume Samples [No Experience]
This first sample attorney resume experience section gets tossed out:
wrong
Attorney Experience: None yet in the real world.
Other Experience:
That's out of order.
But with details, you can have a legal resume sample like this:
right
Attorney Experience
2017–2018
Performed legal research that contributed to a successful appeal.
Conducted monthly pro bono trial preparation, San Diego Small Claims Court.
Judged Gainsboro High Moot Court Competition, writing 5 decisions.
Elle Woods couldn't have said it better. Yet you may already have the material for a law student resume like that.
Pro Tip: Add metrics to the bullet points in your lawyer resume. Billable hours, client satisfaction scores, and number of clients seen all make great measures.
Your attorney resume shouldn't read like the tax code. Spice it up with action words to keep the hiring manager engaged. See our guide: +80 Examples of Resume Action Words for Every Profession
4
Is Your Education Section Criminal? It Might Be
You know a legal resume must show a solid education.
But did you know there are two ways to do it, and only one will get the interview?
Of course start with:
College Name and Location
Years in School
Degree
But add 3-5 bullet points.
Stipulate them with academic achievements that get the interview like it was ordered in a mandamus.
The attorney resume examples below provide a clue.
Lawyer Resume Examples [Education]
Let's say you're applying for a job that calls for trial prep and litigation. This first sample attorney resume follows the letter of the law:
right
Juris Doctor
Whittier Law School, 2010–2013
Pursued a passion for trial preparation and litigation coursework.
Member, Moot Court Honors Board.
Wrote a weekly column on trial law.
Presented 5 legal arguments in Moot Court. Was on team that won state finals.
The verdict? That's a lawyer who was prepping for this job back in school.
That doesn't happen with the next of our attorney resume examples:
wrong
Juris Doctorate
Whittier Law School, 2010–2013
Completed all coursework.
That lawyer resume example absconds with your employment hopes.
But add details, and you're in the Erin Brockovich zone.
PS – Add your bachelor's degree to your law school graduate resume too. See our attorney resume template up top for placement.
Pro Tip: Don't list your law degree as a "Juris Doctorate" on a professional legal resume. The correct format is "Juris Doctor" or "Doctor of Jurisprudence."
When should you put your GPA on a law resume? Find this and a ton of other tips in our guide: How to Put Your Education on a Resume [Tips & Examples]
5
How to Put Skills on a Resume for an Attorney
Convince the hiring manager of your legal skills, and you'll get the interview.
Of course if it were easy, everyone would do it.
But there's a simple change you can make to your lawyer resume to pull it off.
The attorney resume examples below are exhibits A and B.
They're for a job opening that seeks skills in reviewing pleadings, drafting discovery requests, and time management.
Attorney Resume Examples [Skills]
This first sample legal resume snippet tries to lead the witness:
wrong
Attorney Skills: Leadership, collaboration, drafting discovery requests, litigation, corporate law, tax law, trademark law, environmental law, drafting discovery requests, time management, criminal law, divorce law, Jude Law...
What's the problem? It just lists everything. Which is the same as listing nothing.
So, select the skills shown in the job description. Then, like Joe Pesci in My Cousin Vinny, show hard evidence you've got them.
That's what the next of our attorney resume examples does.
right
Reviewed 20% more pleadings per month than the company average.
Drafted discovery requests 15% faster than any other company lawyer.
Logged 10% more billable hours than the 5 other attorneys in my group.
That's not just a lawyer resume skills list. It's a ticket to an interview with BuckleySandler.
To get started, use the skills below.
List of Skills to Put on an Attorney Resume
This legal resume skills list brims with great law resume keywords.
Find more in legal job descriptions online.
Attorney Resume Skills

| | | |
| --- | --- | --- |
| Soft Skills | Hard Skills | Legal Skills |
| Interpersonal Skills | Law Knowledge | Mediation |
| Communication | Legal Procedure | Trial Preparation |
| Collaboration | Tech Skills | Tort Law |
| Dependable | Research | Product Liability Law |
| Work Ethic | Writing | Negotiation |
| Detail Oriented | Client Management | Antitrust Law |
| Analytical | Upselling | Settlement |
| | Client Service | Litigation |
| Organization | | Client Advocacy |
| Persuasiveness | Documentation | Corporate Law |
Use the plan above to write a legal resume that gets the interview with no deliberation.
Pro Tip: How long should a resume be for a lawyer? Learn when to use a two page in-house counsel resume and when one page works best.
What's the difference between hard and soft skills? Which one should you put on a resume for an attorney? See our guide: +30 Best Examples of What Skills to Put on a Resume (Proven Tips)
6
How to Show Bar Admission on a Resume
"How do I put my bar admissions on my resume?"
The hiring manager won't always look carefully for your bar status.
If it's not prominently featured on your lawyer resume, she may move on.
So, according to the American Bar Association:
Put "Esq." after your name.
Then, add a special "Law License" section right after your resume summary, like this:
Bar Association
Member in good standing of the XYZ State Bar.
If you're not yet licensed, add the following instead:
XYZ State Bar (awaiting results)
That advice goes just as well on a lateral attorney resume as on a corporate attorney resume.
Pro Tip: Should you add other association memberships to a legal resume? If they don't pertain to your law career, leave them off. They will dilute your message.
You can also put your bar status in your summary, and in your lawyer resume experience section. How much is too much? See our guide: How to List Certifications on a Resume: Guide (+20 Examples)
7
How to Add Other Sections for an Effective Resume
Remember Katie, our hiring manager?
Who would she rather hire?
Someone going through the motions? Or a lawyer who breathes, sleeps, and eats legal work?
In a resume for lawyers, that means using special "other" sections.
Add:
Volunteer work
Journal work/notes
Non-journal publications
Conferences
Moot court experience
Community involvement
Student organizations
The lawyer resume examples below show how.
Attorney Resume Examples [Other Sections]
Remember, we want to show your passion for law.
With that in mind, emulate this legal resume example:
right
Journals
Journal Note: Rethinking Zauderer CA. L. REV. May 2017
Conferences
Legalweek - Spoke on panel about trail preparation 2015
Additional Activities
Volunteer to walk dogs bimonthly at local animal shelter.
Avid mountain biker, hiker, swimmer, surfer.
That's no mere lawyer resume. It's Paul Hastings in the rough.
But it only takes a little head-scratching to turn up enough material for a legal resume like that.
Pro Tip: Don't put unpublished journal notes on your new attorney resume. A note will only impress the hiring manager if it found a home.
Want to see what ready-made "other" sections to put in a resume for a lawyer? See our guide: Resume Sections to Include on Your Resume: Guide (+20 Examples)
8
How About a Cover Letter for an Attorney?
Do you even need a cover letter for a lawyer resume?
You bet your bar association membership you do.
The sad truth is, most hiring managers spend just seven short seconds on each resume.
Your attorney cover letter can turn that to ten minutes. How?
By connecting.
So, use the hiring manager's name.
Then, show you understand the position.
Last, prove how you can fill it.
Follow this (truncated) attorney cover letter example:
I've been following Diversi & Leadbetter's notes in the Harvard Law Review for some years now. I'm intrigued by the company's reliance on emotional intelligence techniques to settle negotiations without going to trial. I believe my 93% settlement rate at LDP makes me an ideal fit for this position, and for your philosophy. My interpersonal skills have...

Close your cover letter with an offer.
"I'd welcome the chance to show you how I maintained an average 1600 billable hours a year at LDP," works great.
Pro Tip: Don't make your lawyer cover letter a rehash of your attorney resume in prose form. Just list one or two impressive achievements as evidence that you can do the job.
Plus, a great cover letter that matches your resume will give you an advantage over other candidates. You can write it in our cover letter builder here. Here's what it may look like: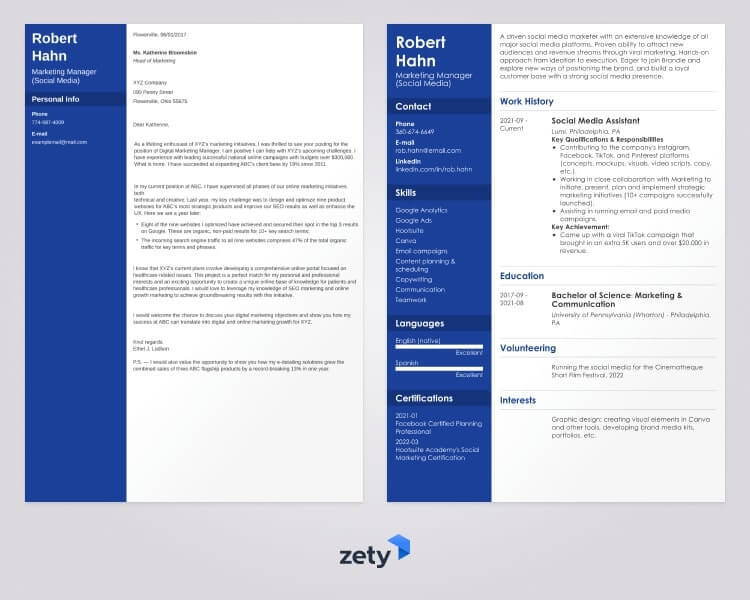 See more cover letter templates and start writing.
How long should your legal cover letter be? What's the best format for attorney cover letters? See our guide: How To Write A Cover Letter in 8 Simple Steps (+12 Examples)
Learn how to write a legal cover letter from our guide: Legal Cover Letter: Sample, Format & Complete Writing Guide
9
How to Add Contact Info to Your Resume
What contact info belongs on a legal resume? What should you leave off?
Start with:
Full Name
Updated Phone Number
Professional Email Address
Like this:
Jim Sanz, Esq., jimqsanz@gmail.com, 310-502-4608
But also add a LinkedIn profile. According to our HR statistics report, 87% of hiring managers use LinkedIn during their employee search.
You can leave off your snail mail address, though showing you're in the same city as the law firm is a plus.
Pro Tip: Use the right LinkedIn profile resume keywords, photo, and lawyer resume summary. Find out how in our guide: How To Optimize Your LinkedIn Summary & Profile To Get Jobs
Want to write your attorney resume by the book? See this guide: How to Make a Resume: A Step-by-Step Guide (+30 Examples)
Key Takeaway
Now you know how to write a legal resume that gets a lot more interviews. Be sure to follow these key tips:
Tailor your attorney resume to each job you apply to. Do that by reading the job offer carefully. Pay special attention to the skills and responsibilities in it.
Write your bullet points to match those qualities. That will fit your lawyer resume to the job opening like a custom crafted contract.
Add other sections to a resume for an attorney to show passion and engagement. Those can include journal work and volunteer work.
Do you have questions on how to write a great resume for an attorney? Not sure how to describe your skills or achievements? Give us a shout in the comments! We'd be happy to reply!
About Zety's Editorial Process
This article has been reviewed by our editorial team to make sure it follows Zety's editorial guidelines. We're committed to sharing our expertise and giving you trustworthy career advice tailored to your needs. High-quality content is what brings over 40 million readers to our site every year. But we don't stop there. Our team conducts original research to understand the job market better, and we pride ourselves on being quoted by top universities and prime media outlets from around the world.
Sources