Legal Cover Letter: Sample, Format & Complete Writing Guide
You know your way around a brief and law firm. Your job now is to give the hiring manager solid proof. Do it with this legal cover letter sample, complete with expert tips.
This legal cover letter sample gives solid proof they need to hire you.
Your biggest problem?
The hiring manager—we'll call him Chris. He's so busy he barely has time to glance at your cover letter for legal jobs.
You need to hook him fast, then give evidence you're hirable before he knows what hit him.
Do that with the right facts, skills, and achievements and he'll read your legal resume as if it's the original Bill of Rights.
This guide will show you a legal cover letter sample, plus tips for how to write your own great cover letter for legal jobs.
Want to write your cover letter fast? Use our cover letter builder. Choose from 20+ professional cover letter templates that match your resume. See actionable examples and get expert tips along the way.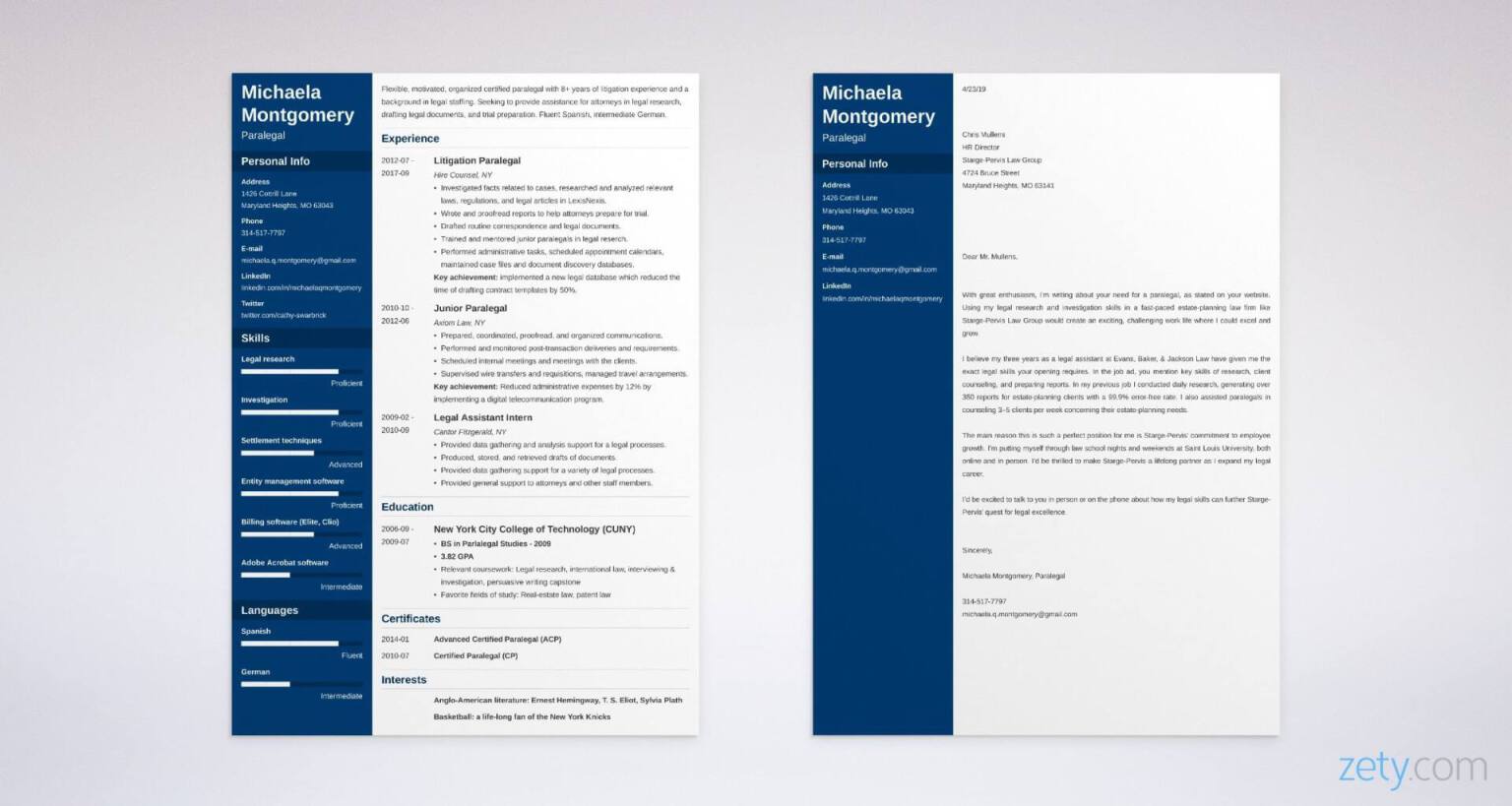 Sample cover letter for a resume—See more cover letter examples and create your cover letter here.
Considering similar positions too? See other cover letter examples for jobs in your industry:
Want to explore your options further? See our full selection of cover letter examples for every career: Best Cover Letter Examples for All Professions
Here's the sample:
Sample Cover Letter for Legal Jobs
Michaela Montgomery
Paralegal
1426 Cottrill Lane
Maryland Heights, MO 63043
314-517-7797
michaela.q.montgomery@gmail.com
linkedin.com/in/michaelaqmontgomery
4/23/19
Chris Mullens
HR Director
Starge-Pervis Law Group
4724 Bruce Street
Maryland Heights, MO 63141
Dear Mr. Mullens,
With great enthusiasm, I'm writing about your need for a paralegal, as stated on your website. Using my legal research and investigation skills in a fast-paced estate-planning law firm like Starge-Pervis Law Group would create an exciting, challenging work life where I could excel and grow.
I believe my three years as a legal assistant at Evans, Baker, & Jackson Law have given me the exact legal skills your opening requires. In the job ad, you mention key skills of research, client counseling, and preparing reports. In my previous job I conducted daily research, generating over 350 reports for estate-planning clients with a 99.9% error-free rate. I also assisted paralegals in counseling 3–5 clients per week concerning their estate-planning needs.
The main reason this is such a perfect position for me is Starge-Pervis' commitment to employee growth. I'm putting myself through law school nights and weekends at Saint Louis University, both online and in person. I'd be thrilled to make Starge-Pervis a lifelong partner as I expand my legal career.
I'd be excited to talk to you in person or on the phone about how my legal skills can further Starge-Pervis' quest for legal excellence.
Sincerely,
Michaela Montgomery, Paralegal
314-517-7797
michaela.q.montgomery@gmail.com
That legal cover letter could get you hired at Cravath, Swaine & Moore. Now it's time to write your version.
Legal Cover Letter Template
Here's how to write a legal cover letter that gets noticed:
1. Use the right legal cover letter format
Best fonts: Cambria or Arial
Font size: 11pt or 12pt
Line spacing: 1 to 1.15
Margins: 1"
Read more: The Only Proper Cover Letter Format
2. Start with a professional cover letter header
In your legal cover letter header, list:
Your name at the top left
Your address
Your email, phone, and LinkedIn
Today's date
The employer's contact info
Can't figure out the name of the hiring manager? Try LinkedIn, the company website, or try calling the receptionist and asking.
Read more: How to Address a Cover Letter
3. Start with a hook
Begin with "Dear," then "Mr." or "Ms." and the manager's last name.
Give the job title you're applying to.
Make clear why you're enthusiastic about the job.
Read more: How to Start a Cover Letter the Right Way
4. Give proof you're the right legal job candidate
Mention your biggest legal accomplishments.
Pick achievements that prove the legal skills they want.
How do you know what skills they want? Check the job offer.
Give scale to your legal "wins" by adding numbers like 350" or "99.9%."
What's the right legal cover letter length? The Perfect Cover Letter Length.
5. Make an offer
To wrap up your cover letter for legal jobs:
Ask to meet them in person or on the phone.
Offer to explain how your legal skills can help them meet their goals.
Read more: The Best Cover Letter Ending Examples
6. End with a professional signature
Tie things up with, "Sincerely," plus your name and professional title.
If it's an email cover letter, sign off with your digital signature.
Last, add your phone and email.
Writing an entry-level legal cover letter? Entry-Level Cover Letter with No Experience
Don't vanish after you send a cover letter for legal jobs. Job Application Follow-Up: Examples, Dos, & Don'ts
A good legal cover letter can return a "hired" verdict. Bolster it with a job-getting resume.
When making a resume in our builder, drag & drop bullet points, skills, and auto-fill the boring stuff. Spell check? Check. Start building a professional resume template here for free.
When you're done, Zety's resume builder will score your resume and tell you exactly how to make it better.
Thanks for reading! Now it's your turn. How is writing a legal cover letter going for you? What burns you up most about applying to legal jobs online? We'd love to hear from you!